The Regional Impact of Iran's Drones in Ukraine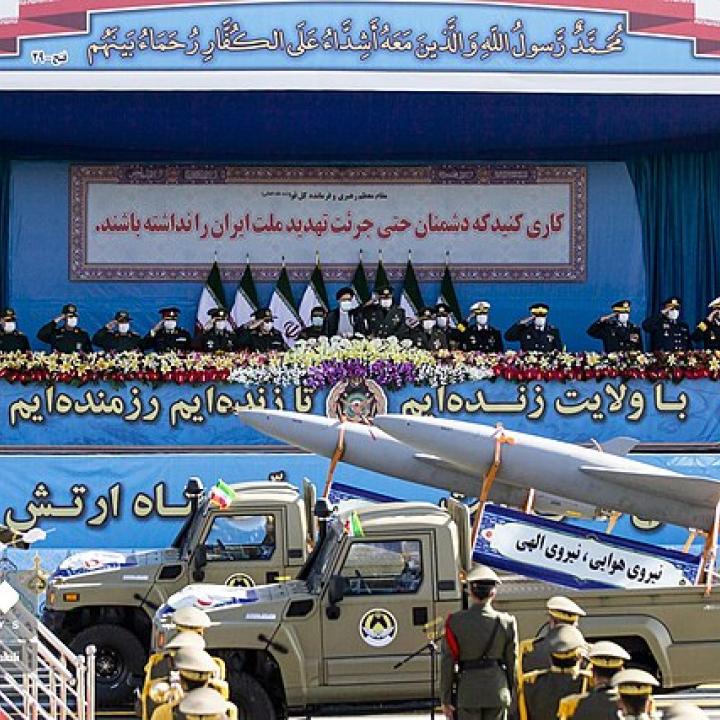 Russia's use of Iranian drones in Ukraine foreshadows potentially dangerous developments for U.S. forces and their allies in the Middle East.
After months of denial, Iran's foreign minister acknowledged on November 5 that they had supplied Russia with drones. Prior to this, the Supreme Leader of Iran had made several statements concerning the use of Iranian-manufactured drones by Russian armed forces in Ukraine, but these statements only highlighted the power of Iran's drone system. They included saying that "those who used to say that photos of Iranian drones were created and modified in photoshop now warn that they are dangerous," and "they wish to hold Iran to account by asking why it sells weapons to one party or another." 
The Supreme Leader had all but verified Ukraine's claims in this praise, but the foreign minister's admission officially put to rest any lingering doubts in the absence of evidence from Ukraine or Iranian counter-evidence, especially after the flood of initial statements by the Iranian Ministry of Foreign Affairs, with support from the Representative of Iran to the United Nations, attempted to deny that Iran had provided Russia with any missiles or drones. Notably, this attempt to deny drone use echoed Iran's longstanding denial of supplying missiles to Houthi forces in Yemen. Now, Ukraine has become a means for Iran to conduct live tests of its drone fleet against defense systems supplied by the United States and NATO. 
Iranian drones—particularly kamikaze drones—are a potent mix of efficacy and affordability, at an estimated cost of $20,000 per drone. Of course, these drones do have shortcomings, including their inability to carry explosives weighing more than 50 kilograms and the slow speeds that make them easily detectable. However, while individual drones make easy targets, sending a large number of drones per raid makes the drones significantly more dangerous, in keeping with the military approach that it is sufficient to strike 20 percent of one's targets. 
Moreover, Iranian leadership has practiced doublespeak regarding the drone issue, with the Supreme Leader expressing Iranian public opinion and praising drone manufacturers in his comments on the situation while the Ministry of Foreign Affairs uses a more diplomatic discourse. For the rest of the region, Iran's handling of the message is particularly important given the ways that Iran has exploited the Ukraine issue to project certain messages about itself. In particular, it seems that Iran has aimed to situate themselves as a partner or affiliate of a 'new world order' viz-a-vis Moscow and Beijing. This message is undoubtedly directed at the West, portraying Iran as a power capable of playing a game-changing role in both regional and international conflicts, especially if the nuclear negotiations don't go their way. However, this message is also clear to those wary of Iranian military buildup on their eastern borders.
The use of Iranian drones in Russia's war against Ukraine has provoked crucial questions in Middle East military circles. More specifically, regional forces—including U.S. forces in the Middle East, the Gulf states, and Jordan—have been attempting to gauge the true extent of the threat posed by these Iranian drones for some time now. While previous data was somewhat limited, their regional deployment has provided a growing series of successful attacks, including effective strikes in Saudi Arabia and the United Arab Emirates. It has also been widely reported that drug smuggling gangs in Jordan linked to Iran and Syria have been actively launching drones from southern Syria towards Jordan since the beginning of the year.
At least some of Iran's drones have proved similarly effective in striking their Ukrainian targets. In light of Iran's policy of hostility towards Gulf countries, especially, the availability of this weaponry to Iran-allied militias would further disturb the security and stability of the entire region.
Of course, this will put Arab armies in front of new challenges regarding ways to confront Iranian drones, and they must search for solutions, including importing drones from the United States and European countries. Some may even buy Israeli or Turkish planes and technology to confront Iranian weapons, especially since the Ukrainian army has reportedly seen success with these technologies. Such developments could spark a new arms race in the region similar to the nuclear and missile race.
In the immediate context, it is unlikely that Iran's drones will cause major strategic shifts in the war in Ukraine. Russia is using them specifically to strike civilian targets and to destroy Ukrainian infrastructure in an attempt to break the people's will. Furthermore, the United States and NATO countries have many ways to deal with the Iranian drones on a practical level—including new Euro-American sanctions on Iran and on the individuals and entities responsible for the Iranian drone development program, as well as presenting the issue to the UN Security Council. 
Nevertheless, these measures have not been entirely sufficient. Ukraine must obtain better military aid to deal more effectively with Iranian drones. Since these drones are technically simplistic and poor quality, defense technologies would do wonders in Ukraine's fight against new threats. And looking further afield, the United States, NATO, and regional militaries must also work to strengthen their own capacity to combat Iranian drones and disrupt Iran's drone program. This program will likely be used against the United States and its allies in the Middle East in the future.