Iranian Protests and Attacks on KRI: An Attempt to Deflect from Domestic Turmoil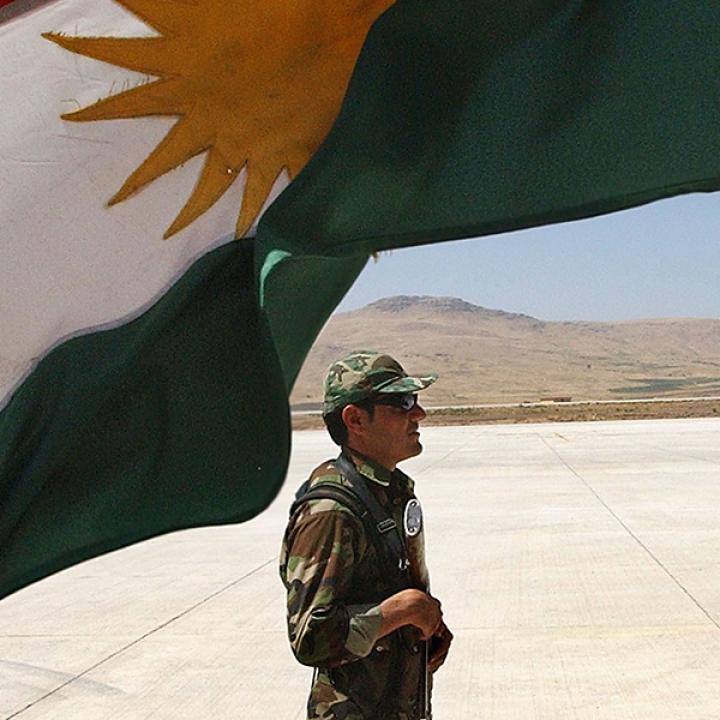 Iran's repeated attacks on the Kurdistan Region of Iraq represent the regime's efforts to both distract from internal opposition and disrupt external opposition support.
Over the past two months, Iran's popular protest movement has maintained its momentum. The scope of these protests emphasizes their inclusive nature, with participation in more than 140 cities and towns across all 31 of Iran's governorates. Nearly 344 civilians, including 52 children, have been killed, along with 40 security personnel, and an estimated 15,820 people have been imprisoned.
However, despite the popular and inclusive nature of the protests, the Iranian regime has continued to focus its energies on painting the movement as separatist in nature. Part of this narrative has led to attacks by Iran on the Kurdish Region of Iraq (KRI), targeting Iranian Kurdish parties but also resulting in civilian deaths including women and children. There are several evident reasons why the Iranian regime has repeatedly targeted the KRI—Tehran is seeking international attention, hoping to resolve internal conflicts through external action, hoping to avoid the division and change of Iran internally, and attempting to stymie significant cooperation between Iran's opposition movements.
Iraqi Kurdish Views of Iranian Protests 
Kurdistan was once a single entity, but as a result of an international treaty it has been divided into four parts, namely the north, south, east, and west. The south and east parts are much closer geographically, culturally, economically, and religiously, and they share thousands of kilometers of border, making it simpler for them to comprehend each other's problems and conflicts.
People in the KRI have viewed the Iranian attacks on the Kurdish-Iranian opposition groups differently than they have with any other issue. Iraqi Kurds see the Iranian regime's targeting of the KRI as an attempt to deflect attention from its internal conflicts and street protests, even planning to give the protests a military flavor until the aggression it used within its own borders gained credibility outside of its borders. 
Iraqi Kurds are also keenly aware that the current protests across the border in Iran have arisen from the deep frustrations of the population rather than at the behest of any political party or Iranian opposition group. For many years, Iranians have demonstrated against economic crises, human rights violations, and poor financial conditions. However, this year's protests have proved uniquely inclusive—men, women, young people, and elderly individuals of all ethnicities are involved in the protests. 
And while Iran's security forces have put forward all of their capabilities in whatever way they deem necessary to put an end to the protests and clear the streets, even the most prominent Iranian leaders are afraid to publicly support the actions of security forces because even after killing hundreds of people and injuring thousands more, Tehran is still unable to reduce the scope of the protests. Indeed, as of yet, security forces have not been able to prevent the protests from becoming wider and more volatile.
In Iraq, there is a popular view of solidarity with the Iranian protests, even if there is ambivalence about certain aspects of the protesters' actions. Specifically, the majority of the KRI's population is Muslim. With some protestors in Iran focusing on removing religious symbolism from society, there are of course people in the KRI who disagree with these actions. Nevertheless, they remain silent on the issue in solidarity.
With limited options internally, Iran has attempted to undermine the protests by transferring their symbolism to its external borders. The most recent example of this is Iran's strike on KRI, which left many people dead and injured—including civilians, women, and children.
Another important aspect is that the protests were sparked by the killing of the young Kurdish Iranian woman Mahsa Amini, a Kurdish girl from Saqz in the Kurdish region of Iran. Focusing on this, Iran has targeted several locations in the KRI that serve as the base of Kurdish-Iranian opposition parties, namely Koya in Erbil, Zirgwez in Sulaymaniyah, and Prde. During the first round of bombings, eighteen people were killed, including two women—one of whom was pregnant and lost her unborn child—and more than fifty others were injured.
In a second strike, which occurred on November 14th, 43 days after the first attack, Iran once more used missiles and drones to attack Koya and Zirgwez, leaving two civilians dead and six more injured. The most recent strike today likewise targeted Kurdish Iranian parties, but two of the three missiles reportedly hit refugee camps adjacent to the Kurdistan Democratic Party of Iran's (KDPI ) headquarters.
This is far from the first time that Iran has targeted opposition parties across its borders militarily. Iranian attacks on Iranian-Kurdish parties in KRI began in the Qandil Mountains in 1984. These parties later relocated to Koya based on an agreement reached by Mustafa Hijery, a representative of the Iranian-Kurdistan Democratic Party, and the official of Hmaza Base with the assistance of former Iraqi president Jalal Talabani.
The agreement stated that Iran would refrain from attacking either Iranian Kurdish parties or Iraqi Kurdish parties, each of which had offices in Koya. The Iranian Kurdish parties ultimately split up into different regions of the KRI and gradually made it clear that they opposed employing aggression in Iran and supported peaceful protests. 
This agreement was in effect until 2017, when Iran attacked the KDPI headquarters, which resulted in eighteen deaths and dozens more injuries. In response to the attack, the party declared: "We don't answer terror by terror." Four days after the incident, the party requested a mass boycott in Iranian Kurdish cities, which many conducted.
The KDPI has four bases in the KRI: Koya, Degalla, and two in Bahrka. It typically has between 10,000 and 12,000 Peshmerga military forces. Additionally, the Komala Communist Party, Komala Zahmatkeshan Party, and Komala Shorshgeran Party—originally three branches of Komalla that have since split into three separate parties—each have three bases in Sulaymaniyah's Zirgwez and have a little over 1,000 Peshmarga. The Kurdistan Liberty Party also has three bases in Prde, with 250 Peshmerga making up their forces.
It is important to note that Kurdish Iranian parties are far from the only Iranian opposition groups active today. Iranian opposition is in fact divided into four groups: republicans in Europe, supporters of the Shah regime—the majority of whom are in the United States and Europe— Mujahedin-e Khalq (MEK) in Germany, and Kurdish Parties in the KRI. While Iran has at various points targeted all of these groups, Kurdish Iranian parties are particularly vulnerable due to their location right across the border with Iran. Iran's hope is that these attacks on the Kurdish Parties in the KRI will divert internal and external intentions from the widespread opposition within its own borders.
Protest or a Revolution?
Looking at this movement from across the border, its widespread appeal emphasizes the power of the protests. For the first time, Shia are at the forefront of the protests alongside Sunnis and other religious elites. For instance, in cities like Elam, where Shia make up the majority of the population, waves of protests are increasingly taking place. 
These ongoing waves of protests are increasingly standing out from other recent protest movements in Middle Eastern countries due to their persistence and decentralization. In fact, they are increasingly reminiscent of the Iranian protests of 1979, which succeeded in decimating the Shah Regime. However, as was the case then, Iran's security forces and protesters are both persistent today in their efforts, and any change to Iran's political system will take much longer than anticipated.