Variables the United States Should Consider on Dollar Smuggling in Iraq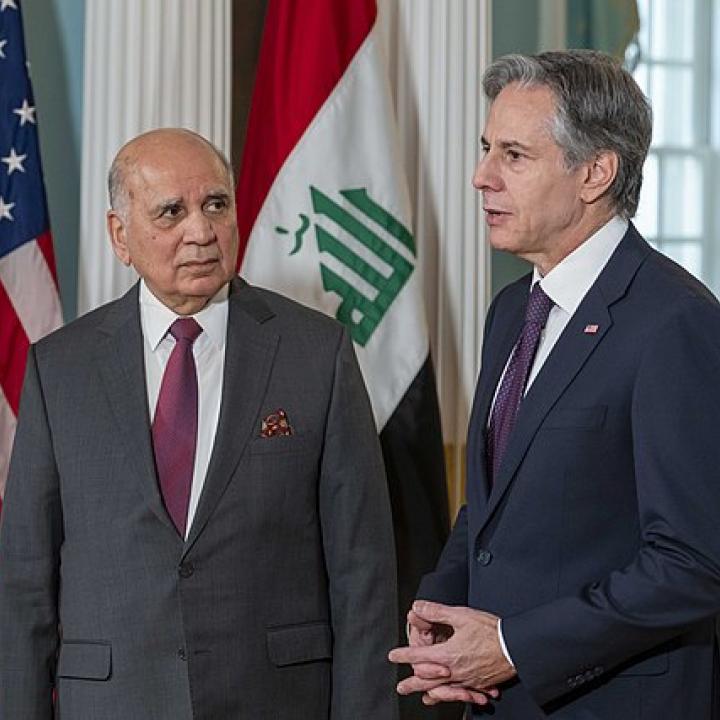 U.S. pressure on Iraq to prevent dollar smuggling and dinar laundering can protect Iraq's sovereignty and weaken Iran. But if executed without deliberation, this pressure could allow Russia and China to enhance their positions in the Middle East.
Since November 2022, the U.S. Department of Treasury's Office of Terrorism and Financial Intelligence has put intense pressure on Baghdad over evidence of money laundering and dollar smuggling in Iraq. At the time, the Federal Reserve and Treasury were particularly concerned with Iraq's dollar auctions—a system they suggested was being abused by money launderers, especially ones in neighboring countries.
According to a report, approximately 80 percent of Iraqi dollars sold in these dollar auctions went to international destinations, namely Iran, Turkey, Jordan, Syria, Lebanon, and the United Arab Emirates, but often through "gray market trading, using fake invoices for overpriced items." In an attempt to counter international money laundering through Iraq, the United States began imposing stricter auditing and processing measures on the dollar auctions, requiring the Central Bank of Iraq to use an electronic system for money transfers.
With more stringent electronic oversight, however, around 80 percent of daily wire transfers in Iraq are now being rejected for insufficient information or suspicious activity. The result is far fewer dollars available countrywide—a reality that has not only sparked inflation and unrest, but also increased black market trading and smuggling of dollars across Iraq's borders.
Already, there are reports that dollar smuggling operations in Iraq's northern Kurdistan Region have grown substantially to at least $70 million a day, with most money traveling to Turkey and Dubai. Despite the United States' specific intentions to prevent U.S. dollars from reaching Iran, dollar smuggling across Iraq's southern borders has also increased. The U.S. Treasury has gathered evidence suggesting that dollars are being smuggled directly from Iraq into Iran, allowing the Iranian regime to circumvent U.S. and international sanctions. Other reports have revealed that border crossings in the Diyala and Basra provinces bordering Iran, along with the Basra and Baghdad airports, are hubs for these illegal dollar smuggling networks, connecting U.S. dollars in Iraq to Iran and other global destinations.
Public Unrest as Russia and China Move In
In Iraq, citizens blame the U.S. policy change for an increasingly severe economic crisis as dollars become scarcer and prices skyrocket. Although the official exchange rate for the Iraqi dinar remains at 1,460 dinars to the dollar, the market value has plummeted by nearly 20 percent to around 1,750 dinars to the dollar at its weakest. The Iraqi government has since tried to control the crisis, and the official price of one dollar has since dropped from 1,460 dinars to 1,300 dinars. Nevertheless, the market is still unstable, and the dollar is trading unofficially at higher rates.
In response to the devaluation, Iraqis have increasingly taken to the streets in protest. The Iraqi government has in turn promised to crack down on money smuggling operations, while simultaneously sending a delegation to the United States to discuss the ongoing economic situation. According to a spokesman for Iraq's Foreign Ministry, "the economy, finance and banking-related cooperation is at the top of the agenda." The Coordination Framework, a pro-Iranian coalition that makes up the Iraqi government, is worried about the United States' use of dollar weapons against them to overthrow their cabinet. But the Iraqi Prime Minister seems to have a different view of the Coordination Framework's concerns, and sees U.S. pressure on the banking system as an opportunity rather than a threat. 
In his latest interview, Mohammed Shaia al-Sudani welcomed efforts to clean up the Iraqi banking system, stating that "in my estimation, it is the gateway to economic, financial and banking reform in Iraq." This is the strategic opening in which the United States can invest politically. Sudani has also stated that the banking system reforms in Iraq have nothing to do with the current cabinet, and that the former prime minister Mustafa al-Khadimi neglected to prevent the washing of Iraq's money. The Iran International report claims the Iranian embassy in Iraq, under the supervision of the Iranian Revolutionary Guards' Quds Force and the assistance of several Iraqis in Baghdad, worked to collect dinars, take them to Iran, and then bring them back to Iraq and convert them into dollars. Khadimi's relatively strong relationship with the U.S. government may have limited public pressures on this front in prior years, whereas concerns about the current government are likely to have expedited this push.
While Iran was under the U.S. embargo, Washington asked Khadimi not to pay the Iranian loan back, however, the former prime minister paid Iran's debts in dinars and rejected the United States' ultimatum. The Iraqi academic and politician Laith Shubar has claimed that Iran now has 50 trillion Iraqi dinars and converts them into dollars daily in the Iraqi market. In his interview, Sudani said that during the period of the former prime minister's rule, the central bank of Iraq was releasing $300 million on a daily basis. In comparison, Sudani's current cabinet is only releasing $50 to 100 million, and no problems have occurred, according to Sudani. 
Amidst the economic chaos, Russian Foreign Minister Sergei Lavrov made a two-day visit to Baghdad on February 5, using the opportunity to promote stronger economic cooperation between Russia and Iraq. Lavrov noted that "in light of the current conditions created by the illegal restrictions imposed by the Americans and their [allies], it is very important to protect legal economic relations from illegal pressures from the West."
On February 6, in a joint press conference with the foreign minister of Iraq, Lavrov again proposed that "in the light of the restrictions imposed by the United States, it is crucial for us [Russia and Iraq] to protect ourselves from these negative influences of the U.S. and to defend our bilateral trade relations by using our local currencies." This statement coincides with past efforts by Russia and China to replace U.S. dollars with their local currencies in foreign trade. During Lavrov's visit, a Russian analyst suggested Moscow might raise the issue again, urging that Baghdad "use the Chinese Yuan instead of the dollar."
According to political activist Mazin al Zaydi—who has close ties with the Coordination Framework—Sudani's reception of Lavrov days before the Iraqi delegation was going to Washington was meant as "a clear message that there are many alternatives open to Sudani's government if Washington continues to use the "dollar weapon" against the Coordination Framework."
Less than a week after Lavrov's visit, a high-level Chinese delegation led by Zhu Rui, an Assistant Minister of the International Department of the Chinese Communist Party's Central Committee arrived in Iraq, highlighting other efforts to capitalize on this moment. Chinese-Iraqi economic relations are on the rise—according to statistics released by the Chinese Embassy in Iraq, "the trade volume between China and Iraq reached US$53.37 billion in 2022, up 43.1 percent year-on-year." In Baghdad and Erbil, the delegation met with the government, parliament, and the main political parties. Their most important meeting was with Hadi al-Ameri, leader of the Fatah coalition, on February 11, where al-Ameri expressed support for China's Belt and Road Initiative, saying that "the Iraqi people are interested in this vital project."
Increased pressure on the Iraqi central bank has likewise worried Iran. It is still unknown how much the Coordination Framework will be influenced by Lavrov's proposal, China's promises, and Tehran's pressure to confront the United States' policy to counter dollar smuggling. However, the U.S. policy toward the Iraqi government has to distinguish between putting pressure on the Coordination Framework and opening its arms to the Prime Minister.
The prospect of closer economic ties with Russia and China is particularly appealing to members of Iraq's Coordination Framework, including many of Sudani's cabinet members who fear that the United States is using "dollar weapons" to weaken the current Iraqi government. Although U.S. officials have denied interfering in Iraq's monetary policy, many inside Iraq continue to perceive malcontent in the United States' anti-laundering and anti-smuggling policies in Iraq.
U.S. Balancing in Iraq
If Iraq were to align itself more closely with Russia, it would become part of a growing strategic partnership between Russia and Iran—a partnership that has solidified in the context of Russia's invasion of Ukraine. Notably, adding Iraq into the mix may also be a tactic for Russia and Iran to attract China to their side, since China has numerous economic interests in Iraq. Beijing is a master of exploiting economic gaps and producing political gains.
It's not difficult to see, then, why the United States must be careful in putting pressure on Iraq at this time and with these international circumstances. In U.S. dealings with Baghdad, it is becoming increasingly important to distinguish between the Iraqi government and the political bloc that formed it (the Coordination Framework). Although many have tried to analyze Sudani's international tendencies and position vis-à-vis the United States and Iran, it is still too early to write him off as a partner to one or the other. Indeed, though many point to the assignment of an Iran-aligned militia journalist to the post of head of communications for the Prime Minister as evidence of Sudani's preference for Iran, these reports ignore the fact that Sudani has given even more important assignments such as the Foreign and Defense Ministers to people close to the United States. 
The U.S. government still has time to rebuild an advantageous, strategic alliance with Iraq, and the current economic tension could actually be an opportunity to do so. Although the U.S. Department of Treasury must follow through on tackling the laundering of U.S. dollars, the White House can still embrace the Iraqi Prime Minister. If Washington can win the prime minister's confidence, they can use the 'carrot and stick' approach to terminate the obstacles created by the Coordination Framework bloc, enhancing the anti-corruption efforts of Sudani and preventing Iraq from steering its political partnerships in an irreversible direction.