Teaching Arabic in Israeli Schools: Between Security Preoccupations and the Cultural Dimension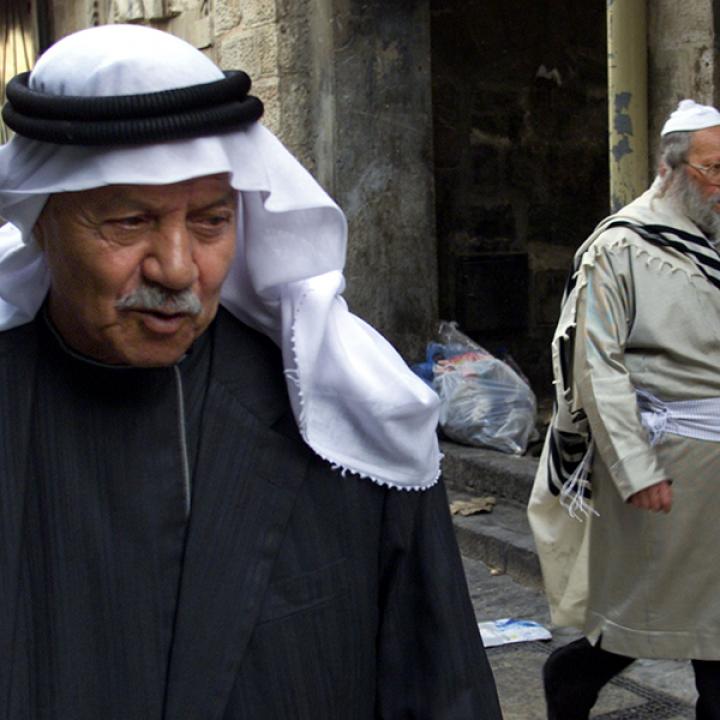 April 8, 2016
Language plays a key role in the lives – and deaths – of humans. Great speeches have stirred many nations and religions into terrible wars. Conversely, language has also given voice to peace talks and anti-violence rallies. In other words, it has consistently been a mutable force.
Most recently, a draft law--submitted by right-wing Likud MP Oren Hazan and passed by the Knesset--seeks to reshape the impact of language in the conflict-ridden Levant. The new law requires that Arabic be taught to non-Arab Israeli students and Hebrew to Arab-Israeli students starting from the age of six.
It is somewhat counterintuitive that a member of Likud would submit such a proposal, considering the party has always strongly opposed teaching Arabic in schools under the pretext that doing so threatens the integrity of the Jewish state. In 2014, Likud MPs drafted a bill entitled "Jewish Nature of the State Law" or the "Israel as the Nation-State of the Jewish People" bill, the goal of which was to abolish Arabic's status as one of the two official languages of the state. What motivated MP Hazan to propose the new draft law was the increase in Israeli-Palestinian violence, which has generated persistent fear among Israelis who feel uncomfortable when they hear others speaking Arabic in public places.
Reactions to this draft law have been conflicting.  Proponents say that the law will enhance understanding and peaceful coexistence between Israelis and Arabs. For example, founder of the Wasatia movement for moderate interpretations of Islam Dr. Mohammed Dajani believes that this draft law "is a bold step through which the Knesset will send a positive message to the world." He further adds that "the Arabic language is the language of Islam; which Jews need to speak to build bridges of understanding with Muslims. It is also the language of the Arabs; whom Israel should strive to make peace with."
Other proponents believe that integrating Arab teachers into Jewish schools and training them to address sensitive topics will prevent children from adopting negative stereotypes. Moreover, several prominent Israeli leaders, such as Israel's first prime minister David Ben Gurion, learned Arabic language and left an impact in serving their country. Dr. Mohamed Emara, Literature Professor and Chairman of the English Language Department at the Beit Berl College, believes that implementing multiple approaches, including the Arabic language in Israel, is vital and necessary in order to shrink the national division and polarization afflicting Israel.
Some opponents to the draft law are in agreement that encouraging Arabic language acquisition is a good thing – the error lies in making said classes mandatory. A longtime Arab affairs correspondent Ehud Yaari maintained that Israel previously set up a committee of six individuals to research the issue of mandatory Arabic study. The committee concluded that Arabic classes would become a waste of time for Israeli students: they learn Arabic and then quickly forget it since they would not employ the language in their daily life. Yaari added that the decision to teach Arabic will require Israel's educational institution to train no fewer than 5,000 Arabic teachers at the highest level, but he noted that this is not possible at present because there is a limited supply of Arab teachers.
Others object from an ideological standpoint, saying that there is no need to learn the language as long as Arabs use hateful and aggressive language. They claim that there is no space for cultural or humanitarian exchange with Arabs in general and Palestinians in particular until this rhetoric changes. More extreme opponents argue that there is no shared culture between Arabs and Israelis, and that Arab culture promotes violence and views killing as the way to Allah. These radicals cite Malcom X's approach in defense of their position: "Only a fool would let his enemy teach his children." In this extreme viewpoint, Palestinian children learn the skill of stabbing others while Israelis are asked to learn the Arabic language. Some Israeli parents also fear that their children could be perverted by what they fear are the 'warped' ideologies of Arab teachers in Israeli schools.
The most extreme arguments of complete cultural dissonance are easy to dismiss. The waves of immigration of Iraqi, Yeminite, Egyptian, Moroccan, and other Arab Jews have meant that a plurality of Israelis had Arabic speaking ancestors. It is also important to note the literary overlap between Arab and Jewish writers in the past. Arab-Jewish writers such as Sami Michael, Shimon Ballas, and Isaac Bar Moshe wrote their works in Arabic. Arab authors like Anton Shamas, Naim Araidi, Siham Daud, Faruq Mawasi, and Salman Masalha have also written works in Hebrew.
This overlap points to the way in which acceptance of different languages can play a considerable role in bringing peoples together and allowing mutual cultural understanding and appreciation. There are unique and outstanding peace initiatives based off of this principle, including Ya Salam and Let's Talk, which brought together Israeli and Arab students in a classroom to study Arabic, through Arab culture, such as plays and music. These experiences were successful in breaking through cultural inertia and disabusing Israeli students of negative stereotypes they held against Arabs. Most students participating in these programs felt that they contributed significantly to cultural reconciliation between the two parties and had formulated more positive opinions amongst themselves.
Perhaps the current escalation of violence between Israelis and Palestinians will force both sides to search together for common ground to establish the principles of peaceful coexistence. There is no better method to achieve this goal than understanding the language and culture of the other. And it is simply illogical to neglect the language of the 1.5 million individuals who speak Arabic who represent 18 percent of Israel's population.
There is no doubt that language is key to all human action and acts as the gateway to understanding the social and economic activities of different peoples, as well as their perceptions of conflict and peace. This must be recognized by educational institutions in Israel: learning Arabic is not simply a goal in and of itself. Instead, the primary objective should be to promote peaceful coexistence, equality, respect for the rights of the other, forgiveness, and equal opportunity. Without invoking these goals, the process of learning Arabic will stray from its highest purpose, which is supporting reconciliation between Israelis and their Palestinian counterparts both within Israel and in the West Bank and Gaza.
If Israel's motives to teach Arabic are currents stemming from security considerations and a desire to know the enemy, both the present and future require these goals to be expanded to include cultural and intellectual exchange. This will not only reflect positively on Israeli-Palestinian relations, but serve as a step in transforming the entire region to include the Arab nations that surround Israel, especially those brought together through diplomatic and economic relations. Mastering the Arabic language will contribute significantly to consolidating relationships and encourage the normalization of relations with neighboring countries. Even if teaching Arabic does not help achieve peace between Arabs and Israel right now, it will at least help establish the understanding that forms the basis of the peace process in the future.
Mohamed Ahmed Abdelaziz is the Arabic editor for Fikra Forum and former project officer for Freedom House. This item was originally published on the Fikra website.