Regional Consequences of Trump's Travel Ban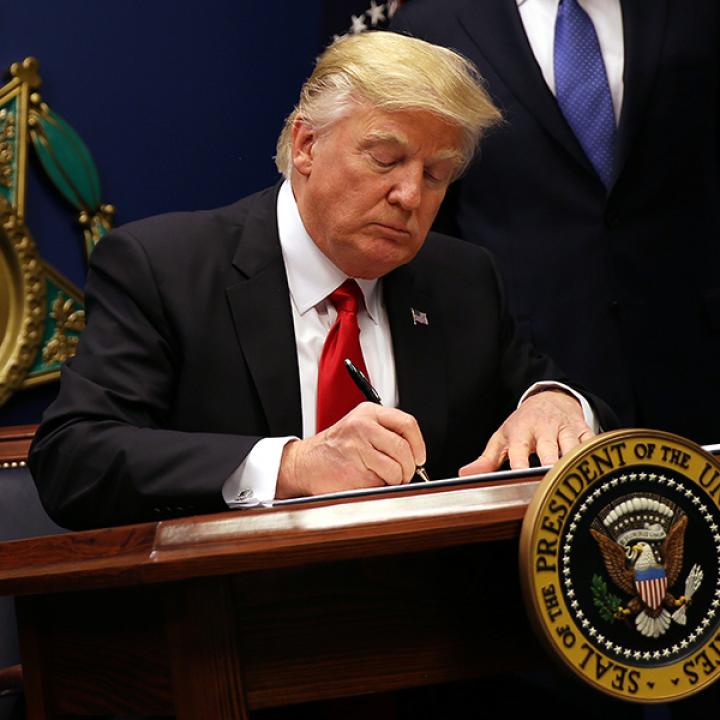 On January 27, 2017, President Donald Trump issued an executive order suspending the U.S. Refugee Admissions Program, indefinitely prohibiting all Syrian refugees from entering the United States and banning immigrants from seven Muslim-majority countries: Syria, Iraq, Iran, Libya, Sudan, Somalia, and Yemen. The executive order unleashed a storm of criticism from countries across the world and from some international and regional entities, such as the African Union, the United Nations, the Arab League, and the Organization of Islamic Cooperation.
Official reactions in the Middle East ranged from defensive and accusatory to supportive, while some offered only silence. Sudan and Iraq were among the first countries to defend themselves against the executive order, while Yemen and the Libyan Government of National Accord took a hostile position. In contrast, all Gulf countries, except Qatar, expressed support. Syria also backed the directive, while Egypt, Tunisia, Jordan, and Lebanon remained silent.
Iran's foreign minister Mohamed Javad Zarif declared that his country would implement a reciprocal policy in response to these orders, as Supreme Leader Ali Khamenei accused the United States of political corruption. This forceful Iranian reaction came in the wake of a deterioration in U.S.-Iran relations after Trump announced his intention to re-examine the nuclear deal and imposed further sanctions on Iran following its latest missile test.
Similarly, Yemen's deputy foreign minister Abdul Malek al-Mekhlafi opposed the order, describing it as "unjustified" and ultimately promoting terrorism. Yemen did not expect to be included in Trump's ban list, particularly since it is leading a grinding war against the Iranian-backed Houthi militias.
In the case of Libya, the foreign minister of the Government of National Accord described the executive order as "unfair" and "racist" as it encourages faith-based discrimination, which is a violation of the international principles of human rights. As a direct result of the order, a high-level conference on Libya set for mid-January in Washington was canceled.
Other countries opted for a more reconciliatory and adaptive approach, adopting a defensive position while hoping that Trump would repeal the order. For example, Sudan's Foreign Ministry declared in a statement that the Sudanese community in the United States has a good reputation, observes the nation's laws, and does not commit any criminal or extremist acts. It also called on the president to reconsider his orders. But Sudan is also actively seeking to maintain and develop relations with the United States. Bearing this in mind, Sudan has seemingly embraced a defensive posture so as not to undermine these efforts, especially in light of the recent lifting of sanctions thanks to bilateral discussions, which paved the way for joint economic and security cooperation.
Iraq's position was not significantly different from Sudan's. In its statement, Iraq's Foreign Ministry expressed surprise and disappointment toward the executive order, as both countries have come a long way in fighting the Islamic State. The statement also called on Trump to reconsider, highlighting Iraq's desire to maintain its strategic partnership with the United States in order to intensify counterterrorism efforts. As the major regional counterterrorism ally of the United States, Iraq hopes to continue receiving military and economic aid. Therefore, the Iraqi leadership is trying to convince the Trump administration to remove Iraq from the ban list; a successful move, as Trump issued another executive order on March 6 excluding Iraq from the ban. This came after a phone call between Trump and Iraqi prime minister Haider al-Abadi on February 10, during which Trump promised to reconsider Iraq's inclusion on the ban list. The Trump administration most likely made this decision for fear that Iran would expand its influence by appealing to disenfranchised Iraqis prohibited from entering the United States. This understanding culminated in Abadi's mid-March visit to Washington, during which Trump pledged to increase military aid to Iraq in support of counterterrorism efforts.
Except for Qatar, the majority of Gulf countries endorsed the executive order. Saudi energy minister Khalid al-Falih, for example, declared that the United States had the right to take the necessary precautions to protect its people, describing U.S.-Saudi relations as "strong and deep." For his part, Emirati foreign minister Sheikh Abdullah bin Zayed said that this order is a domestic issue for the United States and does not target Muslims. Kuwaiti foreign minister Khaled al-Jarallah announced that his country respects the sovereignty of the president, saying that the ban is ultimately in accordance with U.S. interests. These Gulf leaders chose to stay on good terms with Trump in order to serve their own agendas better. Trump's call for safe zones in Syria was widely welcomed by the Gulf states, which expect the Trump administration to take a firmer stance to counter the threat posed by Iranian intervention in Syria and Yemen.
Syria supported the executive order as well. Syrian president Bashar al-Assad declared that the executive order did not target the Syrian people themselves but the terrorists who infiltrate Western countries in the guise of refugees. Assad added that it is not his responsibility to ask Trump to allow refugees to enter his country. Syria announced its support for Trump after the latter's declaration that his administration will cut off support for Syrian rebels. However, the winds do not blow as the vessels wish; after the Assad regime attacked civilians in Khan Sheikhoun with chemical weapons, the Trump administration responded by launching missile strikes on Syria's al-Shayrat Air Base.
The countries not included in the ban, however -- Egypt, Jordan, Lebanon, and Tunisia -- chose to remain silent. These countries have always sought to establish close security and economic ties with the United States and rushed to implement Trump's order on the ground. Egypt and Jordan banned certain nationalities included in the order from traveling to the United States through their airports. Similarly, Egyptian president Abdul Fattah al-Sisi was among the first to congratulate Trump on his electoral victory. In turn, Trump described Sisi as a "great man." Sisi's tough stand against Islamists seems to please Trump, especially since Egypt is seeking to convince the United States to add the Muslim Brotherhood to its list of foreign terrorist organizations.
Tunisia also remained mute on the issue, as it is facing harsh economic and security conditions that require the support of the United States. Trump promised President Beji Caid Essebsi that Washington would stand behind Tunisia and provide the necessary support to counter its economic and security challenges. Lebanon and Jordan are seeking to maintain already close economic and security relations with the United States.
Despite the region's general support for a ban many argue is racist and targets Muslims, there is a widespread consensus that the ban will empower extremist terrorist groups. These groups will quite effortlessly persuade youths facing economic and social setbacks that the United States is fighting Islam, which is a narrative typically leveraged for recruitment. Effective counterterrorism consists of fighting radical ideologies that are not bound by any borders or security measures. The United States has itself fallen prey to a number of local terrorist acts by residents espousing radical ideologies. The Orlando shooting is a prime example in this regard: Omar Mateen did not need a visa as he was already a citizen. Furthermore, the Trump administration must still work closely with the governments of countries not on the list that suffer from terrorism and radical ideologies. It must also realize that its counterterrorism partners in the Middle East were themselves partly responsible for expanding this phenomenon. The suppression of freedoms, the spread of corruption, and the absence of social justice are all factors to blame for the frustration experienced by those driven to join terrorist groups.