A Middle Eastern NATO Appears Necessary, but Not Yet Possible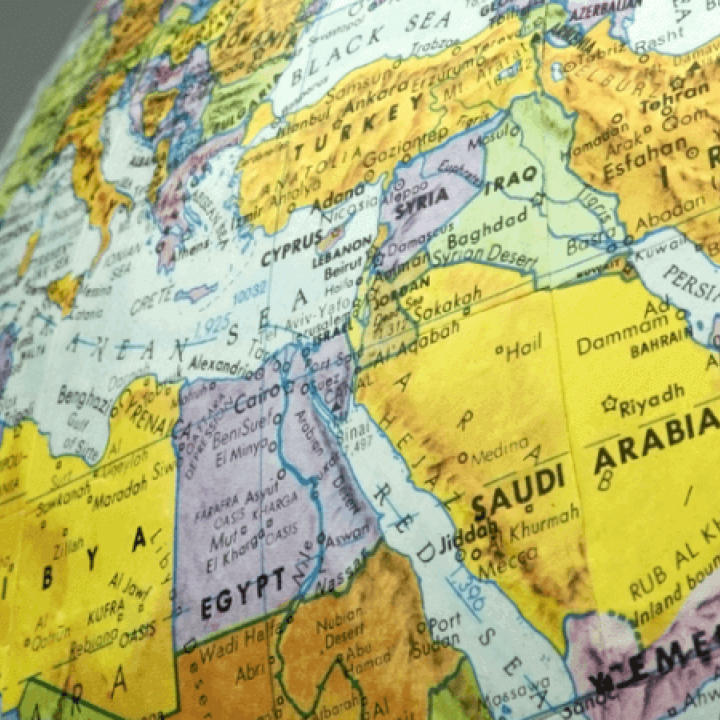 While a military alliance with U.S. backing seems natural, necessary, and justified, the path to the establishment of a Middle Eastern NATO is barred by regional differences.
One of the main objectives of the United States President Joe Biden's visit (July 13-16) to the Middle East was to discuss the formation of an alliance including the six Arab Gulf countries (Saudi Arabia, the United Arab Emirates, Oman, Qatar, Bahrain, and Kuwait), as well as Egypt, Jordan, and Iraq. This matter was given further media momentum after Jordan's monarch, King Abdullah II, spoke of his support for a Middle Eastern version of NATO in an interview with CNBC.
While nothing concrete has yet materialized, renewed discussion of such a proposal raises several key questions: what facts and developments dictate the formation of such an alliance? Which countries are candidates for membership? And while it is true that there has been some openness following the resolution of the Gulf crisis and Turkish rapprochement with Saudi Arabia and the UAE, can an alliance really be established with regional relations as murky as they are? Moreover, the ongoing dialogue between Riyadh and Tehran via Baghdad, if successful, would undermine the basic goal or logical argument that necessitates the formation of the new alliance in the first place.
It is worth noting that this is not the first time there has been talk of creating a military alliance in the region. There have been—at least over the past few years—two such calls: first, the Arab League's plan in 2015 to establish a joint counter-terrorism force and second, Saudi Arabia's proposal in 2017 to establish a Middle East security alliance, which it called the "Arab NATO" at the time, and which received full support from former U.S. President Donald Trump.
Neither of these plans or calls saw the light of the day for many reasons, including increased armed conflicts in some of the region's countries (Syria, Libya, and Yemen). Political differences between countries of the region were also caused by these countries' divergent stances on these conflicts, resulting in competing axes, where each country supported one of the parties to the conflict. This was, of course, in addition to the political differences on many other issues within the region, and even outside it.
Since then, circumstances have undoubtedly changed. New realities have emerged, and important developments have taken place. The most notable ones are discussed in the following paragraphs.
The continued danger and threat posed by Iran is still a developing theme in the region. This is not only regarding its regional behavior, as there are still no clear signs of a change, but also the possibility of it possessing the ability to manufacture nuclear weapons, especially if the indirect negotiations between the U.S. and Iran fail to reach an agreement soon. Tehran has built up a large stockpile of enriched uranium, and continues to install advanced centrifuges. The Biden administration believes the threat can be mitigated by reviving the nuclear agreement. However, reaching an agreement may not solve what can be called the Iranian problem. A nuclear deal would lift the economic sanctions on Tehran, potentially enabling it to pump hundreds of billions of dollars into building up not only its conventional forces and ballistic missiles, but also its networks of militias and armed groups across the region. We also cannot ignore that, among Arab countries, there are those, such as Syria and Lebanon, already subordinate to Iran in one form or another. Meanwhile, Iraq so far does not seem to be able to move against Tehran. We can well understand King Abdullah's continued warnings about Iran's growing influence in the region, an issue he also clearly emphasized during his second visit to Washington, this past May. He spoke there about the danger of Iran filling the void left by Russia in Syria due to its war in Ukraine, especially in light of the U.S.'s own preoccupation with that conflict.
There is also the normalization of relations between Israel and some Arab countries within the framework of the Abraham Accords. Indications have also emerged of similar arrangements with other important countries, which may include Saudi Arabia, meaning Israel could be part of any new alliance. Moreover, the end or recession of the axis policy after the détente in regional relations, especially between Qatar and Turkey on one side and some Arab Gulf countries including Saudi Arabia, the UAE, and Bahrain, as well as Egypt, on the other is gaining traction. This has also impacted the regional crises triggered by the Arab Spring, which have cooled down in recent years.
On top of that, the Ukrainian crisis and its energy implications continue to impact the region and the world in general. Europe's desire to abandon dependence on Russia will certainly drive it to look for the closest alternatives, which are the countries of Africa and the Middle East. This, of course, requires the construction of a transport pipeline network, and cooperation in oil exploration in the Middle East. That could also require creating a new framework for regional cooperation involving all the region's countries, including Israel, and possibly Iran, in a different framework.
And lastly, there is a clear regional concern about the possibility of a U.S. withdrawal from the region, especially considering its focus on the Indo-Pacific to counter rising Chinese influence and now preoccupation with the Russian war in Ukraine. This calls for serious consideration of regional security arrangements to achieve balance and ensure security and stability in the event of U.S. absence.
In light of all these developments, talk of forming a regional military alliance with U.S. backing or participation seems natural, necessary, and justified. But despite all that, there are very important factors on the other side that could prevent such an alliance from being established, at least currently or in the near term. Despite the importance of such an alliance—and indeed the region's need for it together with the logic of calling for it, especially due to growing common threats—establishing an official military alliance with contractual obligations similar to NATO, as it is promoted, is closer to a fantasy than a reality. There are no clear answers to several crucial questions, as well as a number of political and military realities in the region:
First, many questions have been raised in previous attempts that remain unanswered regarding the member countries expected to establish or organize this alliance. For example, will Israel, an emerging factor in the equation of any regional alliances, unlike previously, be one of these countries? How will that be possible when there are still countries that do not have any formal relations with Tel Aviv?
Second, the basic question remains, which is usually the motive, and even the driver, of any alliance, about the goal, or the precise meaning of the "target enemy." This is still undefined, or at least there is no shared language on it among the countries said to form the alliance. In the case of NATO, the main target—at least currently—is Russia. And the Quad and AUKUS, while different in form and substance, are aimed at China.  So, who is the target of the new coalition? Of course, none of the countries of the region—with the exception of Israel—have mentioned who it is. But U.S. officials, including President Biden himself, have not hesitated to speak about Iran. Is it possible, then, to form an alliance of these countries, some of which have good relations with Tehran and have different perceptions of the threat it poses?
It is true that most of the region's countries (in general), if not all of them, agree that Iran is indeed a problem given its behavior that has harmed many countries of the region and caused regional instability. But in reality, they differ greatly on the size, extent, or even nature of the threat posed by Tehran. Despite agreeing on many concerns raised by Iran's regional policies, there is no consensus among these countries on how to deal with them, primarily due to divergence among Arab countries (in general) on one hand, and Israel on the other, regarding the approach that should be followed with Iran and strategies for dealing with it. This confuses or could undermine any hopes regarding the task, which must be "very clear," as the Jordanian monarch said. There is also, and perhaps most seriously, a discrepancy among Arab countries themselves regarding Iran. Some of these countries consider Iran a neighbor that can be dealt with through dialogue and without a clash. Within the GCC, this includes Oman, Qatar, and Kuwait to some extent. Outside the GCC is Iraq (and Iran's client states, Syria and Lebanon). Meanwhile, some countries consider Iran to be among the most serious threats they face. These include Saudi Arabia, the UAE, and Bahrain to some extent, within the GCC, and to some extent Jordan and Egypt outside of it. However, these countries also generally prefer to negotiate while ratcheting up the pressure. There remains almost only one country in the region that considers Iran its primary enemy and the most dangerous threat to its existence: Israel. Israel is backed by countries outside the region, led by the U.S., and believes that all means, including military force, are necessary to eliminate this threat.
Third, and largely related to the above, is the ongoing dialogue between Saudi Arabia and Iran through Iraq. This dialogue appears to be making some progress, especially amid talk of an agreement for the mutual opening of embassies between Riyadh and Tehran. Therefore, Saudi Arabia's answer to the two related questions of the "target" and "way of dealing"—which I referred to earlier—will make the idea of forming an alliance against Iran doubtful. It is not in line with Saudi Arabia's efforts, with other Arab countries, on reducing tensions with Tehran, and perhaps reaching understandings with it on a number of ongoing crises, most importantly Yemen. How can an alliance against Tehran start from Saudi Arabia, so long as it is serious about turning over a new leaf with Tehran?
We are facing a real dilemma. The formation of a NATO-style Middle Eastern alliance is necessary, and there appear to be logical arguments calling for it. But at the same time, it is not possible due to realities on the ground, especially the divergent viewpoints of the concerned countries, not only regarding whether Iran actually poses a threat or not, but also on how to deal with it. There are those who cling to dialogue as the only way, while others believe pressure and perhaps force—at some stage—is the only thing that will stop Iran and eliminate its threat.