Barzani's Failures on Freedom of Expression in Iraqi Kurdistan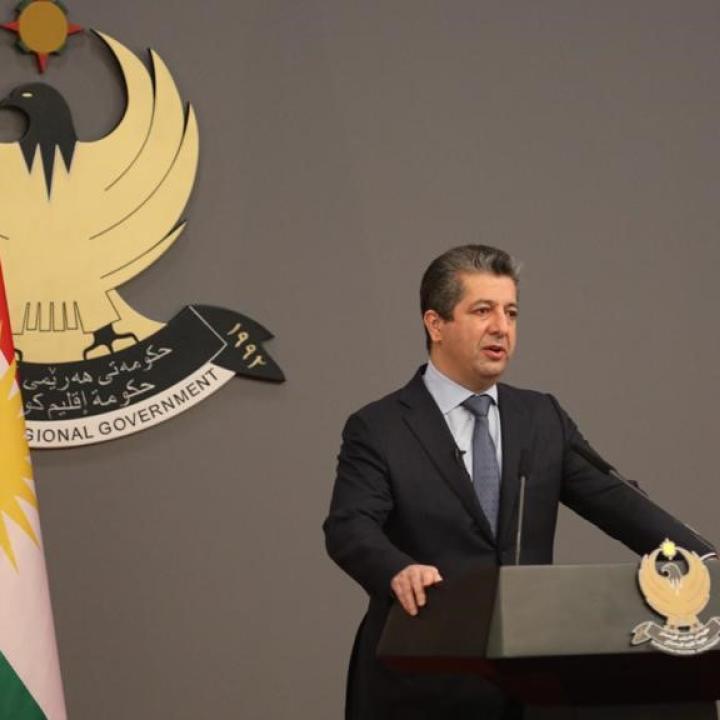 The Kurdish Region of Iraq, rife with economic and security challenges, is witnessing increased censorship and suppression of free speech.
A few weeks ago, to mark the third anniversary of his cabinet, Prime Minister of the KRG Masrour Barzani delivered a speech summarizing the result of his reforms and the achievements of his government in the past three years. He likewise promised to expand his government's progress in freedom of speech. Barzani characterized the government efforts to "expand the scope of freedom of expression and speech and laid the groundworks for creating a more responsible journalism in the Kurdistan Region (KRI)." However, the reality of the current government is that its activities have run contrary to these values, and what Masrour Barzani has promised during both this latest and prior speeches.
Masrour Barzani was appointed prime minister of the ninth cabinet of the KRG on July 10, 2019, replacing his cousin Nechirvan Barzani. In his inaugural address, Masrour Barzani promised to build a strong Kurdistan: carry out reforms, unite political parties, and promote free and independent journalism. Yet words are cheaper than actions, and the subsequent years have demonstrated that he did the exact opposite on the ground. Barzani put the KRG on the cliff as they faced several dire crises that will require decades to amend. Economic challenges, failure to pay salaries, threats to women, and security challenges all plague the KRI, but journalists struggle to report on these issues as self-censorship and enforced censorship increasingly haunt the KRI's journalists.
Retaliation against journalists and critics
Since he was sworn as prime minister, the rate of crime and violations such as threats, harassment, and torture against journalists and activists has increased significantly.  The Metro Center for Journalists' Rights and Advocacy published that 353 violations were committed against 260 journalists and media organizations in the Kurdistan Region in 2021 alone.
One of the most striking crackdowns occurred in 2020, when Barzani arrested and put more than 80 journalists and activists behind bars in Dohuk province after demonstrating against corruption and poor public services. Despite a wide range of serious concerns and condemnation from other national, regional, and international levels to free them, the prime minister stubbornly maintained his stance.
At the tail end of 2021, Kurdish university students demonstrated peacefully demanding their basic rights, such as payment of their financial grants that have been suspended for years and improvement of government university housing conditions. The Kurdish authorities, in contrast, answered brutally by dragging them into the streets, kicking their faces, firing live bullets in the air, and spreading snipers on the roof of the Sulaymaniyah Governorate. 
In 2022, the Barzani government has continued this same pattern of repressing journalists and diminishing the scope of civil freedoms. A few days after the third anniversary speech, two journalists were arrested in Erbil and Duhok due to their professional activities. And on July 22, Barzani's security forces did not allow a peaceful demonstration in Erbil against Turkish bombardments in Kurdistan, which have collectively killed nearly 140 Kurdish and Iraqi civilians.
The prime minister or his current government alone is not responsible for all crises that have occurred in the Iraqi Kurdistan. It's been exactly 31 years since Iraqi Kurdistan has been governed and ruined by the two major parties: the Kurdistan Democratic Party (KDP) of Masoud Barzani (1946-present) and the Patriotic Union of Kurdistan (PUK) of former Iraqi president Jalal Talabani (1933-2017).
Both parties have used a number of strategies over the years to silence the journalists, authors, and protesters who have raised their voices against corruption and injustice. Among both the KDP and PUK, the Talabanis and the Barzanis have more power than other leaders since they have controlled their parties by using security forces and money to protect their families' interests, especially the eldest sons of Jalal Talabani and Masoud Barzani, BavelTalabani and Masrour Barzani.
Barzani's reputation among journalists
Barzani's crackdowns on journalists reflect several aspects of his government.
Most of his government members and cabinet ministers consist of senior officers with intelligence backgrounds, a branch known for its skepticism of the press. Masrour Barzani himself came to power with a robust intelligence background as head of KDP intelligence services. Nor has the Barzani family overall been tolerant of criticism directed towards them.
In 2005, Barzani arrested the dissident writer Kamal Said Qadir and put him behind bars for posting "defamatory" articles about Kurdish authorities. But allegations of more violent repression also exist, including the assassination of the young journalist Sardasht Othman, who was kidnapped in the Iraqi Kurdistan capital of Erbil and killed in the vicinity of the Iraqi city of Mosul in 2010. Osman was a young journalist who criticized corruption, family rule, and nepotism; he specifically criticized the Barzanis in several pieces. In one of his articles, "I am in Love with Barzani's Daughter," Osman sarcastically wished to be the son-in-law of Masrour Barzani in order to be rich, protected, and have a better lifestyle. Osman broke a social taboo around the family with this article, and consequently there was speculation that the current prime minister was involved in Osman's Murder. Barzani's loyal security forces have also been accused of the 2016 assassination of the journalist Widad Hussein, who worked for a newspaper affiliated with the KDP's rival PKK party, by his family.
By and large, the rate of violence and crime in the KRI has increased, degrading trust and weakening the sense of community. This repression also has ripple effects on Iraqi Kurdish society, and is one of the contributing factors to the ongoing 2021-22 migrant crisis on Belarus's border. There is also the concern of alienating and angering Kurdish young adults. It is this age group most susceptible to radicalization or quickest to protest, and many young Kurds are increasingly frustrated with restrictions on speech.
Barzani should learn the lesson repeatedly echoed throughout the region on what happens political figures when they have impinged on peoples' rights to demonstrate and free speech. If such repression continues, it will make it more likely, not less, for Kurds to come out and protest against a government that cannot or will not guarantee their freedoms.