Will Haftar's Heir Be an Ally of the Russians or the Americans?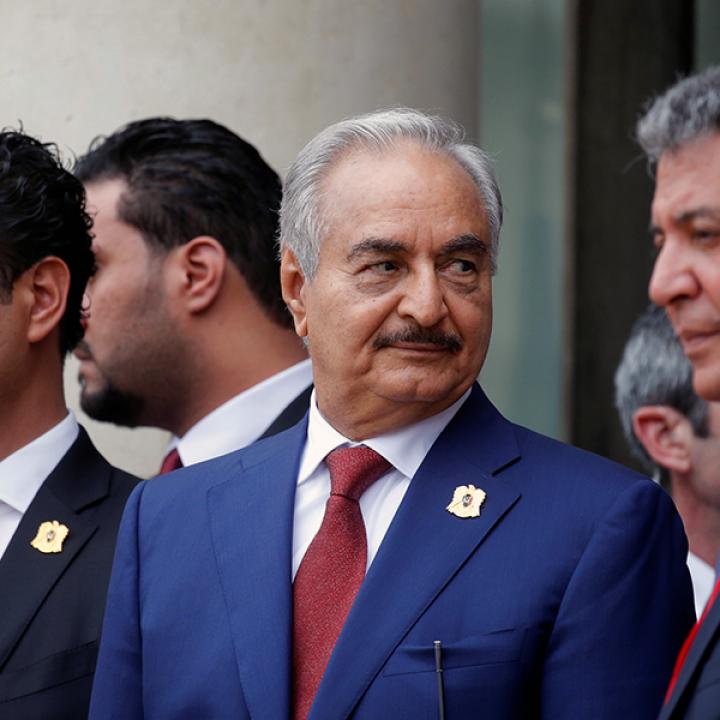 As Libya's political dynamics continue to change, Washington's next moves are more important than ever.
On August 22, 2022, an American drone was shot down over the Libyan city of Benghazi, which is controlled by the Commander of the Libyan National Army (LNA), Field Marshall Khalifa Haftar. It being widely understood that the Libyan forces do not have the technological capability to down an American drone in such a manner, it is strongly speculated that a Russian system at the Benina military base was responsible for bringing the drone down. This incident highlights the distinction between Russians, who are operating on the ground in Libya, while the Americans remain in the skies. Amidst the lack of a clear and declared U.S. strategy in Libya. it is necessary to reflect on the complexities of Russia's evolving role in the country, especially with regard to Haftar and his potential successors. 
Is the Russia-Haftar Relationship in Jeopardy?
The relationship between Russia and Haftar has undoubtedly been a strong one for years, with Russia initially providing arms and experts to Haftar's LNA before the alliance developed into a larger deal in which Haftar purchased the services of the Russian paramilitary organization, the Wagner Group. In 2019, for example, Russia substantially backed Haftar's failed attempt to wrest control of Tripoli from the UN-recognized Government of National Accord (GNA)—an attempt that played out over ten months. 
Nevertheless, a long-standing cooperation between Haftar and Russia is not as infallible as it may seem. My coverage of Haftar's military operations surrounding Tripoli in 2019 indicates that though Russia's military support for Haftar was certainly important, it was largely considered insufficient by Haftar's camp. This situation raised frustrations among LNA field military leaders such as Major Fawzi al-Mansouri.
Moreover, my communications with a Libyan military advisor in the army command in al-Rajmah village in East Libya—a well-known general who is close to Haftar—suggests that the gap of distrust between Haftar and the Russians is only increasing. When the Wagner Group withdrew from southern Tripoli following ceasefire calls from both Turkey and Russia in Early 2020, Haftar viewed the move as evidence of Russia's misgivings regarding their support for the LNA. At the time, Haftar refused to give in to Russian pressure to sign a ceasefire agreement in Moscow, and he left the talks without signing. As a result of Russia's backtracking, Haftar is potentially looking to diversify his alliances, so as not to be reliant on Russia alone.
For their part, the Russians may not fully trust Haftar's potential as a long-term partner, despite their military alliance with him. In the back of Russia's mind, Haftar is still "America's man" in Libya, especially after the twenty years that Haftar spent in Virginia—years in which he obtained U.S. citizenship. 
Haftar's status as an American citizen serves as a major obstacle to his political aspirations in Libya, namely his bid for presidency in the elections that were agreed upon in the Libyan Dialogue Forum, though delayed since 2021. Opponents will undoubtedly use his citizenship against him, a move that Aguila Saleh—the Speaker of the House of Representatives—has already employed against opponents such as the High Council of State, Khalid al-Mishri. Although Haftar is expected to give up his American citizenship prior to elections—especially after being convicted of war crimes in a U.S. District Court in June—the success of his campaign is far from guaranteed. Even if elected, Haftar will face major challenges such as the revival of the Libyan economy and post-war reconstruction, and as a result, Russia may need to look elsewhere in their attempt to maintain influence in the country. 
The Issue of Haftar's Successor
Complicating the relationship with Russia, rumors have circulated for years about Haftar's failing health, leading many to wonder who will replace Haftar in the future. Although there are several contenders, it seems most likely that Saddam Haftar—one of Khalifa's sons—is currently being groomed to take over leadership of the eastern-based LNA. According to the information I frequently receive from those close to Haftar's sons, conflicts have begun to unfold primarily between Saddam and his brother, Belqasim, in regards to decision-making as Khalifa Haftar increasingly delegates issues to them. On many occasions, Belqasim has opposed his brother's positions, as was the case in the ceasefire and oil blockade agreement between Khalifa Haftar and GNA prime Minister, Abdul Hamid Dbeibeh, in July. In the end, however, Saddam usually manages to exert his influence over Belqasim, casting Saddam as the leading candidate. 
In fact, it appears as though Saddam has already worked to expand his influence and popularity in the media, security apparatuses, and social circles of Libya. Tribal elders and leaders of local communities are expected to pledge allegiance to Saddam Haftar as leader of the army, a move that is normally accomplished by holding a major clan meeting attended by the most important representatives of the tribes of eastern Libya. Although this information is not being publicly reported, sustained communication with representatives of several tribes inside the Cyrenaica region—especially in Green Mountain, my place of birth, where the Harabi tribes reside—indicates that the tribes intend to back Saddam Haftar in the event of Khalifa Haftar's death.
In addition, Saddam Haftar has attempted to draw international and regional support—a goal reflected in his November 2021 visit to Israel. Although Saddam made the visit on behalf of his father, his request for Israeli political and military support in return for future diplomatic ties between Israel and Libya sets the stage for a stronger relationship between Israel and Saddam. Saddam's visit indicates a clear understanding of the current developments in the Middle East, and potentially places him at the crux of the Haftar camp's desire for Libya to join the Abraham Accords. This naturally brings up questions about the LNA's reliability and usefulness to Russia in a post-Haftar Libya.
Of course, Saddam's succession is not a sure thing, and there are some supporters within Haftar's circle who strongly oppose Saddam as heir to the position of commander of the army. These people represent a rational current within Haftar's camp who hope to prevent the army from turning into a family inheritance for Haftar and his sons. Nevertheless, other key players have chosen to remain silent about the expansion of the political, security, and economic influences of both Saddam and Belqasim, likely due to their recognition of the significant historical role that Khalifa Haftar has played in the fight against jihadist groups that have long controlled Barqa. Knowing that Haftar's departure would create a vacuum in which Islamist groups could reposition themselves in eastern Libya—perhaps entering into alliances with other militias fleeing from Benghazi and Derna, such as the group of Ibrahim Jadhran or the jihadist Shura Councils—these players view Saddam, and even Belqasim, as the continuation of Khalifa's relative stability.
Where Does the United States Fit In?
With the ever-changing presence of Russia in Libya and the many questions regarding Haftar's heirs, it is still unclear where the United States stands and what they can offer in order to increase stability and peace in Libya. Is it worthwhile for the United States to invest in a new relationship with Saddam Haftar, or will the heir-apparent instead move closer to Russia in an attempt to solidify his rule over two-thirds of Libya and to draw America's attention? In the short term, should the United States look to Khalifa Haftar as his relationship with Russia appears to be in flux, or are the myriad security and political complications inherent in Haftar's position too much to overcome?
Today, the Biden administration faces three important issues in Libya that make the country an unavoidable part of America foreign strategy. First, terrorism is still very much an issue in Libya, especially in the south and southwest regions. With internal chaos brewing amidst the delayed elections and competition between the government of Fathi Bashagha and the UN-recognized GNA led by Dbeibeh, this terrorist threat could easily taken advantage of the situation to establish a more firm Libyan foothold. Second, Libya remains an important player in the global energy discussion, especially after the consequences of Russia's operations in Ukraine and as Russia tries to extend its control on the Libyan oil market through the Wagner Group, which is deployed near oil fields like El Sharara. The third issue is the presence of Russia in Libya itself, a role it is unlikely to give up anytime soon. As Libya's internal dynamics continue to evolve and with a new government potentially on the horizon, the United States needs to establish more clear rhetoric on their relationship with Libya and its attitudes towards the country's competing factions.