The View From Marrakesh: "Africans Against Islamic Extremism!"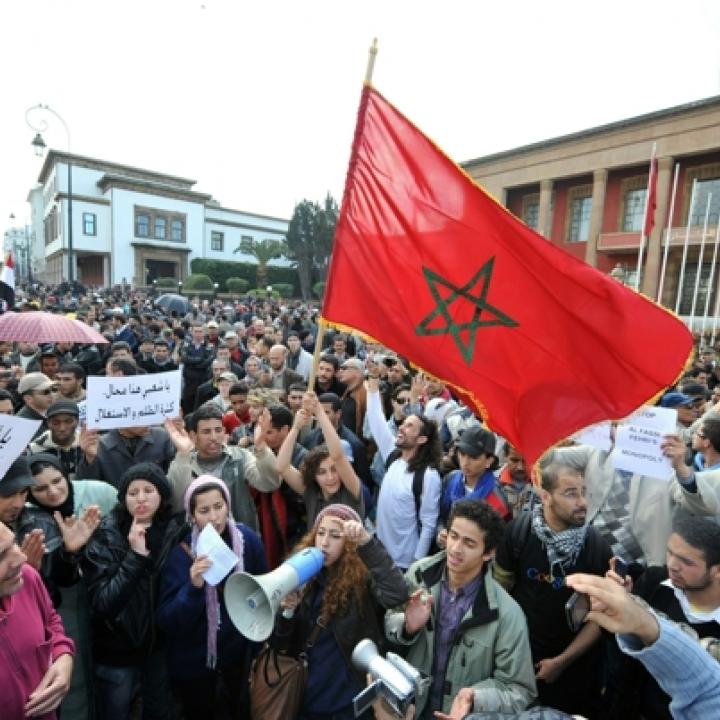 March 27, 2017
Last month the Marrakesh Security Forum, a semiofficial annual conference of experts and policymakers hosted by Morocco's leading foreign policy think tank, marked the diplomatic reunion of Morocco and the African Union with intense discussion of common continental interests in confronting violent jihadi threats. And last week, a low-key U.S. government reorganization seemed in line with this closer alignment of the Maghreb (Morocco and North Africa) with other parts of Africa. Inside Washington's National Security Council, Maghreb affairs were moved from the Near Eastern to the African office.
Back in Marrakesh, the discussion of regional challenges included, not too surprisingly, prolix official presentations on the necessity of more than merely military approaches to the continent's security problems: better governance, economic development, environmental protection, youth employment opportunities, ideological guidance, and cross-border cooperation. But beyond such platitudes, several more original themes stood out. These were notable both by explicit reference and, in some cases, by conspicuous absence.
First, there was considerable consensus about the central role of Islamic extremism amidst Africa's many and varied security concerns. In this connection, participants paid little attention to the organizational distinctions, so often debated among American academics, between nominal affiliates of al-Qaeda (e.g., Somalia's al-Shabab) and those of the Islamic State (e.g., Nigeria's Boko Haram). Rather, each movement was assessed primarily in its particular local context, with scant reference to any putative central direction or assistance from afar.
Notably, representatives from the many predominantly Muslim countries in attendance, from Senegal to Sudan and beyond, were not at all reticent about naming the threat explicitly as such, using such terms as "jihadi terrorism" or "violent radical Islam." By contrast, speakers from predominantly non-Muslim states, whether in Africa, Europe, or elsewhere, tended to shy away from such phrases. Instead, they appeared at pains to insist that the jihadi phenomenon reflected not religious inspiration but socioeconomic or political grievances.
Second, a number of participants were very specific in identifying significant sources of support, whether internal and external, for jihadi terrorism. This was often the case even when diplomatic or political sensitivities might have been ruffled. The written conference report, for example, calls out the "ambiguous role" of both Qatari charities and the Iranian Red Crescent in relation to violent Islamic extremism in Mali.
Similarly concrete revelations emerged from some European participants. One EU official noted the remarkable global terrorist role of Hezbollah in Conakry, the capital of Guinea. That is their headquarters, he explained, for distribution of the worldwide online traffic in counterfeit pharmaceuticals and medical devices. This gigantic scam provides hundreds of millions of dollars annually in illicit profits, shared among organized crime and terrorist networks. And a German official noted that homegrown Muslim or anti-Muslim radicals, not returning foreign fighters, are the main source of terrorism in her country today.
Third, Morocco's own experience with preventive approaches emphasizing moderate Islamic teaching and practice came in for considerable attention, and some applause, from other African as well as several European participants. This, of course, was in keeping with host country courtesies, yet also demonstrated the perceived relevance of Moroccan imam training and related joint projects, with neighboring countries and European partners alike. Unexpectedly, however, the Western Sahara issue, recently entangled in Moroccan-African rapprochement, hardly figured at all in the conference proceedings -- perhaps as if to emphasize that this contentious imbroglio has been shunted aside, or at least insulated from other, more cooperative subjects. Similarly, no one even mentioned the fact that Morocco itself has not had a formally functioning new government since its last parliamentary election, almost half a year ago.
Fourth, geographic representation at this event was very uneven, in several surprising ways. Sahel and Sub-Saharan African states were well represented, but Morocco's own North African neighbors (Algeria, Tunisia, Libya) were not. This signifies continuing tensions over the Western Sahara and other issues that were papered over, but not resolved, by Morocco's recent readmission to the African Union. Ironically, Morocco's ties to the south, in Sahel and Sub-Saharan Africa, are in many ways closer than its ties to fellow Arab countries to the east. EU countries were also present and active at the conference in large numbers, reflecting their strong interests in engagement with Morocco and its vicinity on refugee, migration, and counterterrorism issues -- and, increasingly, on moderate Islamic guidance programs as well.
But American participants were relatively sparse; not a single U.S. official spoke at the conference, and AFRICOM was totally absent. This was not a Trump transition oversight because the same neglect was noticeable last year. One can only hope that, behind the scenes, U.S. security interaction with Morocco and other relevant African countries is more robust and productive than is apparent in public.
Fifth, in sharp contrast, the Russian presence at this conference was again very visible and assertive, as was also the case in 2016. One Russian panelist delivered a particularly virulent diatribe against Western "interference" in Africa in the guise of counterterrorism assistance, which he claimed only made matters much worse. When the author publicly took exception to this sweeping calumny, that Russian panelist backtracked a bit, conceding that he would welcome proper cooperation against jihadi threats, even with the United States. But immediately upon my return to Washington from Marrakesh, my cellphone was deluged for an entire day with Russian robocalls -- perhaps another token of Moscow's increasing use of such offensive cyber tactics in its new, Cold War-style power projection abroad.
Sixth, the Marrakesh gathering underlines a key yet often overlooked point about radical Islamic extremism: it is at least as much an African as it is a Middle Eastern, European, or U.S. homeland security issue. For the Africans involved, be they Arabs, Muslims, or neither, the military defeat of the Islamic State in faraway Mosul, Iraq, or Raqqa, Syria, will be of small comfort so long as they continue to confront equally savage challenges much closer to home.
This latest conclave provided some evidence that various African governments, NGOs, and expert advisors are not only fully aware of the problem but also increasingly open to joint action to address it. At the same time, however, such cooperation among the North African states, high on the list of those affected, remains woefully insufficient. And if this conference is any indication, the extent of U.S. support for this common cause, certainly in its public manifestations, could also benefit from greater effort and attention.