Occupation, Not Apartheid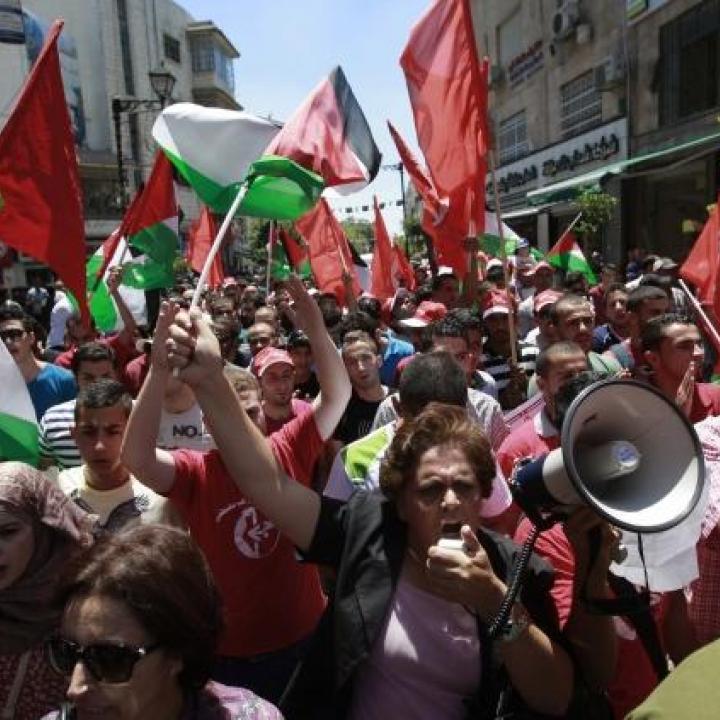 In 2014, U.S. Secretary of State John Kerry warned that Israel risked becoming an apartheid state if a two-state solution could not be reached. In March 2017, a UN report titled "Israeli Practices toward the Palestinian People and the Question of Apartheid," published by the Economic and Social Commission for Western Asia (ESCWA), accused Israel of being an "apartheid state" over its treatment of Palestinians.
The authors of the report, Richard Falk and Virginia Tilley, based their definition of apartheid primarily on Article II of the 1973 International Convention on the Suppression and Punishment of the Crime of Apartheid and the Rome Statute of the International Criminal Court. The Rome Statute states: "The term 'the crime of apartheid,' which shall include similar policies and practices of racial segregation and discrimination as practiced in southern Africa, shall apply to...inhuman acts committed for the purpose of establishing and maintaining domination by one racial group of persons over any other racial group of persons and systematically oppressing them." The Apartheid Convention sets forth that the "crime of apartheid" consists of "discrete inhuman acts that acquire the status of crimes against humanity only if they intentionally serve the core purpose of racial domination." The Rome Statute specifies in its definition the presence of an "institutionalized regime" serving the "intention of racial domination."
The report stated, on the "basis of scholarly inquiry and overwhelming evidence, that Israel is guilty of the crime of apartheid." It bases its apartheid argument on the "area of policy serving the purpose of maintaining Israel as a Jewish State" such as the "land policy" and "the Israeli law conferring on Jews worldwide the right to enter Israel and obtain Israeli citizenship regardless of their countries of origin and whether or not they can show links to Israel-Palestine, while withholding any comparable right from Palestinians, including those with documented ancestral homes in the country." But both examples cited in the report are motivated by occupation policies rather than apartheid.
Israel condemned the report, and Israeli ambassador to the United Nations Danny Danon said, "The attempt to smear and falsely label the only true democracy in the Middle East by creating a false analogy is despicable and constitutes a blatant lie."
Whether Israel is considered an "apartheid state" or not depends on the definition and meaning of the term "apartheid." Generally speaking, it means "a system of institutionalized racial segregation and discrimination." Wikipedia's definition states: "Broadly speaking, apartheid was delineated into petty apartheid, which entailed the segregation of public facilities and social events, and grand apartheid, which dictated housing and employment opportunities by race." So, the following elements must be present for a state to be a true apartheid state: discrimination is institutionalized; the reason for discrimination is racial; public facilities and social events are segregated. But if discrimination by the state is not institutionalized, is not racial, and does not include legal segregation of public facilities and social events -- as is the case with Israel -- then it is not apartheid.
Those accusing Israel of being an apartheid state confuse occupation policies with apartheid. For instance, the Israeli army dismantled a Dutch-funded project on the West Bank of the Jordan River, including tools and sheds. The agricultural project, into which the Netherlands put 10 million euros, involved teaching Palestinians how to use the land for growing their own crops. This is an example of occupation and repressive policy, but not apartheid. The wall Israel built is a "separation wall" rather than an "apartheid wall" -- it was built to separate Palestinians and Israelis for political and security reasons in the wake of suicide bombing attacks against Israeli civilians, not for the purposes of ethnic discrimination.
Similarly, Israel does not invest in Area C, where Palestinians are living under full Israeli military and civil control, but this is the nature of an occupation state. An occupier simply does not invest in an occupied area. Israel discriminates against these Palestinians not because of their ethnic origins or the color of their skin but because it covets their land.
Israel certainly has laws that are discriminatory, but such laws do not automatically make it an apartheid state. In some Jewish neighborhoods, Israelis practice housing discrimination where Arabs may not rent or buy homes, but these are de facto, not de jure, arising from social behavior. The same is practiced by Palestinians who consider such matters to be crimes punishable by death.
Accusing Israel of being an apartheid state does not serve the Palestinian cause. Rather, it diverts attention from the fact on the ground that Israel is an occupation state. The Israeli-Palestinian conflict is not about racial separation but about military occupation. What the Palestinians are demanding is not an end to racial separation but an end to military occupation, and gaining the recognition of Palestinian rights to self-determination, independence, and statehood.