How American-Style Education Influences Iraq's Private Sector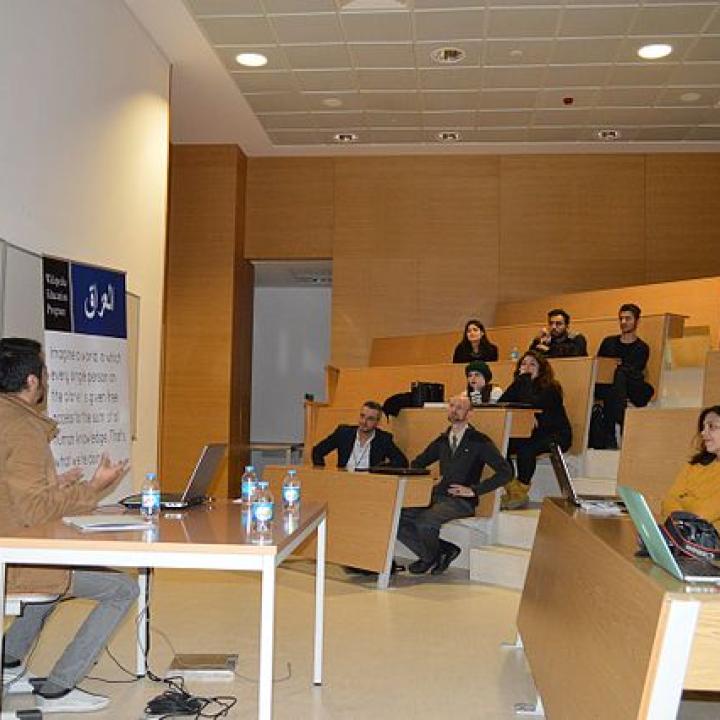 To grow, the Iraqi economy needs a more robust private sector, which in turn needs young Iraqi workers with business-ready skill sets. American-style universities are filling the gap.
On June 8, 2023, the American University of Iraq-Sulaimani commenced its fifteenth graduating class of 250 students. U.S. Ambassador to Iraq Alina Romanowski delivered the commencement speech, describing the American-style education offered at the university as a unique opportunity to "foster critical thinking, embrace diversity, and encourage innovation." As Iraq's economy struggles, increased educational opportunities that focus on these needs are especially timely.
According to a recent World Bank report on Iraq's economic situation, the country is facing several serious economic challenges, including the depreciation of the Iraqi dinar, an excessively expansionary budget passed for 2023-2025, and the lack of necessary structural reforms. To overcome these obstacles, Iraq needs to focus on developing a vibrant and sustainable economy—one that breaks free from the exclusive emphasis on oil and the limited educational opportunities that come along with it.
The oil industry initially sparked the creation of technical institutions in Iraq as the demand for skilled technicians skyrocketed. In the 1960s, Iraq started out with just eight universities, but this number has mushroomed to over a hundred public and private universities across eighteen governorates. These institutions offer undergraduate and graduate programs to about 900,000 students and produce 180,000 graduates every year. Nor does the growth in this sector show any signs of stopping; fourteen of these universities were founded after 2003, showing a persistent upward trend.
Rather than teach skills and critical thinking demanded by the market, however, public universities are producing degrees tailored for jobs in the public sector. With 60% of the population under the age of 25 and youth unemployment officially estimated at 35%, the state simply cannot create enough jobs to meet rising demand. This has limited the development of the private sector and put a cap on Iraq's competitiveness, and entrepreneurship in Iraq consistently lags behind neighboring Gulf states. 
For Iraq's economy to grow and meet job demand, public sector employment alone is not enough. And to prepare Iraq's youth for employment in the private sector, Iraq's higher education system needs an overhaul. Though too few and too small right now, American-style universities in Iraq are leading the way in offering these opportunities and demonstrating an alternative educational model. 
American-Style Higher Education
These locally-funded Iraqi initiatives are not U.S. university franchises, but rather Iraqi imports. Nevertheless, shifts in U.S. policy in supporting educational opportunities for Iraqis has increased their support for American-style universities in the country. The United States initially offered exchange programs and grants to Iraqi citizens, including the Fulbright scholarship. However, between 2012 and 2022, the number of Iraqi students pursuing degrees at universities in the United States has plummeted significantly, dwindling from 800 to fewer than 100. In response, Washington has sought to broaden its reach by supporting the introduction of American-style education within Iraq.
This was the impetus for the establishment in 2007 of the American University of Iraq-Sulaimani (AUIS). Today, Iraq is also home to the American University of Kurdistan (AUK), the American University of Iraq-Baghdad (AUIB), Baghdad Business School (BBS), and the Catholic University in Erbil (CUE).
While admittedly accounting for only a tiny portion of the total percentage of Iraqi college students, institutions of American-style higher education like AUIS and the BBS have carved out a niche. The growing popularity of these five institutions established over the past fifteen years indicate the appeal of the American University brand in Iraq. AUIS, a liberal arts college, is the oldest and largest American university of its kind in the country. The program started out small; its debut cohort consisted of 45 students. But by 2022, AUIS had attracted 1,600 undergraduate students, demonstrating the growing appeal of this model.
A more recent example of American-style education is the BBS. BBS was founded in 2020 and commenced its Business Development Program in October of that year. What started with a pilot class of 20 has now increased to 70 students—a tiny cohort of young entrepreneurs that hope to engage with Iraq's developing private sector. The school's educational model explicitly supports this goal, offering a one-year 'education to employment' program with a focus on the private sector. The program serves as a bridge between the Iraqi youth and the private sector workforce, offering internships and access to the tech startup world upon graduating. For Iraqi youth, this is a relatively unfamiliar yet dynamic space.
Entering the Workforce
While the pool of graduates from these institutions is a small fraction of the overall Iraqi graduate population, the data available on their work trajectories suggests that these programs are having a tangible impact on the opportunities available to their graduates. Approximately 75 percent of graduates from these universities choose to remain in the country, pursuing opportunities in the private sector. The preference is driven by a desire for an unconventional education path and the chance to embrace entrepreneurship and innovation, principles promoted in American-style education. Though Iraq's entrepreneurial and tech startup scene is still in its early stages, the adoption of American-style education has been instrumental in fostering its growth.
Graduates of these institutions gain knowledge, skills, and connections that empower them to lead local businesses. The real test lies in effectively applying their expertise in the workforce, and there are already a few promising examples. One such success story is "Lezzoo", an online grocery company founded by an AUIS alumnus. Since its establishment in 2018, Lezzoo has partnered with over 4,000 stores and served more than 300,000 customers in six cities across Iraqi Kurdistan, generating a revenue of $13.1 million. 
USAID has also played a significant role in supporting these initiatives post-graduation, providing about 3,000 business grants and loans since 2019. This has led to thousands of job opportunities and a remarkable 65% increase in business revenues. Moreover, approximately 7,500 young entrepreneurs have received vital business development services, enabling them to contribute to the country's economic progress. 
Of course, these American-style universities are far from a perfect solution. About 20-25% of graduates from these institutions opt to go abroad instead of staying in Iraq, pursuing further education or jobs facilitated through international connections. And though the number of undergraduate students at AUIS is gradually increasing, it remains small compared to Baghdad University's massive enrollment of 70,000 students. After all, this type of education system is still a very new concept in Iraq, and despite being non-profit institutions, they face tough competition from tuition-free public universities. 
At AUIS, tuition fees vary based on the student's baccalaureate score, ranging from $1,450 to $8,000 per year, while international students are charged $10,000 annually. Given the country's reliance on volatile oil prices for most of its governmental budget and economic health, committing to four years of tuition can be risky—even if that same volatility means that government-promised public sector jobs may be short in supply. Moreover, the longstanding local and regional preference toward STEM degrees and the public sector presents another challenge for American-style universities trying to change the cultural perception of private university degrees. Further expanding the appeal of these programs will require time and repeated success stories like that of Lezzoo.
An Opportunity for U.S.-Iraqi Partnership
These challenges present an opportunity for partners like the United States to invest in sustainable, diversified educational opportunities for Iraqi youth that contribute significantly to the country's long-term stability. The U.S. government plays a pivotal role in promoting this higher education, providing over $100 million in funding since 2004 and launching key programs like the Fulbright Exchange and Visiting Scholars Programs, the Higher Education Partnership (HEP), and the Iraqi Youth Leadership Exchange Program (IYLEP). To enhance the higher education system and promote productivity, the Iraqi government would be well advised to improve its universities in league with the United States.
Through these strategic investments, the U.S. government is actively supporting the development of both liberal arts and practical, marketable skills for Iraqi students, empowering them to sharpen their critical thinking and problem-solving abilities and propelling them towards greater personal and professional success. A $2.55 million grant from the U.S. Department of State to AUK in 2022 also prioritized women and minority students of different socioeconomic backgrounds to help give them an equal opportunity to seek an American-style education. 
In turn, these educational investments greatly strengthen the ties between the two countries and their peoples. As opportunities to participate in U.S.-based educational exchange programs dwindle, and as Iraq faces significant internal challenges of its own, direct support from the United States for Iraqi universities and students is more crucial than ever. In particular, U.S. support must navigate Iraq's new educational landscape as the Ministry of Higher Education is now under the control of Asaib Ahl al-Haq (AAH), a U.S.-designated terrorist group. Though AAH has yet to take any significant actions to harm Iraq's education systems, the United States must be aware of the pivotal role educational opportunities they support can play as both a counterweight to AAH's influence and as a key foundation for Iraq's much-needed private sector. By continuing and increasing their commitment to American-style educational institutions in Iraq, the United States can strengthen the Iraqi economy and build lasting bonds that transcend political uncertainties.