Takeaways from William Burns' Surprise Visit to Libya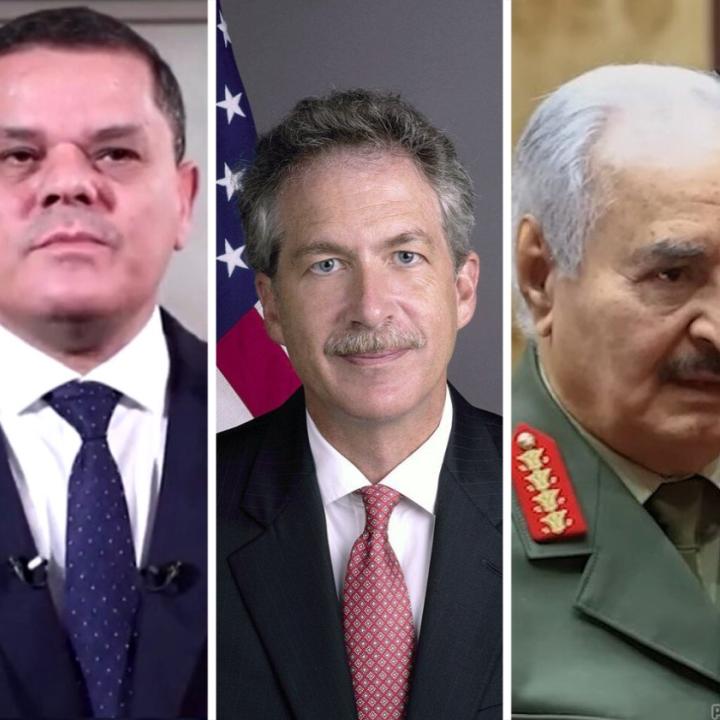 Burns met with both Dbeibeh and Haftar, likely to discuss key U.S. concerns such as the Lockerbie case, energy security, and terrorism.
On January 12, CIA Director William Burns made a surprise one-day visit to Libya, where he met with the Libyan National Army's (LNA) Khalifa Haftar in Benghazi and the Government of National Unity's (GNU) Abdulhamid Dbeibeh in Tripoli. Burns' visit has brought about much speculation as to the purpose of the visit and the issues raised between him and his Libyan interlocutors.
For context, U.S. policy in Libya revolves around three key matters. First, Washington is deeply concerned with Russia's influence and presence in Libya via the Wagner Group. The United States seeks to curtail the capabilities of the private military company (PMC), particularly now that the group's operations in both African nations and Ukraine are well-documented. 
Second, the United States is focusing on Libya's energy situation due to the current geopolitical arm wrestling between the West and energy-rich Russia. As such, the United States wants to ensure that Libya's energy sector remains immune to any significant disruptions that could result from the ongoing political infighting, institutional splits, or overall instability in Libya. 
Third, the fight against terrorism has consistently informed how Washington engages with the region, and there is growing concern about the re-emergence of terrorist threats in Libya's southern and western regions. Jihadist groups and elements have been spotted and at times have engaged in recent months. The areas west of Tripoli in particular have witnessed an increase in the footprint of extremist groups, especially in Janzour and the cities of Zawiya and Sabratha. The situation is made worse by Turkey and its Islamist proxies in western Libya, which seek to redefine the security landscape in ways that can entrench Turkey's military presence in Libya. 
Movement on the Lockerbie File
While not as fundamental to Washington's Libya policy as the three aforementioned issues, the ongoing attempts to prosecute the Lockerbie case are another important factor in U.S.-Libyan relations. In December 2022, the U.S. government coordinated with armed groups loyal to GNU Prime Minister Dbeibeh in the kidnapping and extradition of Abu Agila Masoud al-Marimi, a suspect in the Lockerbie bombing who the U.S. Attorney General issued charges against back in 2020. Various reports suggest that the United States is also seeking to extradite other Libyan nationals in connection to the Lockerbie bombing, including former Gaddafi regime Intelligence Chief Abdullah al-Senussi. 
However, al-Marimi's handover and extradition have jeopardized the position of the GNU and its Prime Minister, generating public backlash, especially on social media, and turning political stakeholders against them. Part of this backlash stems from the fact that the GNU colluded with militias accused of serious human rights violations. There was likewise concern and a widespread belief that the United States was all too happy to make a deal with the GNU on this issue, agreeing to help them remain in power for a longer period amid ongoing efforts to replace the GNU and begin the next stage in Libya's political process.
Nevertheless, PM Dbeibeh and his Foreign Minister Najla al-Mangoush took a gamble in this decision on the basis that recognition and support from the United States government would go a long way in stabilizing the GNU's position despite the backlash. Sources in the GNU have stated to me that the Prime Minister's immediate circle, including his cousin and adviser Ibrahim Dbeibeh and Foreign Minister Najla al-Mangoush, were scrambling for support from the United States after their direct cooperation in the Lockerbie case. As a result, the al-Marimi episode has likely put American diplomats in a more difficult position than prior to the extradition, making their role as intermediaries between Libyan stakeholders more complicated and potentially limiting the chances of advancing the political process. 
Subsequently, Burns traveled to Benghazi—GNU rival Khalifa Haftar's main base—in the first such U.S. diplomatic visit in a decade. The visit was likely more difficult to organize and conduct in light of Abu Agila's extradition due to public perceptions of the visit and given Haftar's public criticism of the handover. It is notable that although Burns' visit to Tripoli was a highly public affair, intended to give the impression of high-level U.S. support for the GNU, no published photos from Burns' meeting with Khalifa Haftar appeared. In a sense, Burns' public appearance in Tripoli could be viewed as a favor to the GNU for their cooperation on the Lockerbie file and the handing over of al-Marimi. It could also have been a prerequisite from Dbeibeh to secure future cooperation on this case, including the handover of other wanted Libyan suspects.
Pressing Issues for the United States
Nevertheless, Burns' visit to Libya also likely had important policy dimensions aside from the optics, not least relating to U.S. concerns over Russian influence. As Moscow increases its reliance on the Wagner Group in Ukraine, the United States and other Western powers are putting more effort and resources into sanctioning and curtailing the group to deprive it from access to weapons and financing. The Wagner Group has sought to use Libya as a forward base for its activities in the Sahel region, particularly Chad and Niger, after it arrived in Libya to shore up Haftar's 2019 campaign to gain territory in western Libya. The group has also sought to secure some legitimate contracts with Libya's eastern authorities over the last few years for gold mining and the provision of security services to oil and gas companies operating in Libya's southern region. 
Additionally, the Wagner Group has managed to build spheres of influence with local communities and smuggling networks in the southern border regions of Libya, where the group has helped provide weapons and at times extraction technologies for gold or other precious metals. One key risk linked to the Wagner Group's presence in the country is that it is mainly implanted in these oil-rich regions of central and southern Libya. There is a constant risk that the Russian private army or an affiliated group will decide to target Libya's energy production and infrastructure so as to retaliate against mounting Western pressure on Moscow, putting Europe's energy security at greater risk. In response to this situation, sources within the LNA stated that Burns delivered a clear message to Haftar that any kind of cooperation with Wagner in Libya will no longer be tolerated and will have consequences, a message reportedly shared with other regional governments as well. The United States' January 26 designation of the Wagner group as a "significant transnational criminal organization" has continued to solidify the message that the United States will be ramping up pressure on the group.
Given concerns over potential Russian sabotage of a key Western European energy source, Burns' visit to Libya also focused on continuing to secure Libya's supply. Sources in the National Oil Corporation (NOC) have confirmed that they have received messages of assurance from U.S. officials that the United States would not tolerate any weaponization of the NOC and the oil and gas sector at large. Clear messages were also delivered to Benghazi and Tripoli that oil and gas production must be maintained and that security for the infrastructure must be guaranteed. 
Since 2011, Libya's oil and gas sector has suffered significantly from devastating blockades and damage due to conflict, and the current production levels of 1.2m bpd can hardly be maintained under present circumstances. The United States, along with some of its international partners, have been pushing the idea of forming a joint military force under the 5+5 JMC to oversee security in critical and vital infrastructure sites as a trust-building and ceasefire consolidation measure. 
It is noteworthy that following Burns' visit, the head of Turkish Intelligence Hakan Fidan subsequently arrived in Tripoli. GNU sources in Tripoli have stated that Fidan wanted a brief on Burns' visit, and in the process warned Dbeibeh not to take all U.S. advice seriously. Fidan also likely wanted to know more about the expressed concern of the United States over any relations between the GNU and Russia, and how this will inform Washington's approach to Libya. Moscow is in the process of reopening its Embassy in Tripoli and Russian President Valdimir Putin has appointed Aydar Rashidovich Aganin as Extraordinary and Plenipotentiary Ambassador of the Russian Federation to Libya. Such moves, along with suggestions that meetings between the two sides have taken place, may have all raised concerns in Washington.
In terms of security, some recent trends in Tripoli and the city of Zawiya are likely on the radar of the United States. On the ground, the Tripoli area of Janzour and the cities of Zawiya and Sabratha are witnessing increased influence from extremist groups led by Shaaban Hadiya and Mahmoud bin Rajab, both close allies of Turkey. Recently, bin Rajab was able to negotiate a prisoner swap in which he managed to convince the LNA to release fifteen members of the former Mujahideen Shura Councils of Benghazi, Derna, and Ajdabiya in exchange for LNA fighter pilot Amer al-Gajam. 
The threat of jihadist groups in Libya was reduced significantly after 2017, but began to re-emerge during and after the 2019 Tripoli war—establishing and consolidating Turkey's military footprint in Libya. This footprint has included both a formal presence of Turkish troops and an informal coalition of Syrian mercenaries and Libyan armed leaders with extremist ideologies who saw an opportunity to sustain their presence in Libya by offering their services to Ankara. 
There has been a growing influence of extremist figures and groups such as Grand Mufti Sadiq al-Gharyani who has in the past supported Ansar al-Sharia and the Derna Mujahideen Shura Council as well as al-Gharyani's deputy and former Libyan Islamic Fighting Group (LIFG) religious leader and head of research committee of the Fatwa Council in Tripoli, Sami al-Saadi. The latter's associates include controversial personalities such as Sirajuddin Haqqani, the Taliban Minister of Interior whom Saadi met in Kabul last month and whom he knows from the time when Arab jihadists fought in Afghanistan against the USSR and later against other Afghan armed groups. In August 2021, Al-Saadi celebrated the Taliban's takeover of Kabul in Afghanistan on his Facebook page. 
The United States may not have the commitment or the will to help resolve Libya's protracted conflict. With Libya as fragmented and divided as it is today, the United States is likely to maintain a pragmatic approach aimed at containing and managing the conflict. To do so, it believes that it must prioritize the three aforementioned issues to secure its immediate interests in Libya. Burn's recent visit emphasizes that Washington will likely continue to engage transactionally with key interlocutors such as the LNA's Khalifa Haftar and the GNU's Abdulhamid Dbeibeh to address American national security and policy concerns, even if it means empowering actors who have held Libya and its people hostage to their own narrow political interests and ambitions.