A Stabilizing Factor: Oman's Quiet Influence amid Mounting Uncertainty in the Gulf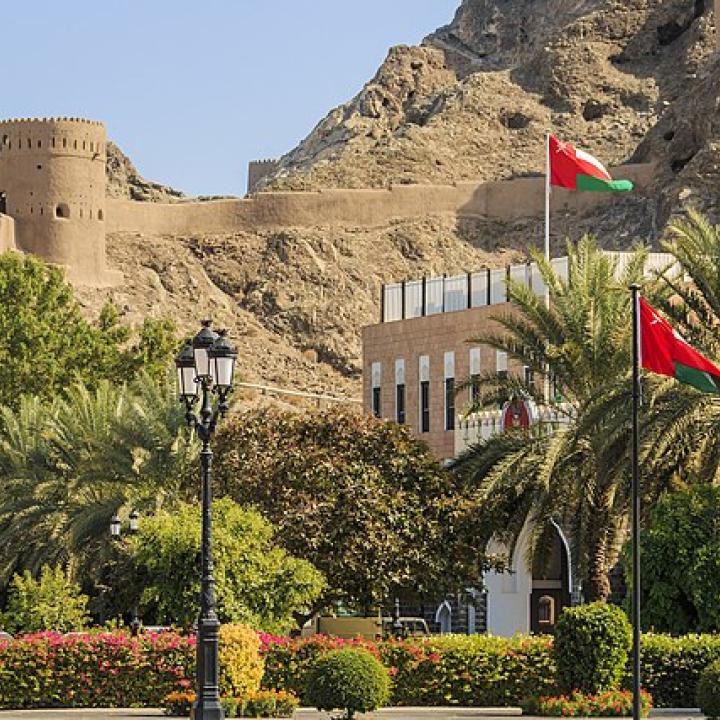 Based on its sound reputation as a conflict mediator and talks facilitator, Oman is well-positioned to tone down flaring rivalries in the Gulf and prevent tensions from spiraling out of control.
After a timid thawing of tensions, the Gulf region is witnessing a renewed phase of uncertainty. Despite being a skillful master at navigating turbulent waters, Oman is eyeing the revamping of tensions in its immediate neighborhood with growing apprehension. The failed attempts to review the Joint Comprehensive Plan of Action (JCPOA), the revamping of Iran's outward-looking incendiary rhetoric as well as localized military retaliations amid recent mass protests, and the failure to extend the U.N.-brokered ceasefire in Yemen do not bode well for the region's precarious stability. Muscat has a vested interest in preventing at-sea incidents from escalating and harsh infighting among rival Yemeni factions from reaching alarming proportions, especially given its coasts looking out on the Strait of Hormuz and much of its southwestern frontier bordering Yemen.
Undoubtedly, diplomatic ties among the Gulf countries are in better shape than they were a couple of years ago. On the one hand, the Al Ula Agreement formally ended the intra-Gulf Cooperation Council (GCC) spat and brought Qatar back into the Arab fold. The Arab Gulf monarchies have also made steady headways in clearing the air with Iran—the on-again off-again Saudi-Iranian bilateral talks have found in Baghdad a safe venue to defuse tensions, and the UAE and Kuwait have recently returned their ambassadors to Iran after a six-year spat. However, should the continued lack of a nuclear agreement and the failure to revive a truce in Yemen become the long-term trajectory for the Gulf, the shaky and hard-earned progress achieved during the past years may prove short-lived. In response, Oman has ramped up its diplomatic activism. Nevertheless, Muscat's de-escalation endeavors may not be enough to defuse the current geopolitical frictions.
The Tenets of Oman's Foreign Policy
Oman is no stranger to navigating highly polarizing conflicts in the Gulf region. Despite heavy targeting by external pressures to alter its foreign policy positioning, Oman has consistently resisted external influences and scrupulously safeguarded its independent decision-making. Positioned on the front line of the deep-rooted rivalry between Saudi Arabia and Iran, Oman is not new to seeing its backyard turned into a battleground where the leadership ambitions of these two regional powerhouses clash. Nevertheless, Muscat has sought to use a heightened insecure environment to its advantage by leveraging its role as a buffer zone state in order to conduct an independent foreign policy. Historically, Oman has adamantly sought to avoid being dragged into political-military rifts that did not represent a direct, immediate threat to its national security interests. 
Indeed, Oman's two-pronged approach to foreign policy—based on preserving cordial diplomatic ties with rivaling factions and championing negotiation as the favored conflict-resolution mechanism—has traditionally been held up as the most effective way to uphold its strategic priorities. These efforts have moreover earned Oman the much-deserved title of "Switzerland of Arabia," while markedly boosting its credentials as a genuine stabilizing force in the eyes of regional and global actors. However, Oman's aversion to picking sides should not be misunderstood as a lack of political decisiveness. Quite the contrary, it requires a great dose of strength to remain above the fray when push comes to shove.
Wedged in the southeastern corner of the Arabian Peninsula, Muscat must balance a mix of inescapable geographic factors and multi-faceted political ties when shaping its foreign policy compass. As a founding member of the GCC, Oman is part of the club when it comes to Arab Gulf monarchies. Unlike many other, however, it simultaneously enjoys bullet-proof diplomatic relations with Iran. Due to the geographic proximity between the two countries, Muscat-Tehran ties date back centuries, with positive interactions flourishing in political, economic, and cultural spheres. These joint custodians of the Strait of Hormuz have also gradually developed a sense of shared responsibility in managing common security concerns arising from this strategic waterway.
The Ripple Effects of Iran's Security Anxiety
After approaching alarming thresholds between May and September 2019, the Gulf of Oman timidly embarked on a path of gradual de-escalation. While sporadic harassment episodes—such as the seizure of commercial vessels by Iranian forces and drone attacks on oil tankers—continued to spoil the security of these sea trade corridors from time to time, precarious stability seemed to hold. 
However, these maritime conditions have quickly deteriorated in the past few weeks. On November 15, the Pacific Zircon vessel—a Liberian-flagged oil tanker operated by an Israeli-controlled shipping company (Eastern Pacific Shipping)—was hit by a drone in the Gulf of Oman. U.S. Central Command (CENTCOM) highlighted how Iranian fingerprints were all over the attack, with the Shahed-series suicide drone as the main suspect of the raid. 
A few days later, a commercial ship navigating in the same area reported an unsafe approach by a drone to the United Kingdom Maritime Trade Operations (UKMTO), a U.K. Royal Navy-linked platform for information-sharing between the military and shipping industry stakeholders. Neither the ship nor the crew were harmed, but the latest episode emphasizes how quickly tensions could escalate and how precarious security conditions are in the maritime space between the Strait of Hormuz and the Gulf of Oman. With almost 2,000 miles of coastline facing these turbulent waters and a mounting desire to expand its blue economy, the resumption of at-sea harassment has set off alarm bells in Muscat.
While numerous factors underpin the current belligerent posture of Iran, the heightening of tensions offshore might can be viewed as a side-effect of growing domestic turmoil in Iran. On the one hand, months-long popular protests have markedly increased the leadership's security anxiety, resulting in an intensification of cross-border military operations. These protests, along with an increasingly dwindling potential for a breakthrough in the nuclear talks and controversial images of Iranian-made drones operated by Russian forces targeting Ukrainian civilian infrastructures, have significantly widened the gap between Iran and Western countries. 
Deeply committed to a dialogue-based approach to conflict management, Oman has quickly stepped in to engage in an intense "telephone diplomacy" exercise with Iran to defuse further incidents at sea. Ultimately, Omani efforts to turn down the heat of maritime tensions reached a peak with the trip of Oman's Foreign Minister, H.E. Sayyid Badr Al-Busaidi, to Tehran on November 19. During the state visit, the top Omani diplomat discussed with his Iranian counterpart Hossein Amir-Abdollahian and Iranian President Ebrahim Raisi joint solutions to promote security for commercial vessels transiting through the Gulf of Oman.
While it remains to be seen whether Muscat's latest moves will bring about a return of relative maritime stability in the region, the country's successful track record in favoring cooperative interactions between rivaling parties even when formal diplomatic channels hit rock bottom is reassuring. More recently, Oman has played a decisive role in negotiating some prisoner swaps. On October 2, a joint Omani-Iraqi mediation endeavor resulted in the release of an Iranian citizen arrested by Saudi authorities in mid-Summer 2022. A few days later, on October 5, Oman contributed to the release of Baquer Namazi, an Iranian-American jailed in 2016 by the Iranians on charges of conducting espionage activities for the U.S. government.
Being the partner of choice for conducting hostage diplomacy benefits Oman as it helps Muscat cement its diplomatic credentials as a reliable, genuine mediator in the eyes of its American and Iranian friends. However, Oman has only limited agency to uphold its primacy in this niche diplomacy. On the one hand, engaging in prisoner exchanges remains a highly volatile affair that largely depends on the counterparties' will to make concessions. On the other hand, the successful Emirati-Saudi intermediation between Washington and Moscow for releasing the U.S. basketball player Brittney Griner has highlighted that alternative conduits for behind-the-scenes negotiations are gradually taking shape in the Gulf.
Back to square one in Yemen
With the "Ramadan ceasefire" hammered out in April 2022 no longer active, Yemen's Houthis may be eager to return to efforts to gain control over the energy-rich province of Marib. The massive display of uniformed troops, ballistic missiles, drones, and naval assets during the Houthi military parades in Hodeida and Sanaa last September rang hollow on hopes for a fourth truce extension to the truce, and with efforts to further expand the UN-brokered ceasefire running aground in early October 2022, it was only a matter of time before tensions returned to the surface.
As such, observers look to Marib as the sight of the Houthi's most recent major offensive. Prior to the UN-brokered truce, the Houthis launched a months-long attack, although failing to obtain significant military victory as the battle ultimately ran aground in the outskirts of the city of Marib. During the six-month-long truce, the Iran-backed insurgent group has had enough time to gather further support from its strongholds, reorganize its troops, and solidify its grip on fortified forward positions. The Houthis might perceive that current conditions on the ground are tilting in their favor, and time now ripe for a new assault on Yemen's energy heartland.
Meanwhile, armed clashes erupted in late October with a series of Houthi air raids launched against critical logistics and energy infrastructures in the Shabwa and Hadramout governorates. Houthi drones targeted the Nushayma and Al-Dabba oil terminals, preventing a couple of tankers from loading their cargo of crude oil. As an intensification of drone strikes has mirrored the Houthi mounting threats to paralyze shipping traffic in the waters south off the Arabian Peninsula, Muscat eyes with growing concern the revamping of armed clashes in its close neighbor.
Since 2015, Oman has tirelessly engaged in active tension-easing diplomacy in an attempt to bring Yemen's downward spiral to an end. As a GCC member state with solid relations with both the United States and Iran, Oman was well-positioned to play the challenging role of putting together mediated talks among different warring factions. On the other hand, Oman's marginal leverage over rival actors and the latter's reluctance to make meaningful compromises have repeatedly hindered Muscat's efforts to promote a durable political solution to Yemen's painful troubles.
With the Houthis ramping up their military offensive and torpedoing the window of opportunity opened by the Ramadan ceasefire, hopes to achieve a long-lasting political solution have suffered a major setback. However, although the road to a negotiated settlement remains littered with major obstacles, Oman continues to stand out as the most favorite regional candidate for promoting a positive environment conducive to de-escalation talks. Muscat will likely need to step in once more to establish informal communication channels among warring parties alive and try to smooth their harder edges, while building some ground consensus for future negotiations.
Future prospects
Muscat's inclination for a low-profile, mild-tone style when conducting its foreign policy should not be misunderstood for the country's disinterest in geopolitical affairs. On the contrary, Oman is a keen observer of developments in its immediate neighborhood and an active player in the regional power game—especially in two key regional conflicts likely to heat up in 2023. 
Traditionally, Oman has counterbalanced the lack of security in the Gulf region by developing its role as a geopolitical balancing force. To uphold its role as a neutral middle-ground power, Oman has been careful not to overplay its mediator status and avoided being perceived as an antagonizing player. Nevertheless, Omani pro-neutrality efforts have occasionally raised eyebrows of some Gulf capitals, which looked at them as an act of soft defiance and passive contestation. Muscat's cautious approach to thorny geopolitical issues has translated into Oman crafting a foreign policy that is prudent and firm at the same time.
With the Gulf worryingly approaching insecurity onshore and offshore, Oman's ambition to act as a go-between will face a new stress test. Previous regional crises have also shed some light on the pragmatic constraints hindering Muscat's desire to emerge as an unbiased powerbroker. Lacking the military might and financial clout of other regional and international players, Oman cannot wield political and economic rewards as leverage to persuade warring actors to sit at the negotiating table. With few cards left to play, Oman's capacity to tilt the balance drastically narrows down. The picture worsens even more when antagonist forces become gradually deaf to Muscat's calls for de-escalation and worryingly pivot toward hawkish positions. As fissures between them grow larger, it would be increasingly painful for Muscat to find a working formula to reconcile centrifugal pressures. Should the Gulf enter more turbulent waters and underlying geopolitical frictions take a turn for the worse, Oman might have a hard time abiding by its traditional balancing posture and be induced to make unprecedented tough choices.