Sisi's Response to New Terrorist Tactics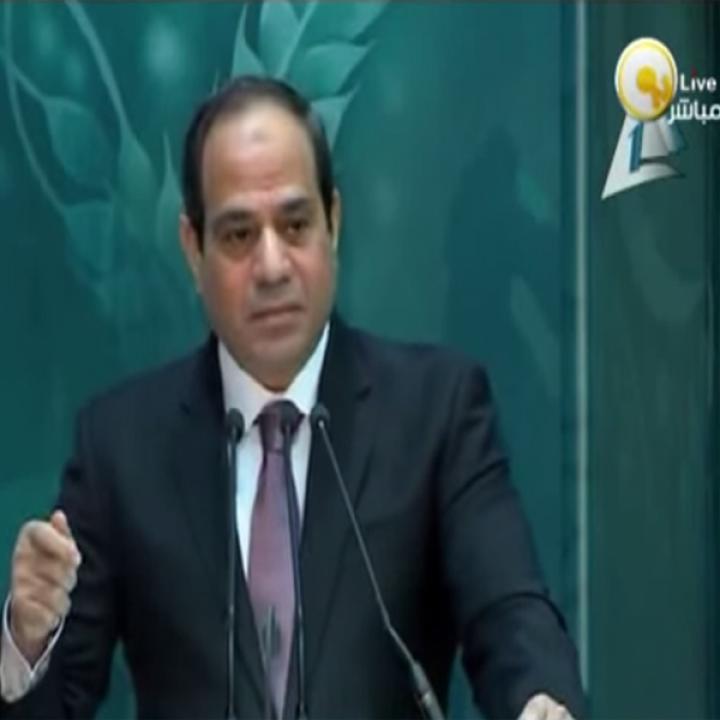 July 16, 2015
When terrorists assassinated Prosecutor-General Hisham Barakat, this successful, high profile attack demonstrated that Egyptian terrorist activity could begin favoring political assassinations in densely populated cities. President Abdel Fattah al-Sisi has acknowledged this threat and increased security in Egypt, which helped Egyptian forces successfully defeat the recent terrorist offensive in the Sinai peninsula. But Sisi also intends to use the incident to crack down on his largest political enemy, the Muslim Brotherhood.  In response the attack on Barakat, Sisi has called for accelerated  implementation of the mass death sentences issued against a number of Muslim Brotherhood leaders, including President Mohamed Morsi and the Supreme Guide of the Brotherhood Mohamed Badie. Sisi's decision to repress many different opposition parties may alter the values that the January revolution brought into the country.
Terrorists may be especially inclined to shift their tactics towards political assassinations after the failure of their most recent attack on the Sinai Peninsula. In early July, hundreds of extremist fighters attacked Egyptian military forces with sophisticated weaponry, including anti-aircraft missiles. However, the terrorists lost due to the valor of Egyptian soldiers and the cover of F-16 aircraft. According to official armed forces data, only 17 soldiers perished while Egyptian forces killed at least 100 terrorists.  This failure, along with the success of Barakat's assassination, suggests that terrorists may prefer to establish a new strategy of political killings in Cairo and other major cities to challenge the Egyptian government.
The assassination has also affected Egyptian politics. The Muslim Brotherhood views the assassination as a predictable outcome of what they see as Egypt's absence of justice due to brotherhood members' incarcerations without substantial incriminating evidence. The Brotherhood's official spokesman, Mohamed Montaser, declared in a Facebook post that, "The coup regime must be held responsible for the negative developments taking place in Egypt, the most recent of which being the assassination of the public prosecutor, since this criminal regime has paved the way for violence and turned the Egyptian arena from a promising democratic experiment into a scene of mass murder, violence and bloodshed." Recent Brotherhood rhetoric has failed to mention any sentiment that terrorism has no justification or that violence encourages authoritarian elements in regimes.
Sisi's rhetoric is similarly politicized. In his speech following Barakat's assassination, Sisi characterized Morsi as a continual threat while alive, stating "We will not wait for five or ten years in order to prosecute the people who are killing us… They are issuing orders from their prison cells, and their followers are doing as they say… We respect the law, but we will enable it to confront this situation." Sisi made this accusation before the completion of any investigations or before receiving any concrete evidence that the Muslim Brotherhood was responsible for Barakat's assassination. Instead of facts, media outlets have created conspiracy theories about the Muslim Brotherhood, which President Sisi has adopted. Compounding the issue, Sisi's combined executive and legislative powers allow him to issue policies and legislation based on these unsubstantiated assumptions.
The drawbacks of this method are clear as the regime continues to develop these policies in response to the recent attacks in the Sinai. In addition to increased security against extremists, Egyptian security services have suppressed peaceful dissent from both liberal and Islamic opposition. Meanwhile, the murder of nine members of the Muslim Brotherhood goes unnoticed and without fair investigation.
In short, there is a major conflict between a regime that uses terrorist threats to impose a new political reality on the gains of the January 25 revolution and Islamist forces that use violence to take revenge against what they consider an illegitimate regime. The negative outcomes of the regime's old tactics are clear. The government has exacerbated public discontent because it has failed to discriminate between  peaceful opposition groups and terrorists. And since the collapse of Morsi's presidency, restricted freedoms in Egypt have led to increased violence instead of  greater stability. The actions of both the Egyptian government and Islamist groups are undermining the stability of the post-January revolution state.
Sisi's government must face several hard questions in order to develop a strategy to combat Egyptian terrorists' new tactics. Do the executions of Morsi and the leaders of the Muslim Brotherhood's help put an end to terrorism? Is it possible to eliminate terrorism solely through stricter laws and security measures? And what are the consequences of the government's current actions? These are questions that Sisi's government must face as Egypt heads into a darker, more dangerous period.  Sisi may discover that enlightenment is the solution to combating terrorism.