Saudi Youth Politics: Between Bombings and Theme Parks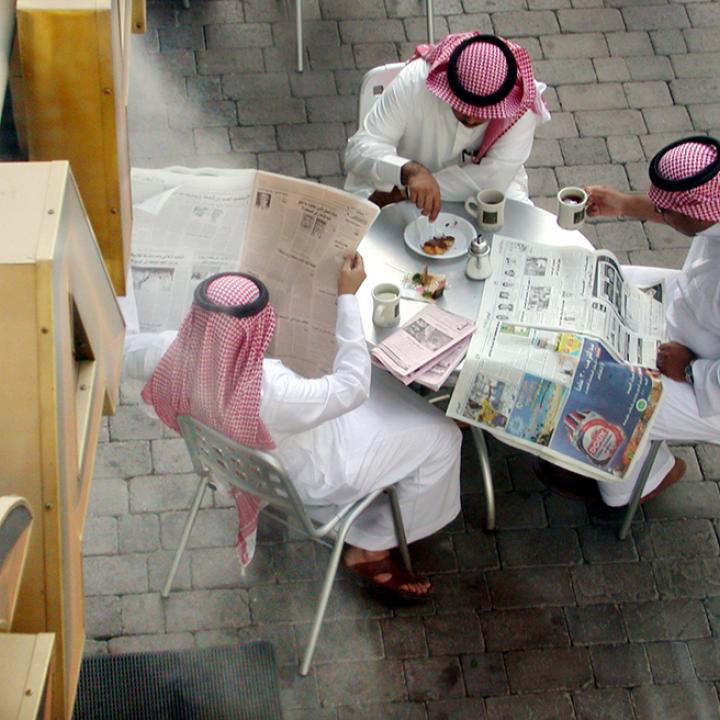 As the kingdom attempts to counter the Islamic State's narrative by consolidating a common identity for those most prone to radicalization, it is simultaneously alienating others.
July 8, 2016
After the deluge of violence during the last days of Ramadan this year, the so-called Islamic State (IS) has once again thrust itself into the spotlight. Its most recent attacks on both Jeddah and the sacred city of Medina -- the burial ground of the Prophet Mohammad (PBUH) and second holiest site for Muslims around the world -- has spawned unanimous condemnation across many Muslim-majority countries. However, the group's shift toward international terrorism has come at a unique moment for Saudi Arabia, as both IS and Saudi Arabia's young and controversial Deputy Crown Prince Muhammad bin Salman appear to be vying for the support of currently disenfranchised youths.
Although this is a simplification, IS seems to have completely shifted away from its 2015 modus operandi of "wholesale horror" -- glossy and eerily intimate execution videos distributed online en masse -- to "retail horror," directly perpetrating violence against the masses in real rather than virtual space. In fact, their recent attacks reflect the strategies of veteran terrorist organizations such as al-Qaeda, which has consistently left it to individuals and international media outlets to speculate about the message behind its actions.
On June 28, three gunmen, reportedly members of IS, attacked Ataturk International Airport, marking the beginning of a week-long spree of international killings. Three days later, six young and relatively well-educated upper middle-class militants stormed an artisanal bakery in Bangladesh, resulting in a deadly hostage crisis. Three days before the end of Ramadan, IS detonated a refrigerator van filled with explosives in a Baghdadi market area, deliberately targeting Shiite civilians shopping for the coming Eid celebrations. The gravity of the latter attack catalyzed a crisis of its own, as Shiite citizens, frustrated by the government's inability to deliver on promised heightened security, engaged in local protests. Moreover, the event forced the resignation of the Iraqi interior minister.
While the reasoning behind the IS tactical shift into international terrorism is unclear, the most recent perpetrators of IS atrocities continue to demonstrate the group's relative "success" in recruitment through distinctive media campaigns. It is common knowledge that many new IS recruits are relatively disenfranchised, educated, and young, and IS has become well known for recruiting thousands of these youths internationally. Indeed, the problem these communities pose to nations in the Middle East lies at the heart of many economic and military decisions made by authoritative regimes since the Arab Spring in 2011. Revolutions in Tunisia, Egypt, Syria, and Bahrain showed the world that an educated and tech-savvy generation can wield incredible power over authoritarian regimes.
Demonstrating particular concern over this trend, Saudi Arabia curtailed potential citizen dissidence by issuing multiple social and economic decrees directly targeting youths and the disenfranchised. With almost two-thirds of the Saudi population under thirty-five, this decision seemed to successfully suppress any pent-up anger and political opposition -- that is, until thousands of young Saudis left the country and joined IS. Now that the group is doubling back to target the countries of foreign fighters, this challenge is all the more pressing.
Even without an understanding of IS recruiting tactics, it would be reasonable to assume that governments experiencing unrest would attempt to strengthen communities' national allegiance -- especially those segments most prone to radicalization. While IS has changed the playing field, Saudi Arabia may be trying to beat them at their own game through a sophisticated form of counterterrorism inherited from the group: influencing the perception of individuals' identity.
With this in mind, Prince Muhammad's recent Six Flags and Uber investment plans, all part of his so-called "Vision 2030," appear more nuanced than the ostensible goal of boosting the economy by "steering the kingdom's economy away from overreliance on oil reserves." These initiatives may also be designed to appeal to alienated youths and prove that Prince Muhammad -- and, implicitly, the regime -- understands them on an almost personal and individual level. This "subconscious resonance" with youths appears to be driving a new political undercurrent in the kingdom. There are clear benefits to retaining the trust of young communities by subtly demonstrating that the regime shares their values and, more important, their identity.

Indeed, many of Prince Muhammad's economic, diplomatic, and military decisions fit this objective. His "no economic reform too taboo" rhetoric could be attractive to many of the nation's young professionals, as more markets and employment options open up in both the public and private sector. His language of an "ardent defense" against a possibly encroaching "Persian Empire" is itself a reification of a common imagined Sunni/Saudi identity defined in opposition to a Persian/Shiite/Iranian one -- a potentially alluring counternarrative to that of the jihadi antiestablishment. In fact, local media has lumped Iran and IS into a common enemy, discrediting the latter's claims of Sunni religious legitimacy by dismissing them as a mere tool for the former. For some, "the sight of Saudi Arabia standing up forcefully for Sunnis against Iran is part of the antidote to the jihadists' poisonous ideology."

But Saudi Arabia's disparate communities have not unanimously accepted their government's efforts at unity. There are many other pressing economic and social concerns on the minds of business elites, leftist activists, and other majority and fringe citizens alike. The Uber contract, for example, has sparked outrage among many Saudi feminists who see the deal as a means of perpetuating the current ban on female drivers in the kingdom. On the other hand, some conservatives have expressed resentment at the introduction of a massive and distinctively American theme park, viewing its presence as a degradation of traditional "Islamic" values.

Although the discontent with the state currently visible in Iraq is a different and dramatic situation, the bombings in Medina and near the consulate-general in Jeddah raise concerns that the kingdom cannot provide the consummate security it advertises. Subsequently, are the new IS terrorist strategies really reflecting signs that states such as Saudi Arabia are successfully curbing terrorist recruitment programs? Are Prince Muhammad's identity politics working to alienate youths away from radicalization? At this point it is rather difficult to say.

However, it seems undeniable that IS and Saudi Arabia are in a battle over the youths of the region. Without assuming intentionality, Prince Muhammad's attempts to rein in radicalization and recruitment by uniting his subjects under a common identity appear to be directly competing with the IS critique of the current system of nation-states through antiestablishment rhetoric and publicized violence. Only time will tell how this new form of "youth politics" -- relating to and reflecting the values of the youths in a nation's population -- will play out in the near and distant future.

Ultimately, as Saudi Arabia consolidates a common identity for those most prone to radicalization, it simultaneously alienates other contrasting communities at the margins of this identity. It is clear, however, that IS has been (and is becoming) another major problem for the monarchy, and the terrorist attacks within its borders show why Saudi Arabia, now more than ever, needs to figure out how to bring its youths back into the fold.
Omar Alhashani is a research assistant with Fikra Forum, an editor for the Arab Studies Journal, and a database assistant for the Knowledge Production Project. This article was originally published on the Fikra website.