Saudi Public Differs with Some Official Foreign Policies, but not on Sectarian Line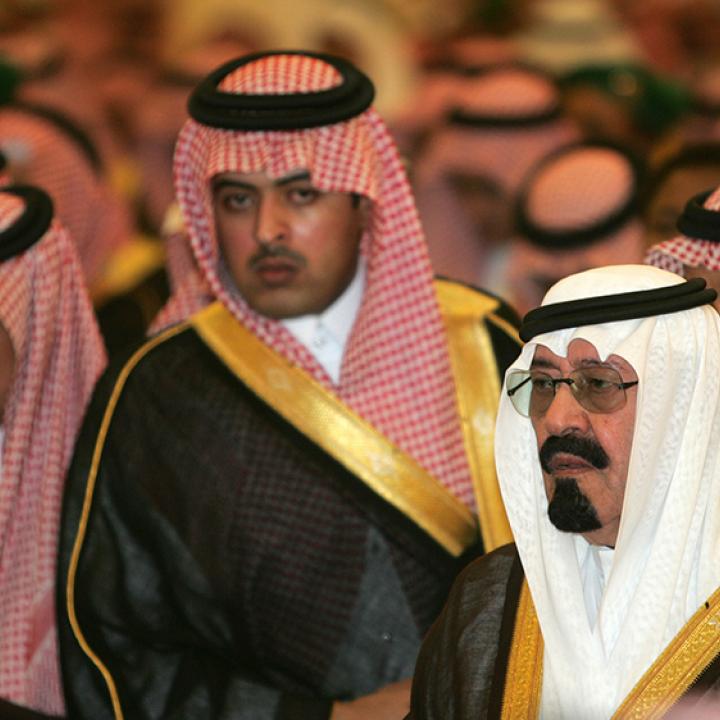 Saudi Sunnis and Shia largely agree on issues polled—except on Qassem Soleimani
Data from a rare yet highly reliable Saudi public opinion poll—commissioned by the Washington Institute and conducted in June—shows a mix of attitudes on key foreign policy issues, with both popular support and opposition expressed towards the Saudi government's stances. On most issues polled, surprisingly, the country's small Shia minority does not differ much from the Sunni majority.
For the most recent polling data on Saudi Arabia, click here.
Just One-Fourth Pick Palestine as Top Priority for U.S. Action; Even Fewer Back Trump Plan
When asked to pick their first choice from four possible priorities for American policy in the region, a mere 23% select "pushing for a two-state solution to the Palestinian-Israeli conflict." The majority opt for other choices: "working to contain Iran's influence and activities" (31%) "finding a diplomatic settlement for the wars in Yemen and Libya" (22%); or "protecting the Syrian people against any attacks" (18%).
This relatively low priority accorded to the Palestinian cause—especially by comparison with polling responses from Israel's neighbors in Egypt and Jordan, as well as past data from Lebanon. These responses are, however, consistent with Saudi polls from previous years. Remarkably, too, nearly half (43%) of the Saudi public now agree with this proposition: "The Palestinians and the Israelis are both to blame for their continuing conflict." Nevertheless, despite some recent Saudi media outreach to Israelis and Jews, a mere 9% of Saudis today agree that "people who want to have business or sports contacts with Israelis should be allowed to do so."
Additionally, in contrast to the initial, cautious official welcome for President Trump's peace plan, just 14% of Saudi citizens had a this plan will have a positive effect. Surprisingly, a somewhat larger minority (24%) foresee some positive impact from the March 2020 Israeli election, which kept Benjamin Netanyahu as prime minister but added some centrists to his largely right-wing coalition. Even so, a majority (60%) of Saudis predict a negative effect from that election; 16% said they had not heard much about it or refused to answer this question.
Majorities Want to Boycott Syria's Assad, but not Qatar
Saudi Arabia, unlike the UAE and several other Arab states, continues to shun the Assad regime in Damascus. On this issue, the Saudi government clearly enjoys popular support. Just 12% of Saudi citizens agree with the following proposition: "We should accept the reality that Bashar al-Assad will stay in power in Syria, and restore full relations with his government."
But in regard to Qatar, the Saudi public mostly prefers to mend the official estrangement between the two countries. The solid majority (62%) say that "the way to solve our differences with Qatar is for both sides to compromise in order to reach an agreement." This high level of popular support for rapprochement with Doha has been consistent in several surveys taken ever since the intra-GCC feud erupted in 2017.
Saudi Sunnis and Shia Largely Agree on Issues Polled—Except on Qassem Soleimani
The Saudi population is overwhelmingly Sunni Muslim, but there is a roughly ten percent Shia minority concentrated in the oil-rich Eastern Province. Significantly, and contrary to common misconception, there are only small differences in attitudes between the two groups on most issues polled—whether on domestic or foreign policies.
One notable exception in this latest survey concerns what effect on the region the killing of Iran's General Qassem Soleimani by an American drone last January will have. Among Saudi Sunnis, a plurality (49%) predicted a positive impact. Yet among Shia, just 22% shared that favorable assessment, while two-thirds anticipated negative effects.
However, this difference probably reflects greater concern among Saudi Shia over the prospects of Iranian retaliation rather than sympathy for either Soleimani or his regime. Previous surveys have shown that while Saudi Shia are somewhat more inclined than their Sunni compatriots to say that good relations with Iran are important for their own country, they are only slightly more supportive of Iran's policies, its regional allies like Hezbollah or the Houthis, or of Ayatollah Khamenei personally.
Methodological Note
These findings are from questions commissioned by the Washington Institute for Near East Policy in a face-to-face opinion poll among a representative national sample of 1,000 Saudi citizens, conducted by an experienced and highly reputable commercial survey firm in June 2020. The author is personally well familiar with, and fully confident in, the technical methods, professional management, quality controls, credible assurances of confidentiality, and overall integrity of the fieldwork team. In addition, the author directly supervised the question wording and translation, coding specifications, scheduling adjustments due to Coronavirus constraints, and other relevant aspects of the survey.
The sample was selected according to strict, standard geographic probability procedures. For a sample of this size and nature, the statistical margin of error for the total is approximately 3% (with the precise margin depending upon the distribution of responses for particular questions). Additional methodological details are readily available upon request.