Russia's Search for Strategic Partnerships in North Africa: Balancing Algeria and Morocco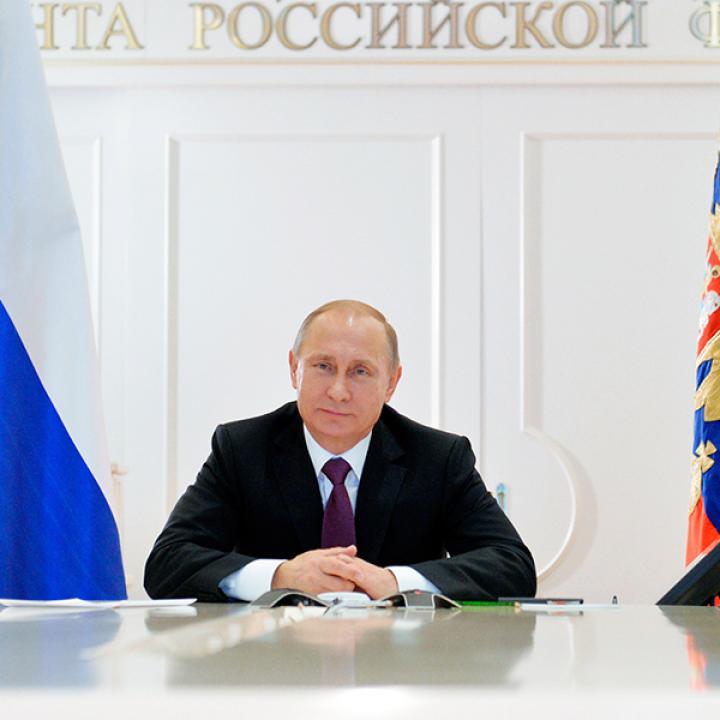 There has recently been a great deal of controversy surrounding the question of what role Russia will play in North Africa, especially after the apparent success of the Russian strategy in managing the Syrian conflict. This relative military and diplomatic success has opened the way for Russia to rethink its role in the regional balance of power and rekindle its interest in North Africa as part of a broader effort to extend Moscow's influence in the African continent. Russia seeks to compete with the similar efforts from the European Union, the United States, and China in gaining key new strategic partnerships on the continent. Yet Russia is also reviving its longstanding tendency to exploit gaps and dips to take advantage of a perceived waning of Western support for North African countries specifically.
Though Russia has attempted to exert influence in North Africa for decades, its soft power declined significantly there—as elsewhere—with the end of the Cold War and the subsequent loss of its ability to provide economic incentives to regional powers. However, Vladimir Putin has directed a gradual warming of relations between Russia and Africa in the past decade.
Egypt is perhaps the most visible focal point for Russia's interest in the North African region, given the relative strength of their bilateral relations during the Nasserist period and Egypt's historic role at the heart of the Arab world. Russia has recently promoted strategic, military, economic, and cultural partnerships with Cairo, focusing on contracts and weapons deals with Cairo, building nuclear reactors, and supporting bilateral treaties. Moscow and Cairo also share positions on a number of regional issues, most importantly the Syrian question. Moreover, Moscow sees Cairo as a gateway for extending Russian influence towards sub-Saharan Africa, especially Sudan, and hopes to arrange deals for extraction of this region's raw materials and natural resources through Egypt.
Yet the visibility of Russia's interest in Egypt should not mask its efforts to increase its relationships with other North African countries. The many diplomatic exchanges with this region—including Russian Foreign Minister Sergey Lavrov's recent visit to Tunisia, Algeria, and Morocco in late January 2019—are one clear indicator of Russia's interest in rapprochement with these countries. They also reaffirm the Russian approach of filling strategic vacuums; recent Russian attitudes appear designed to exploit American indecision as to its role in the region.
Consequently, the Russian strategy involves a great deal of pragmatism. In particular, Russia maintains a policy of 'positive neutrality' on key issues for North African states, especially in regards to the issue of Western Sahara. This issue of disputed sovereignty has constituted a flashpoint between Morocco and Algeria and has constituted the main reason for tension between the two countries for over forty years. Yet direct negotiations between Morocco and the Polisario Front held in December 2018 in Geneva—the first in six years—and the promise upcoming talks in 2019 have put a new spotlight on the issue, and Russia appears eager to use potential movement to strengthen its relationship with both Morocco and Algeria.
On the one hand, Moscow has continued to promote its bilateral cooperation sessions with Algeria, which began in the 1950s; Russia is Algerian's main supplier of weaponry and consistently expresses support for the Algerian regime. And while an economic partnership between Moscow and Algeria is still rocky and has not reached the desired level compared to Algeria's other economic partners, such as France, Lavrov emphasized an interest in strengthening economic ties through that month's ninth annual Algerian-Russian Joint Economic Commission during his recent visit to Algeria.
Thus, the Russian position on the Western Sahara issue has historically been in line with Algeria. In addition to its longstanding relations with Algeria, Moscow enjoys warm relations with the Polisario Front, which has welcomed Moscow's role in mediating between the different parties in the conflict and in holding additional leverage against Morocco if necessary.
However, Morocco has also recently recognized the role Russia can play both in mediating this issue and on a broader level regionally. In response, the monarchy has recently attempted to play off the conflicting interests between Washington and Moscow in order to gain greater support from Russia for issues of national importance, including for its claim of sovereignty in the Western Sahara.
Rabat believes that it is in its interests to get a sense of the Russian position for the direct negotiations under the auspices of the UN Secretary-General, and to convince the Russian side of the Moroccan position. Meanwhile, Moscow wishes to remain neutral and support the UN actions and decisions that balance the interests of all sides of the conflict. This is consistent with Russia's beliefs that both Algeria and Morocco can serve as key strategic partners, and with whom Moscow has signed consecutive agreements for strategic partnerships.
The Russian rapprochement with Morocco is reflective of a broader shift in the regional dynamics at play in the Middle East and North Africa. Specifically, the fluctuating positions of the Trump's administration on both the Sahara conflict and relations with Morocco writ large has left Rabat uncharacteristically wary of American policy. The United States' failure to appoint a new ambassador to Rabat along with the appointment of John Bolton to head the US National Security Council—seen by Moroccan policy circles as a 'hawk' not in line with Moroccan views on regional issues—have only added to tensions in the relationship.
As a result, Morocco is no longer convinced that the United States will deal with the Western Sahara issue in a neutral manner, which is what has led Morocco diplomats to consider a Russian partnership that could offer some openings and ways out of the artificial conflict over Western Sahara. In return, the Russian side is pushing to expand the economic relationship between the two countries quickly, with a focus on Russian arms deals and a diversification of imports and exports between the two markets.
There is no doubt that Moscow has a number of larger driving forces pushing it towards North Africa as part of what appears to be a grand strategy to compete over spheres of influence and new economic markets. Russia can sidestep exclusion by the United States and Europe due to its policies in the Balkan region and its decisive role in the Syria conflict by looking for new partnerships and alliances with African countries, or at least to gain votes in the UN General Assembly and extend its successful policy of rapprochement with the Arab world. These pragmatic arguments also appear to be bolstered by a nostalgia for Russia's lost role in the North African region and a recognition of the effective investment policies of other powers.
Russia cannot compete with China when it comes to providing commodities and products to North African countries. On the other hand, Russia can provide weapons in exchange for contracts and deals for oil drilling, resource extraction, and building civilian nuclear reactors in Morocco, Algeria, and especially Egypt. Moscow also wants to institutionalize an economic strategy that would allow Russia to open markets for selling Russian products, especially arms, and offering investments in the Russian private sector.
There are also messages that Russia has tried to give to North African leaders that go beyond expressing a return to being regional force in North Africa. These messages reveal Moscow's explicit intentions to compete with the EU in promising attractive investment options, carrying out energy projects, and signing an increasing number of contracts and arms deals, as well as building nuclear reactors, diversifying imports and exports from North Africa, and establishing Russian military bases to monitor the southern Mediterranean region.
Despite its ambitions, Russia's current role may perhaps be limited to competing with Western powers to carve out an assertive geostrategic position. Moreover, within the grand scope of Russian foreign policy, North Africa remains a marginal issue relative to its recent interest in expanding influence in Eastern Europe and in Central Asia.
Moreover, Russia has encountered obstacles that have impeded its ambitions and strategies in North Africa and may face more depending on whether regional dynamics shift. Western powers continue to treat Russia as a regional actor rather than a major world power, despite Russia's efforts to influence foreign policy-making on a global scale. And since its current policy in North Africa relies on exploiting uncertainty in existing alliances among North African countries and Western powers in the aftermath of the Arab Spring, focused U.S. reengagement with North Africa could significantly hamper Russia's efforts. Thus, it is still too early to predict the ramifications of an increased Russian presence in North Africa, and the situation is likely to evolve in 2019.