The Rise of Kata'ib Hezbollah's Hegemonic 'Resistance'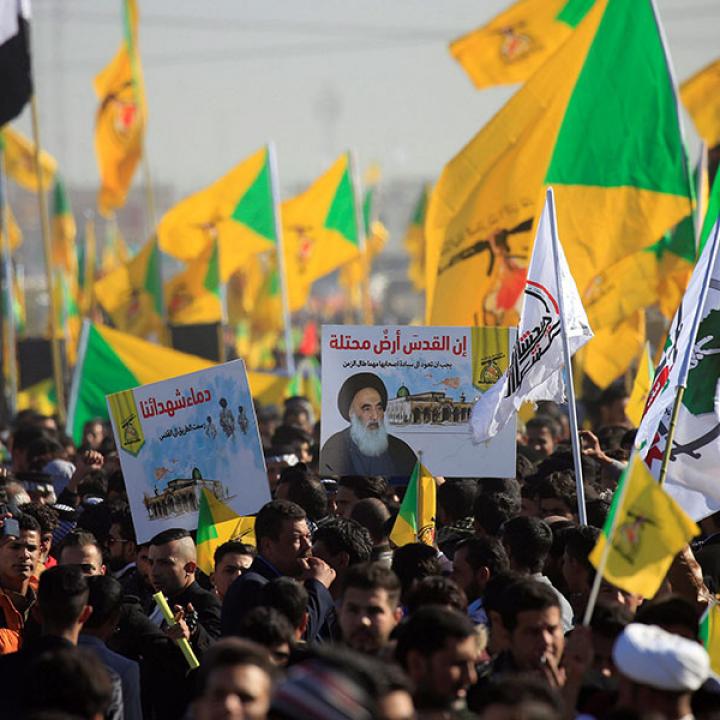 The Iraq-based Kata'ib Hezbollah (KH) is diligently and meticulously working to achieve hegemony among Iran-backed 'resistance' militias in Iraq. The group is positioning itself as the 'true resistance' faction and obliging other Iran-backed groups to follow its lead. In order to achieve this goal, KH is operating on military and non-military fronts. 
KH is stepping up its non-military vigilante activities, drawing heavily on its youth movements that have been developing in the past decade. These organizations serve to promote the most radical version of the anti-U.S. Shia Islamist ideology promulgated by the 'axis of resistance', and they work to squash opposing views in Iraqi society. These efforts work in tandem with the group's military front, where KH has managed to lead attacks against U.S. interests following the assassination of Qassem Soleimani and Abu Mahdi al-Muhandis.
While details of KH's military wing have been covered in my piece " The Still Growing Threat of Iran's Chosen Proxy in Iraq'' and Michael Knights's Back into the Shadows? The Future of Kata'ib Hezbollah and Iran's Other Proxies in Iraq," it is worth examining the group's growing non-military activities as well.
KH's unarmed militant groups
Most of KH's unarmed militant groups and aggressive online activities fall under the leadership of an organization called Rab'a Allah (God's fellows), which first appeared to the public shortly after August 31, 2020. On that day, an angry mob set fire to Iraqi Dijlah TV's offices for broadcasting music on the night of Ashura—the major Shia holiday commemorating the martyrdom of Imam Hussein. On September 4, Rab'a Allah posted its first message on a Telegram channel demanding apologies from another Iraqi TV channel, UTV for "insulting the marja'iya and other religious scholars," threatening otherwise its offices would be burnt down. Two days later Rab'a Allah published footage of someone setting fire to Dijlah TV office, effectively admitting responsibility for the act.
Rab'a Allah claims to be an independent group, but all signs indicate that it is a creation of Kata'ib Hezbollah. For instance, groups affiliated with KH were the only entities to send congratulations to the KH-affiliated Sharia Youth Gathering as it celebrated its establishment on November 4, with Rab'a Allah being one of the congratulatory groups.
Offshoots
Rab'a Allah has been gaining traction since its conception. Since early September, a few other groups affiliated with Rab'a Allah have announced their existence, and there are two main groups currently in this organization's orbit. Jabhat Abu Jeddadha (The People of Lighters Front), alongside Rab'a Allah, provides most of the manpower for vigilante activities in the style of burning the Dijlah TV offices. The other group, Fariq Fatemiyon (The Fatemiyoun Squad), is mainly responsible for attacking social media accounts that oppose Iran's expansion in the region and reporting violations of social media companies' policies to suspend and delete the opposing accounts. Additionally, Fariq Fatemiyoun works on taking back suspended accounts affiliated with the 'axis of resistance'. Increasingly, Fariq Fatemiyoun's field branch, Fariq Fatemiyoun al-Maydani, has taken up more thuggish activities on the ground as well.
These groups all work under the leadership of Rab'a Allah and call themselves the deterrence forces. In addition, there are a few other affiliated groups tasked with hacking websites and personal accounts, and they even try to acquire the credit card details of people perceived as enemies of the 'axis of resistance'. Among these groups are Fariq Kawthariyoun al-Electroni (the Kawthariyoun electronic squad) and NeoCyber. Others are focused on burning liquor stores, night clubs, and other buildings: Ahl al-Ma'rouf (people of virtue) and Firghat Ahbab Allah (God's beloveds' squad) are in charge of combatting behaviors deemed 'un-Islamic'.
The structuring of these young groups is still ongoing. Al-Majami'e al-Khassa was al-Majami'e al-Khassa of Rab'a Allah until October 17, when they announced that they were independent. Yet a statement of independence does not necessarily mean that these groups are truly separate. To further complicate these relationships, sometimes a single group can carry multiple names. Al-Majami'e al-Khassa later fell apart after Rab'a Allah raided a massage parlor on 26 November. Their stance on the deterrence forces is currently unknown.
Although KH created and manages these vigilante groups, these offshoots can attract members of other non-KH Iraqi 'resistance' groups such as Asaib Ahl al- Haq as well. This is a strategy KH has been implementing on different levels and constitutes one of the ways in which the group is expanding its hegemony. KH establishes close ties with members of other 'resistance' groups, gradually extending its influence inside those groups. Therefore, it is not uncommon to see a member of Badr organization or Nouri al-Maliki's State of Law act unofficially as a KH member. KH is using this strategy in its new vigilante groups too.
Imam Hussein Scout Association
KH's thuggish activities did not start with the creation of Rab'a Allah. A few such actions with serious political reverberation were led by KH before Rab'a Allah announced its existence. In June 2019, the KH leader Abu Talib al-Saeedi led a mob of KH and other 'resistance' groups to break into the Bahraini embassy in Baghdad. The mob was protesting Bahrain's Peace to Prosperity Workshop to promote the Trump administration's peace plan for the Israeli Palestinian conflict.
Saeedi, the head of KH's youth movements, is a particularly radical figure. In 2018, he stated in reference to the Shia Bahraini uprising: "the Al Khalifa regime is collapsing… this is not happening only because of peaceful protests… but the IEDs and the killing of Al Khalifa's mercenaries and [members] of that barbarian army... We tell our brothers in the Bahraini resistance, we stay with you until the last bullet."
Saeedi has been an instrumental figure in developing and implementing KH's youth strategy which was devised 11 years ago. For years, he was the Commissioner-General of Imam Hussein Scout Association (IHSA). Under his leadership IHSA's role has expanded. In 2011, IHSA signed a memorandum of agreement with the Lebanese Hezbollah's Imam Mahdi Scout Association (IMSA). By 2015, a group of experienced IMSA trainers came to the Iraqi city of Karbala to train 90 IHSA members on leadership skills for twelve days.
In 2020, when KH started working on a plan to better organize its politically motivated non-military violent activities, it drew on its resources in IHSA. This was in order to try to take control of Iraq's streets after the largely anti-Iran protests that began in October 2019. In a short period of time, Rab'a Allah was thus able to intimidate rival voices. For example, they burnt the office of the Kurdistan Democratic Party (KDP) in Baghdad after prominent KDP figure Hoshyar Zebari criticized the Popular Mobilization Forces (PMF). In addition, they threatened various TV channels such as Alhurra, France 24, and Deutsche Welle, set fire to a few liquor stores and night clubs, removed numerous social media accounts and hacked websites. They also openly threatened security forces who tried to prevent their illegal activities.
Still, KH and Abu Talib al-Saeedi envision an even bigger role for their youth organization, visible in the founding of the aforementioned Sharia Youth Gathering (SYG) on November 4. SYG leaders announced that the new organization would work on disseminating political Islam, targeting students in particular. SYG does so by claiming it will provide university opportunities inside and outside Iraq for its members. IHSA forms the backbone of this new organization. Several former IHSA leaders now hold important positions in SYG and its new Jihad al-Bina program. A similar organization has existed as a Lebanese Hezbollah institution for decades. The program is a development foundation helping to improve municipal services and provide humanitarian aid to the poor. SYG is expected to better organize KH's youth activities and further KH's sway in Iraq.  
Hegemonic 'resistance'
KH's methods have proven to be effective in expanding its influence into Iraq's social and cultural domains. In the military domain also, the group has gained the upper hand. This puts them in a position other resistance groups aspire to achieve. Through its radical rhetoric and actions—both military and non-military—KH is creating a collective ideal for 'resistance' groups, positioning itself as the exemplar of the 'true resistance'. KH continuously demands that other groups to live up to this ideal, while those who do not fulfil this ideal are attacked and their loyalty to the 'resistance' is questioned. Tura news, a KH-affiliated Telegram channel, criticized Falih Al-Fayyadh, chairman of the PMF in March for his "timid' reaction to the assassination of Soleimani and Muhandis and questioning whether the reason behind his reaction is "fear of treachery". In April, when political blocks of 'resistance', agreed to nominate Kadhimi for premiership, KH accused them of "betraying the history of Iraq".
KH derives the legitimacy for this stance from Ayatollah Ali Khamenei, Iran's supreme leader, and his very radical rhetoric. Khamenei's rhetoric makes it harder for other 'resistance' groups or individuals to openly violate KH's similarly radical norms. And since all Iran-backed militias benefit from this pattern of practice, they might not see a reason to violate them in any case. As a result, some facilitate or take part in KH's actions, while others are complicit in implementing the strategy. It is through these methods that a hegemonic system is emerging through which KH dominates other 'resistance' groups.