Israeli Polls Show Corona Helps Re-Crown "King Bibi" for Now, as Some Social Attitudes Also Shift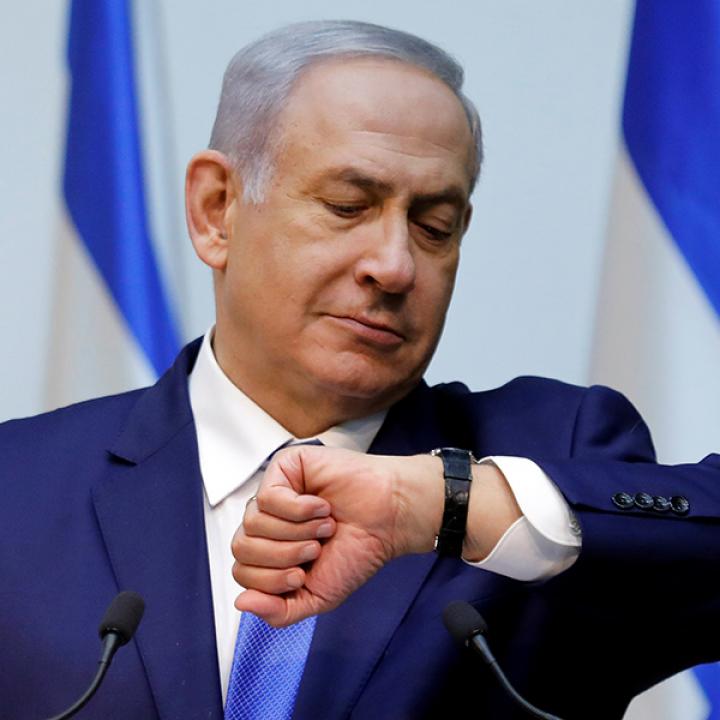 With the announcement this week that Binyamin ("Bibi") Netanyahu would remain Israel's prime minister in a new "emergency national unity" government, the latest poll shows that 62% of Israelis express support for this unusual political deal. Opposition leader Benny Gantz, who fell just short of unseating Netanyahu in an unprecedented three elections over the past year, credited the coronavirus crisis for his controversial decision to finally join his rival—even at the cost of splitting his party in half. While the pandemic was not the sole reason for this shift, surveys strongly suggest that it did indeed weigh heavily in reaching this unexpected and potentially fateful outcome.
A week before that decision, and a week before that, separate credible polls showed that two-thirds of Israelis approved Netanyahu's handling of the crisis. Even more to the point, these surveys predicted that his Likud Party would win decisively if continued political deadlock forced yet another election. Netanyahu's overall personal approval rating had likewise soared almost 30 points compared to his standing on the March 2 election day—from the low 40% range to around 70%.
It is unclear how far this bump will take Netanyahu. Anecdotally, however, many Israelis are fed up with Netanyahu's maneuvers to stay in power. And the rescheduled start of Netanyahu's corruption trial on May 24 will probably cut into his current resurgence of popularity. Even public views on the governmental response to the virus may shift; the growing economic cost of Israel's early lockdown is already starting to exact a toll on popular acceptance of his leadership.
CHANGING ROLE OF RELIGIOUS PARTIES ALSO CRUCIAL, AND NOW MORE SOCIALLY DIVISIVE
On the other hand, it's important to note that the "corona factor" is not the only shift behind Netanyahu's latest comeback. Another key factor, much less appreciated, is that Israel's formerly "swing vote" religious parties are increasingly offering steadfast backing to the right: this includes the ultraorthodox United Torah Judaism (UTJ), and the Sephardi orthodox/traditionalist Shas Party, which garner around 16 out of the 120 Knesset seats between them. In earlier decades, both parties were willing to enter into a coalition with either the rightwing or the center/left major blocs, depending upon budget allotments, patronage, narrow religious legal provisions, and similar special interest considerations.
More recently, however, a close analysis of long-term polling trends demonstrates a crucial shift of these parties' constituencies towards the right. Those religious voters have increasingly turned to hardline rightwing views on Israel's broader security issues as well. In part as a result, both religious parties stuck solidly with Netanyahu, depriving Gantz of a chance to bring them into a more centrist coalition.
Ironically, however, Netanyahu's handling of the pandemic is now raising new issues for those voters. Some resent the public health restrictions imposing lockdowns or closures on religious towns and neighborhoods, synagogues, yeshivas, seminaries, weddings, funerals, and other central features of religious life in Israel. While the Israeli government will almost certainly respond, as in the past, by offering some concessions to this constituency, these must be balanced with the wishes and interests of the country's large majority of non-Orthodox citizens. 
One survey from early April showed the extent of this polarization: 87% of the ultraorthodox approved the performance of Israeli Health Minister Yaakov Litzman, himself an ultraorthodox leader from the UTJ. Yet exactly the same, extraordinarily high percentage of other Israelis disapproved of his performance! How this perennial tension will play out in public opinion awaits further survey data. 
BUT ISRAEL'S ARAB CITIZENS FEEL MORE INTEGRATED, THOUGH NOT IN NEW COALITION
Coronavirus has also impacted another minority segment in Israel. Israel's non-Jewish, Israeli Arab community makes up around a fifth of the total population. During Israel's repeated elections, the coalition united around Israeli Arab voter issues has consistently increased its share in the Knesset; during the most recent election round, the Joint List garnered a record 15 Knesset seats in the last election round. This was accomplished in part by a surge in voter turnout; Israeli Arab participation increased from its all time low of 49% in the initial April 2019 elections to 70%—comparable to typical Jewish Israeli voter turnout.
And for the first time, Joint List members of parliament also unanimously recommended a candidate for prime minister during government formation talks: Benny Gantz. Nevertheless, Gantz rebuffed their offer to join a governing coalition with him, leading some observers to warn that Israeli Arabs might consequently feel more disillusioned and alienated from the country's overall society and political system.
But then came the coronavirus pandemic, and with it the major, disproportionately large role of Israeli Arab doctors, pharmacists, nurses, and other health professionals working hand in hand with their Jewish colleagues to confront this unprecedented common threat. In this context, a new poll reveals that the proportion of Israeli Arabs identifying primarily as "Israeli" has actually increased from over a year ago, from just 5% to 23%. Conversely, the proportion identifying as mainly "Palestinian" has declined, from 18% to 7%. Around half identified themselves primarily as "Israeli Arabs," with the remainder offering miscellaneous other responses. Significantly, too, majorities of Israel's Muslim Arab citizens, as well as of its much smaller Christian Arab and Druze communities, all now reported that they feel themselves to be "real Israelis."
POLICY IMPLICATIONS
The future of Israel's fractious new "unity" government is as uncertain as the medical and economic effects of the pandemic itself. One thing is almost certain, however: Israeli politicians will all continue to pay close attention to the public opinion polls. And as long as these polls show such high levels of support for Netanyahu and his handling of the crisis, and for his Likud Party as well, this new coalition is likely to last—despite its deep internal political and policy divisions, and the considerable popular disenchantment with Netanyahu personally.