Iraq's Volatile Politics: Al-Zurfi's Slim Chances at Becoming PM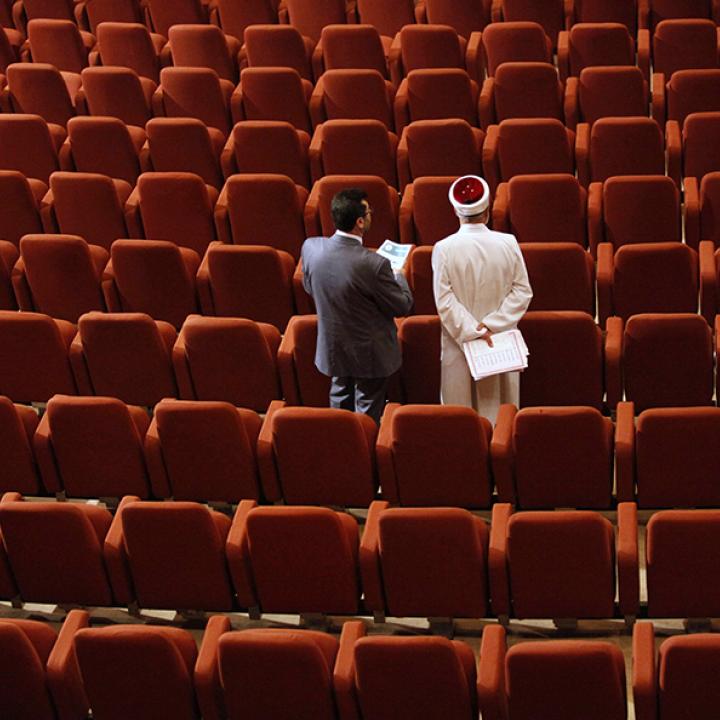 The outbreak of coronavirus is just the most recent misfortune for Iraq, which is suffering a complicated political deadlock created by the October 2019 protests against Iraq's political elites. Iraq's political leadership has failed to lead the country for the last seventeen years, focusing satisfying the country's competing political blocs rather than the public. After the failure of the Prime Minister Adel Abdul Mahdi prompted his resignation, and with the subsequent resignation of his first nominated replacement, Mohammed Tawfiq Allawi, the most recently nominated candidate Adnan Al-Zurfi faces immense pressure as Iraq's parliament prepares to vote on his proposed government in the coming days. His mission is flagrant and presents several challenges to in getting his just-announced cabinet to pass inside the Parliament.
First, there is no consensus among the majority Shia blocs about his nomination. Al-Zurfi is rejected by some of these groups over his foreign policy viewpoints, which tend to be hostile toward Iran and more friendly with the United States. Since 2003, it has been hard to win a leading Iraqi political position without Iranian approval. Now, many Iraqis are reporting that Iran's new Quds Force commander, General Esmail Ghaani, eager to demonstrate his power after Soleimani's death, met last week with several of Iraq's leaders—though excluding Kurdish and Sunni leadership—and potentially warned them vehemently to turn the tide against Al-Zurfi's nomination. Al-Ghaani has pushed many of Iraq's Shia parties to  replace Al-Zurfi by nominating Mustafa al-Kadhimi, the current head of intelligence services to the position instead. This new nomination demonstrates the deep fissures among Shia politicians in Iraq, and the difficulties Al-Zurfi will face gaining support from parliament.
Second, there is no easy answer to the demands of Iraqi protestors, especially after hundreds of victims were killed in the pursuit of reforms, accountability, free and fair elections, and a corruption-free Iraq. Third, the decline of oil prices and the novel coronavirus outbreak are likely to deepen the state breakdown if they continue on their current trajectory.
Political, Personal, and Legal Background
Though his nomination surprised many, Al-Zurfi became the most recent prime ministerial candidate when President Barham Salih nominated him for the position on March 16. Already, Al-Zurfi's candidacy has caused controversy among Iraq's political players. The Federal Court in Iraq had authorized the President to nominate a candidate for the Prime Minister when the major parliamentary blocs failed to do so, but the Judicial Court has since stated that there is no article in the constitution authorizing the President to make such an appointment. Such clashes among the juridical titans will be a challenge in legitimizing Al-Zurfi government if he is able to form a cabinet, especially after Al-Kadhimi's nomination emerged. Even so, all are hoping for an end to Iraq's political paralysis, and Al-Zurfi is the most likely way forward at this point.
Aside from this judicial controversy, Al-Zurfi himself is a polarizing figure. He is seen as a politician with strong charisma, but a checkered past days against Iraqi pro-Iran groups who are seeking to oust the U.S. presence in Iraq. As governor of Najaf, Al-Zurfi took fateful actions on governance and security matters that made him very popular among some political factions but bitterly opposed by Iran and its local allies. However, Al-Zurfi has just announced a withdrawal timetable for U.S. forces in Iraq that suggests the forces will leave by 2021–a potential blow to Al-Zurfi's detractors who have claimed that he is too close to U.S. interests.
Al-Zurfi's stance on Iraq's powerful militias is also controversial. In regards to the ongoing debate in Iraq as to what role these militias—known as the Hashd al-Shaabi (PMF)—should play in the country, al-Zurfi has always publicly stated that the government must be in control of all armed groups. Yet since his his nomination, this messaging has been confused. On March 26, Al-Zurfi tweeted that the Hashd "will always stay a strong institution loyal to Iraq and Iraqis." Such a statement ran contradictory to his previous positions, and will likely make it harder for him to find political allies in parliament based on the slogan of "arms must be controlled by the state."
Iraqi Political Blocs Wait and See
The tensions between the formal bodies like the government, the parliament, and the judiciary from one side, and informal authorities like militias, tribes and the religious players from the other side has taken its toll on Iraq's political stability writ large. Still, Al-Zurfi's first step must be to amass enough support from major parliamentary blocs to win a vote of confidence in that body and form a cabinet approved by parliament within 30 days. Al-Zurfi has announced a cabinet ahead of the April 17 deadline, but it must be approved by Iraq's parliament, which requires garnering support from among the Parliament's disparate blocs, each with their own concerns.
The Sairoun coalition headed by Muqtada Al-Sadr is one of the biggest political blocs in the Iraqi parliament. They have opposed Al-Zurfi's nomination, but are more likely to cautiously monitor the course of his political negotiations in case it becomes expedient to support him. Ammar Al-Hakim's Shia faction appears to be adopting a similar posture. But the Al-Fateh alliance, the Shia bloc backed strongly by Iran, rejected Al-Zurfi's nomination outright due to his close association with the United States. Now, the al-Fateh and Al-Maliki factions have come to a consensus position by nominating Al-Kadhimi to replace Al-Zurfi. Some of these leaders have even accused President Salih of being an American agent after his nomination of Al-Zurfi. The Fateh alliance is a political arm of the Hashd units that have struck U.S. bases in Iraq these past few weeks. 
The Kurdish bloc, with about a fifth of the votes in parliament, are carefully stating their conditions for supporting Al-Zurfi. In particular, these politicians are reviewing his policies and looking to see how he will address Kurdish issues. There may be additional caution as his predecessor, Mohammed Tawfiq Allawi, failed to gain much traction from his overtures to Erbil. Kurds are looking in particular for more rights for the Kurdistan Region of Iraq, as well as respect of guarantees and privacy.
Adding to these complications is today's announcement from Nichirvan Barzani, the President of the Kurdish Region of Iraq, expressing the regional government's support for Al-Kadhimi's nomination instead—stating that this support is based on his nomination of majority Shia blocs. This statement demonstrates a key feature of the Kurdish attitudes toward the position; if the Iraqi majority political blocs are not supportive of a nomination, Kurds can easily drop their support as well.
Kurdish concerns about Al-Zurfi's nomination arise partly from the fact that Al-Zurfi is setting up his program individually, not representing any parliamentary bloc, and thus of uncertain political inclinations. Former prime minister Dr. Haider Al-Abadi, head of the Al-Nasser coalition, has denied that Al-Zurfi is a nominee of his bloc. But many Kurds are nevertheless worried that Al-Zurfi will adopt the Al-Nasser coalition ideology—viewed as punitive against the Kurdistan Region when Al-Abadi was the Prime Minister. Therefore, between Al-Zurfi and Al-Kadhimi, Kurds will support the candidate with the stronger political backing rather than through individual political inclination.
Either nominee will have fewer challenges with Kurdish politicians if they accept the governmental program that Abdul Mahdi had initiated before his resignation. Kurdish representatives have worked for months on preparing a final agreement with the Abdul Mahdi government and claim it is unacceptable that a successor would come, drop initial agreements, and return negotiations back to zero. Kurdish representatives are most likely going to lend their support to whichever nominee commits to honoring these negotiations.
For the minority Sunni Arab blocs, there is less interest in Al-Zurfi or al-Kadhimi's overall governance program than in his political bargaining. For all three blocs, Al-Zurfi will have to calculate how much he can give each without irretrievably alienating other potential allies. A tough challenge at the best of times, in today's especially tense environment this may be the an insurmountable obstacle to Al-Zurfi's nomination—unless some outside actor comes to the rescue.
Policy Implications
Iraq's political system is already weak; the political process has been fragile since 2003, with ever mounting challenges including the current dispute between the United States and Iran playing out on Iraqi territory. Despite objections by some Iraqis to the U.S. presence in Iraq, others still expect a solution to come from Washington. As a result, Al-Zurfi should work urgently to assure key powers in parliament and in Iraqi society at large about his intentions to maintain some limited U.S. forces in the country. It seems, however, that Al-Zurfi is losing ground to Al-Kadhimi, since he has not been able to assure key support in parliament.
In parallel, the U.S. government should step up  with a clear-cut foreign policy for the region that puts Iraqi stability and prosperity as a top priority. Washington should not only act by drone attacks and intimidating Iran-backed militias with retaliation, but also support Iraq's potential to bring to office a prime minister unaffiliated with Iran. This alone would be majorly conducive to a viable state. The U.S. military and diplomatic profile in Iraq should also maintain its strength until Iraq proves that it has a robust political system.
Al-Zurfi's failure to form a cabinet mixes the political cards inside Iraq. A second failed nomination for prime minister will push Iraq into a stalemate for months, if not years. In that case, the ineffective caretaker government led by Adel Abdul-Mahdi may continue in its current capacity until elections can realistically take place. Relying on the political unknown as the coronavirus epidemic spreads is not a viable option for the stability and governance of Iraq. At this point, it is of paramount importance for a prime minister to succeed in forming a cabinet and get Iraq out of this current political deadlock.