Iraqi Political Discourse: Manufacturing Hatred and the Scramble for Power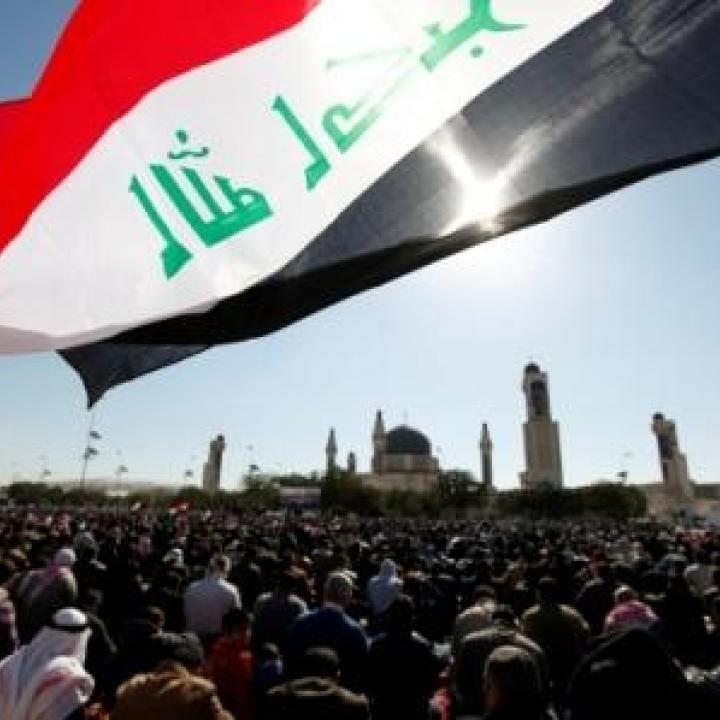 The fractured state of Iraqi politics is evident in the various forms of political discourse utilized by the country's movements and factions.
In any given country, political discourse typically reflects the ruling regime's policy outlooks and key interests. In Iraq, most parties and factions historically called for a civilian, non-sectarian state. Yet over the last decade, a distorted, contradictory national discourse has emerged, entrenching a political culture of hatred while sowing frustration among many Iraqis. This discourse, its techniques, and the subsequent effects can be categorized into four subsets: populist, tactical, rational, and exclusionary discourse.
Populist Discourse
Populist discourse is the oldest form of political discourse in Iraq and has had the greatest impact on the Iraqi public. It taps directly into public sentiment and buoyed both nationalist and communist protest movements during the monarchical period in the first half of the twentieth century. After the Republic was established in 1958, both the totalitarian regime and its opposition utilized populist discourse, in secret and in public. It was also adopted by the Baathist regime, which focused on inciting hatred against the West and excluding Iraq's elite, claiming to speak for the people.
Today, populist Iraqi rhetoric has fundamentally shifted, as it is monopolized by a specific political faction that claims to represent all 40 million Iraqis. Its current form demonstrates the culture of hatred for the ruling elite that exists within Iraq, as it entails ridiculing, bullying, issuing judgments, and making accusations without regard for political traditions or state institutions. Populist discourse aims to defy dominant political traditions, bureaucratic bounds, and legal limits, calling instead for fundamental change.
Iraqi populists are not proud of the country's democratic transformation since 2003, and their rhetoric demonstrates that they do not view the political system as sacrosanct. They declare that the Iraqi nation and people are sacred, and continuously call for the removal corrupt political parties—rhetoric that disguises the absence of a clear political or developmental policy. The dominant feature of current Iraqi populist discourse is antipathy towards Iran and its political allies in Baghdad. The Sadrists, Tishreen and civilian movements, communists, and so-called liberals or nationalists have all espoused this discourse and used it to relay their political messages to their respective bases.
Sadrist discourse in particular has three main pillars: the Sadr family's prestigious status, the movement's obedient base and its strong leadership. Yet the Sadrist discourse is constantly evolving, sometime to the point of creating internal contradictions. Sadrists consistently claim to speak in the name of the people, without recourse to constitutional or legal license to do so. They are keen to transcend sectarianism and emphasize patriotism. Talk of Iraq and the homeland appears throughout their literature. Sadrist discourse consistently demonizes the other—be it the occupier, the corrupt politician, or the negligent minister—and carries frequent reminders of the movement's ability to punish or exclude.
In contrast to the single-party discourse of the Sadrist movement, he civilian populist current in Iraq represents a broad swath of interests, including liberals and communists alongside Baathists and Islamists. For over a decade, this camp waged media campaigns and protests, tried to ride the wave of the Arab Spring and launched major campaigns against political Islam. It has called for excluding Islamist factions from the political scene entirely.
This movement has used some liberal ideas to court the public, including calling for a civil state based on citizenship and social justice. It has also criticized Islamists harshly, using the slogan "in the name of religion we steal" to accuse them of corruption and embezzlement. This discourse, full of contradictions and lacking a central identity, has failed to turn into a political program, mass trend, or electoral force. It has succeeded in creating bloggers and political figures, but their audience is limited to social media and talk shows on satellite channels.
The Tishreeni (Octoberist) movement and its discourse are newer. Named after mass protests that began in October 2019, the Tishreenis learned from the experience of the aforementioned political movements and grabbed attention on social media. The Tishreen movement was able to win the sympathy of the Iraqi youth with slogans that departed from the traditional rules of Iraqi political discourse. Its activists used informal, Iraqi dialect rather than classical Arabic typically used by traditional political parties. Tishreeni discourse is patriotic and hostile to the Iranian political system, and it is to a large extent tolerant of Baathist figures, symbol,s and politics. It espouses a single homeland that tolerates all but excludes the political elite or Iranian proxies.
The Tishreenis have promoted themselves through social media and succeeded in creating revolutionary political content able to win the sympathy of thousands of frustrated youth seeking better opportunities for work and life. These slogans transformed from calls for improved services to a demand for retribution against the corrupt. However, their movement struggled to define clear criteria for accountability or offer a concrete, objective alternative to the existing authorities.
Tactical Discourse
This trend consists of intentionally emotional discourse abounding with resonant phrases and literary sentences, sometimes reinforced by Quranic verses and reminders of sacred symbols. One key feature is that the message is accompanied by enthusiastic songs, poems, and images, performed artistically and full of repeated poetic tropes designed to bolster an emotional response with its audience. It aims to transcend geographic boundaries, economic disparities, and daily concerns by centering on an issue that is understood to be larger and more important. . It reminds the public of key themes: the sanctification of weapons, historic and jihadist symbols, and the values of resistance and sacrifice.
This kind of discourse is not new to the Iraqi political scene, emerging during the Iraq-Iran war and subsequently employed during other conflicts. After 2003, tactical discourse designed to promote sectarianism succeeded in helping win over the masses and drumming up votes in several electoral cycles, especially during the 2005 and 2014 elections. But the golden age of this discourse can be traced to the period of the war against ISIS, while the most vivid current example of this purveyors of this discourse is that of the Fateh Alliance.
Rational Discourse
This discourse calls for preserving the state, strengthening its constitutional institutions, overcoming sectarianism, and establishing reconciliation and inter-communal harmony. It also carries reminders of Iraq's glories and successes. It carefully selects vocabulary, calls for balance among sects, courts the elites, and maximizes the role of the official armed forces. It also aims to boost Iraqis' self-confidence by recalling positive moments from the past.
Former Prime Minister Haider al-Abadi and Hikma Movement head Ammar al-Hakim formed an alliance labeled the Forces of the State coalition, which clearly adopted this discourse. Maliki's State of Law coalition also used this form of discourse, including the slogan "Let's turn it back into a state." In an electoral context, this discourse aims to stir up emotions over living conditions, the economy and public services. It can take two forms: a strict rational discourse, used by State of Law and some Kurdish and Sunni forces, and a softer rational discourse, used by Abadi, Hakim, and the Hikma movement.
Exclusionary Discourse
This discourse calls for excluding the other and espouses justifications for such action. Exclusionary discourse has roots tracing back to the revolutions and coups in the mid-1950s, when movements adopted language of clear hatred against colonialism and its sins. Such language was subsequently used by all the totalitarian governments ruling Iraq. Like populist discourse, this discourse also blames the political elite for the country's corruption and failings, but is more willing to also pin the entire blame on a particular sect or ethnicity. The history of this discourse contributed to populist conceptions linking politicians to looting of national wealth, betrayal, and dependence on foreigners—which are charges that can be directed against any politician. This discourse was particularly strong among Sunni political factions who opposed the U.S.-led democratization project after the 2003 invasion.
The great contradictions within Iraqi political discourse and discrepancies between its various forms—which frequently call for extremism and violence—endanger Iraq's future. The power and danger of these forms of discourse is that they can galvanize to further destabilize a country already weakened by decades of war and internal strife. At present, there is a strong need for a unified Iraqi discourse that serves the country's interests, conforms to its constitution, builds strong relations with its neighbors, adheres to international law, and does not stir up tensions and emotions counterproductive to a stable, new Iraq. However, crafting such a discourse will require rejecting past models and building a new means of addressing political speech in Iraq.