Iran's Mounting Missile Threats to Neighboring Countries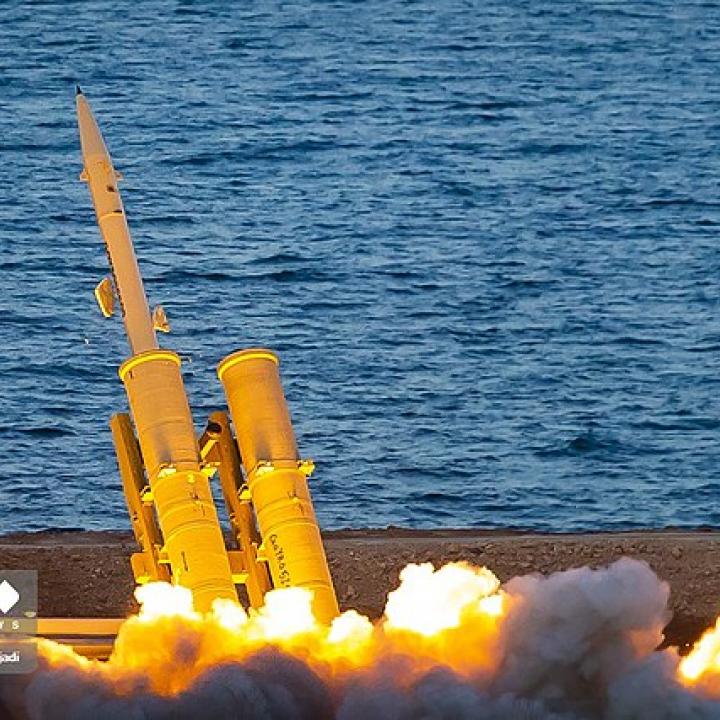 Iran's ballistic missile program poses regional threats that require international solutions.
The latest attack targeting an Iranian defense factory in the city of Isfahan has once again stirred concerns over the danger posed by the Iranian missile system to other nations in the region. Considering Iran's enhanced missile capabilities and recent instances of Iran or its proxy forces using rockets, the threat of missile attacks on neighboring countries has become an urgent issue. Although Tehran alleges that its missile program is defensive in nature, the international community remains anxious over the possibility of it being used to deliver weapons of mass destruction.
The roots of the Iranian ballistic missile program date back to the Iran-Iraq War of 1980-1988, when Iran began developing missiles as a defensive tool to ward off Iraq's rocket attacks. In the years following the war, however, Iran continued developing and improving its missile capabilities to project power and influence in the region. One of the key events in Iran's missile development was its acquisition of North Korean Nodong missiles in the 1990s. These missiles greatly enhanced Iran's capabilities and became the foundation for its future missile program. Since then, Iran has continued investing in its missile program, and in recent years has achieved great advancements in missile technology, innovating several short- and medium-range ballistic missiles. Iran has even developed solid-fuel missiles, which launch faster and move better than liquid-fueled rockets.
Despite international efforts to curb Iran's missile program, Iran now possesses one of the largest missile arsenals in the Middle East, capable of reaching many neighboring countries. The most prominent weapons, either already extant or under development, include the liquid-fuel two-stage Simorgh missile, the liquid-fuel single-stage Khorramshahr-1 and -2 missiles (BM-25/Musudan), as well as the mid-range Shahab-3 ballistic missile, the mid-range Ghadr-110 ballistic missile, and the solid-fuel two-stage Sejjil ballistic missile. While estimates of the ranges of these missiles vary, each claims a range that allows for the targeting of neighboring countries. 
The current missile capabilities represent a major threat to neighboring countries. Already, Iran and its proxies have launched missile attacks on military and civilian targets around the region, including in Saudi Arabia, the UAE, and Iraq, and many are concerned about more attacks in the future as Iran has demonstrated its readiness to use missiles as a means of flexing its power and exerting its influence in the region. Adding to the concerns over direct threats are the repeated accusations that Iran has transferred missiles and missile technology to its proxies in the region like Hezbollah in Lebanon and the Houthis in Yemen. 
International entities and regional power players have so far attempted to counter Iran through sanctions and diplomatic pressure aimed at limiting Iran's missile development capabilities. One such example includes the 2006 UN Security Council Resolution No. 1737, which imposed a weapons embargo on Iran and restricted its missile program. Nevertheless, Iran has continued developing its missile capabilities—a sign of the limited impact that these sanctions have had in achieving their desired goals. 
On the other hand, diplomatic efforts including negotiations such as the Joint Comprehensive Plan of Action (JCPOA) in 2015, also known as the Iran Nuclear Deal, have failed to address the issue of these missiles in a comprehensive manner. While the JCPOA focused heavily on limiting Iran's nuclear program, it contained fewer details on any missile program restrictions. Former President Donald Trump cited this lacuna as one of the main reasons for the subsequent U.S. unilateral withdrawal from the JCPOA. Since then, little progress has been made to restore the deal or any other missile program negotiations, despite numerous attempts at a revival.
With economic and diplomatic tools to pressure Iran largely at a halt, the threat of Iran's missiles is higher than ever. This situation highlights the necessity of pursuing new methods to effectively handle the threat, which could include any of the following:
Reviving pre-existing diplomatic efforts to counter the Iranian missile program through negotiations, including direct dialogue between Iran and regional powers and multilateral negotiations on the global stage through organizations like the UN. Establishing back-door channels of communication and engaging with Iranian officials in international forums or through intermediaries could help exert additional pressure during the negotiations and ultimately yield successful outcomes. Such a task is not easy, since it would be discredited by power centers in Iran who are not ready to make concessions and who oppose any sort of compromise. Also, the lack of trust between Iran and other regional and international powers stands as a major barrier to reviving diplomatic efforts.

Exploring other constructive approaches, such as regional confidence-building measures. This could include procedures aimed at easing tensions and strengthening dialogue between Iran and its immediate neighbors by focusing on areas of common interests including security concerns and economic development. Once those areas are clearly identified, a framework for regional dialogue can be developed. Again, this proposal faces several obstacles, including the historical tensions that have existed for decades between Iran and its neighbors due to ideological differences and Iran's interference in the internal affairs of its neighbors. These tensions make it hard to construct trust and achieve meaningful dialogue.

Enhancing international collaboration and boosting regional security through intelligence sharing and defense coordination, especially regarding the use of anti-ballistic missile systems. In this context, it is crucial for the countries concerned to develop a common understanding of the threats and means of countering them. However, this type of cooperation must also overcome a lack of trust as well as the diverse political considerations that go into identifying threats. Moreover, intelligence and financial constraints could also limit the state's ability to contribute to international cooperation efforts or invest in anti-ballistic missile systems, for example.

Expanding international sanctions to limit Iran's ability to obtain resources and technology for its missile program. This could include measures targeting individuals and entities that participate in the development or spread of Iranian missiles. More specifically, international sanctions can extend to encompass goods and technologies vital for the Iranian missile program such as advanced composite materials, high-strength metals, guidance systems, and more. First identifying these commodities and technologies could then help identify the companies involved in the production or the supply of these materials. This, of course, requires the development of measures of enforcement, including inspections, preventing the smuggling of sanctioned materials, and imposing harsh penalties on companies and individuals who violate those sanctions. These enforcement measures face serious challenges, namely the reluctance of some countries such as China, Russia, and some European countries, to impose sanctions that would harm their economic interests. These attitudes make consensus among countries concerned about Iran's missile program difficult.
The historical context for Iran's missile development, its current capabilities, and the ineffective international responses to Iran's missile program demonstrate the pressing need to find a permanent solution to this issue, despite the many challenges. Although the threat of Iranian missiles is felt most acutely by Iran's neighbors, there is no doubt that international cooperation and coordination will be necessary to aid regional powers in preventing Iranian missile attacks and resolving the issue of Iran's missile program in the long term.