Exploring Russia's Views on Humanitarian Aid in Syria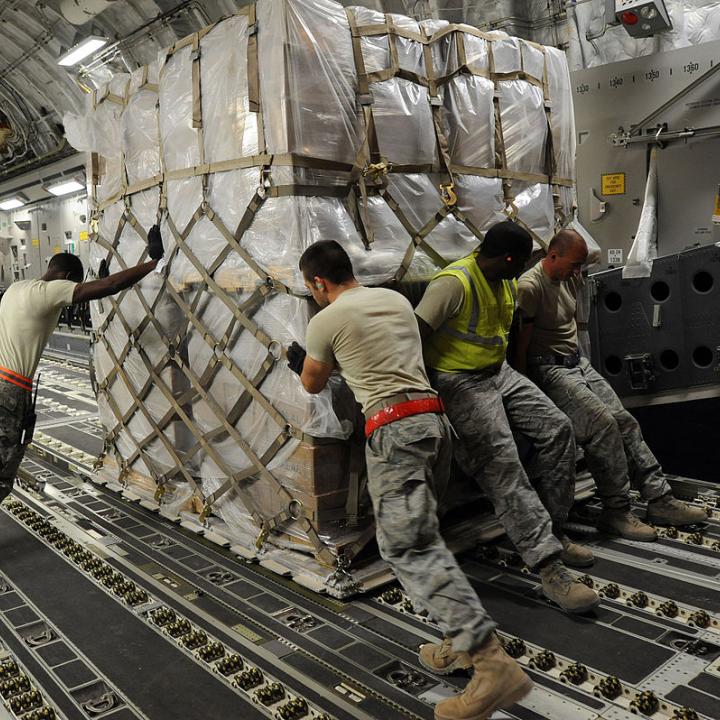 With the UN Security Council set to vote on whether to extend UN cross-border aid efforts into northwest Syria, Russia is once again poised to jeopardize humanitarian assistance to the 4.1 million civilians who rely on this lifeline to survive.
Each year since 2014, Russia has threatened to veto Resolution 2165 and its subsequent iterations, which govern the cross-border aid mechanism in Syria. Moscow does so for its own political aims, steadily reducing the potency of this lifesaving measure to just one border crossing point into northwest Syria last year.
The growing gulf between Russia and the international community over the invasion of Ukraine in February 2022 has only further threatened the viability of this already fragile mechanism. Inside Syria, Russia has built considerable influence in Damascus compared to the UN, other humanitarian groups, and international aid donors. In fact, Russia has developed an insulated and self-sustaining aid ecosystem of at least 26 government and masked-government entities in Syria that have delivered aid 3,090 times to at least 731 communities around the country since 2016. If the cross-border resolution fails to be renewed, there is a conceivable and not so distant future in which this Russian aid ecosystem will take a more prominent role in aid implementation in Syria. 
But information on how the Russian state approaches its foreign humanitarian assistance (FHA) is woefully out of date in preparation for this scenario. The most recent report from the U.S. Law Library of Congress on Russia's FHA is from 2011, while the latest publication from the European Union (EU) is from 2016. While previous articles by the author have attempted to explore Russia's humanitarian capacity in Syria, this article will aim to provide an updated view of the situation, describing four ways in which the Russian state approaches its notion of FHA. Ideally, this will help policymakers identify potential opportunities to counter Russia's problematic actions in the humanitarian space in Syria and elsewhere.
These conclusions draw from publicly available sources from the Russian government, key figures in Russia's aid community, and information collected from the websites of the entities mentioned in this article. While there are clear limitations with using open sources, such as the inaccuracy of self-reported or politically skewed information, they can still provide a valuable window into Russia's motivations toward providing aid in Syria and the mechanisms that govern its aid operations.
The Four Ways Russia Views FHA
Russian FHA in the Syrian Context 
It is clear from publicly available sources that the Russian state does not align with the international community's concept of humanitarian assistance. At best, Russia's own FHA policies compel the state to disrupt efforts taken by other entities in the broader aid community. At worst, Russia's aid apparatus—especially its military, which provides the majority of Russia's aid in Syria—aims to overcome the threat it perceives in the international community's aid efforts. In any case, Russia will likely continue to prioritize its own self-interest over the needs of vulnerable people in northwest Syria, regardless of whether the cross-border resolution is extended in January 2023 or not.
On the ground, many Syrians recognize that Russia uses its aid as a political tool to punish or reward those in need. But Russia is likely unconcerned with these community views, much preferring to use its aid actions to amplify a positive narrative to a wider audience, one that deflects away from its hard military and political image in Syria. Many of Russia's main media outlets regularly promote stories about Russia's expansive aid actions in Syria in the Arabic language. 
While it can be easy to underestimate this strategy compared to the international community's commitment to meaningful FHA, examples from other contexts show how potent Russia's approach could be in Syria. In a 2020 poll from Serbia, respondents named Russia and China as two of the top contributors of foreign aid to the country, when in reality such aid overwhelmingly came from the EU. In the lead up to the poll, the Russian state had only conducted a handful of well-publicized aid deliveries in 2014, 2015 and 2017, in addition to promoting the establishment of the previously mentioned Russian-Serbian Humanitarian Center. With Moscow having long invested in utilizing Arabic language media to promote pro-Russian perspectives to regional audiences, it would not be inconceivable that a similar process could be seen in relation to Russia's aid provision in Syria. 
If Russia's insular and self-sustaining shadow aid ecosystem becomes more dominant in Syria in the event of the UN cross-border aid resolution not being passed, Russia's entrenched and divergent approach to humanitarian aid will become even more challenging to engage with. This ominous prospect is something that should not be overlooked or underestimated by the international community.