Egyptians Oppose Russia's Move on Ukraine, yet Half Still Value Ties to Moscow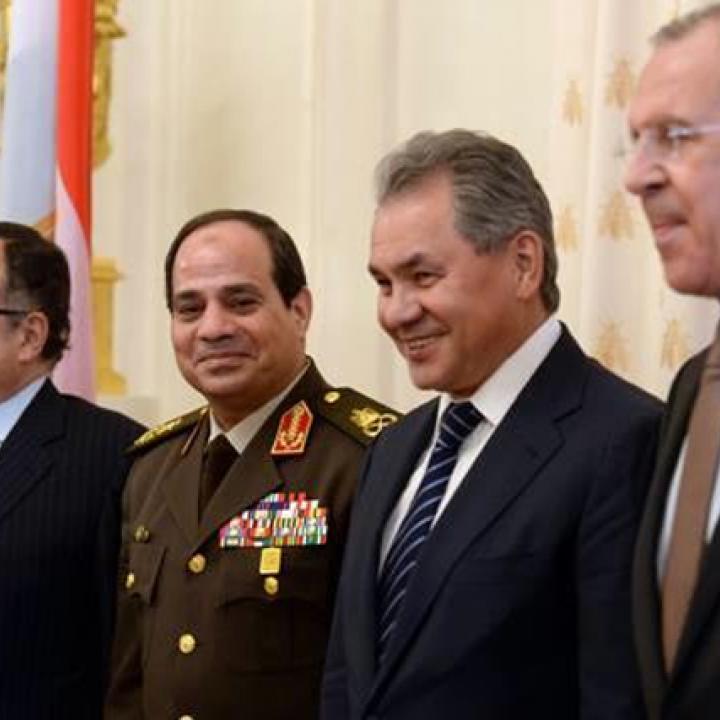 A recent poll indicates that Egyptians see ties with Moscow as more important than ties with the U.S., despite opposition for Putin's war in Ukraine.
A rare new public opinion poll in Egypt, conducted in March 2022 for the Washington Institute by a reliable local firm, shows a surprisingly solid three-quarters majority voicing a negative view of "Russia's military action in Ukraine." Moreover, nearly as many Egyptians (64%) also blame this Russian policy for "the recent rise in food prices here." These figures are roughly in line with other, previously reported findings from Jordan and four Arab Gulf states (Saudi Arabia, the UAE, Kuwait, and Bahrain).
To explore this data and more, access TWI's interactive public opinion poll database here.
Nevertheless, both in Egypt and in those other Arab societies, around half the public continues to believe that good relations with Russia are "important" to their own country. Among Egyptians, that figure is very close behind the United States, at 56%. And China now narrowly comes in first—at 60%. Moreover, on this and other questions in the survey, there are no statistically significant attitudinal differences between Egyptian adults under age 30 and the older generation.
Surprisingly, Russia Valued More than the U.S. or China to "Protect" Egypt
Much more unexpected is this finding: nearly half of Egyptians (46%) pick Russia as "the country that can best protect us against our foreign enemies." In contrast, China gets just 26% of the votes on that question—while the U.S. lags far behind, at just 12%. In all four Arab Gulf states just polled, that ranking emerges in precisely the opposite order, with the United States first, followed by Russia and then China.
This counter-intuitive revelation begs for explanation. A partial explanation is that a narrow plurality of Egyptians (29%) pick "providing advanced weapons for our armed forces" as "the most important aspect of Russia's policies toward our country." In addition, nearly half (43%) of the Egyptian public agrees with this assertion: "We cannot count on the U.S. these days, so we should look more to Russia or China as partners." Furthermore, Russia rates a narrow plurality (32%) as "probably the most influential in our region ten years from now, edging out both the U.S. (28%) and China (24%).
Going a bit beyond the data, and judging mostly from Egyptian media coverage and commentary, some may value Russian military support for Gen. Khalifa Hafter, Egypt's favored partner in the Libyan civil war next door. Some Egyptians may also see Russia as a needed "balance" to alleged "American global hegemony." And others may even see the United States itself as one of Egypt's "foreign enemies," given lingering suspicions of American support for the now largely discredited Muslim Brotherhood opposition movement. Finally, as one astute Egyptian-American analyst put it to the author, "Putin has met regularly with [Egyptian President] Sisi, while Biden still refuses to meet him."
Support for Abraham Accords/Israeli Contacts Drops to Just Ten Percent, Far Below Gulf Arabs
At the same time, Egyptian public opinion takes a very negative view toward "normalization" with Israel. Just 13% now say the Abraham Accords for peace between four other Arab states and Israel will have a positive effect on the region—down from 25% in November 2020, shortly after those accords were announced. This sharp drop confirms similar findings from the intervening poll in November 2021, probably due to the brief Israel-Hamas war in Gaza in May of that year.
On a related question, Egyptians also overwhelmingly (85%) disagree with this statement: "People who want to have business or sports contacts with Israelis should be allowed to do so." A mere 11% agree with that proposition—in stark contrast with roughly 40% in the Gulf Arab states of Saudi Arabia, the UAE, and Bahrain. These figures are all stable since November 2020, and remain remarkably negative in Egypt despite its formal peace with Israel since 1979, as well as the warming of official political and economic ties over the past year.
Iran Rates Equally Low Among Egyptians
Consistent with other polls from recent years, only a very small minority of the Egyptian public says that good relations with Iran are even "somewhat" important for their country. Conversely, the solid majority (60%) agree with this purposely provocative proposition: "Wherever Iran intervenes, it hurts the local Arabs and doesn't help the Palestinians."
Yet Egyptian are exactly evenly split (45% vs. 47%) regarding the prospect of a renewed nuclear deal with Iran. On this issue, Egyptian popular attitudes closely mirror the most recent findings from parallel surveys in Jordan and in the Arab Gulf states.
Methodological Note
This analysis is based on a personal-interview survey among a representative national sample of 1,000 adult Egyptian citizens, and on simultaneous surveys conducted in five other Arab societies. Surveys were conducted by a reliable regional commercial contractor, using standard geographical probability sampling procedures, with strict quality and public health controls and assurances of confidentiality. The statistical margin of error for a survey of this nature is approximately plus or minus 3 percent. Additional methodological details, including full questionnaire and demographic information, are available on the Washington Institute website.