Egyptian Media Reflections on Egypt's Accession to BRICS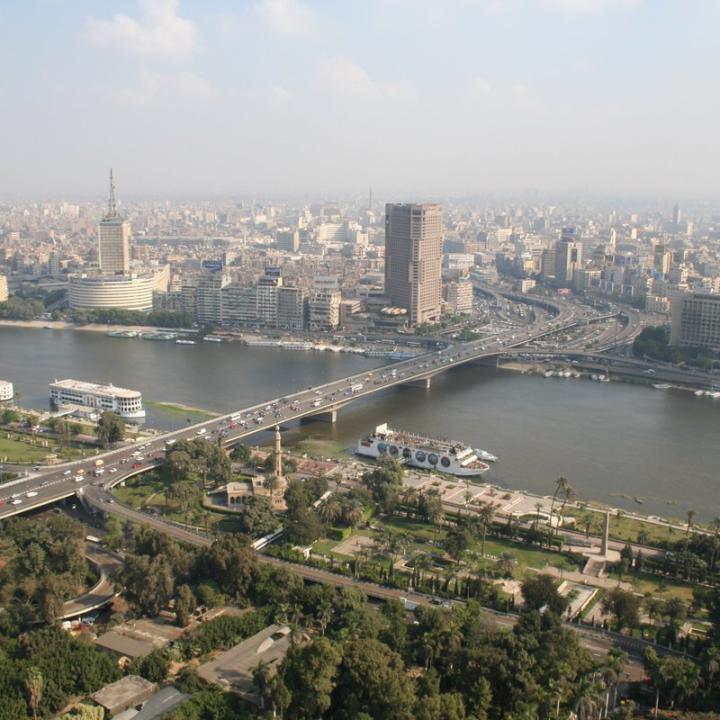 Although joining BRICS is an exciting economic prospect for many governments, the addition of new member states has not been without controversy. In Egypt, news of the nation's accession to this institution has fueled a heated internal media debate on the feasibility of the move and its impact on the deteriorating economic situation in Egypt.
On August 24, South African President Cyril Ramaphosa announced during the BRICS Summit in Johannesburg that Egypt–along with Iran, Saudi Arabia, United Arab Emirates, Argentina, and Ethiopia–are set to join the bloc starting from 2024. This announcement came at a time when Egypt is suffering from a severe economic crisis represented in heavy foreign debt, collapse of the Egyptian pound, unprecedented inflation, and a chronic trade balance deficit. In the aftermath of the decision, Egyptian media has approached the question of what this announcement means for the country from several angles, mainly aligned with their attitudes towards the state.
The BRICS grouping includes some of the world's major economies; its membership includes Brazil, Russia, India, China, and South Africa. The grouping represents about 30 percent of the global economy and 43 of the world's population. Of particular interest to a wheat-hungry Egyptian economy, these countries produce more than one-third of the world's grain.
In creating this economic bloc, the founding countries set out to achieve a number of economic, political, and security objectives that would encourage economic cooperation. Separately, BRICS members sought to establish a parallel global economic system capable of breaking the domination of the U.S. dollar by 2050. However, the ambitious initiative suffers from several limitations, including disunity among its members and a lack of institutional structures to implement its objectives.
The bloc's New Development Bank (NDB) is one such instance of the limitations of BRICS. In 2015, member states created the New Development Bank, a multilateral financial institution established with the contribution of the main BRICS countries (China, Brazil, India, Russia and South Africa). With $100 billion in initial capital, the bank aims to finance infrastructure and sustainable development projects in BRICS and other emerging market economies and developing countries to break the hegemony of the World Bank. This has proven easier said than done. In the years following its establishment, the New Development Bank has become unable to provide new loans, as it is facing challenges raising funds to pay off its debts. Furthermore, the NDB has resorted to borrowing billions of dollar-denominated currency, a decision that does little to challenge the dominance of the US dollar internationally. This situation prompted the bank to seek new members such as Saudi Arabia and the UAE to address its financial problems.
Although joining BRICS is an exciting economic prospect for many governments, the addition of new member states has not been without controversy. In Egypt, news of the nation's accession to this institution has fueled a heated internal media debate on the feasibility of the move and its impact on the deteriorating economic situation in Egypt. Pro-regime media has exaggerated the impact of the decision and portrayed it as a panacea for Egypt's economic woes, claiming that it would put an end to Western economic dominance and reduce Egypt's mounting inflation, in addition to lessening its reliance on the U.S. dollar. On the other hand, opposition media has discredited and ridiculed Egypt's accession to BRICS, viewing it as a futile endeavor for a country facing severe economic woes and a trade deficit with all current BRICS states.
Pro-regime media provided a more optimistic views on Egypt's accession to BRICS; among them was Al-Masry Al-Youm, which claimed that since Egypt imports grain, oil, and other industrial and technological commodities from BRICS countries, future increase in trade volume using local currencies could reduce demands on the U.S. dollar and reduce inflation.
In the same vein, the government-owned newspaper Al-Ahram maintained that inviting Egypt to join BRICS is a victory for Egyptian diplomacy and recognition of Egypt's regional and international status. In its view, Egypt's invitation to join confirms the country's vital role in the Arab region, the Middle East, the Eastern Mediterranean, and Africa. Al-Ahram also claimed that the BRICS grouping will herald a shift in the international order that puts an end to the dominance of the West over the world economy.
Pro-regime media anchor Moustafa Bakry claimed that the black market value of the U.S. dollar decreased following the news about Egypt's accession to BRICS. He also maintained that the establishment of a unified currency among the BRICS grouping—an initiative once discussed among BRICS members but with no signs of implementation—will alleviate Egypt's crippling dollar shortage. Pro-regime media anchor Ahmed Mousa described Egypt's accession to BRICS as a "political earthquake" which will greatly benefit Egypt. According to him, the fact that BRICS is comprised of both nuclear states and natural gas juggernauts could soon inaugurate a new world order.
On the official level, Prime Minister Mostafa Madbouly lauded the decision as a pathway for obtaining soft loans from the New Development Bank to facilitate development and infrastructure projects. He noted that BRICS strives to upend the unipolar system and create a balance in the management of global files.
The Egyptian Minister of Finance Mohamed Maeet asserted that Egypt's accession to the BRICS will boost investment, provide new export opportunities, and increase foreign flows, as well as deepen economic cooperation and trade exchange between Egypt and the member states.
Though the pro-regime Al-Shrouk praised Egypt's accession to the BRICS, describing it as a "strategic accomplishment for Egypt's foreign policy," the newspaper also provided a more balanced reflection on key challenges to BRICS. Among those challenges was the aforementioned institutional limitations. The BRICS group is neither an international nor a regional institution, and lacks headquarters, a secretary-general, or an executive council to make decisions. Therefore, Egypt will be joining an entity which is institutionally weak, and consequently, reaps few rewards.
Furthermore, political discord among key members of the BRICS, namely the historical hostility between India and China and the Saudi-Iran rivalry, may endanger attempts at cooperation. There are fears that further expansion in its membership will further exacerbate heterogeneity among member states, thus hindering its potential success.
Looking at the opposition, many in the Egyptian media worked to discredit the country's accession to BRICS, expressing doubt over the supposed impact on the Egyptian economy. According to media anchor Moatz Matar of Al-Shoub TV, Egypt suffers from a huge trade deficit with BRICS states estimated at $29 billion. With Egypt joining, its imports from BRICS members could double, with the trade deficit following suit. If Egypt fails to cover that deficit, it may be forced to sell more assets or allow the BRICS states to pay in Egyptian pound for using the Suez Canal. Both scenarios are disastrous to the Egyptian economy and the ever-devaluing Egyptian pound.
Opposition site Mada Masr also discredited Egypt's accession to BRICS and maintained that joining the bloc is not a magic formula for Egypt's economic woes. While the step could alleviate the import bill, it would not necessarily improve Egypt's trade deficit. The country's dollar crisis will not vanish upon joining BRICS, and Cairo would still "need to increase its foreign exchange sources through exports, tourism and foreign direct investment."
Moreover, prominent opposition economic experts also dismissed Egypt's accession as ineffective. Economic expert Mostafa Shahin claimed that China launched BRICS to expand its markets abroad in order to compete with the United States. He also maintained that amid Egypt's economic woes, its accession to BRICS is expected to double imports and consequently deepen trade deficits, increase its debt, and stifle any attempt to revive domestic industry. Another economic expert, Hany Tawfik, commented that unless Egypt works to attract the necessary investments to produce more than it consumes and export more than it imports, BRICS membership will yield little. Egypt will simply switch from a dollar debtor to yuan, rubles, and riyals debtor.
The Muslim Brotherhood has also been critical of the move and claimed that Egypt's main goal in joining BRICS is to seek a new outlet to obtain loans from the New Development Bank. Even if true, Sisi's hopes to borrow from the Bank have been ruined since the bank is currently suffering from difficulties in providing new loans. Moreover, joining BRICS will not solve the twin issues of weak local production and the lack of sufficient exports that Egypt must address in order to effectively access the BRICS market.
With the upcoming presidential elections scheduled for the beginning of 2024, the exaggerated media campaign among pro-regime sources about Egypt's accession to BRICS aims to alleviate public discontent over mounting inflation and rampant poverty. If successful, the positive coverage could serve as a lifeline for Sisi's popularity and stave off potential domestic unrest.
It is worth noting that the president of Brazil previously invited former president Mubarak to join BRICS, but he refused for fear of endangering his relations with the West. Sisi needs to take this into consideration as well; BRICS includes states that disagree—and in some cases outright oppose— Egypt's Western allies. This situation could very well cause a rift between Egypt and its Western counterparts, especially the United States. Hence, the success of Egypt joining the BRICS will rely on the extent of its ability not to be drawn into international polarization.
In the end, it is necessary for Egyptians not to overestimate the quick benefits that Egypt can reap from joining BRICS. In other words, Egypt needs to pursue a policy of export-oriented industrialization (EOI) to open new markets with the BRICS countries so as to correct its trade deficit. Egypt also needs to better manage its current assets and resources to increase its revenue and fulfill its debt obligations, in addition to removing all bureaucratic barriers to foreign investment.