The Captagon War: Smuggling on the Jordanian-Syrian Border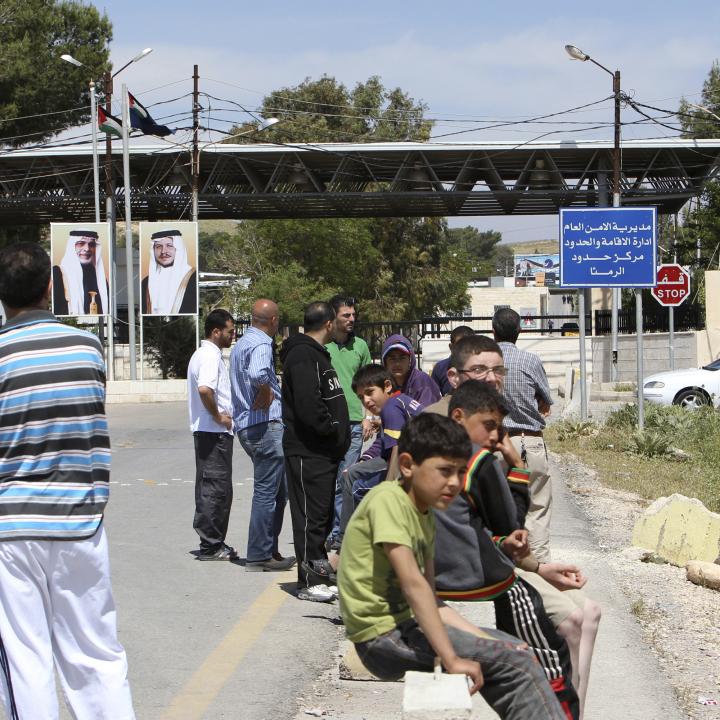 As drug smuggling increases across Jordan's border with Syria, Jordanian authorities need to seek solutions in both the security and social spheres.
Smuggling activity along the 375-kilometer border between Jordan and Syria is nothing new. This activity is especially prevalent at border crossings in Jordan's northern Irbid governorate, including the Ramtha border crossing opposite the Daraa border crossing in Syria, and the Jaber border crossing facing Syria's Nasib border crossing. 
However, the nature of smuggling has changed drastically over the past decade. During the 1990s, this cross-border smuggling was limited to livestock, cigarettes, and weapons. Today, however, this smuggling is focused on the transportation of drugs such as hashish, Captagon, crystal methamphetamine, and other illicit substances. The resulting development and expansion of drug smuggling activities—spreading out from war-torn Syria into the surrounding countries and region writ-large—has often been called the "Captagon War." A major uptick in smuggling into Jordan has been recorded throughout 2022, even as Jordan has sought a rapprochement with the Assad regime. This uptick has left Jordanian security forces with the major challenge of securing its borders to stem the drug flow into the region and Europe while facing concurrent cross-border attacks from Iranian-backed militias.
Evolution of the Captagon Trade
Today, Syria is considered the world capital of Captagon, the brand name of a drug initially developed to treat attention deficit hyperactivity disorder (ADHD), narcolepsy, and depression but highly addictive and commonly abused to heighten users' awareness of their surroundings, boost energy, increase concentration, suppress appetite, and relieve anxiety. 
Anti-state armed groups in Syria were some of the first to use the Captagon trade as a main source of funds during the early stages of the war against Assad. Since then, however, the Assad regime and its main regional allies—including Iran and Hezbollah—have been able to consolidate their role as the primary beneficiaries of the narcotics trade by tightening their control of drug smuggling activities on the ground. As a result, Syria is now a global hub for the production and export of hashish and Captagon to various parts of the world, both regionally—including destinations such as Turkey, the Persian Gulf, and North Africa—and in Europe. In 2020, Syrian Captagon exports reached a market value of at least $3.46 billion. 
A number of media sources point to the involvement of prominent figures in the Syrian regime and Hezbollah militias as responsible for the growing success of the regional drug trade. This reality is all but confirmed by Jordanian security officials who have said that undisciplined Syrian army forces are working directly with drug smugglers on the border. 
Jordanian Response 
Jordanian customs patrols or the Badia Command and Border Guards, including the al-Hajana—border guard forces using camels to move along the border—have traditionally been tasked with keeping smuggling along Jordanian borders under control. In 1997, border control became even more stable after the Jordanian Armed Forces (JAF) absorbed the Badia Command and Border Guards following a royal decree, which resulted in the Royal Badia Forces Command. Nevertheless, the more recent involvement of regional power players such as Iran in the drug trade has posed a significant challenge to Jordan's border control. 
These funds also embolden the Syrian regime to continue its "drug diplomacy" in the historically-tense relationship with Jordan. In this context, Jordan's King Abdullah II has actually welcomed Russia's presence in southern Syria as "a source of calm" in contrast to his concerns that "a vacuum will be filled by the Iranians and their proxies." If that were to happen, King Abdullah fears he would be "looking at an escalation of problems on our borders." In an interview with Jordanian newspaper Al-Rai on July 24, the king also stressed the need for Iran to change its behavior as a condition for establishing good relations with it based on mutual respect and a respect for state sovereignty, especially as Jordan faces regular attacks on its borders by Iran-linked militias. 
Despite recent Jordanian-Syrian rapprochement in the form of phone calls between the King and President Assad and joint meetings between senior Foreign and Defense Ministry officials on the issues of terrorism and smuggling, the Syrian regime continues to tolerate smuggling networks on both sides, especially when it comes to drugs such as Captagon. King Abdullah has condemned these dangerous practices and has even directly accused the Syrian and Iranian regimes of their involvement, but little has changed—a reality that both destabilizes Jordan's domestic security and that of neighboring countries, especially Israel and Saudi Arabia.
In the meantime, Jordan is left to address these threats as best it can. The government has established a number of new security measures in its efforts to counter cross-border smuggling operations from Syria. When appointing Brigadier General Obaidullah al-Maaytah to the position of Director of Public Security on September 11, King Abdullah specifically mentioned the fight against drugs as a priority for the Public Security Directorate, asking al-Maaytah to "relentlessly continue the tireless efforts to combat drug smuggling." 
Jordan has also not hesitated in sending harshly worded warnings to Damascus on the topic of drug smuggling. At home, the JAF is conducting large-scale media campaigns through the Military Information Directorate to expose the progress and dangers of work on the border front, inviting local media outlets and a number of analysts and security experts—including myself—to visit the northeastern border region on February 17, 2021 to see the reality for ourselves.
But there is still much more for Jordan to do in order to effectively fight the "Captagon war." Namely, Jordan must carry out continuous and long-term monitoring of drug traffickers and suspects, and continue to tighten border monitoring. It should also conduct a comprehensive and serious assessment of long-term, in-depth, and well-developed strategies to address the pockets of poverty most affected by smuggling in the villages of the eastern and northeastern Badia area. The Ruwaished district, in particular, has suffered from poverty, marginalization, and governmental neglect for decades, which has only been further exacerbated by COVID-19 in recent years. 
Smuggling—especially drug smuggling—is not a security phenomenon alone. It is also a social, cultural, and economic phenomenon that requires a holistic solution integrating security and social institutions in a prudent way. The current efforts of the Military Information Directorate should be continued in cooperation with civil society institutions—especially the media—as well as schools, institutes, and universities in an effort to educate citizens, particularly in border areas, of the dangers of smuggling and its negative effects on society, security, and the national economy. 
It is also necessary to increase cooperation and coordination between Jordan and the United States on the issue of border protection. Jordan should encourage the Biden administration to put pressure on Iran regarding Iranian-backed militias' continued cross-border targeting of Jordan to allow forces there to refocus on smuggling. The United States should also direct donations, especially USAID, toward implementing some of their empowerment and local development projects in poverty hotspots in the border regions in northeastern Badia in order to address the socioeconomic factors driving the smuggling trade on the Jordanian side of the border. Finally, Jordan should be provided with the equipment and training needed to increase the efficacy of their border control—including suitable vehicles for the desert and day and night surveillance cameras—in order to catch up with highly-sophisticated smuggling networks, some of which have reached the point of using drones.