The American Muslim Experience: Incidental Noise and an Anticipated Future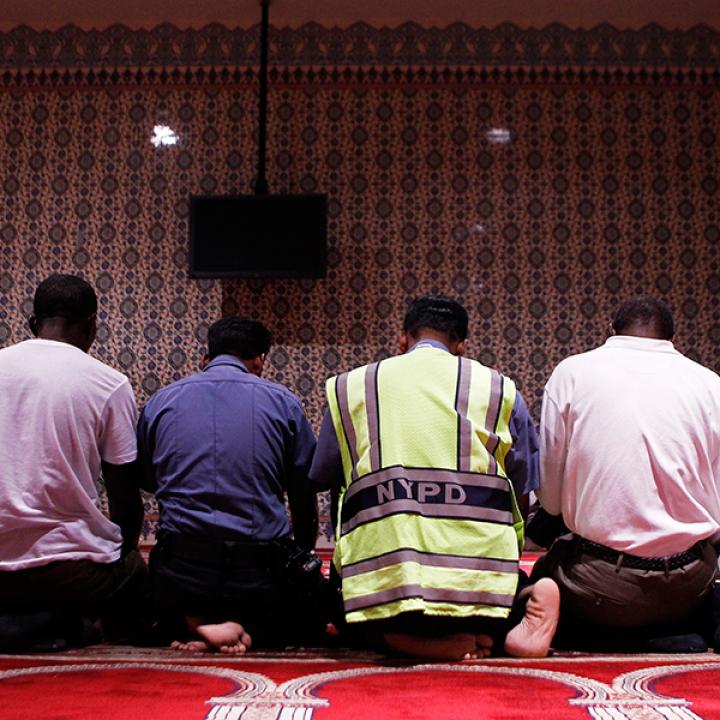 March 17, 2016
I came to the United States in the mid-1980s. It was the age of multiculturalism. The color was rainbow, and the country was reconciling itself with the fact that it was made up of different strokes. My name, accent, and physique indicated that I was from the Middle East. By the time I embraced US citizenship, it was a matter of course that I would become a "hyphenated" American. I was the Lebanese-American, Arab-American, or Muslim-American friend or colleague of the more "veteran" of my fellow citizens with whom I interacted. These were designations, mostly affectionate, applied to—rather than brandished by—me, in a society conscious and proud of its diversity.
I lost my hyphenation on September 11, 2001. On that Tuesday morning, I was but one American targeted by terror – one of the fortunate who were not hit physically; one who with many million others, were permanently scarred by the attack.
I was privileged then to live in Cambridge, Massachusetts. There was a silent march, shortly after the ignoble event of that day, which started at one of Cambridge's churches and marched towards the Islamic center. The message was one of both self-affirmation and affirmation of the other. Out of many, one. Your aggression will not divide us. Almost fifteen years on, I believe that this message remains true and will continue to characterize America's future.
There is indeed a discourse in Arab culture that condemns the United States. An invigorated theme within it is how badly treated, isolated, and ostracized are US citizens and residents who stem from Middle Eastern or Muslim backgrounds. The demagoguery of a certain presidential aspirant has further fueled the fire, which is now presented as categorical proof of the persecution of Muslims in the United States.
It may be useful to be perfectly clear about this deranged meme: nothing short of a constitutional amendment—one that would have to negate centuries of deeply anchored convictions and traditions—would enable the populist rant of Muslim exclusion from the United States to become a reality. In other words, this will never happen. Muslims and those tracing their cultural backgrounds to societies informed by Islam are and will continue to be an integral part of the life and landscape of this country.
I recall that on numerous occasions during the 1990s, references were made to the "Judeo-Christian-Muslim" heritage of the nation in both political and cultural discourse. Undoubtedly, even then, some were uneasy about the new expression. A generation prior, it was the novelty of "Judeo-Christian" heritage that made people comfortable with the phrase "Christian nation" somewhat uneasy. However, as with many of the transformative re-conceptions of the twentieth century, U.S. society has displayed resilience and flexibility. Progressivism demonstrates that values, not dogma, dictate the shape of the social compact, while conservatism insures that accepting these value changes is truly deserved.
Overseas, however, others made different calculations, and their implementation ultimately denied Arab and Muslim Americans the promise of cultural integration in the process. Before the Jihadist war on the United States began in earnest, much of the American mainstream culture was open and welcoming of the emerging presence of yet another element of diversity, arriving from mostly Muslim lands. Voices claiming a qualitative difference in the character of these new elements and calling for unprecedented caution, even urging exclusion, were mostly marginal. These naysayers were treated as a normal component of the American welcome kit; popular culture in the United States values free opinion and spirited challenges to a variety of issues, and no exceptions can be expected. Yet in the aftermath of September 11, more felt that those hostile voices were vindicated. This is a false conviction, but one that will require time and effort to unravel.
Meanwhile, irrespective of the cacophony that may have breached into mainstream discourse from the margins, what was true in the 1990s continues to be true today. Immigrants and migrants from across the world, including majority Muslim societies, seek in the United States the promise of freedom, dignity, and the rule of law. That this country remains the choice destination is a solid indication that these immigrants do encounter these promised rights. There are certainly cases and incidents that go against this promise. Yet these examples are relevant only because the rectitude expected the United States is orders of magnitude higher than other societies. An individual may be harassed, a government agency may exceed its mandated reach and a community may face intimidation when seeking to build a mosque or a center. In each and every one of these rare cases, however, the full might of the rule of law is exercised to insure that justice, fairness, and equal treatment remain the norms. At the end of the day, no place on earth hosts more forms of free expression of Islam than the United States. And for each incident of harassment that is duly reported or inflated for effect by detractors, countless instances of fairness, kindness, friendship, and beauty towards Arabs and Muslims pass with little or no notice. And so these experiences should pass without remark, since they are indeed the norm.
The student of religious history will evidently note that the United States of America, home to the largest population of Christians worldwide, has deeply engaged Christianity and generated new and complex Christian forms, theologies, and denominations. The United States is also home to one of the largest Jewish populations globally. Here too, new and compelling readings of the Jewish faith have emerged from the American experience. The U.S. Muslim population, comparatively, is much more modest in the context of worldwide Muslim presence. Yet the strength of the American incubator of novel and influential ideas cannot be discounted. In an environment that values freedom, justice, and tolerance, it is indeed these values that are sought in and elevated from the shared cultural and religious heritage of humanity in its multiple manifestations. When the dust from the current challenges settles, it is this path, and not that of the cult of death, that U.S. millennials of Muslim background will naturally seek. The collective task of their fellow citizens is merely to insure that they are diverted from their pursuit by ill-conceived actions.
In their attempts to debunk U.S. approaches to defeating them, Jihadists often disparage "RAND Islam" — a reference to a "moderate Islam" that a 1990s RAND Corporation study suggested be promoted to counter the effects and influence of radicalism. It is not clear whether the top-down Islamic reform suggested by this report ever had a chance of success. Jihadists and other radicals, however, ought to fear another type of Islam emerging from the United States. The radicalist narrative is threatened by Muslims' lived experiences in this land, where freedom of religion is a reality and where faith and practice, or the lack of either, are the result of conviction, not fear. The American Muslim experience is young. Domestic and foreign detractors notwithstanding, history suggests that it has a long and prosperous future ahead of it.
Hassan Mneimneh is the Contributing Editor at Fikra Forum. This item was originally published on the Fikra website.