Activist Haidar al-Zaidi's Prison Sentence and Growing Pressures on Iraqi Activists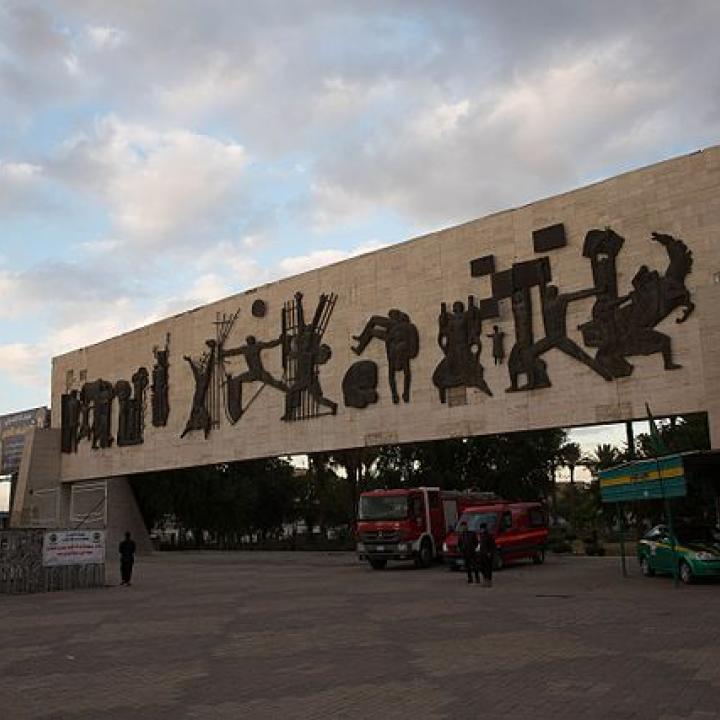 Despite claiming to defend free speech, the Iraqi government is increasingly targeting critics and protestors with arrests and lengthy jail sentences.
Beginning on December 7, furious demonstrations have flared up in Tahrir Square—the epicenter of protest in Baghdad—alongside demonstrations in Nasiriyah and other cities in the south. Iraqis are coming out in protest of the severe sentence the Iraqi judiciary imposed on activist Haidar al-Zaidi on December 5, 2022. Zaidi, age 20, had been charged with insulting state institutions and sentenced to three years in prison. These charges stem from tweets on his personal social media pages directing criticism at certain religious authorities and the leadership of the Popular Mobilization Forces (PMF), whose military wing had previously arrested him. This prior arrest was not based on any judicial order, and Zaidi had been released without the judiciary issuing any sentence against him.
Zaidi is one of dozens of activists who have faced pressure or been arrested and charged with insulting religious figures. In 2019, the criminal court in Najaf Governorate issued a similar sentence against café owner Ali Sorror Razzaq, who had been accused of insulting religious figures in the conservative governorate in a livestream broadcast on Facebook. 
Zaidi denied writing the tweet that led to his arrest, saying that his account had been hacked, yet judicial authorities insisted on a lengthened prison sentence. Observers of Iraqi affairs see this as a step intended to frighten Iraq's youth and push any potential critics further towards self-censorship—the lengthy sentence serving as a dire warning against exercising free speech, expressing criticism, or engaging in constitutionally-protected peaceful protest. 
Laws in force in the Iraqi constitution dating back to the days of the Ba'ath party and Saddam Hussein guarantee freedom of expression and the press. But these laws contradict other legislation that penalizes those who criticize political and religious figures. Provision 226 of Iraqi Penal Code Number 111 (1969) stipulates, "Any person who publicly insults the National Assembly, or the government, or the courts, or the armed forces, or other government bodies, or the public authorities, or official or semi-official agencies or departments is punishable by a term of imprisonment not exceeding seven years or a detention or fine."
In practice, the application of the law varies depending on the political capital of the defendant. In July 2022, a leaked audio recording circulated of Nouri al-Maliki—head of the majority State of Law Coalition—referring to factions of the PMF as a "nation of cowards." The Iraqi judiciary did not move a finger to punish Maliki under the pretext that the recording was fabricated or unverified. 
In contrast, the judiciary was exceedingly quick in sentencing Zaidi to prison. And when protesters demanded that the calculated charges against Zaidi be dropped, security forces in the vicinity of Nasiriyah responded by opening fire, leading to three deaths and dozens of injuries. 
In an attempt to calm the situation, Prime Minister Mohammed Shia al-Sudani ordered an investigation into the killing of protestors in the governorate and the punishment of those who opened fire. The parliamentary Committee on Human Rights likewise criticized the use of violence and assigned local and national authorities the responsibility to protect protestors and use peaceful means to control the situation and avoid increased chaos. 
Yet many Iraqis view the convening of an investigative committee as a tried-and-true strategy to protect perpetrators rather than a means of obtaining justice for victims. Meanwhile, political analysts are cautioning about the dangers of a return to the repression and persecution of activists and human rights defenders or a ban on peaceful protest. 
As the analyst Ahmad Alkhder put it to the author, "I hope that there will not be a return to the pattern of repressing protests, in Nasiriyah or any other Iraqi city. And I hope that Mr. Sudani will not reprise the handling of protestors by former Prime Minister Adil Abdul-Mahdi, as a repeat of this experience would lead to catastrophic consequences this time around. The problem is that there is a strong resemblance between the public discourse directed at protestors during the Abdul-Mahdi period and today. This gives Iraqis the initial impression that the actors who controlled Abdul-Mahdi also control Sudani. That's a big problem."
What makes Zaidi's sentencing even more striking is that it comes at a time when Iraqis have been stunned to learn of the release of Nour Zuhair, the first individual charged in participating in the largest theft in the nation's history. Zuhair was allegedly involved in a corruption scandal in which more than 2.5 billion dollars were stolen from the county's tax coffers with the collusion of state authorities. Alkhder highlighted this contrast: "It is striking and startling that in Iraq, a thief who confesses to his crime is released and a young activist is sentenced to three years in prison because of a tweet. Keep in mind that the crime for which Zaidi was convicted can be punished by a fine, while it should be difficult to make bail for the crime for which Zuhair was arrested. The difference is that political dealings are suspected to be behind the Zuhair case, and the Zaidi case was treated as vengeance." 
These incidents have had a chilling effect; at present, Iraqi activists are increasingly wary of directing criticism at religious and political figures for fear of pressure or punishment. Some activists use accounts with fictitious names in order to protect themselves from government surveillance and from extra-governmental armed groups. Independent journalists also face significant pressure—they are surveilled because of their coverage and are seen to have crossed a red line if they report on certain topics, and they undergo great hardship to continue their work and divulge the truth. Both groups understand Zaidi's sentencing as an attempt by the authorities to silence cries for freedom, dignity, and justice. 
Nevertheless, Iraqis have persisted in demonstrating in support of freedom of expression and for legal redress for past killings of protestors. The young Wa'ad al-Azzawi is a protester from Baghdad and among those injured during the October 2019 protests. He has lived in Germany since he left Iraq last year to receive medical treatment. He told this writer, "I am one of the activists in the demonstrations. I left Iraq to complete my treatment, but remained here after being abandoned by the Iraqi government and the Iraqi Embassy in Germany after the expiration of my medical treatment visa. I am afraid to return to Iraq lest I be treated like my friend Haidar Zaidi, who has been sentenced to prison because of his political opinions." 
As a friend of Zaidi's, Azzawi described him as seeking to "help the needy through humanitarian initiatives." Like Alkhder, he pointed to the uneven sentencing practices that target activists while failing to address other criminal activity, such as drug smuggling. "The Iraqi government is attempting to improve its international image by projecting respect for freedom and human rights. As is clear for all to see, this is not the case. All who criticize the regime or express an opposing view suffer the fate of arrest, repression, or exile. This is what has happened to many young people during the 2019 protests and after."
Ultimately, these pressures are pushing many journalists and activists to leave their homes. Azzawi is just one of a number of young Iraqis who have fled Iraq's restrictive political climate, part of a large wave of displacement and emigration among journalists and activists who participated in protests. Refusing to self-censor but fearing for their personal safety, they head for Iraqi Kurdistan or for European and other Arab countries seeking a safe environment away from constant surveillance because of their political activities. However, what these pressures have not done is stopped these activists' and journalists' fight for their legal rights to dignity and freedom—rights that have been denied in their country for many years.