Working to Limit Iranian Involvement in Syria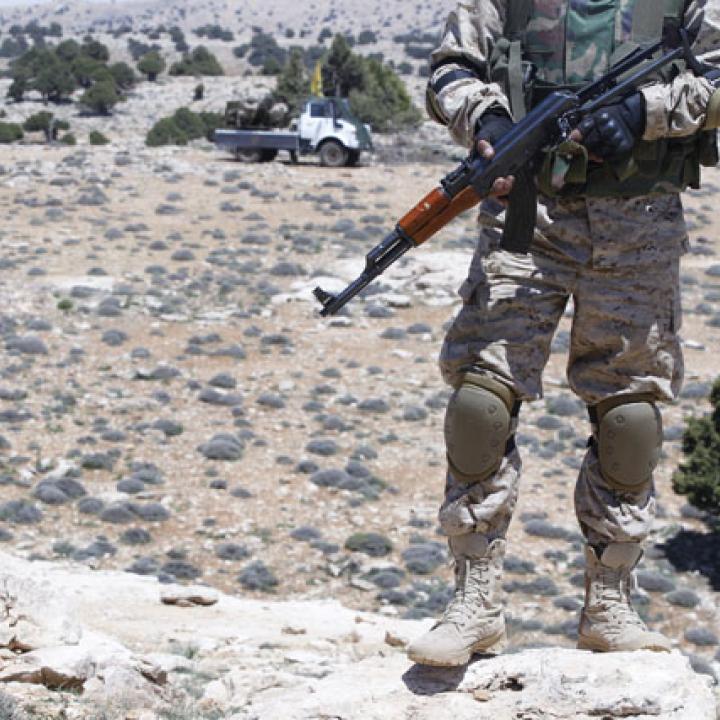 The removal of Iranian militias from Syria could be a source for cooperation between the United States and Russia.
The Iranian presence in Syria is a destructive force, and it is one of the most significant obstacles to reaching a solution to the ongoing Syrian crisis. While the external actors operating in Syria possess a number of conflicting visions for the country, the mutual benefit of a peaceful solution may suggest that there is room for international cooperation in combatting Iranian activities in Syria.
Recently, pressures independently mounted by the United States, Israel, and Russia have forced strategic changes in Iranian militia activity in Syria. While these militias are, in response, demonstrating their adaptability, a better-coordinated, multilateral, and comprehensive strategy is likely the best bet at targeting and removing Iran's presence in the country. Even as the United States and Russia clash in their approaches to other aspects of the Syrian crisis—including the current negotiations over a potential Russian veto on maintaining the last border crossing for humanitarian goods outside of the control of the Assad regime—excising the Iranian presence from Syria may be a point on which Russia and the United States can coordinate, and on which cooperation is likely necessary for the desired result.
Mounting Pressure
Iran's growing presence in Syria, as part of its broader regional expansion, has been a source of ongoing concern for different parties. Yet while Russia, the United States, and Israel all currently have an interest in removing Iran's presence in Syria, their efforts have only succeeded in driving Iranian militias to shift their strategies; the current pressure being exerted on these forces has not been enough to significantly reduce or eliminate Iranian militias in Syria.
For the United States, reducing Iranian regional expansion was a stated goal of the Trump administration, including the assassination of Qassem Soleimani and heightened sanctions on Iran's economy. And while the new administration's new Syria policy is not yet entirely clear, Biden's February strike on Iranian-backed militias—along with the more recent coordinated retaliatory strikes in Syria and Iraq late last month—demonstrated a willingness to target the Iranian presence in Syria, even with ongoing efforts for renewed negotiations with Iran on the nuclear file.
In this regard, the United States has notably supported Israel's kinetic efforts to mitigate the Iranian presence in Syria. Throughout the end of the Trump presidency, the United States worked with Israel to ramp up Israeli airstrikes, formally acknowledged or otherwise, against Iran-backed militias in the country. Israel has likewise repeatedly stated that eliminating the Iranian presence in Syria is a top priority, and it is true that Israeli airstrikes have played a major role in rolling back Iranian influence in southern Syria.
Yet the airstrikes have prompted a shift in Iranian strategy in Syria rather than removing the forces altogether. Iranian-backed militias shifted their base of operations to the arid east, focusing particularly on the province of Deir Ezzour—technically split between Assad and Autonomous Administration control. Moreover, arms transport is occurring on the eastern border. The Israeli airstrikes have followed; including January strikes that were the most intense carried out by the Israeli army on Syrian soil to date. An AP source confirmed that the airstrikes were carried out under U.S.-Israeli coordination and relied on U.S. intelligence—undertaken during the last days of the Trump administration. Likewise, rockets launched near Israel's nuclear reactor in April sparked a major rocket response from Israel. Rockets likewise launched from Syria during the most recent conflict between Israel and Hamas.
However, the militias' current base of operations actually affords them several additional advantages that will complicate their removal. Deir Ez-Zor's security situation, which also currently suffers from activities of ISIS elements, is unstable. This area is also close to the Syrian-Iraqi border, which makes it possible for Iranian-aligned Iraqi groups to provide reinforcements when needed. Additionally, the murky nature of the situation in Deir Ez-Zor, a result of all the rival forces present, increases the likelihood that the conflict could escalate at any time, a risk that Tehran maneuvers to its advantage. This risk of escalation may give Tehran the opportunity to negotiate on its future presence there in exchange for financial compensation, i.e. for the money it has given Damascus in recent years, and to also try to obtain certain economic and political concessions from both the United States and Russia.
For Russia—the most influential outside actor in the Syrian conflict—Iranian forces complicate its efforts to reconsolidate much of Syria under the Assad regime. While Russia and Iran coordinated their efforts to bolster the Assad regime in 2015, and while Russia in theory has worked with Iran through various conferences such as the Astana conference, Iran's growing treatment of eastern Syria as a proxy state is likely a cause for Russian concern.
In order to achieve a sustainable solution to the Syrian conflict, Russia will also potentially see satisfying several outside actors, including the United States and Israel, about the Iranian presence as a bargaining chip. In the future, Russia might cast the Iranian presence as a common nuisance whose removal could produce a satisfactory situation for everyone. Russia has already put some greater pressure on Iran, for instance by expanding the buffer zone at the Israeli-Syrian border.
Potential Courses of Action
However, regardless of the possibility for cooperation with Russia, there is no doubt that addressing the Iranian presence in Syria is necessary in order to establish a more stable situation in Syria. Furthermore, removing the Iranian presence from Syria appears to be one of the few opportunities for international cooperation in what has proved to be an otherwise intractable conflict.
That being said, neither the current policy of intermittent Israeli airstrikes on Iranian targets in eastern Syria nor the ongoing U.S. economic sanctions are likely going to be able to address this issue. In fact, without more decisive military or diplomatic efforts, they will likely prolong the crisis in Syria. The parties involved in the Syrian conflict that oppose the Iranian presence therefore must choose between two options if they hope to achieve a common goal of removing the Iranian roadblock from an already complicated peace process: a coordinated diplomatic route or coordinated military route.  
Of the two, the diplomatic option should be considered the superior avenue. This option is less costly, and would involve Washington focusing on its attempts to work with Russia on a coordinated push against Iranian influence. Reducing this influence would also require restructuring the Syrian security sector and army as well as ensuring that the Syrian economy is liberated from Iranian control, which must occur through a "deal" achieved through negotiations. The ongoing negotiations between Iran and the United States regarding a return to a nuclear framework may result in a lifting of a number of sanctions on Iran, but so far this deal does not seem to address the question of regional expansion, which the two parties will need to address in the near future.
The second option, if existing pressure is unsuccessful and negotiations fail, will likely be to resort to military confrontation through the framework of an international coalition of local partners with Arab and international support. Such a coalition was discussed prior to the Covid-19 pandemic and may well be the only effective approach to dis-entrenching Iranian-backed forces from the country. Without this coalition and direct pressure from individual actors, it will be difficult to ensure that the necessary changes take place at the right time. Even military action, however, has its limitations. It will not root out Iranian influence in Syrian economic, social, cultural, and security institutions or society, and by nature should be treated as a last resort.
Iran's shift in focus to eastern Syria demonstrates that focused pressure—in this case via the United States and Israel—has a clear impact on Iranian operations in Syria. However, it also demonstrates that Iranian-backed forces have little intention of going quietly from Syria. For the sake of a solution in Syria, the United States should work to more closely engage with other interested parties, notably Russia and Israel, to explore a diplomatic approach to this issue of shared concern—while considering a military approach to as a last resort. Hopefully, with successful coordination, removing Iranian militias and their influence can bring Syria closer to a viable solution for sustainable peace.