Will the Lebanese President Be Assad's New Friend in Town?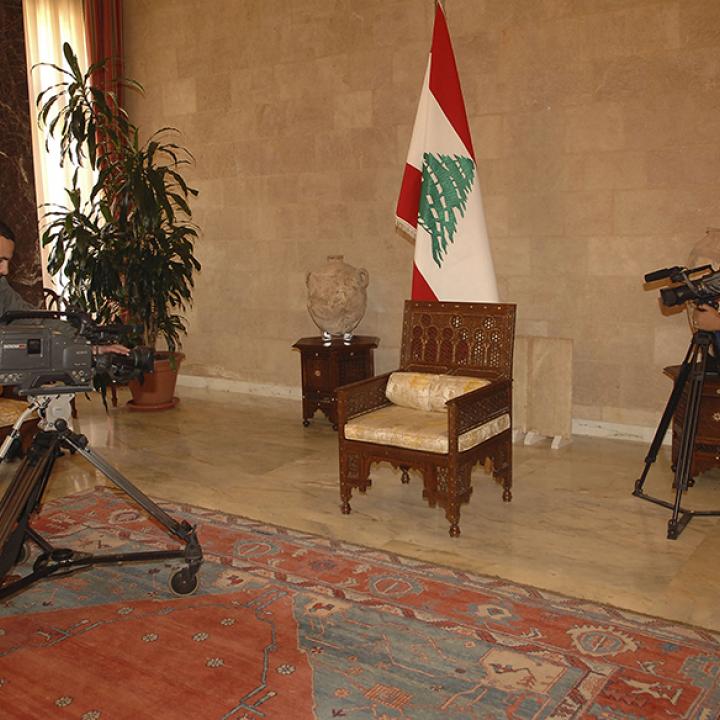 Following accusations that Syria had assassinated former Lebanese Prime Minister Rafik Hariri, Syrian forces withdrew from Lebanon in 2005 under UN Security Council resolution 1559. In a speech to parliament announcing the withdrawal, Syrian President Bashar al-Assad said that "Syria's withdrawal from Lebanon does not mean an end to Syria's role there," and that Syria's future actions in Lebanon would not necessarily require troops on the ground.
With the recent election of General Michel Aoun as Lebanese president, Syrian delegates resume visiting the Lebanese presidential palace, which it frequented after their army entered Lebanon in 1976 on the request of then-president Suleiman Franjieh during the civil war. Damascus came to claim share of the Lebanese cake, and would appoint pro-Syrian Maronite Christians to the position of president.
As expected, following Aoun's appointment, Iran and Syria quickly sent congratulations to the new president. Surprisingly, however, his first visitor was Syria's Minister for Presidential Affairs Mansour Azzam the first visit by a senior Syrian official to Lebanon in five years. Yet Azzam did not visit in order to deliver Assad's orders to the new president. The Syrian regime's decisions today are subject to approval from Iran and Russia, and any move by Assad is likely on orders from Tehran or Moscow.
Iranian Provocation
Aoun's arrival in office was only sealed once he agreed to the candidacy for prime minister of Saudi Arabia's main ally in Lebanon: former prime minister and leader of the Future Movement, Saad al-Hariri. This allowed Aoun to become the favoured candidate of both Hezbollah and the Future Movement, something that Hariri could not have agreed to without Saudi acquiescence.
While Iran is following a provocative anti-Saudi policy in Lebanon through its ally Hezbollah, Riyadh has largely withdrawn from the scene, allowing Iran to deepen its hold on the country. The period prior to the presidential election saw an unprecedented Saudi escalation against Lebanon. It even cancelled a billion-dollar package of military aid to the Lebanese Army in response to their backing of the Syrian regime and Iran.
Lebanon is thus almost the only Arab country that bucks the consensus of Arab policy on the Assad regime. Hezbollah has successfully pushed the official Lebanese position closer to the Russian-Iranian camp. Hezbollah's alliance with the Free Patriotic Movement, founded by Aoun and currently led by his brother in law, Foreign Minister Gibran Bassil, gave Hezbollah a powerful boost.
In a televised interview with Al-Mayadeen on December 15, Bassil said that "President Bashar al-Assad is the legitimate president of Syria" and that "Hezbollah is our ally, and we have an understanding with them to protect the nation, which led to the election of the president of the republic."
Bassil settled rumours the Lebanese president was preparing to visit Syria, saying that Aoun's first foreign visit would be to Saudi Arabia in order to "correct relations between the two countries".
Similarly, to the Syrian attempt to embarrass Aoun by dispatching a Syrian official to Beirut to convey Assad's congratulations to the Lebanese president, Tehran also pre-empted Aoun's visit to Riyadh by sending Alaeddin Boroujerdi, the head of the National Security Committee, to Beirut to spoil and influence the outcomes of the Saudi –Lebanese meeting.
The First Test of the New Era
Many of the politicians were counting on the Saudi-Lebanese summit to lead to major political and economic breakthroughs in Lebanon, but it turned out to be no more than a handshake between Aoun and the Saudi King Salman bin Abdulaziz.
Following the meeting, Al Arabiya held a lengthy interview with Aoun in Saudi Arabia on January 12, in which he stressed the importance of restoring positive relations between the two countries. In answering a question about the intervention of Hezbollah in Syria, Aoun said that it was not the state option and that Lebanon will "prevent any harm that may come from Lebanon to others."
The answers provided by Aoun on Al-Arabiya were not the same when he was asked similar questions in Beirut. In an interview with the French Channel "LCI", Aoun said, "President Assad will remain and those who demand his departure know nothing about Syria… We would turn into another Libya and President Assad is the only force that can restore order and reunion all."
Aoun's interview with the French channel was preceded by some remark able statements by the President of the Free Patriotic Movement and Foreign Minister Gebran Bassil, who accompanied Aoun to Saudi Arabia. According to Bassil, the Free Patriotic Movement engaged in an alliance with three different forces during the parliamentary elections: Hezbollah, which defends against terrorists; the Lebanese forces, which safeguard the unity and the strength of the community; and the future Movement which builds a state."
Iran and Saudi Arabia in Lebanon
The Saudi State Minister for Arab Gulf affairs Thamer Al Sabhan announced last Monday that Saudi Arabia will appoint a new ambassador to Lebanon. On the other side, Iran has been very keen to maintain its progress over Saudi Arabia in Lebanon. In response to the Emir of Mecca's meeting with Aoun, Tehran sent Syrian Mufti Ahmad Badreddin Hassoun to Beirut. Hassoun is more senior than the Saudi envoy and has taken strong positions against Saudi Arabia, accusing it of sending extremists to Syria.

Hassoun also visited the Maronite Patriarch Bechara Boutros al-Rahi, one of Lebanon's prominent Christian leaders, who has visited Syria several times in recent years, all while praising Assad. He extolled Assad's virtues during visits to Europe: during a 2011 reception at the Élysée Palace, the French President's official residence, Rahi said Assad was "a good man." Rahi's meeting with Hassoun is an indication that the Syrian-Iranian axis has expanded its scope in Lebanon, and this time, the Maronite sect was the target.
Hassoun, who recently returned from addressing parliament in Ireland, arrived in Lebanon as the Syrian Al-Watan newspaper published an interview with Assad in which the Syrian President delivered a message to Lebanon: "Lebanon cannot be insulated from the fires that are burning around it and adopt a policy of having no policy.
Assad's message, which came as his forces were retaking Aleppo, a city that Aoun visited in 2008, was seen as a demand for Lebanon to do more, even though the policy of isolating itself from Syria's troubles is just one of Lebanon's many jokes. The policy was agreed upon when the Lebanese government refused, in December 2011, to send security and rights experts to take part in an international delegation of UN observers to Syria, to avoid provoking Assad's allies in Lebanon. Hezbollah shortly afterwards began sending fighters into battle alongside Assad's forces, leaving the policy of "isolation" to other actors with no involvement in Syria.
This begs the question: how can Iran and Saudi Arabia be battling so hard in Syria and yet suddenly become ardent supporters for the same side in Lebanon?
Political actors and analysts in Beirut agree on much the same answer: Lebanon is everyone's breathing space. Everyone agrees on the importance of keeping it isolated from Syria. Yet that answer portrays Hezbollah as a moth drawn to a flame; as its reward for dancing with fire, everyone must watch and applaud its parades in Lebanon.
This argument allows for the Iranian-Syrian alliance to stay one step ahead of its rivals in Lebanon and direct Lebanese policy on the international level. Any successful attempt to save Lebanon from that reality will significantly depend on the extent to which the Gulf Cooperation Council states are prepared to obstruct Iran's efforts to find a new friend for Assad. It also rests on their willingness to stop seeing Lebanon as an unwanted burden for Riyadh. Iran and Syria, however, are pushing for the whole thing, just as they are doing in parts of Syria that have been devastated by war, leaving nothing but fire and death.