Who Benefits from a U.S. Oil Deal in Northeast Syria?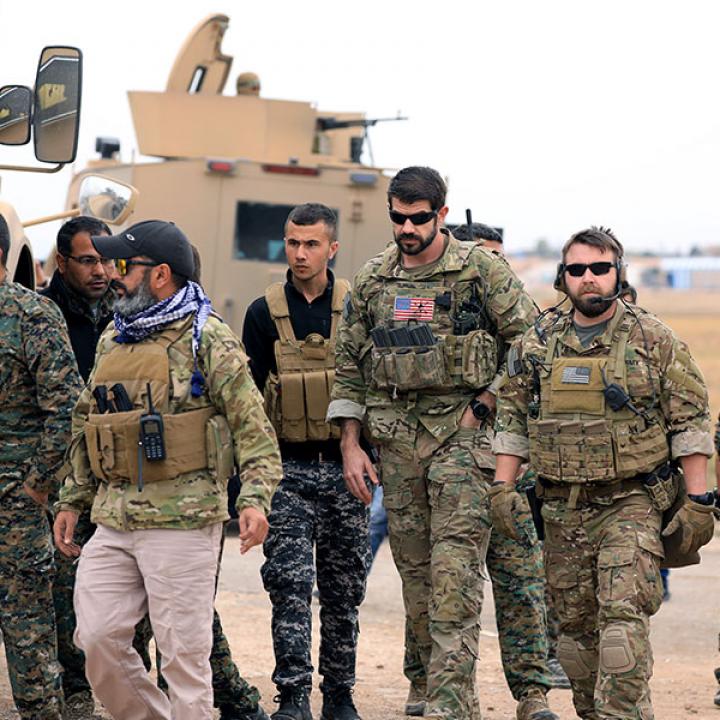 Upon each of my past arrivals in Syria, I've entered into landscapes of rolling hillocks and oil wells. Stippled across the land, some wells toiled slowly while others—rusted and abandoned—lay motionless, languishing along the buckled pavement of northeastern roads leading toward the city of Qamishlo. Reminiscent of the Texas Panhandle, these areas appeared sometimes like a mirror-image of America's oil-rich heartland (minus the windmills).
These northeastern oilfields, centered around the Syrian cities of Hasaka and Deir Ezzor, have naturally been a strategic target throughout the Syrian Civil War. And now, amidst rising concerns of complete American withdrawal among local Syrian Kurds, the United States has offered a glimmer of hope by establishing its continued interest in the region through a recent deal signed by Kurdish officials to oversee the local operations of Delta Crescent Energy, LLC., a new American oil company. Looking forward, however, the deal is fraught with challenges, and the firmness of U.S. commitment to Syrian affairs remains unclear, particularly in the eyes of local people.
The northern and eastern oil fields have been a recurring theme in my coverage of Syria. I last visited them in February 2019 when I traveled through Hasaka, the oil-bloated northeastern province of the country that has served as a bargaining chip and lifeline for Syrian Kurds over the last several years. I also reported along Syria's and Iraq's shared border, where the Iraqi border city of al-Qaim hosted an oil market at which, through the height of ISIS's rule in 2015, local oil traders could profit roughly $10 on each barrel sold in Iraq, with their largest trucks capable of carrying 70 barrels.
Since my last visit, the routes through the fields have largely been closed to public and commercial traffic. The oil fields in the area now serve either as military outposts for Syrian Democratic Forces (SDF) or as training grounds for American forces who began operating there as recently as March, 2020. The American forces have used the fields for "drills, firing flares, and shells," and heavy weapon fire has continued along the perimeter of al-Omar and at the former Conoco field in the nearby Khasham Desert.
While in Syria in 2019—in the midst of two public Twitter tirades that would ultimately launch the withdrawal of some American troops stationed in Syria—I slept in a threadbare barracks once occupied by workers at the mostly abandoned al-Omar oil field—Syria's largest—outside Deir Ezzor in the east of the country. The SDF fighters with whom I boarded and ate during my time there knew keenly their role in the fight against ISIS. They were there to defend their loosely autonomous region while also protecting American interests: namely, these oil fields.
Even so, the SDF fighters were already expressing grave concern over President Trump's continued insistence that he would allow Russia, Iran, and Turkey to "deal" with the ongoing civil war. The SDF fighters could not understand why it seemed that they would be sacrificed under erratic diplomacy, even as their efforts to further American interests were harpooned.
Now, the United States has re-centered its military presence in Syria around these fields. As a part of that development, U.S. troops largely withdrew from the northern Syrian region known by Kurds as Rojava in the fall of 2019. During the U.S. withdrawal, residents of Rojava braced against the entrance of Turkish forces who sought to create a "safe" corridor between the Turkish border and the sections of Syria in which locals, with U.S. support, had fought and died in the fight against ISIS. Syrian Kurds have since remained uncertain about American commitment to their cause and their communities.
Despite growing concerns, the U.S. never fully withdrew forces from Syria. I would later watch convoys of American supplies leave the country while coalition airstrikes hit American weaponry left behind, but some American forces did remain. The number often quoted in the media of American troops remaining in Syria is 500. These troops are described as being there "only for the oil." Nonetheless, according to Syrian Kurds in cities of Qamishlo and Kobani, somewhat north of Deir Ezzour, that number is likely north of 1,000, and it offers them a potentially false sense of hope for an enduring American presence. Recently, Syrian Kurds have found glints of comfort in the president's announcement that America would not be going anywhere, the visual presence of more American troops, despite media reports of the contrary, and the recent oil deal.
American officials might see the promise of oil exploration as restitution to Syrian Kurds for withdrawing resources from Kurdish areas and allowing the incursion of Turkish forces there. Residents in the cities of Kobani and Qamishlo told me that they continue holding out hope for a new administration that might take their plight seriously and, at the very minimum, offer them four years of reassurance rather than upheaval.
But the Delta Crescent deal does, however, face significant obstacles to its strategic and commercial goals. The political and technical challenges to this deal are numerous, and the deal may bring consequences from regional powers opposed to its implementation.
U.S. officials have told me the new oil company is part of a broader plan to constrict the Syrian regime's revenue. The northeast, home to 95 percent of Syria's oil and gas reserves, is the veritable bread and oil basket of the country. Even so, there are many ways the regime in Damascus sustains itself financially beyond northeastern oil. Assad's government receives support from Iran and Russia in the form of medical supplies, shipments of foodstuffs, and logistical support. Damascus can also rely on its own energy sector; Syria has intermittently sold electricity to neighboring Lebanon, which has been unable to maintain a reliable power grid.
What's more, the new Caesar sanctions, which were meant to end partnerships between the Kurds and the Syrian regime around the time when oil deal went through, received criticism from U.S. allies not long after the oil deal was reached: SDF commanders went on a publicity campaign to denounce the recent round of sanctions against Syria, claiming the sanctions were starving the SDF forces as well as the regime.
And U.S. influence over its allies like the SDF seems to be waning generally. On August 31, the Kurdish-led Syrian Democratic Council—the SDF's political arm—hedged its bets by meeting with a group in Moscow to sign a memorandum seeking to resolve a longstanding dispute between regime forces and the SDF. The memorandum could be taken as a deliberate reminder to the United States that it has effectively forfeited its bargaining power in the region, ceding its mediation efforts to forces actively seeking its dismissal from the country.
Moreover, those allies themselves may be losing local popularity. The recent assassination of a local Arab tribal leader and subsequent provocations between the tribes and the SDF have begun to shift support away from the SDF at a time when local tribal backing is potentially key in realizing the promise of the oil deal evolving into a long-term American investment.

Local popularity for the deal itself may also be in question, despite the deal's suggestion of continued U.S. interest in Syrian affairs. Few Kurds in the northeast are keen to see their fight for independence, equality, and peace treated as a business opportunity. Both Kurds and outsiders have speculated that the exploration of oil amounts to a violation of a basic tenet of international law, effectively amounting to pillaging. "Bring in US oil companies to modernize the field," Ret. General Barry McCaffrey tweeted last year. "WHAT ARE WE BECOMING.... PIRATES?"
The U.S. administration has responded to the critique. James Jeffrey, the U.S. special representative for Syria and special envoy for the campaign against ISIS, said: "We have not done anything other than license related to this firm. Syrian oil is for the Syrian people, and we remain committed to the unity and territorial integrity of Syria. The United States government doesn't own, control, or manage oil resources in Syria. You have heard the President's position on the guarding of the oil fields. We don't go beyond that."
In addition to political difficulties, the deal faces difficult technical obstacles. There is a wealth of oil in the three locations Delta Crescent will explore, Rumeilan, Tel Hamees, and Tel Brak. The broader region is home to the country's 2.5 billion barrels of oil reserves and—before the war against ISIS—was cable of producing roughly 387,000 barrels of oil per day and 7.8 billion cubic meters of natural gas each year.
But the exclusive right to exploit Syrian oil fields via license from the Treasury Department's Office of Foreign Assets Control comes with the heavy burden of rebuilding infrastructure like the abandoned facilities at the Al-Omar fields. According to one Kurdish source who spoke to Voice of America, this new infrastructure would come at a cost of more than $150 million.
A spokesperson for the Rojava region told a local news outlet that the deal was for "two refineries to be made for a small portion of the region's oil to be processed and potentially transferred out of northeast Syria." This source echoed statements by a member of the ruling Democratic Union Party's leadership: "After the war with ISIS ended, only 20 percent of Syrian oil fields stayed in operation. … If Washington [had not granted] investment to the region, repair and development of those wells would be impossible."
On the diplomatic level, the potential impact of this deal—if implemented successfully—is also visible in the response it has elicited from other powers active in Syria. In late August, Turkey, Russia, and Iran shot down the exploration agreement, a trident of dissent signaling how powerful and substantive an American promise to develop northeastern Syria can be.
This response, however, also suggests the deal can have consequences. While the three nations have alternately sought to expel U.S. forces and interests from the region for some time, they appear to have been exerting more concerted efforts recently. This development is visible in the recent collision between two Russian and American patrols, or in Turkey's most recent threats against the U.S.-supported SDF. Russia, Turkey, and Iran have clearly expressed "their opposition to the illegal seizure and transfer of Syria's oil revenues."
For these three countries, undermining the United States in Deir Ezzor is the order of the day. Turkey has severed water lines to SDF-controlled areas, and Russian patrols continue to harass American service-members with such frequency that the DoD inspector general's report to congress noted that "both sides have grown accustomed to each other's actions and behaviors." The same report noted that Russian forces are seeking to recruit local militias for patrols, consistent with Iranian-backed militias' strategies of approaching tribal leadership to undermine the SDF forces that liberated these areas from ISIS control in the spring of 2019. While ISIS is "not resurging," other non-state actors are. The revelation of American investment in the region is not a silver bullet. Nor does it come without a price.
As such, even Syrian Kurds often view this oil deal as another American promise that may go unmet. There is the potential for the deal to demonstrate the United States' capacity for long-term commitment to allies around the globe, but whether this deal can achieve that goal is unclear. No equipment has come to the region, no drilling has started. That lack of action leaves Kurdish residents of Rojava wondering if the deal is yet another promise by the United States that will fall through. It remains to be seen whether the United States is willing to make the investment and commitment needed to turn a new leaf in U.S.-Kurdish relations in Syria.