The United States Must Protect its Syrian Civilian Allies Before it's Too Late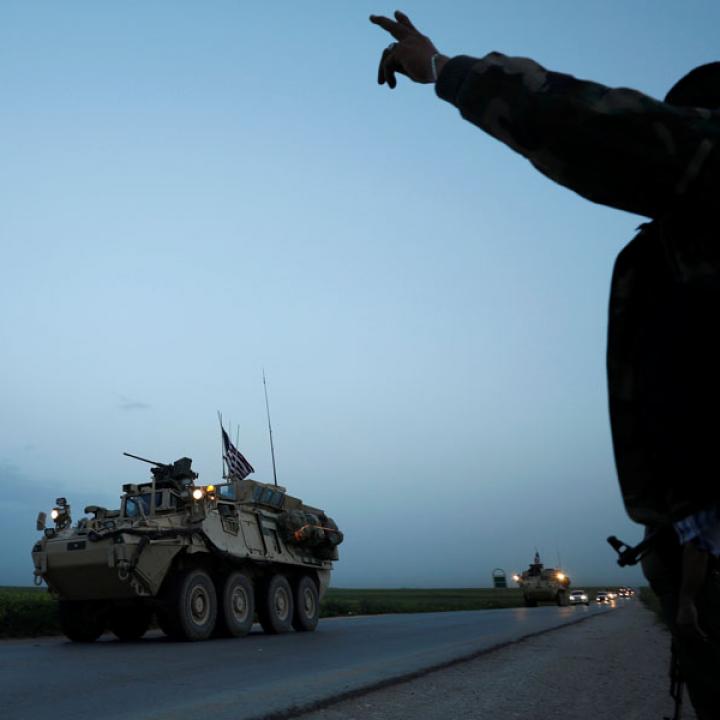 As of now, it appears that the American public is not yet aware of the full consequences of the withdrawal of U.S. troops from Syria. While most American media outlets are focusing on the military side of the problem, and as the European Union is panicking over the possibility of ISIS fighters fleeing to Europe, the consequences of the withdrawal of U.S. troops from Syria for those civilians living in the northeastern region may be obscured. But it is no less important to discuss U.S. promises, now broken, to those Syrians who helped facilitate U.S. entry into Syria. The story of these Syrians on the ground is now one of a people abandoned and waiting for an uncertain fate.
Over the past eight years, eastern Syrian society has been dismantled time and again throughout the war due to the repeated changes in control of the territory, oscillating between regional powers and armed groups. Thus, when the U.S. government decided to send troops to Syria, it needed to prepare a societal infrastructure for these soldiers to be safe. Only after months of building a strong network on the ground did U.S. troops arrive. Syrians who trusted that the United States was coming to support their fight against ISIS were the principle architects of this safe environment. These Syrians believed that the arrival of U.S. forces would protect them from the three other powers threatening them: the Syrian government and its active intelligence, the Iranians and their revolutionary guard and militias, and the Turks and their long arms in eastern Syria. 
In particular, many activists risked their lives to support U.S. institutions like USAID, the Department of State, and other U.S. agencies, particularly in helping them understand the socio-political complexities on the ground. All of these activists worked undercover, but many were still accused by ISIS of working for the U.S. government and the International Coalition to Defeat ISIS and, in many cases, killed. Those who survived ISIS and the regime began to work publicly for U.S. agencies, international NGOs, and other organizations. With the presence of the U.S. army in the region, these civilians now felt safe. They trusted that the United States would back them and not leave without a permanent solution in Syria.
Now with the decision to withdraw U.S. troops from Syria, these people are no longer safe. And the speed of the withdrawal and a lack of contingency for these local allies has now left them with no option but to stay and wait for the Syrian security forces and militias to come arrest them, which will lead to them being 'forcibly disappeared.'
I speak of the cruelty of the regime from first-hand experience. Back in 2005, I was interrogated intermittently over the course of a year because I was conducting research on homosexuality and social change in Damascus. The interrogation was largely focused on ensuring that I had not received any funding from the U.S. based human rights organization Freedom House. Once the security forces confirmed that this research was being conducted for a  university class, they let me go. But this interaction made clear that, for the Syrian regime, working with a U.S.-based or international NGO is considered treason.
So when my current Syrian colleague called me in a panic after the announcement of the U.S. withdrawal, I understood his fears. On the phone, he said: "We had the chance to leave Syria, we stayed because we trusted that the U.S. would help us against ISIS, and help us with our democratic project. Well, now we have lost this project and we are stuck here. I feel that my days with my family are ending. I will spend my time hugging my kids until the security forces come and take me."
A model for these likely arrests occurred in a different context in the southwestern Damascus suburbs of Al Ghouta. While the Russians gave guarantees to civilians that they would be safe, the Syrian regime instead arrested dozens of civilians and activists. Some of their families never heard from their loved ones again, and their names were added to the long lists of those forcibly disappeared.
As my colleague pointed out, many might have fled the area with some warning given this recent history of forced disappearances. But in northeastern Syria, activists and civil society actors—like the rest of the world—received no advance notice that a sudden withdrawal might happen, leaving everyone completely unprepared. Instead, all who are working in the aid and development field, locals and expats alike, woke up one morning to a slew of messages on their phones about projects being put on hold and emails from their colleagues on the ground asking what was going on. Many organizations have since announced that they will put all their programs in the region on hold and withdraw their expat staff out of the region. For example, Doctors Without Borders has announced that they have had to stop most of their operations and evacuate their international staff. 
On a personal level, I have no idea what to tell our local Syrian staff. I feel guilty for being in Washington D.C. and desperate for not being able to give any comforting words or hope. The only thing that is certain is that they are all in severe danger and that none of them received enough time to flee to safety.
Now, the U.S. government has a moral obligation to protect the lives of dozens of civil society actors and activists who were so instrumental in facilitating their entry into Syria. U.S. troops should not withdraw without evacuating these helpers to safe countries, as it is the least that the U.S. government can do in thanks for their years of help. Within Syria, there is no safe place anymore for Syrians, especially Kurdish Syrians and those who actively aided the United States.