Tunisia: Echoes of the Libyan crisis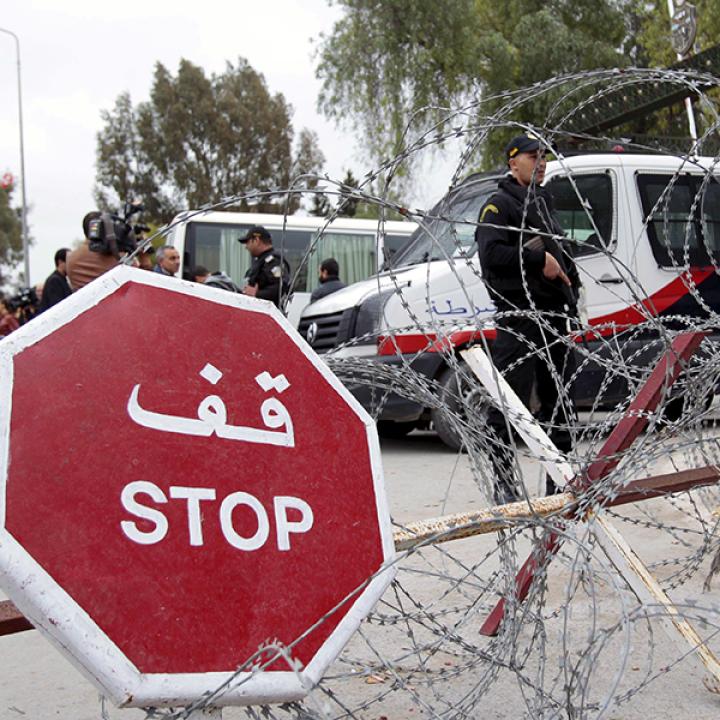 April 26, 2016
When most analysts evaluate the Arab Spring uprisings, they point to Tunisia as the single Arab state to have made a relatively peaceful transition to democracy. But this path has been neither linear nor smooth. Tunisia has experienced a slew of both achievements and setbacks since ousting its former president Zein Al Abedeen Ben Ali in 2011. But one of the most formidable challenges to emerge during this period has been beyond Tunisia's control — and borders. ISIS, establishing strongholds in neighboring Libya, now poses significant security, economic, and social risks for Tunisia.
The role of the Libyan conflict in the surge of Tunisian militant extremism is multidimensional: the conflict has fostered terrorist training, weapons trafficking, financing, and spread of ideology. Most recently, fifty-three people died in clashes between Tunisian forces and extremist fighters from Libya who struck the city of Ben Guerdan. Tunisian president Beji Caid Essebsi descriped the attack as "unprecedented… planned and organized. Its goal was probably to take control of this area and to announce a new emirate." The Prime Minister, Hassid Essid, framed the attack as an ISIS gambit to create a terrorist outpost near the border. Although no group claimed responsibility for initiating the skirmish, two ISIS-affiliated websites have announced that ISIS group militants participated in the fighting.
This latest security issue challenges the widespread perception of Tunisia as a model of stability for the region.  Libya's slide into chaos after its 2011 revolution and ISIS's control over several cities now presents a notable regional security threat. Mohamad Abu Rumman, a Jordanian analyst at the Jordanian Center for Strategic Research in Amman, noted in an interview several factors that contributed to ISIS becoming a serious threat to Tunisia: "The long borders between [Tunisia and Libya] helped transform this province into an area of arms trafficking and fighters' infiltration and more importantly the exchange of know-how, and that was clear in the [recent] series of attacks."
ISIS has already used Libya to stage attacks against Tunisia multiple times. In March 2015, ISIS terrorists killed seventeen people visiting the Bardo National Museum. Just three months later, another thirty-eight tourists lost their lives in an ISIS attack on the Soussa resort.
And only one day before the recent clash between ISIS and Tunisian forces at Ben Geurdane, Ali Goutali, the Tunisian ambassador to Russia, expressed fears that "a large-scale war in Libya could be very dangerous, could impact our security, and could trigger a flow of refugees and terrorists from Libya."
Unfortunately, the ambassador's fears are currently being realized. The United Nations recently estimated that as many as approximately 5,500 Tunisians have joined the ranks of ISIS to fight in Syria. The Tunisian interior ministry has presented a more conservative estimate of at least 2,400 Tunisian citizens since 2011, and  states that around 400 have returned. The ministry has also reported that several thousand more have attempted to travel to Syria and have been prevented, even as the government has shut down the recruitment networks, which the government described as "well-worn routes led through Tunis airport, especially flights to Istanbul, or across the southern land border, via Libyan training camps."
"In Libya, there are currently at least 1,500 Tunisian fighters, trained and armed, and they undoubtedly would like to return to their country," Rashid Khaceneh, a Tunisian analyst, wrote in the pan-Arab "Al Hayat" newspaper: "It seems difficult for the Tunisian army, which has limited armament, to impose strict air and ground control on the common border, stretching over 500 kilometers (about 310 miles)," he added.
The "Tunisian interior ministry recently confirmed that hundreds of citizen fighters in ISIS ranks have recently returned to their country, and they are now creating sleeper cells, while some of them joined the ranks of Ansar al-Sharia," Khecheneh noted.
Goutali told Sputnik news agency that after multiple terror attacks, his country was very concerned about rising terrorist activity. "The number of people who joined during the previous so called Troika government was higher because at that time, the state was weak and no bold measures were taken to curtail this trend." Youth unemployment is a key factor helping ISIS to attract young recruits with aspirations of a job and reliable income. Numbers from the Tunisian "National Statistics Institute", published by "Al Hayat," showed that Tunisia's unemployment rate dropped slightly from 15.2 percent in the first quarter of 2014 to a still high 15 percent in the first quarter of 2015. During the same period, almost 242,000 college graduates were unemployed in the country. For men, the unemployment rate reached an astonishing 21.4 percent.
What makes Tunisia even more vulnerable to the impact of ISIS is that the government is not yet prepared to manage spillover the Libyan crisis, suggesting that ISIS's infiltration of Tunisia is only a matter of time. Some domestic armed groups supporting al-Qaeda, such as Ansar al-Sharia and Uqba ibn Nafi, may potentially support any ISIS plans to expand the emirate into Tunisia. "The Islamic State invests in poor rural areas and in unemployed youth and makes good use of the breakup between the domestic Islamic and secular factions, and this is a job for the government to tackle," Runman said.
Today, Tunisia lacks the ability to bear additional turmoil from the neighboring crisis in Libya after four years of its own instability and a collapse of economic resources. While the international community currently has its sights set on Libya, it must also monitor conditions in Tunisia, with particular attention to the country's ability to handle a high wave of refugees seeking refuge andthe spread of Islamic extremism into the country, which is set on taking advantage of fertile recruiting grounds brought in by a slow economy.
Haytham Tabesh is a Lebanese journalist and political analyst based in Beirut. This item was originally published on the Fikra website.