The Toll of Iraq's Growing Drug Trade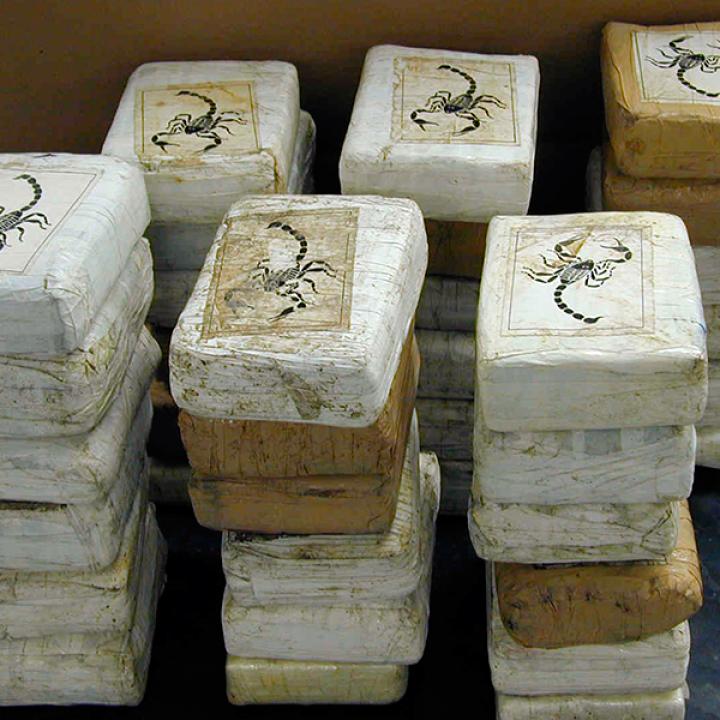 In recent years, the Iraqi drug trade has gone from a purely commercial endeavor practiced by traffickers to a lucrative network with links to armed groups and influential political and tribal forces who rely on the profits to maintain their influence.
Before the fall of the regime, Iraq functioned as a transit route for Iranian and Pakistani drugs headed to Saudi Arabia, Kuwait and other Gulf states. But since 2003, small-time traffickers have manufactured drugs in the country and are pursued continuously by the security forces as a result. All the while, the main traffickers are ignored because of their links to influential political parties and armed militias. These pro-Iranian militias have turned the Shalamcheh border crossing in Basra—which connects southern Iraq to Iran—into a transit point for drug trafficking.
Security and health officials say that the increasing flow of drugs such as the now regionally popular Captagon (generally a mix of amphetamine derivatives and additives) and crystal meth has created a dangerous situation that the authorities cannot manage due to a lack of resources. Colonel Zeyad al-Qaisi, the spokesperson for the Anti-Narcotics Directorate of the Ministry of Interior, said that the growing phenomenon of drug use and trafficking has become "a problem requiring cooperation from all parties—even the international community."
Due to the weakness of the Iraqi government, the militias wield control over the security environment while actively participating in the drug trade and protecting traffickers. Some analysts blame this on Iran, arguing that it manipulates the drug trade to distract Iraqi youth from national concerns and to generate financial resources to manage its affiliated militias.  
A Growing Trend of Addiction
According to the United Nations Office on Drugs and Crime, crystal meth is now considered the most dangerous and widespread drug in Iraq. The office issued a warning in a February 2021 report that while meth used to be smuggled in from Iran, it is now being manufactured secretly inside Iraq itself. According to the report, this occurs primarily in the southern border governorates, such as Basra and Maysan.
Crystal meth is a stimulant first synthesized in pre-World War I Germany, then refined by the Japanese during World War II, when it was used to keep soldiers awake for long hours. However, the toll of meth addition is severe; it destroys the immune system and can lead to death from heart failure, kidney failure, or weight loss. The problems of drug use, addiction, and trafficking are new to Iraq, which further hinders governmental efforts and also leaves Iraqi communities ill-equipped to deal with this new threat.
The spread of drugs in Iraq has led to unprecedented social ills and crimes in the country. For example, five years of addiction to crystal meth led Ali (25) to physically harass his mother, attacking her verbally and sometimes beating her. She is a respected woman of the community, and her maternal instincts prevented her from telling anyone, as she feared tarnishing her son's reputation. Still, she could not sit idly by, watching her own flesh and blood slowly dying. She recounted these experiences while unable to stop crying: "Ali was an ideal young man, the envy of all my relatives and colleagues. Then, without warning, he went into this dark tunnel that has destroyed our life as a family." She added that "during his addiction, he became paranoid. He even suspected me of bringing men to the house while his father was away."
In another case in Basra, a man named Salam raped his 15-year-old sister two years after he started using crystal meth. His sister has been dying silently every day and is afraid when her brother is at home, yet because of Basra's tribal customs, she could be killed for telling anyone about her terrible experience. For almost a year, the girl's friend Shahad has been trying to save her from killing herself. "Every day, she considers suicide, and I spend long hours preventing her from doing that," said Shahad. "She believes that if she does not kill herself, her relatives will kill her when they find out."
The use and trade of crystal meth has not only been limited to young men. Young women have turned to this drug to escape daily pressures, emotional problems, and family abuse. They have also become tools for trafficking because they are less likely to be searched. Nour (22) from Baghdad saw crystal meth as an escape from the pain of emotional trauma. In the aftermath, a friend guided her to drugs and helped her get the first dose. "It was my alternative to suicide, and I didn't know that it was a path to a slow death," she said. The drug distorted her youthful features, she lost 15 pounds, and almost dropped out of university before she was able to recover.
Inas Karim, president of the organization A Drug Free Iraq, said that among some age groups in Iraq, over 40 percent of people use drugs. Moreover, she said the age group primarily using drugs is between 15 and 35, but the majority of people in addiction centers are between 17 and 25. Karim said fears of legal penalties and social stigmas prevent people struggling with addiction to seek treatment. She also explained the prevalence of "drug-pushing cafes," where hookahs is laced with drugs, unbeknownst to the customer.  
Struggles to Respond
So far, the government's primary response has been to penalize traffickers with imprisonment or execution. For individuals who use, possess, or transport illicit substances, penalties amount to up to three years of prison and fines of 5 to 10 million dinars. Iraq does not have psychological rehabilitation institutions for victims of the drug trade, and treats victims of drug addiction like criminals. This attitude in turn causes fear among the country's growing number of drug users, and results in widespread arrests but little to no treatment options to actually address the problem of addiction.
To be effective, the fight against drugs in Iraq will require concerted, coordinated efforts of the state's health, education, and legal institutions. Government agencies should adopt a comprehensive strategy, integrating a variety of stakeholders and key actors to address the issue. The Iraqi media should work to address the subject in order to raise public awareness about the issue and its root causes.
Moreover, there must be investment into education and research regarding the high rates of substance use in recent years. Specialized treatment centers should be opened in every governorate as public centers rather than psychological treatment centers. Under Iraqi law, psychological treatment centers can only be run by physicians—not psychotherapists—exacerbating the challenge of treating addictions.
Finally, security agencies should stop relying solely on punitive measures to mitigate drug use and trafficking. The government must simultaneously improve the dire economic situation and increasing unemployment, two driving drug use and trafficking among Iraqi youth.