Syrian Women Navigate the Patriarchy of War and Women's Rights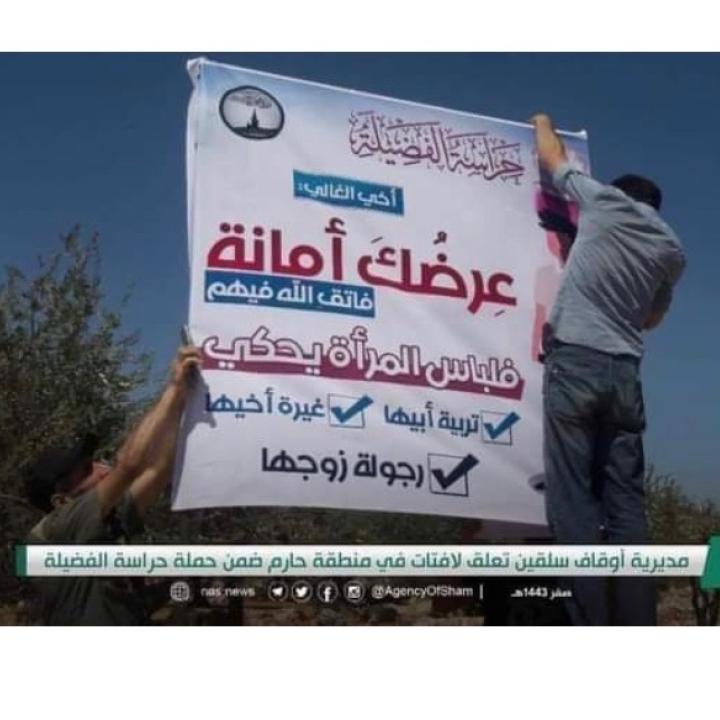 Despite Syrian women's significant contributions in coordinating anti-Assad activity during the 2011 revolution, Syrian women now face exacerbated obstacles against participating in civil society.
While women's roles in Syrian civil society have expanded in the wake of the 2011 revolution, a heated debate about the role and rights of women is taking up a large portion of Syrian revolutionary media, be it press, television programs, or social media—including Clubhouse rooms dedicated to the issue. Today, one can read, watch, and listen extensively to dialogues about the female and feminist presence in community work inside Syria.
Syrian women stress the recency of their presence and credit it to the beginning of peaceful, organized revolutionary action against the Assad regime in 2011. During the revolution, women took on much more active roles than those previously available to them under a regime that claimed to be a secular state that ensures social justice—but failed to reflect this in personal status laws, which can significantly limit the rights of women. Moreover, the regime exercised a continuous violation of public liberties and designed a system dedicated to eliminating the role of civil society, monopolizing public space, and cementing the ideology of a single party leading all aspects of society and state. Additionally, the regime categorized any political, civil, or cultural movement outside its control as a treacherous activity hostile to the state, and accused it of collaboration with global imperialism.
In contrast, women participated in popular protests from the beginning of the revolution, and played a major role in establishing Local Coordination Committees, community networks that organized demonstrations throughout the country. This enabled women to effectively participate in the peace, media, and relief movements throughout Syria, especially in besieged and conflict-stricken areas. Women have also been active in various political activities, and continue to work to prove the importance of their involvement in opposition institutions.
However, these efforts have not quelled the stigma against women in civil leadership roles. Female activists still encounter great resistance to their participation in decision-making, despite international institutions' insistence on women's representation. Moreover, feminists do not want to become mere numbers in the quotas often required by the international community. They continue to strive for substantive participation in political work due to increased social awareness regarding women's contributions, not as a symbolic response to an external dictate.
Internal Pushback Against the Syrian Feminist Movement
However, these women face significant internal pressures against their involvement. Islamists consider the International Convention on the Elimination of All Forms of Discrimination Against Women (CEDAW) and other international rights conventions to be contrary to Islamic law, classifying them as a major danger to society and rejecting their applicability in Syria. Therefore, Syrian women find themselves on fragile ground given the marked absence of appropriate legal frameworks to protect them from violence and marginalization.
Images of a post by National Coalition Member Mohammad Ayman Aljamal, and the Syrian Feminist Lobby's response to it:
Even those women working with international organizations or leading internationally funded projects in opposition areas have faced a marked increase in inflammatory rhetoric against their work. Specifically, they face allegations that they are merely tools of the West carrying out schemes hostile to Sharia and social norms. These accusations put Syrian female activists and employees of international institutions, along with their colleagues, at risk of ideologically-motivated violence.
Images from publications by Saeed Nahhas about the CEDAW convention and anti-feminism being equivalent to antisemitism:
The situation escalated after a Friday sermon delivered by the President of the Syrian Islamic Council, Sheikh Osama al-Rifai, on August 6 in the area of Azaz, near Aleppo. In the sermon, he addressed the local community, warning against women's work in international organizations in the area and describing them as having broken with religion and traditions. He stated that women are recruited by the West and the United Nations with the goal of destroying the stability of the family and social system in Syria by propagating alien thought forbidden under the rules of Islamic law.
Al-Rifai's statement has prompted impassioned responses, including by women who wear the hijab and are outwardly committed to Islam. Many took to social media to express their rejection of his implicitly inflammatory and unfair rhetoric against women.
Images of activist Bayan Rehan's August 11 Facebook post in response to Sheikh Osama al-Rifai's sermon:
Several women noted that Sheikh al-Rifai—who symbolizes a stream of moderate, centrist Islam in Syria—giving such a sermon poses a serious danger to local communities, especially among those who look to al-Rifai for guidance in interpreting Islam. These women regarded the sermon as hate speech par excellence, and said it reflected the trend of patriarchal religious institutions opposing and rejecting women's roles and independence. These institutions use various means to attempt to re-subjugate women and limit their activity in the name of religion, regardless of their affiliations or professional field. This is despite the reality that women's work has become necessary for every family in Syrian communities facing armed infighting and a war of extermination waged by the Assad regime.
One feminist added that "this incitement against [women] and against women's empowerment projects in opposition areas is a call for complete marginalization… against working women or activists and their husbands or fathers who support them. This brings us back to the pre-2011 situation under the Assad tyranny which, despite its alleged secularism, based its personal status laws on religious authority and not on a civil constitution."
In a related context, the Directorate of Endowments and Religious Affairs in the Aleppo province city of al-Bab issued a statement on September 15 titled "Positions on Claims of Gender that Target Women in Our Communities." In the statement, it accused training courses conducted by international organizations, in cooperation with Syrian feminist organizations working in the opposition (liberated) territories, of being dubious and contrary to custom and religion. The second section of the statement stressed that women in Syria are not subjected to any discrimination or deprivation of inheritance, and that they are not attacked "unjustly" on the grounds of honor. One female activist interpreted this last phrase as essentially a legitimization of and veiled call for "halal" killings of women, on the basis of Sharia law and local customs about dishonoring a family or community. The third section claimed that the funds pumped into international trainings are "suspicious," and that the local organizations that receive them are "bought" and promote a culture of sexual degeneracy, sorcery, unveiling, and social corruption.
Image of the statement by the "Directorate of Endowments and Religious Affairs in the Aleppo province city of al-Bab":
The publication of this statement coincided with the Directorate of Education in the city of al-Bab—which is affiliated with the local council—issuing a mandate requiring female students of all grades (i.e. from the age of six and up) "to wear a white hijab and refrain from using adornment." Although illegal under the oppositionist Syrian Interim Government law, feminists fear that this administrative directive will nevertheless eventually become an executive order, especially since it was tied to punishment if violated, as a way of imposing a fait accompli amid the chaos of the war.
Image of the statement of the Directorate of the city of Al-Bab:
On the other hand, some feminists point out that the new instructions seem to cynically adopt the color white—which has long been associated with the moderate current of Islam—as a means of differentiating themselves from extremist jihadist currents and the Syrian Salvation Government of Idlib. The latter adopts full black in the dress it imposes on the women in the areas under its control. The Salvation Government derives its laws from the teachings of the hardline Hayat Tahrir al-Sham, a U.S. designated terrorist group.
It is also notable that the local councils overseeing the administration of what are referred to as the "liberated" areas, such as al-Bab, are known to be directly subordinate to the Turkish government. Such local councils receive funding by way of border crossings—within Syria and between Syria and Turkey. This means that, in practice, the local councils are not subject to the Interim Government and its various ministries.
The Continued Growth of the Feminist Movement
In spite of the roadblocks put in place by local authorities, the Syrian feminist movement is a rich and driven force for equality that has been escalating its activities recently. Syrian feminists are now presenting women's rights as inseparable from human rights. This movement also reflects the different and even contradictory ideological threads prevalent in the Syrian arena. Within the movement are strains of Islamic feminism, drawing on feminist ideas from within the authoritative sources of the Islamic religion; centrist feminism, which believes it is a woman's right to choose what suits her as a free person while taking religious belonging, local customs, and interactions with society into account; and radical feminism, which believes that Islamic Sharia and its societal applications clearly oppress women and cannot be compatible with the principles of feminism and international conventions related to women's rights in their current forms.
Despite these significant differences in attitudes and views, it seems that Syrian feminists of all persuasions agree that, no matter how much they try to soften their feminist discourse and demands for rights, the patriarchal structures of society will continue to harass them and treat their publicly expressed values as a source of danger. The campaign against them will therefore continue, and may reach the point of serious incitement of crime, especially as feminist dialogues spread on television channels and insist that women's rights are a key issue of the moment.
Syrian women in general, and feminists in particular, sense a growing danger against them and the rights of women in this moment. Circulating opinions and discussions suggest that the American withdrawal from Afghanistan sparked a new wave of escalation against some Syrian women, as other Syrians celebrate the Taliban's success. Local circles, including those described as moderate, have treated the withdrawal as a victory for the Taliban's jihadist ideology.
In this regard, the Syrian Women's Political Movement published a paper on September 2 entitled "Afghanistan and Afghani Women Amidst a Sea of Extremism and Terrorism. How Can Some Syrians Rejoice at This?" The paper discusses the current situation and mentions celebrations of in liberated areas "of the Taliban victory," raising questions about the future of Syrian women in light of this growing extremism. The paper likewise highlights the parallel context of continued agitation of women, often under the pretext of "guarding virtue."
There is clear patriarchal incitement against women's dress, for example, as communities and authority figures link it to the honor of the father, brother, and husband. Women in these areas cannot go out without Islamic dress, and female activists who enter from Turkey are forced to follow this public custom, regardless of religious background.
A Guarding Virtue image from the Directorate of Endowments of Salqin, about males' honor in women's clothing:
Lina Wafai, a member of the Syrian Women's Political Movement, wrote a paper describing the current state of play in Syria as a "war between two tyrannies." Wafai provides a stark description of the reality Syrian women face, trapped between the tyranny of Assad and the tyranny of political Islam. She describes how Syrian women are forced to constantly redirect the world's attention to their challenges and the fight against the patriarchy that they face at various levels.
Syrian Feminists' Call to International Organizations
A member of the Syrian Women's Political Movement, Rouba Mhaissen, recently tried to summarize the Syrian feminist movement's asks to the international community in a briefing she gave the Security Council on September 28. She stressed the importance of not separating Syrian women's suffering and the general political solution being negotiated under UN supervision. She noted that a stable solution should be based on resolving fundamental issues that affect women in particular, such as the issue of detainees and forcibly disappeared individuals held by the Assad regime. Another such issue is the question of Syrian women's rights to return to their homes in the cities and villages from which they have been displaced, especially as many women have become the breadwinners of their families after their husbands were killed or disappeared.
Traditionally, women are seen as guarantors of peace, stability, and reconstruction in the aftermath of war. Syrian feminists strongly identify as leaders, bringers of real change, and guarantors of justice—work which is inseparable from their hopes and pains as survivors of a devastating decade of war. Therefore, many Syrian feminists support the demands of the international community in general and the United States in particular, with regard to the need to continue applying the Caesar Act, and to not tolerate or normalize the Assad regime, nor accept normalization by its allies in the region and around the world.
These activists have also called for the legal prosecution of the Assad regime for its ongoing human rights violations in Syria, and the war crimes it has—and continues to—commit. They call for this to be done with the same vigor used against  terrorists. And of the international community, Syrian feminists also demand that they not be left alone to face their repression by the Assad regime and extremist forces. In spite of some Syrians maligning this relationship, they call for the international support for them and their organizations inside and outside Syria to continue, with all means of material, technical, and cognitive support. They also seek tighter scrutiny of any support provided to Syrian organizations that do not support the wide and active presence of women in their internal infrastructure, and which do not include recognition of women's rights as an inseparable part of human rights, with reference to CEDAW and other conventions.