From Syria to Ukraine: Mapping Parallels with Russian 'Ants' Crawl' and 'Scorched Earth' Strategies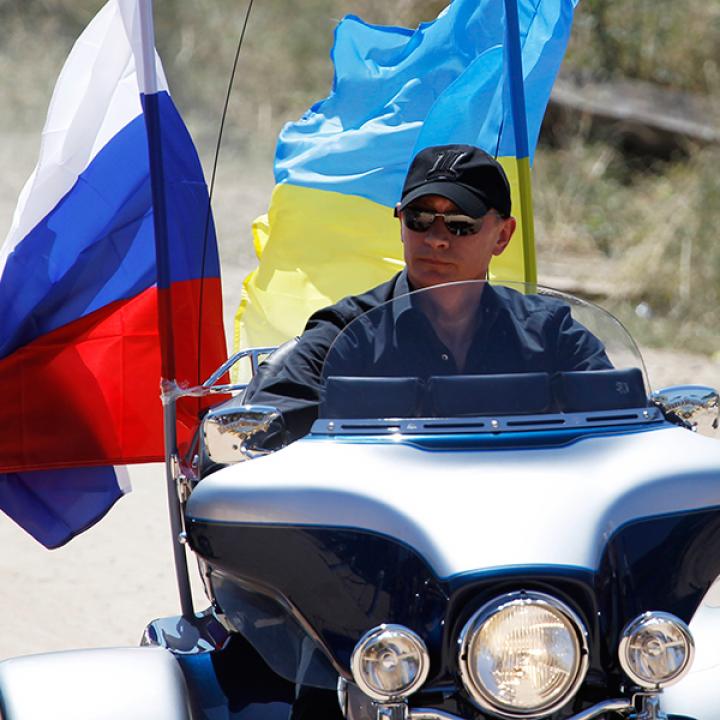 More than two months into the faltering invasion of Ukraine, Russia appears to be recalculating its approach, resorting to a tactic Syrians are all too familiar with: 'Ants Crawl', or a scorched earth policy.
As the initial invasion attempt failed to provide the quick victory Moscow no doubt expected, President Putin and his generals are rearranging the battlefield to impose a new, increasingly brutal reality. Such brutality is devastatingly familiar to many Syrians, and the war in Ukraine has several parallels that can provide insight into the months ahead. However, the strong response in the West to Russian aggression in Ukraine is also haunting for many Syrians, as they compare the aid and support provided to Ukrainians to the response to their own plight.
The first parallel to events in the Middle East echoed a conflict prior to that in Syria. On the one hand, the warnings issued by the CIA and other Western intelligence agencies in the pre-invasion phase deprived the Russians of the element of surprise. These agencies flooded the media with accurate information about the number of Russian forces deployed on the borders of Ukraine, their equipment, and the day of attack.
The leaks left Russian officials resorting to black comedy to try to mislead Ukrainians and Western countries alike. While Russian Foreign Ministry spokesperson Maria Zakharova attempted to deny the accusations by mockingly demanding that Western media provide the invasion schedule so that Russian diplomats can "plan their vacations," Dmitry Polyanskiy, another Russian diplomat, advised Western leaders to see a doctor for their "paranoia." A week after this disinformation campaign, Russia's intentions were soon evident via their massive invasion of Ukraine.
Yet U.S. messaging may have also contributed to the Russian decision to launch the invasion itself. Since Ukraine is not a NATO member, U.S. officials stated, America would not send American forces to Ukraine and did not want to engage in a direct confrontation with Russia. These statements gave Russia the impression that America was serious about its 'neutrality,' especially as its focus is on China, which is threatening to invade Taiwan.
Putin may have construed these statements as American indifference or even a green light for his plans in Ukraine. To regional observers, the pattern is reminiscent of conversations prior to Saddam Hussein's invasion of Kuwait. In 1990, as Saddam deployed his forces to the Kuwaiti borders, he met with American ambassador in Baghdad April Glaspie to explore the U.S. response were he to invade Kuwait. According to numerous sources, including a contemporaneous New York Times report, Glaspie confirmed to the Iraqi president the U.S. decision of non-interference in Arab-Arab conflicts, such as the border disputes between Iraq and Kuwait. It later became apparent that Saddam Hussein had interpreted Glaspie's statements during the meeting as an American green light for him to proceed with the invasion, which began a week after that meeting.
However, the United States soon led an international coalition that destroyed the capabilities of the Iraqi forces and expelled them from Kuwait. And while the United States initially appeared to restrain its active involvement in the conflict, recent reports confirmed that the United States will sell armed drones to Ukraine, on top of the recently passed bill to provide $40 billion in military and humanitarian aid.
The Russian Strategy      
The Russian path in Syria suggests that any 'miring' of Russia in a conflict will ultimately have dire consequences for Ukrainians. Since using ballistic missiles will not resolve ground battles, Putin has looked for a means to save himself and avoid a "strategic defeat."
With initial direct negotiations in late March brokered by Turkey, and reassessments after his forces' setback around Kyiv, Putin allowed for these negotiations to trim his goals to the control of Donetsk and Luhansk in the Donbas region. Concurrently, it became clear that the Russians realized that the only way to gain control of areas in Ukraine would be through applying a "scorched earth" policy while eating away at territories in an "ant's crawl" method.
Understanding what is waiting for the areas of Ukraine now in Russia's sights simply requires a look to their most recent theater of operations. Russia became involved in Assad's attempt to suppress his people in the wake of his efforts to quell the uprising, with help from sectarian militias from Iran, Iraq, Afghanistan, and Pakistan, along with Lebanese Hezbollah. However, these militias had not been able to subdue Syrians, who were demanding freedom and dignity.
Even after suffering under all of these forces—on top of the growth of ISIS in the region—life became worse when Russia involved itself. For seven years now, the Russian warplanes have been vigorously aiding inAssad's retaking of large areas from the Syrian rebels to cobble together a regime-controlled state in the west of the country.
The Russian strategy combines its "ants' crawl" and "scorched earth" policies—Russia aimed to annihilate the opposition-held areas by dismembering them over time, then besieging cities and towns that continued to hold out. These besieged cities and towns came under intensive Russian airstrikes and rocket attacks targeting their infrastructure and residential areas, leading to significant civilian casualties and ultimately mass displacement of their entire population. Within a relatively short period, pro-Assad militias were able to retake large areas from the Syrian opposition once the Russian military became involved.
In the process, the United Nations and other international organizations have accused the Russian forces and pro-Assad militias of committing war crimes and crimes against humanity. The human toll has been stark; more than 13 million Syrians, or more than half of the Syrian population, have been displaced or become refugees in both neighboring countries and those further afield.
While the plight of Syrian refugees is perhaps more visible internationally, hundreds of thousands of internally displaced Syrians have also suffered, living in tents on the Syrian-Turkish borders for several years. This displacement is intentional as part of comprehensive demographic change; in its September 2021 report, the Syrian Civil Defense Organization (White Helmets) accused Russian and pro-Assad forces of carrying out "displacement campaigns … to empty cities perceived to be anti-government."  Russian-backed campaigns led to "the destruction of the eastern neighborhoods of Aleppo city in 2016, and the resulting displacement of the neighborhoods' residents … [along with] the displacement of residents from the western countryside of Damascus and the eastern neighborhoods of Damascus in 2017." 
Particularly in 2018, the opposition-held areas suffered "systemic displacement … [of] the eastern Ghouta and Qalamoun neighborhoods in the southern countryside of Damascus, [of] areas in the northern Homs countryside, and [of] southern Syria in Quneitra and Deraa."
The decision to strip sections of Syria of all those who oppose the Assad government, cleaving the country while ensuring complete support or submission in regime-held areas, is a strategy likely to re-emerge in the Donbas region. Having achieved his goals in Syria, Putin's unfed appetite to subjugate other peoples to fulfill his own goals, depriving them of a free and democratic system, led him to his next target of Ukraine.
And with their initial efforts to push Kyiv into submission through a large scale ground invasion having failed, the return of the 'ant crawl' and 'scorched earth' will become the key to any victory they hope to secure. To apply it, top ranking officers who had led the previous 'ants' crawl' operation were moved from Syria to lead the Russian operation in Ukraine. A number of those officers who have served in Syria have shown up on lists of killed officers.
What is also undeniable is that international reports of Russian atrocities in Ukraine increasingly echo those atrocities perpetrated in Syria—from the massacre at Bucha to the accounts of wide scale rape of Ukrainian women and girls. As Russian forces withdraw by agreement or are expelled out of Ukrainian cities, they leave behind horrible stories of mass killings and rape, echoing systematic violence perpetrated against civilians in Syria.
Struggling with Differences in International Response             
However, the increasing involvement of U.S. and Western European countries highlights a key difference between Syria and Ukraine. Despite the great similarities in the systematic destruction of Syrian and Ukrainian cities, the difference in the international dealings with both crises is shocking. The atrocities committed in Ukraine have been met with broad international sympathy accompanied by calls for the prosecution of Russian officials in the International Criminal Court. Additionally, severe economic and financial sanctions have been imposed on Russian leadership and institutions. Further, high-ranking officials from different countries, in addition to the UN Secretary General, hurried to Ukraine to witness the destruction and massacres committed by Russian forces.
In contrast, the international unwillingness to coordinate a serious response to atrocities in Syria further encouraged Russians and pro-Assad forces to commit horrible massacres against the Syrian people. It is not for lack of information; these atrocities have been well documented for years. In its report in August 2019, the Syrian Network for Human Rights highlighted Russian and pro-Assad forces' "widespread and repeated use" of "incendiary weapons, cluster munitions, regular missiles, nails-filled missiles, and barrel bombs, extending to chemical weapons of mass destruction."
Although the United Nations and human rights organizations' reports have frequently assessed these violations as amounting to war crimes and crimes against humanity, Russian and Syrian perpetrators have not yet been held accountable. While the U.S. enacted the Caesar sanctions, no sanctions against Russia specifically emerged and the sanctions efficacy against Syrian regime officials has been repeatedly questioned. All this stands in sharp contrast to the quick and well-coordinated efforts from the U.S. and Western Europe in response to Russia's actions in Ukraine.
Given the ways in which this war is diverting from the immediate victory Russia likely expected, the Biden administration may be reviving Glaspie's plan to drag Putin into the Ukrainian trap in order to destroy Russia's military and economic capabilities. From the outside, it seems to be a preemptive effort to save America from a future confrontation with two strong and collaborating rivals: China and Russia. Similarly, Obama suggested that Russia's involvement in Syria would become a "quagmire"—and yet only one conflict has sparked significant military assistance explicitly for the fight against Russia. 
Unlike in Ukraine, the Syrian rebels were not supplied with any surface-to-air missiles, lethal weapons, or intelligence information to reduce the efficacy of Russian and Assad regime airstrikes. Instead, aid focused on combatting ISIS; United States had provided an estimated $28.5 billion to combat ISIS in Iraq and Syria by 2018 –excluding the Free Syrian factions, while Trump requested just $300 million in the 2020 fiscal year to "continue to equip and sustain Syrian partner forces."
Thus, comparing the destruction in Mariupol, Ukraine to that in Aleppo, Syria—both of which have been severely destroyed by Russian attacks—is rankling for anti-Assad rebels and governments who remember the lack of concrete international response to the latter atrocity.
Regional leaders have also commented on this discrepancy. During the  Doha Forum, the Saudi Foreign Minister, Prince Faisal bin Farhan al-Saud, bitterly highlighted the difference in the international community's reaction to both crises. The outcomes speak for themselves; while post factum, many observers and politicians have realized that the Ukrainian crisis has originated in Syria. Few of them, however, have had the courage of Alexey Arestovych, a Ukrainian presidential adviser, to state on his Twitter account that "the West itself … raised the beast, Putin."
Russia's evasion of responsibility for its crimes in Syria has instigated its repetition of them in Ukraine. Therefore, the West in general and the U.S. administration in particular have an important opportunity to hold Russian and Syrian officials accountable for killing hundreds of thousands of Ukrainian and Syrian citizens alike. Otherwise, if Russia is ultimately victorious, the cycle is likely to be repeated yet again, as citizens of other countries will also suffer the results of the Russian 'Ants' Crawl' operation.