Rebuilding Israeli-Turkish Relations: A Marriage of Convenience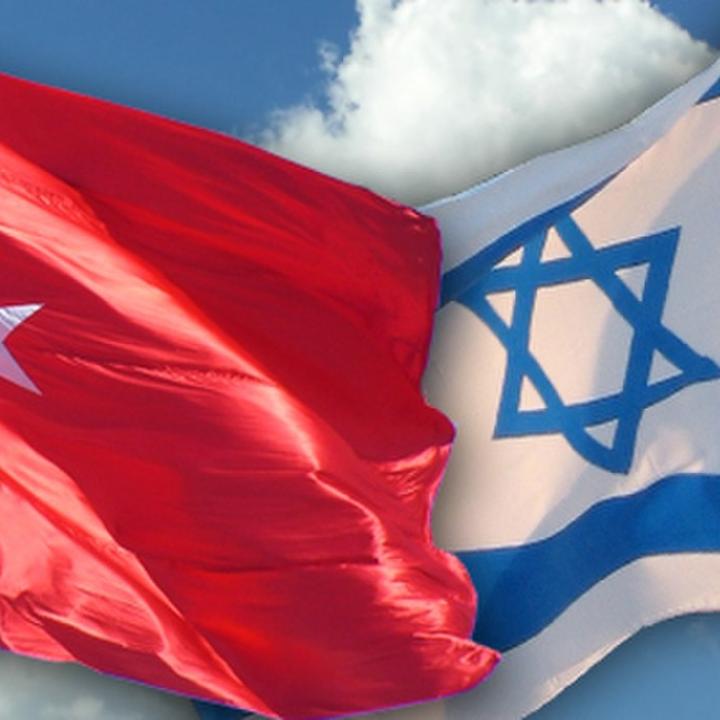 During 2022, Israel and Turkey have had friendly exchanges that suggest serious steps are being taken towards rapprochement.
This is clearly visible in the visit of Turkish Foreign Minister Mevlut Cavusoglu, along with Energy Minister Fatih Donmez, to Israel this week. The visit aims to discuss developing mutual relations to the level of appointing ambassadors, as well as discussing the issue of strategic cooperation in the energy field.
The visit—the first of a Turkish senior official in fifteen years—marks the closest to rapprochement between the two sides since relations between Ankara and Tel Aviv became deadlocked after the Mavi Marmara incident in 2010. While the two countries had tried to reestablish relations in 2013, this failed because of Israeli attacks on Gaza in 2014. In 2015, the two sides made another attempt to improve relations; Tel Aviv appointed an ambassador in Ankara, but Ankara hesitated to reciprocate because of Israel's approach to the Palestinian issue. 
Following the opening of the new U.S. embassy in Jerusalem in 2018, Ankara expelled the Israeli ambassador to Turkey to protest Israel's disproportionate use of force against protesters in Gaza. In response, Tel Aviv quickly expelled the Turkish consul-general.
Yet Turkey began to shift back towards an attitude of rapprochement over the past year. Turkey released an Israeli couple who had been detained in Istanbul since the end of 2021, and in return, Israeli President Isaac Herzog made a visit to Turkey, where he received a warm welcome.
Why Rapprochement?
Over the past year, Turkey has intensified its efforts to restore relations with several regional neighbors. International developments such as the election of the Biden administration, concerns about Iranian regional activity and normalization of the Assad regime helped to spur this shift. Moreover, Turkey's escalating economic crisis compelled it to improve relations with the UAE, Israel, and Saudi Arabia to foster better regional economic ties.
In this context, Ankara and Tel Aviv will continue to rethink their mutual interests to understand how they might cooperate in a "marriage of convenience" to counter other regional alliances and axes.
In the face of rising concerns that the United States is decreasing its focus on the Middle East, some countries in the region have started to reassess their relations with their neighbors. The election of U.S. President Joe Biden in January 2021 has accelerated diplomatic efforts in the region since the Biden administration has tended to support stability and order in the Middle East. Biden's foreign policy interests and resources are directed towards containment and competition with China, and to a lesser extent, Russia.
Moreover, amid ongoing negotiations regarding a renewed Iran deal, shared concerns about Iran's increasing nuclear capabilities are accelerating ties between Middle Eastern countries. In addition to the countries who signed the Abraham Accords and now comprise a de facto anti-Iran coalition in the Middle East, other countries also realize the importance of strengthening security cooperation to confront Iran and are creating diplomatic inroads accordingly.
Two other international developments that have heightened Turkish-Israeli cooperation are increasing normalization of the Assad regime and Iran's continued stronghold on Syria. The recent U.S. decision to exempt Egyptian gas and Jordanian electricity from Caesar sanctions demonstrated that the United States is interested in establishing economic cooperation between allies and adversaries alike. In light of these shifts, many countries—not only Turkey and Israel—are rethinking how to configure their diplomatic relations.
What has likely also helped is that, in comparison to the Trump administration, the Biden administration adopted a more even-handed approach to the Israeli-Palestinian question. The Biden administration declared its intention to reopen the U.S. Consulate in East Jerusalem and worked to restore economic and humanitarian aid to the Palestinian Authority previously frozen by the Trump administration. The U.S. Secretary of State, Anthony Blinken, has likewise met the Palestinian president several times.
This rapprochement by the Biden administration with the PA, along with Israel's March 2021 elections ending the twelve-year premiership of Benjamin Netanyahu and bringing in a more moderate coalition government, have given Turkey the space to repair its relations with Israel even as it publicly affirmsits commitment to Palestinian statehood.
New Directions for Turkish-Israeli Relations
Both Turkey and Israel have certain goals with regards to normalizing bilateral relations. For Turkey, reestablishing healthy diplomatic dialogue with Israel will help reduce Turkey's isolation by regional powers and give it more room to maneuver in foreign policy decisions. Ankara wants to regain its former standing among regional rivals, particularly Greece and Egypt, and in the Mediterranean. However, there are limits to these ambitions. Ankara will not abandon its other goals, such as redrawing its maritime borders in the eastern Mediterranean and rethinking international treaties with the Government of National Accord in Libya. There are also limitations from the Israeli side. Israel will not want to sacrifice its new allies in the region in exchange for improved relations with Turkey.
The U.S. decision to no longer back the EastMed gas pipeline which was intended to transport Israeli gas to Europe via Greece and Greek Cyprus, provided a golden geo-economic opportunity for Ankara. Ankara felt it needed to try for rapprochement with Tel Aviv, which was aware it would be difficult to set up the gas pipeline without resolving issues related to Cyprus. Cooperation between Israel and Turkey could help facilitate alternative projects that would reduce Turkey's need for natural gas and Europe's reliance on Russia for energy.
During the past decade, the geostrategic map of the Middle East has undergone radical changes, especially following the Abraham Accords. This agreement also shifted the power dynamics in Turkish-Israeli relations somewhat in Israel's favor. However, Turkey and Israel have significant interests in establishing a regional order in the Middle East grounded in security and stability through combating terrorist groups, achieving a kind of balance of power in the face of growing Iranian influence in Syria, and reducing the level of Israeli support to Kurdish separatist movements in northern Iraq.
The steps the two countries have taken to restore relations will pave the way for Turkey to join the U.S.-backed security nexus in the Eastern Mediterranean in the medium term, which will mean Western support for Ankara there, particularly the support of the US and UK.
Potential Spheres of Cooperation
Turkey and Israel will benefit from pursuing cooperation in various spheres, including trade, intelligence, energy, and defense. The two countries have succeeded in shielding their economic relations from political crises over the past decade, which allowed for continued growth in bilateral trade. According to the International Trade Centre, trade between the two countries was valued at 6 billion dollars in 2018. In the political sphere, Ankara likely expects the pro-Israel lobby in Washington to help overcome anti-Turkish sentiment in Congress, as it has done in recent years. Moreover, the development of balanced relations with Israel will make it possible for Turkey to play an active role in the Palestinian issue as a mediator, rather than as an anti-Israel party to the conflict.
The Abraham Accords have perhaps eroded Turkey's role and privileged status as a mediator in dialogues between Israel and the Arab world. However, Turkey's Muslim-majority population, its membership in NATO, and its geopolitical position will continue to make it an important ally in Israel's eyes. These factors help explain why Israel continues to keep channels of communication open even when relations have been at their worst. Israel has likewise responded favorably to Ankara's moderate tone in recent communications despite various reservations on its part.
However, it also appears that Israel is aware of the limits of potential cooperation between the two countries as long as Ankara maintains its pro-Palestinian stance and its political ties with Hamas. Although certain steps will be taken to restrict Hamas's activity in Turkey to pursue tangible progress in relations with Israel, this does not mean that relations between Hamas and Turkey will be entirely broken off.
Achieving genuine progress in reconciliation between Israel and Turkey will require aligning the two countries' interests and finding common ground. Improving coordination based on mutual interests will help bilateral relations weather crises and open the door to tangible strategic cooperation in the Mediterranean.