The Netanyahu Government's Approach to Russia and Ukraine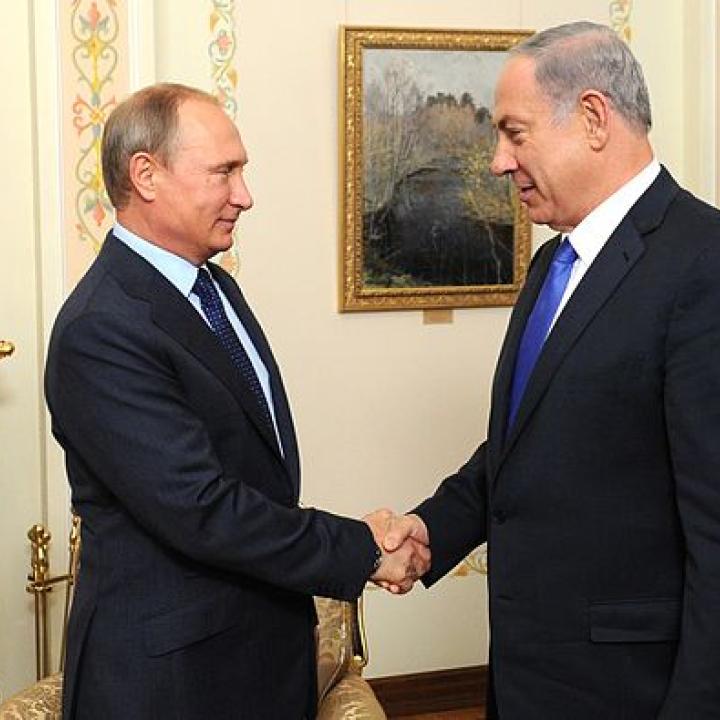 Despite increased pressure on both sides, Netanyahu is likely to maintain Israel's nonaligned approach to the conflict in Ukraine in an effort to preserve his immediate regional interests.
Benjamin Netanyahu's comeback into the prime minister's office in December2022 increased expectations of a change in Israeli policy on the war in Ukraine. Until now, Jerusalem has insisted on not supplying Kyiv with lethal weapons, has refrained from imposing economic sanctions on Russia, and has continued political dialogue with the Kremlin during the course of the war. Recently, however, U.S. pressure on Israel has been mounting to shift this position into a more active one in support of Ukraine. Accordingly, it was leaked that a policy review process was underway, led by the National Security Council subordinate to Netanyahu.
Netanyahu's Position
Netanyahu's interview with CNN on February 1 provides an important glimpse into the Prime Minister's thinking. In the interview, Netanyahu expressed that there are "complex" relations between Israel and Russia, primarily because of the risk to Israel's freedom of military action in Syria as it fights the Iranian military entrenchment there. He stressed that in the last eight years, he had designed a policy to prevent a crisis between Jerusalem and Moscow, which could break out if pilots of the two countries collided in Syrian skies.
Netanyahu then reiterated a promise to "look into" the idea of supplying Israeli weapons to Ukraine, including the "Iron Dome" air-defense systems, while hinting that Israel might help Ukraine "with other kinds of aid," instead. Case in point, he portrayed the transfer of 250,000 artillery shells belonging to the United States—which were pre-positioned in Israel—as the United States using Israel's munitions and passing it to Ukraine. At the same time, he emphasized that Israel provides significant humanitarian aid to Ukraine, including the reception of refugees.
Netanyahu's comments in the interview indicate that despite the deepening rift between Russia and the West, Netanyahu intends to continue the policy he has maintained towards Russia since 2015, separating Israel's campaign against Iran from a larger great-power rivalry. More specifically, Israel hopes to maintain its partnership with Washington without alienating Moscow. The wording that Israel will "look into" supplying weapons to Ukraine probably implies that Israel's policy review process will not lead to direct assistance to Kyiv with lethal weapons. 
At the beginning of the war, former Israeli Prime Minister Naftali Bennett worked to mediate between Russia and Ukraine as one of the first leaders to arrive in Moscow. Bennett recently said these were serious negotiations, and that he had proposed to act as a go-between at the request of Ukrainian President Vladimir Zelensky and in close coordination with the Biden administration, German Chancellor Olaf Scholtz, and French President Emmanuel Macron. Bennett likewise stated that this early brokerage position had enabled Israel to avoid Western pressure to "choose a side" and instead be guided by concrete Israeli interests. Bennett believed that Netanyahu supported this policy in the spirit of previous Russia-Israel relations since 2015, shortly before the start of the Russian military intervention in Syria.
And despite a great deal of media hypothesizing that Netanyahu will conduct future mediation between Russia and Ukraine, it seems highly improbable that Netanyahu would step in to play such a role due to Israel's apparent lack of leverage. Indeed, Netanyahu's ties with Putin are not as intimate as before the war—it took Netanyahu more than a month to receive a phone call from Putin congratulating him on winning the elections. Likewise, no reports have emerged that the two have spoken since Netanyahu's government was inaugurated. Netanyahu's remarks on CNN regarding a more active mediation role are intended primarily to emphasize his reputation as a leading international politician, when in reality the likelihood of him adopting such a role is almost zero. Netanyahu said he would consider it if asked to mediate by all actors—Russian, Ukraine, and the United States.
For its part, Russia is satisfied with Israel's current position. In an effort to dissuade Israel from a policy change, Russia is employing a "carrots and sticks" approach, as it has done with other countries. Alongside expressions of appreciation and suggestions for deeper cooperation with Israel, Russian propagandists and senior government officials have also threatened that Israeli military aid to Ukraine will lead to a Russian violation of Israel's freedom of action in Syria.
On the other side, Israel-Ukraine relations remain tense under the Netanyahu government as Kyiv continues to express expectations for Israel to change its position. Israeli Foreign Minister Eli Cohen was harshly criticized in the first days of his term when he agreed to receive a phone call from his Russian counterpart Sergei Lavrov before speaking with the Ukrainian foreign minister. It took some time to organize his visit to Kyiv, with the Ukrainians putting harsh demands to increase Israeli financial support and shift its declaratory policy in favor of Ukraine. Still, Cohen, the most senior official from the country to visit Kyiv since the beginning of the war, got a warm reception on February 16, and was granted an audience with President Volodymyr Zelensky. Russian commentators paid attention to the fact that Cohen refrained from speaking against Russia or even mentioning it in any way during the visit, but he promised to support the Ukrainian peace plan in the UN and to help with the country's economic reconstruction.
A day after the visit, during his speech in the Munich Security Conference, Zelensky voiced confidence that it is only a question of time until it gets from Israel "David's Sling" against the Goliath. This proclamation renewed expectation for important Israeli help to Kyiv, as "David's Sling" is the name of an Israeli air defense system. Nevertheless, now that Kyiv has secured modern air defense systems from the United States and Europe, potential military transfers from Israel seem less crucial to Kyiv now than at the beginning of the war. 
Internal Calculations Limiting Involvement with Ukraine
One of the major issues standing in the way of further support to Ukraine is the Israeli concern about a Russian-Iranian rapprochement, especially in the security realm. This rapprochement could involve a transfer of Russian weapons or technological security know-how to Iran as Iran gets closer than ever to the threshold of an operational nuclear weapons program. The Israelis have expressed their concerns to Russia but cannot realistically count on Moscow to refrain from problematic ties with Iran, both due to Russia's increasing dependence on Iranian weapons and Iran's status as a vital transit route for Russian goods.
At the same time, Israel perceives significant limitations in the Russia-Iran partnership despite the war in Ukraine. Moscow is not interested in a nuclear Iran and does not want Iran's role in Syria to become stronger at the expense of Russian dominance. On the other hand, Iran still believes that Russia cannot be trusted. Therefore, from the Israeli point of view, there is room for political dialogue between Moscow and Jerusalem aimed at driving a wedge between Russia and Iran, which could supplement pressure from the United States and like-minded partners in the Gulf which has previously succeeded in disrupting Russia-Iran security cooperation. Still, Israel limits its expectations to Russian non-interference rather than the active curbing of Iranian ambitions.
The Jewish populations in Russia and Ukraine are the second most crucial issue for Jerusalem in this war. Israel fears that tense relations with Moscow will trigger retaliation, causing Russia to close its gates to the exodus of Jewish citizens. Moscow has read Israeli fears well, initiating in July 2022 a legal proceeding to terminate the activities of the Jewish Agency—a leading Jewish international organization—in Russia. Court deliberations on the decision resumed on February 17, after being postponed once every few months since August. It might serve as yet another signal from the Kremlin to Netanyahu to refrain from further drifting away from Moscow, while the prolongation of the procedure implies that the threat serves the Kremlin better than the actual closure. Yet, contrary to Israel's concerns, local Jewish organizations in Russia actually seem to be integrated into the Putin regime's ecosystem, helping Putin uphold the narrative that Russia is tolerant of different religions and nationalities. A year into the war, it can be assumed that most of the remaining Jewish citizens in Russia feel comfortable with Russia's policy in Ukraine.
Another aspect in Israel's decision-making vis-a-vis the war is "Ukraine fatigue," which has taken over in Israel faster than in Western countries. The internal political crisis in Israel, rounds of fighting with the Palestinians in Gaza, and instability in Judea and Samaria, along with the constant threat of a flare-up with Hezbollah or the possibility of a nuclear Iran have all caused the war in Ukraine to become a lesser interest for most of the Israeli public. The recent judicial reforms promoted by the Netanyahu government have also contributed to the internal agenda overshadowing the war in Ukraine.
Of course, the Israeli "strategic community" continues to debate, with some politicians and figures actively calling for distance from Russia and greater solidarity with Ukraine and the West. These individuals are concerned that Israel is fatally damaging its partnership with the West. For example, some pundits call on Netanyahu to change his Ukraine policy with the specific intent to secure U.S. support for possible future moves against Iran or cooperation in convincing Saudi Arabia to join the Abraham Accords. Additionally, the Biden administration is impatient with the controversial legal reforms in Israel and the increased risk of a flare-up in the Palestinian arena, so a more assertive Israeli approach to Russia could expand Israel's leeway with the Biden administration and other Western governments.
Looking ahead, however, the "sit on the fence" approach has become the consensus view across most political blocs in Israel. While the risk of reputational damage in the West remains, there is an ongoing debate about its severity. Israel's reluctance to antagonize Russia is not necessarily based on fear but on different geopolitical circumstances, which the West may not entirely appreciate. Israel does not enjoy the privilege of the collective defense of NATO, experiences daily military overlaps with Russia in Syria, and has its own explosive cocktail of political crises to deal with at home. 
The Netanyahu government's solution to conflicting pressures may be found in a more publicly supportive line to Ukraine and the West, giving Ukraine security assistance in non-lethal weapons on a small scale, or by way of security assistance against Russia through a Western third party. But the basic Israeli considerations that drive its relationship with Russia will remain, and Netanyahu is unlikely to veer from Israel's relatively neutral position. As such, the U.S. government and Congress should focus on establishing more "creative solutions" with Israel to work around these constraints and achieve their objectives in Ukraine.