Lebanon is Closer to War than Ever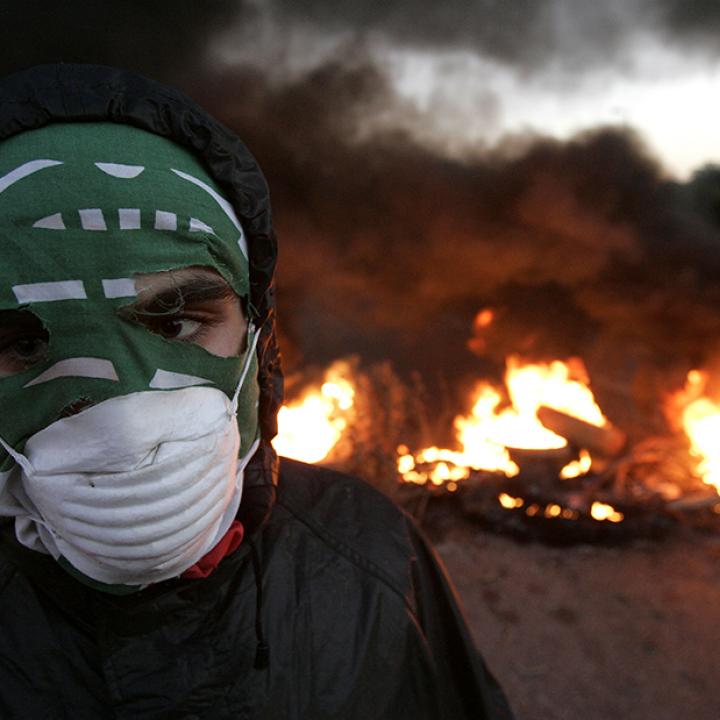 On the surface, it seems that Lebanon is currently far from descending into civil war. After a string of bombings in southern Lebanon, an unprecedented level of quiet has prevailed in the often-volatile Sunni north and Shiite south. Yet now may be the moment that the United States and the European Union can use their influence to prevent Lebanon's multi-confessional political system from failing. In the background, Israel and Hezbollah remain entangled in a loud and constant tit-for-tat, threat-for-threat contest, sparking widespread fear that this mutual enmity could quickly spiral out of control. Downtown Beirut's streets are peaceful, but politicians and citizens spar on social media over the trash crisis, the continuing presidential vacancy, and the country's worsening refugee problem.
Externally, Hezbollah's intervention in Syria has strained Lebanon's bilateral relations with many Arab countries, leaving Lebanon with few friends in the region. The Lebanese government's refusal to condemn the attack on the Embassy of Saudi Arabia in Tehran reinforced this impression, and prompted Saudi Arabia to suspend a $3 billion grant formerly promised to the Lebanese army and a $1 billion to the Internal Security Forces. These instances have fed the growing conviction that Lebanon is slowly joining a small group of rogue Arab nations that prefer support from Iran to that of other Arab states.
The associated underlying assumption—that the shift towards Iran demonstrates Hezbollah's influence is now too strong to contain—is partially true, but Lebanon's moderate opposition, led by former Prime Minister Saad Hariri, is also partially at fault for failing to offset Hezbollah's cunning public relations strategy. General Michel Aoun and his son-in-law and Foreign Minister Gebran Bassil have played up fears among Maronite Christians and Shiites that "takfiri wahabists" are intending to neutralize both parties. And while moderate opposition has publicly chided Hezbollah and its supporters for this stance, behind the scenes moderates are attempting to broker questionable power-sharing deals with these groups to preserve the inherently unstable status quo. The recent bombing of the BLOM bank has only confirmed that these cracks are beginning to become openly visible.
On the other hand, Sunni groups looking to combat Hezbollah's influence may be shifting too far in the other direction. In a sign of the Sunni camp's shifting political paradigms, Tripoli voters propelled former Justice Minister Ashraf Rifi to victory during last month's municipal elections. Rifi's "Tripoli's Choice" received a remarkable 18 of the 24 seats in the municipal council, upsetting Saad Hariri and the Future party's traditional control of the area. Rifi, fed-up over Hariri's refusal to confront Hezbollah and ongoing backdoor politicking with March 8 political leaders, personifies the notion that chances of national reconciliation are slipping away. Moreover, his popularity may indicate the birth of a new Lebanese Sunni kingmaker and a new approach to confronting Iranian influence. Rifi's alliance draws its support from a broad framework of Sunni parties. These are backed by powerful Islamists who refuse to accommodate Hezbollah in exchange for political power – one of the landmark tenets of Saad Hariri's political legacy.
In contrast, Rifi's willingness to align himself with hard-line Islamists signals that Sunni political blocs may begin openly confronting Hezbollah politically and militarily. The recent assassination of another Hezbollah commander operating in Syria, Mustafa Badreddine—and the group's surprisingly meek insistence that an unnamed group of "Syrian rebels" were at fault for the attack—has demonstrated to some Sunnis that Syria has made Hezbollah more vulnerable than ever.
Ashraf Rifi has also put forth an economic and political strategy for the Sunnis and Tripoli. Prior to his electoral success, Rifi emphasized the necessity of rebuilding and developing Tripoli – the traditionally Sunni bastion of the north. The city, currently equivalent to the rebellious Sunni heartlands of Iraq and Syria, has devolved into a hotspot for corruption, gang activity, and violence. This downward trend has in turn threatened to temper the reverence that Tripoli's clans once held for national Sunni leaders. Instead, the prevailing lawlessness in Tripoli has provided cover for predatory warlords who are using the flourishing black market to profit from citizens' economic and political disenfranchisement.
Reinvigorating Tripoli would bring improvements to the Lebanese north's crumbling infrastructure. Apart from its tangible benefits, prosperity in the area could help to address the longstanding conflict between Alawite residents of Jabal Mohsen who support Bashar al-Assad and Sunnis of Bab al-Tebbaneh who support the Syrian opposition. However, there are few signs that this necessary step has much support from much of the Future Movement.
While the reinvigoration of Tripoli would certainly be a welcome shift in the right direction, the other political movements in Lebanon speak to a quickly closing window for a rebalancing of power driven by moderates. Up until now, it has been too convenient for Sunni politicians to blame Shiites for the misfortunes of Sunni citizens, just as Hezbollah and its supporters have attempted the opposite.
For Lebanon's Sunni opposition to break this cycle, they need international support. If Rifi and his supporters can prove their worth and walk back from their acceptance of hard line Islamist support, they may be able to win the backing of Hariri's traditional allies in the Arab world. A nonviolent uprising forcing a major shake-up of Lebanon's national politics is the best outcome for Lebanon, the Middle East region as a whole, and the West. Moreover, the results of the Lebanese municipal elections this past May suggest growing popular anger with the status quo. However, Hezbollah already demonstrated in 2008 that it will bring its guns into the streets of Beirut if it feels its political goals threatened. And this is why the emerging Sunni leaders are instead considering armed insurrection.
Barring the optimal outcome of a second Cedar Revolution, there are other options to force Lebanese political parties to return to a power-sharing equilibrium before the situation reaches the breaking point. Another potential solution is the emergence of Western and GCC-backed Sunni "defense forces." These forces would work with the Lebanese central command to simultaneously establish order in the Sunni heartland and counterbalance Hezbollah's power. Alternatively, the already formidable and relatively neutral Lebanese armed forces might be increased, providing a political symbol for the region that extends past sectarianism and religious extremism and real political power by having the army back the nomination of a neutral president from the army's ranks. The Lebanese army, one of the best functioning institutions in Lebanon, has already demonstrated its effectiveness by crushing an Islamist insurgency—Fatah al-Islam—in 2008 and through its Beirut security plan, which replaced informal checkpoints manned by militias with effective military security zones.
With Hezbollah's strength waning and Sunnis emboldened by the rise of fresh faces, it may be impossible to bring Lebanon's political parties to the negotiating table to finally elect a president. Nevertheless, apathy is not the answer. Regional and international support for a powerful neutral force could provide a legitimate competing narrative to more extremist forces. While a civil entity would be best, facts on the ground suggest that the Lebanese army is the most credible option to fill this role. While in a sense ironic, it seems that Lebanon's best chance for peace and a functioning civil government requires the Lebanese army to shift Lebanese politics' current trends.
Dani Tahrawi has served as the editor-in-chief of the Iraq Monitor since 2014.