Israeli Recidivism Rates are High; More Resources for Arab Israeli Prisoners Could Help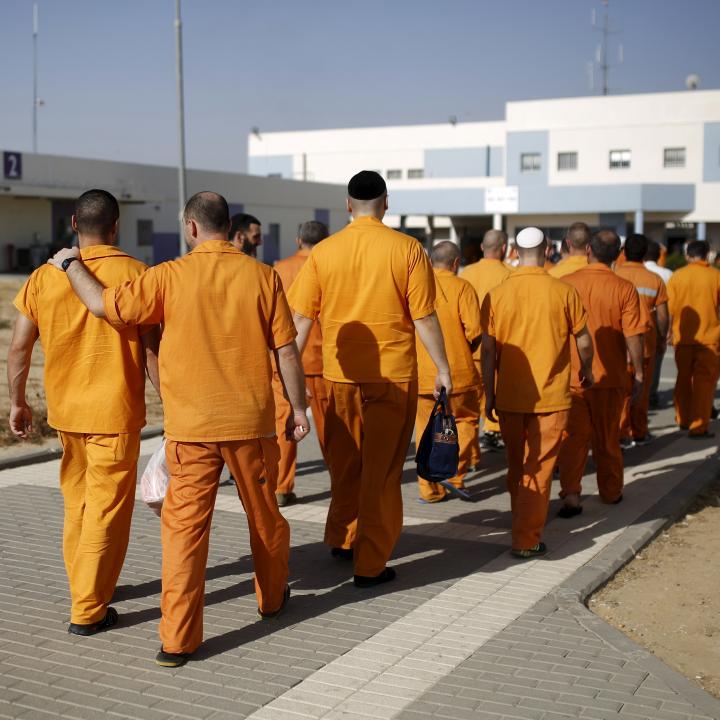 With Israel preparing for an unprecedented third national election in March, domestic politics have been trapped in a kind of political stasis for almost a year since the original elections in April 2019. But demands for reform have not stopped, including the contentious question of crime and punishment in Israel. Notably, there has recently been a public outcry among Arab Israelis over claims of unbalanced and discriminatory policing efforts in Arab communities.
With a sharp spike in violent crimes in Arab communities, Arab citizens have petitioned the Israeli government for more resources and a larger police presence as a way to alleviate the problem, while arguing that their community has been neglected relative to Israeli Jewish communities in terms of policing efforts.
The push for more comprehensive policing efforts in Arab Israeli communities also raises the question of what happens to those who fall under Israel's penal system. While the protests are focusing on greater community protection, there is a similarly vital—if less publicized—need for rehabilitation of those convicted of a crime or former prisoners.
According to official reports, Israel had 234 incarcerated persons per 100,000 of the total population in 2018, well above the global average of an estimated 145 incarcerated persons per 100,000. Notably Israel, along with Bahrain and Morocco, have the highest estimated rates of prisoners to general population in the Middle East and North Africa region. Most offenders can expect to be in jail anywhere from three months to three years for a misdemeanor, while a felony offence is likely to net over three years of prison sentence.
Aside from its relatively large prison population, Israel has an above-average rate of recidivism, with 41 percent overall and a remarkable 75 percent of people under the age of 18 returning to prison after release according to 2016 data. That same year, a study found that if Israel could reduce recidivism rates by just 8 percent, it could potentially save around 3 billion shekels (857,218,800 USD) a year. The Israeli finance ministry has since recognized the gravity of the situation and devoted additional resources to prisoner rehabilitation service, but there is the additional question of whether these resources are accessible to all.
While Arab Israelis constitute only 20 percent of the national population, they represent 40 percent of Israel's prison population. Yet the large majority of resources earmarked for prisoner rehabilitation are funneled into programs targeting the majority population, leaving programs designed to support Arab Israelis drained of resources or ill-equipped to provide culturally-competent services to former prisoners seeking to rejoin society.
Once leaving prison, the available rehabilitation efforts tailored to the needs of Arab Israeli citizens are sparse. Providing culturally competent services can be of major benefit to reducing rates of recidivism. The general absence of bilingual rehabilitation centers, or organizations that specifically aim to support Arab Israelis upon release, is likely to contribute to isolation and further alienation.
The exception to this rule—a halfway house called the House of Grace located in Haifa—demonstrates what an alternative system in Israel could look like. In 2011, the Knesset edited a series of basic laws that emphasized fundamental rights. Part of these reforms, included allowing for alternatives to sentencing for nonviolent offenders, such as halfway houses.
The Israeli Prison Service (IPS) helps regulate these organizations, which are designed to rehabilitate and provide housing to former inmates with early release, alternative sentences, or who are transitioning from incarceration to life outside prison. The Israeli Prison service works with these institutions by inspecting them within the criminal justice system's guidelines to ensure they meet the basic needs of the people they serve. The halfway houses can also act as a liaison between government agencies and community organizations in order to ensure their inhabitants effectively reintegrate into society.
The author observed the efforts of House of Grace firsthand while working there during 2017. The organization is Israel's first and only halfway house for recently paroled Arab prisoners, and as an Arab Christian organization, the House of Grace also plays a key role in the intersection of identities and groups within Israel. Originally, the House of Grace was open to both Jewish and Arab citizens up until 2011, when the Israeli government required the organization to work exclusively with Arabs. House of Grace also boasts a high rate of its inhabitants successfully completing their months-long rehabilitation program at 71 percent, which is designed to facilitate reentry into general society.
However, the head of the organization often expressed great concern over the discrepancy between the large number of Arab Israeli citizens in the prison system and the amount of assistance House of Grace could realistically provide, given that the house has just fifteen beds. The House of Grace has also struggled with threats to cut their funding entirely. In 2015, the Prisoner Rehabilitation Authority attempted to end its association with the House of Grace because of budget cuts within the department. The decision was reversed in the face of widespread community outrage, but the incident demonstrated what Dr. Walid Hadad—a supervisor in the Anti-Drug Authority in the Arab community—classified as a failure to recognize the "the importance of social sensitivity" when it comes to services designed for Arab Israeli citizens.
Over the past year, the prison system in Israel has also struggled due to a lack of leadership, brought on by the supervising department's own challenges with the law. The former Labor, Welfare, and Social Services Minister Haim Katz was forced to resign last August due to corruption charges. His successor—Prime Minister Benjamin Netanyahu—has now also relinquished his ministerial duties due to his own indictment. A new minister—Yifat Shasha-Biton—began her position on January 5, but this appointment may well change in several months if the March elections finally bring in a new Prime Minister. Due to this prolonged state of political stagnation, many now fear that the government will yet again cancel its contract with House of Grace, this time permanently.
However, as long as House of Grace exists, its success in reducing recidivism rates among its inhabitants suggests another way forward in Israel's policy towards previously incarcerated persons. A greater emphasis on engagement and reintegration serves both as a way to live up to Israel's democratic values while helping to ensure domestic stability. The House of Grace is currently a unique institution, but it represents a proven model that, with funding, could be implemented elsewhere, helping Israel to reduce its rates of recidivism and demonstrating concern for the Arab Israeli community.