Iraqi Provincial Elections: Electoral Chaos Undermines Prospects for Change from Within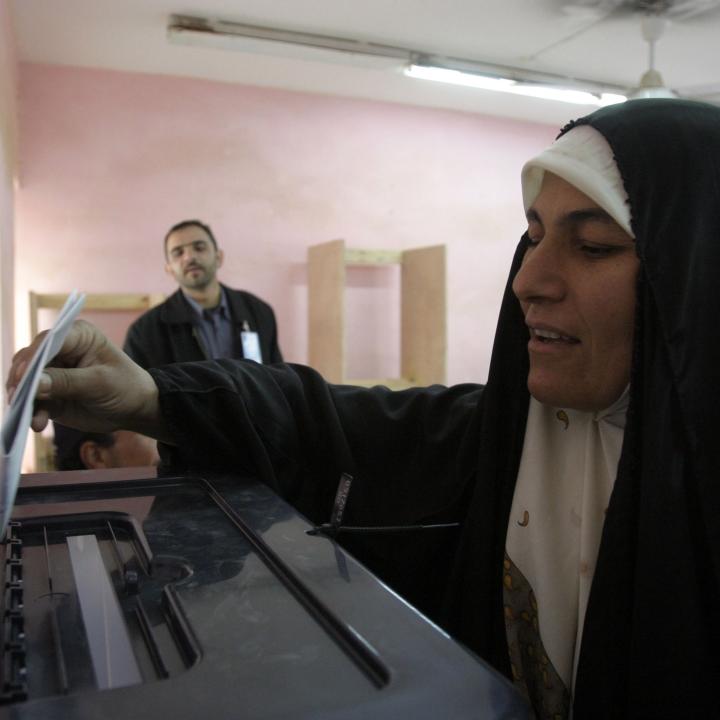 Navigating the confusing Iraqi electoral landscape is just one of many obstacles in the way of reformers, but if emerging political reformist players can form a unified front, put forth a concrete political platform, and resist being coopted by ruling powers, then there is a real possibility for substantive political change in the upcoming elections.
Iraqis are preparing to cast their ballots in provincial council elections on December 18, 2023 in the midst of an ongoing conflict between the established political class and those seeking to challenge the status quo. The forces that have controlled the country since the current political regime was established in 2003 are pitted against emerging forces hoping to shift political scales within the provincial councils. The latter hopes to foster a new generation of leaders who can compete with traditional forces in local elections. 
Provincial councils were established under the 2005 Iraqi constitution after the fall of Saddam Hussein's regime, and they wield broad financial legislative and executive powers as they are not subject to supervision of any ministry. They also have broad administrative powers and an independent financial system that entitles them to set budgets for many sectors such as education and health. Provincial councils also enjoy powers similar to the members of the House of Representatives, as they have the legal authority to appoint or dismiss the governor who serve as the heads of the local government in any Iraqi governorate, and they monitor all departments linked to central ministries and follow up on the performance of their directors and cadres.
Yet although there is common desire to see change, the political arena is chaotic. A dizzying array of parties and platforms are vying for seats; it is projected that around 296 political parties within 50 alliances will participate in the electoral process, as well as a significant number of candidates running on independent lists. Navigating the confusing Iraqi electoral landscape is just one of many obstacles in the way of reformers, but if emerging political reformist players can form a unified front, put forth a concrete political platform, and resist being coopted by ruling powers, then there is a real possibility for substantive political change in the upcoming elections.
Successes and Failures of the Last Elections
This surge of anti-establishment sentiment is a continuation of the October Protest Movement of 2019, in which thousands of disaffected Iraqis took to the streets to express their discontent with the government. Numerous political parties and popular movements have attempted to translate widespread grievances into real political reform. These groups have taken it upon themselves to seek peaceful change from within the political process in order to rejuvenate the stagnant government and lay the foundation for major civil projects. They promise to disband the militia structures that control though force, in addition to shielding the government from foreign interests.
The momentum in the wake of the October protests led these emerging forces to turn out in large numbers for the national parliamentary elections of October 2021, with remarkable results. New candidates won 35 seats (9 for the Emtidad Movement, 6 for Ishraqat Kanoon, and 20 for independents), while the number of seats won by traditional parties fell significantly. For example, the National Wisdom Movement, which is affiliated with the Shia cleric Ammar al-Hakim, won only two seats. The Victory Alliance, led by former Prime Minister Haider al-Abadi took a similarly small number of seats, while the Badr Organization led by Hadi al-Amiri won 17. Meanwhile, the Sadrist current led by Shia cleric Muqtada al-Sadr took 73 seats in the Iraqi Council of Representatives. However, all 73 members later resigned due to political disagreements with the Coordination Framework over electing a president.
The electoral successes that the reformist movements achieved inspired October protestors and other previously uninvolved civil forces to throw their hat in the ring for the upcoming elections. But despite this initial fervor and optimism, these movements have quickly lost steam as realities on the ground dispelled their aspirations. A number of factors, such as insufficient experience with navigating the convoluted Iraqi political process, a lack of clear and cohesive platforms, and party infighting have hindered further gains. For example, a schism occurred within the Emtidad movement, whose members of parliament subsequently announced that they were resigning from the party. Meanwhile, some members of the movement's political organization also resigned amidst rumors of corruption within the general secretariat.
The members of parliament from the Emtidad movement who resigned from the party quickly joined other parties and movements with more dubious goals. Some formed political alliances with traditional ruling powers, while others met with the leaders of Iranian-backed militias, including Qais al-Khazali, the head of Asa'ib Ahl al-Haq. Still others joined a group of representatives affiliated with the Hezbollah Movement in Iraq and the Popular Mobilization Forces. With regard to the twenty independent representatives, it emerged that some were hardly independent to begin with, while others joined corrupt parties or militias after taking office.
Much to the dismay of voters, representatives from these emerging movements have not behaved so differently than those affiliated with traditional parties. They have been accused of the same actions as their predecessors and have taken the same approach in dealing with their critics. Legal cases are a common weapon against anyone who criticizes these figures. The lack of concrete political change from the new generation of politicians has led to a familiar pessimism for many Iraqis. As a result, the Iraqi street and especially the October protest movement no longer feel it is possible to effect change through the ballot box. 
Confusion Colors Local Elections
As the date for the upcoming provincial council elections approaches, the chaos of elections preparations looms large. The sheer number of new political movements and candidates will leave voters at a loss regarding how they should cast their votes. To qualify to run for office, a candidate only needs to hold a university degree, to have reached the minimum age, and to have a certain number of followers on social media sites. Candidates are not required to have formulated a political vision or mature political project. These candidates employ numerous methods to try to win the people's trust. Some candidates have circulated images of themselves at the October protests or fighting in the war against ISIS, while others have bolstered their campaigns with images of the key Shia religious figure al-Sistani. Still others post photos of their volunteer work distributing charity baskets to the poor in order to promote their vision for reform and social work.
However, these tactics do not give any information about the candidates' political platforms, nor do they have any real political weight. Representatives are not elected to distribute food baskets, provide employment, or carry out the responsibilities of the Ministry of Labor and Social Affairs. The duty of these elected officials is to pass legislation, monitor government performance, and introduce draft legislation after reaching a consensus. In order to accomplish this, candidates must have a fleshed-out political vision based on the scope of their work, so that they are able to enact laws and make political decisions. 
With regard to the broader political parties, they have also begun to campaign based only on their ability to garner votes as a political movement registered with the electoral commission, focusing on conferences with men in suits and ties rather than trying to appeal to the average citizen. They too lack clear political projects and rely on revolutionary slogans that ring hollow in the political sphere.
Counter to this, grassroots forces are taking an active role in the current chaos. They have not previously backed the work of provincial councils since they saw them as a source of corruption and theft by local governments. Over time, their perspective has shifted as new faces appeared on the scene, but it is often to deceive voters with promises of defending the October protest movement and its dreams. These forces peddle ideas about civil government and the separation of religion and politics, but have not put these slogans into practice when given the opportunity. This is the same pattern as was seen before with traditional parties, when ruling classes offered their own misleading slogans about resistance and defending religious doctrine. In reality, those parties would always turn face and exploit sectarian differences as part of their policies.
The splintering of emerging political forces will make them an easy target for traditional political forces and a likely victim of political temptations. This could be remedied through unifying emerging political currents in a single electoral coalition with a coherent vision. Such an approach would make these currents a formidable rival to the traditional ruling forces in elections. However, the coalition must develop a clear and mature political platform supported by their candidates' political and professional experience. They must aim to enact real democratic change in Iraq and end the rule of might and money. If such unity can be achieved, with party leadership and candidates resolving their issues, the spirit of the October movement could finally be channeled into tangible political change at the provincial level. On the other hand, continuing the status quo will mean that Iraqis' belief in change through elections or new political movements will be further eroded.