How GCC Conflict Impacts the Gulf Response to Israeli Annexation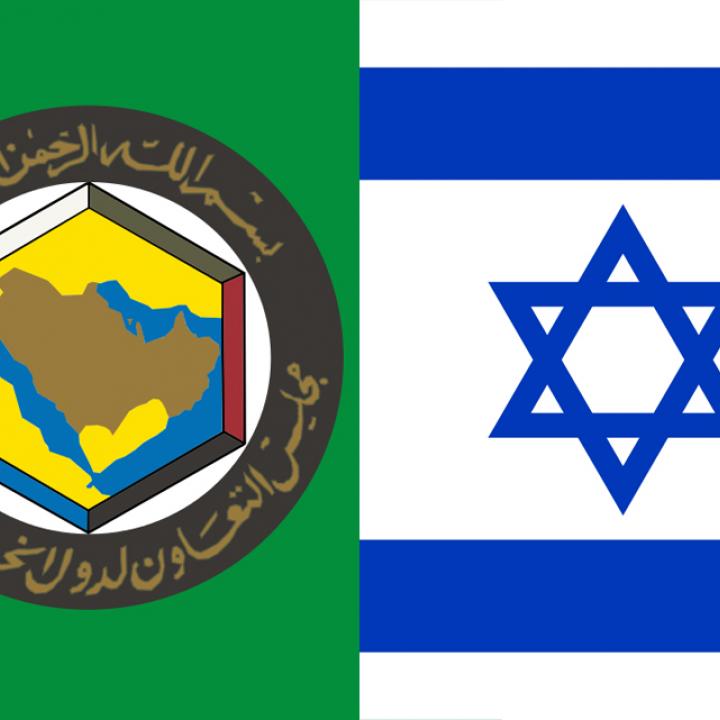 With the potential of Israel moving forward with annexation looming, the question of its likely impact on recent steps of normalization with Gulf countries is becoming increasingly relevant. Yet the situation is ambiguous; while the scope of any annexation and the intensity of opposition to it throughout the Arab world will likely shape the contours of its impact on Israeli-Gulf relations, Gulf states' reactions will also be impacted by the ways in which their internal conflicts have played out over the past several years.
As such, a plausible answer to this question requires an understanding of how the rift between Qatar and its three GCC partners—Saudi Arabia, the UAE, and Bahrain—has impacted the Gulf's broader foreign relations, including those with the United States and Israel. Ironically, Qatar's decision to not follow in the steps of other Gulf states in making visible moves to normalize relations with Israel make it less likely to stop what coordination with Israel it does have if annexation is to go forward. In contrast, other Gulf states' more public moves to normalize relations with Israel—which have developed during the intra-GCC rift—are likely to be adjusted in response.

How the Intra-GCC Dispute has Evolved
June 2020 marks three years of the diplomatic and economic boycott against Qatar decreed by the "Arab Quartet" of Saudi Arabia, the UAE, Bahrain, and Egypt. This boycott is the latest and most acute expression of longstanding suspicions, if not enmities, between the two sides, which derive from an ongoing mix of conflicting interests, personal rivalries, and territorial disputes.
The seeds of deterioration visible in the past few years were planted decades before, with the forcible takeover in Qatar by Hamad bin Khalifah from his father back in 1995. The Al-Jazeera media network was established the following year, trumpeting Qatar's independent policy from other major Gulf players. Qatar has long felt the need to balance its fear of confrontation with Iran and its desire to restrict Saudi dominance inside the GCC. 
From the standpoint of Saudi Arabia, the UAE, and Bahrain, their claims against Qatar—centered around Qatar's al-Jazeera network and friendly foreign policies towards Turkey and Iran—are in full alignment with the realization of the "monarchical unity" goal featured in the the GCC's founding charter back in 1981. From Qatar's standpoint, this is no less than a diktat by other states seeking to subordinate its foreign policy to their own.
In particular, rumors periodically resurface of Saudi attempts to carry out a coup in Qatar, and the Saudis openly back opposition to Qatar's current leader, Hamad's son Sheikh Tamim. This June, Qatar's foreign minister even accused the "Siege States" of trying to engineer a coup against his Emir over a May 2020 Twitter disinformation campaign which alleged an attempted palace coup inside the Qatari royal family.
Further complicating the boycott is the United States' ambivalent role. The crisis erupted immediately after a 2017 visit by President Trump to Saudi Arabia, where he went so far as to accuse Qatar of terrorism and extremism in rhetoric that contrasted with more moderate official U.S. messaging. Yet while Saudi Arabia, the UAE, and the United States are all allies, Qatar also has decades-long ties with the United States; the two have a Defense Cooperation Agreement dating from 1992 that positions approximately 10,000 U.S troops and contractors in the emirate. The two countries also launched a 'Strategic Dialogue' in 2018 during the intra-GCC dispute. In order to stay close to the United States, Qatar is now funding upgrades to the gigantic U.S. military base of Al-Udeid on its soil while expediting its purchases of U.S. weapons.
The crisis has damaged both intra-GCC cooperation and U.S. efforts to create solid security coordination as part of the campaign of pressure against Iran. Repercussions have expanded beyond the Gulf as the rivalry between the two sides impacts and fuels a number of confrontations much further afield—some of them militarized through their involvement, visible first and foremost in Libya. With both sides seeking the United States as an ally, Washington itself has proven to be another arena of contested influence: each side has funded lobbyists and think-tanks in attempts to sway legislators and public opinion to their own advantage. As a major U.S. ally staunchly against greater Iranian influence in the region, Israel has also seen its relations with Gulf countries evolve due to the GCC rift.
The Israel Angle
Though Israel is not directly involved in the intra-GCC dispute, it possesses non-negligible ties, separately, with each key player. As such, Israel's own interests lie in maintaining solid relations with all involved parties while maintaining a healthy distance from the conflict itself.
By all accounts, UAE and Saudi ties with Israel have expanded in recent years to additional areas of cooperation, especially as parties view their strategic environment in a similar fashion.
By contrast, Israel's policy toward Qatar is characterized by a noteworthy dichotomy. On the one hand, some senior Israeli officials in the past few years have engaged in tough talk about Qatar and have reportedly even considered ways to exploit the boycott against it in order to deepen its isolation—probably in an attempt to win points with Saudi Arabia and the UAE. Tensions between Israel and Qatar, along with Turkey, have also played a role in expanding cooperation between Jerusalem and Riyadh, Abu Dhabi, and Cairo in light of the ongoing dispute.
Yet on the other hand, Israel and Qatar have deepened their bilateral cooperation on Gaza ever since the military flare-up in 2014, driven by the common objective of transferring more humanitarian aid to the Palestinians there. Israel has a clear interest in seeing Qatari aid—which amounts to more than a billion dollars since 2012–continue because it believes improvements in the Gazan humanitarian situation will help push off a confrontation with Hamas. The head of the Mossad, Yossi Cohen, actually visited Doha in February 2020 to ensure that the financial aid to Gaza in the early days of the coronavirus pandemic. At present, Israel sees Qatar primarily as a negative actor despite feeling the need for some cooperation based on their one shared common interest. Some in Israel think that Jerusalem can use Qatar's interest of accessing Gaza in order to ask Doha to pressure Hamas on matters important to Israel.
So there exists a fundamental tension between Israel's interest in relying on Qatari money to ameliorate Gaza's humanitarian condition and its need to preserve good relations with Egypt, Saudi Arabia, and the UAE, which do not look positively upon Qatar's growing influence in Gaza.  
In fact, it is now in Israel's interests for there to be an end to intra-GCC tensions. The regional implications are in Israel's favor; reconciliation might reduce Doha's economic aid to Ankara, take Turkey's regional standing down a peg, and lead Qatar to adopt a softer overall stance toward Israel that is more in line with the policies of Riyadh and Abu Dhabi. A united Sunni front against Iran is also in Israel's interest.
But for now, the reaction of Qatar and the other Gulf States to a potential annexation is likely to diverge given the difference in extant relations with Israel. For Israel, whose relations with Qatar are mainly circumscribed to Qatar's humanitarian aid to Gaza, the situation is perhaps more straightforward. From Qatar's perspective, transferring economic aid to Gaza strengthens its regional position and contributes to enhancing its ties to the U.S. administration—thus also gaining Qatar bargaining chips in the intra-GCC dispute. Its assistance to Gazans also provides it with useful leverage vis-à-vis Israel, a leverage it might use to influence Israel's annexation plans.
As such, even if annexation goes forward, tacit relations with Israel will probably remain after suffering a short and limited blow. In instances of public relations with Israel, Qatar can always hide behind the fact that it is providing assistance to the Palestinians—which requires Israeli cooperation. Doha could even argue that such assistance is especially important in the current moment—in the midst of an ongoing pandemic and perhaps even because of annexation itself.
In contrast, annexation can be expected to prompt a rollback of certain different aspects of the other three Gulf states' normalization with Israel, particularly those that are public. Saudi and Emirati representatives have said as much in Hebrew newspapers. This is notwithstanding that the Palestinian issue does not figure among the top priorities in those states, and despite their suspicion and sometimes even hostility toward both the Palestinian Authority and Hamas.
Quiet security cooperation will likely not be upset in a significant or sustained manner. Yet because Israel has long assigned great importance to the public nature of relations with Arab states—especially those with which Israel does not enjoy official ties with—weakening of the public ties that have emerged through great effort in recent years will be of negative strategic significance for Israel.