Foreign Fighters Among the Hashd al-Shaabi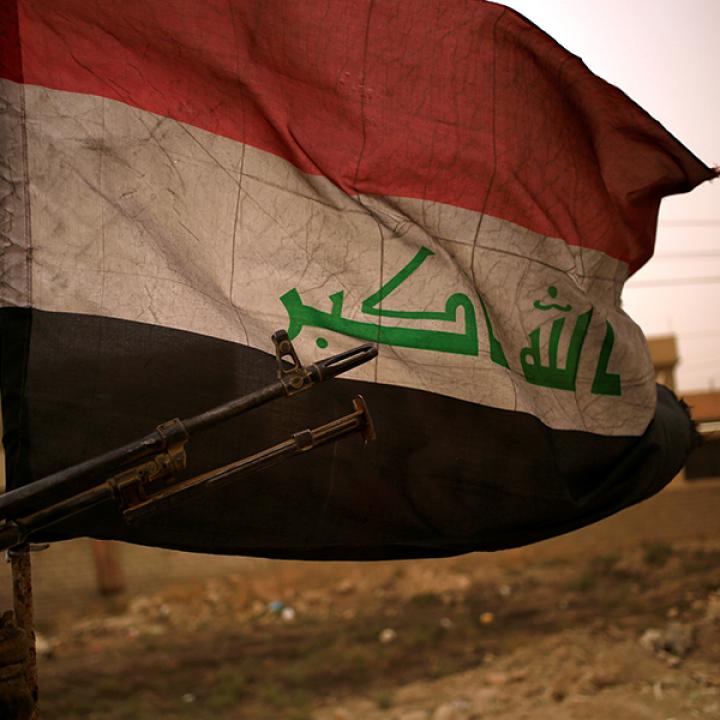 August 22, 2017
At a May 4,  2017 meeting of the Gulf Cooperation Council, Iraqi prime minister Haider al-Abadi was the apparent subject of criticism from Bahrain's Interior Minister, Rashid al-Khalifa. Khalifa discussed the threat posed by Iraq's complicity in some elements of the Hashd al-Shaabi (PMU) and Iran providing training to expatriates, fearing their return to the kingdom. On May 8, that stance sparked some reports of Abadi directing his Interior Minister, Qassam al-Araji, to root out any training of non-Iraqis.
The training of non-Iraqi Shia within Iraq's boundaries is troubling. This issue is of growing importance for U.S. policymakers as deaths increase in both Bahrain and, more recently, in Saudi Arabia. The issue also potentially drives a wedge between U.S. allies such as the Gulf States and Iraq, and it undermines Iraq's economic recovery and foreign policy objectives.
Historical Context
Prior to the Islamic Revolution of Iran in 1979, Shia calls for a turn to political Islamism stemmed from Iraqi centers of religious thought. Specifically, two contending groups, al-Da'wa and the Message Movement, competed for authority. Al-Da'wa adopted the political theories of Hawza 'Ilmiyya in Najaf while the Message Movement reflected the positions of Mohammad al-Husayni al-Shirazi, based in Karbala. The religious authority of Najaf spread al-Da'wa to Shia population centers along the Gulf in Bahrain, Kuwait, and the Emirates. Conversely, the followers of Shirazi directed their efforts at Bahrain, Saudi Arabia, and Oman. Both groups sought to politically mobilize regional Shia. Shirazi's followers became known as the Shiraziyyin. Fearing any influence, the Ba'ath party drove both sets of Shia political thought out of Iraq in the 1970's.
In Bahrain, al-Da'wa and the Shiraziyyin movement wrestled for control of the country's majority Shia population. Shirazi's nephew Sayyid Mohammad Taqi al-Modarresi- the architect of the Shiraziyyin movement in Bahrain- established the Islamic Front for the Liberation of Bahrain (IFLB), and his brother, Hadi al-Modarresi, was appointed to run the operation. When the Iranian regime was overthrown in 1979, Hadi al-Modarresi and the Shiraziyyin movement became the legitimate representation of Khomeini in Bahrain. In August of 1979, Modarresi was arrested by the state and deported to Iran. From Iran, the Modarresi circle headed the 1981 coup attempt and then directed the Islamic Action Organization - an Islamist paramilitary organization - throughout the 1980-1988 Iran-Iraq War.
Shirazi settled in Qom in 1979 and formed an organization promoting Islamic Revolution in Iraq and the Arabian Peninsula. In 1982, al-Da'wa, weakened from the war, joined the Shiraziyyin groups to form the Supreme Council of the Islamic Revolution in Iraq (SCIRI). Iranian revolutionary movements across the Gulf took advantage of the existing foundation set by Shirazi and al-Da'wa. Throughout the 1980's, Iran exported the Hezbollah model to groups of Gulf Shia such as Hezbollah al-Hijaz in Saudi Arabia or Islamic Jihad and Islamic Da'wa Party in Kuwait. In 1997, Kuwaiti officials arrested thirteen Bahrainis and two Iraqis in Kuwait City, planning attacks under the name Hezbollah Gulf. During this time, Shirazi functioned as the spiritual leader for elements of the Movement of Vanguard Missionaries.
More recently, during the suppression of protesters in 2011, several Shia militants organized themselves in opposition to the ruling Khalifa monarchy in Bahrain. Groups with links to Iranian funding like Saraya al-Mokhtar, Saraya al-Ashtar, Saraya al-Karar, and Saraya al-Muqawama al-Shabiya supplemented the existing Bahraini Hezbollah. Even though Kuwaiti Shia enjoy greater societal integration than those in Bahrain or Saudi Arabia, some likely took advantage of the trans-border network of Hezbollah franchises. On November 27, 2012, security services arrested three Kuwaiti military officials on suspicion of links with a terrorist cell plotting explosives attacks on embassies in Bahrain and Qatar, and the King Fahd Causeway connecting Bahrain and Saudi Arabia.
Bahrainis and Kuwaitis in Iraq
Some Bahraini and Kuwaiti Shia militants crossed into Iraq, with reports suggesting that fighters entered the country as religious tourists. Each year millions of Shia worshipers enter Iraq to convene in the holy city of Karbala. Other reporting suggests the number of Bahrainis fighting in Iraq are estimated to number 40, followed by Kuwaitis numbering near 30, and the total number of Gulf fighters exceeding 150. Social media posts place members of the Bahraini group, Saraya al-Mokhtar in Iraq among the PMUs. The vocal face of Bahraini, Kuwaiti, and Gulf Shia militants in Iraq is a man named Maytham al-Jamri. Jamri appears on several media networks, including Harakat al-Nujaba's Nujaba TV and Da'wa owned Beladi TV. Jamri claims a connection to a PMU training camp near Najaf that he calls "Free Manama," a reference to the February 14 Youth Coalition of Bahrain). The Kingdom of Bahrain issued a warrant for his arrest, linking him to terrorism. 
Now some of these militants are coming home and putting their combat experience to use, whether or not their trainers intended to organize militancy abroad. Bahrain has arrested militants trained in Iraq who return to the kingdom to carry out attacks. For example, on August 13, 2015, the Bahraini Ministry of Interior arrested Qasim Abdullah Ali, who they claim trained with Hezbollah in Iraq before smuggling explosives back to Bahrain. On March 4, 2017, Bahrain's Interior Ministry unearthed a large terrorist cell that included twelve men based in Iraq and Iran, ten escapees from the January Jau Prison operation, and one operative based in Germany. A few weeks later, the Bahrain News Agency  announced another series of arrests, breaking up a fourteen-man cell plotting to assassinate senior officials. Bahrain reports five members were trained in Iraq by Kata'ib Hezbollah. The Interior Ministry stated that the cell was working under its leaders, Qassim Abdullah Ali and Mortada Majid al-Sanadi, living in Iran. That same month the U.S. State Department designated Sanadi and another man, Ahmad Hasan Yusuf, as Specially Designated Global Terrorists for affiliation with the Bahraini group Saraya al-Ashtar.
In Kuwait, authorities face similar challenges. On August 14, 2015, Kuwait uncovered a total of 19,000 kg in ammunition, 144 kg in explosives, 68 weapons, and 204 grenades smuggled across the border from Iraq. The incident led to the subsequent arrest of 26 Kuwaiti Shialinked to Iran and Hezbollah.
Iraqi fighters within the PMUs regularly threaten violence against Gulf Arab leaderships for the suppression of political and religious rights within the Gulf Shia communities. On June 21, 2016, the Secretary General of Kata'ib Sayyid al-Shuhada warned the Bahraini monarchy and called for supporting the Shia resistance after a prominent Shia cleric was stripped of his citizenship.  Almost exactly a year later, Qais al-Khazali, the Iraqi leader of Asa'ib Ahl al-Haq, also called for armed violence against the Bahraini and Saudi governments. On February 18, 2017, Kata'ib Hezbollah, a PMU faction designated as a terrorist group by the United States, stated its support for the militant operations by Bahraini Saraya al-Ashtar against the monarchy. The Kata'ib Hezbollah leader Abu Mahdi al-Muhandis was convicted in absentia by Kuwait for his role in the 1983 Kuwait bombings and is a U.S.-designated terrorist, as well as the official deputy commander of the PMU. On May 6, 2017, Akram al-Kaabi, the Iraqi leader of Asa'ib Ahl al-Haq splinter group and PMU faction Harakat al-Nujaba, threatened Bahrain.
These words have material impact. Iraq is a key transshipment point for increasing amounts of firearms and explosives that are reaching Bahrain and Saudi Arabia. On December 30, 2013, the Bahraini coastguard intercepted a boat traveling from Iraq carrying explosives, including 50 Iranian-made grenades and nearly 300 explosive devices labeled "Made in Syria."  On May 8, 2015, Bahraini officials arrested an Iraqi driver attempting to smuggle advanced armor-piercing explosively formed penetrators (EFPs) charges across the King Fahd Causeway. Then, on May 18, 2017, the Kuwaiti coastguard intercepted a boat of armed Iraqis heading for Kuwait.
Policy Implications
This tension drives key allies apart. Bahrain, Kuwait, Saudi Arabia, and Iraq are security partners to the United States. The unnecessary tension between these states creates an unwanted complication for U.S. defense planners. Transnational Shia militias make it more likely that U.S. allies in the Gulf will inadvertently kill Iraqi citizens. Diplomatic crises could result in blame on the Iraqi state for militancy in the Gulf; Iraq itself is hurt by sub-state militancy. Kuwait is due to host a vital Iraqi reconstruction conference this year, and Iraq's Prime Minister is trying to roll out a new foreign policy of neutrality in the region's sectarian Cold War. Last month, Abadi took a diplomatic tour featuring high-profile stops in Riyadh and Jeddah, as well as Tehran and Kuwait City; even Iraq's influential Shia leader Muqtada al-Sadr has travelled to Saudi Arabia, for the first time since 2006, and the Emirates' Iraqi engagement abroad may result in crackdowns at home on aggravating factors for Gulf States.
In a fiery speech on August 5, 2017, Abadi strongly denounced dissolving the PMU. As the PMU coagulate under the authority of the prime minister, Iraq will need to address who is responsible for the removal of rogue elements, a problem only further exacerbated by upcoming elections. Abadi's legislative hands may be tied in the short term. This issue will also require the United States' sustained attendance; for example, diligently implementing counter terrorism methods such as the Office of Foreign Assets Control (OFAC) against designated groups like Kata'ib Hezbollah and Asa'ib Ahl al-Haq.
Ultimately, Iraqi lawmakers will need to establish a legal infrastructure that sternly limits PMU operations and personnel. It is difficult to discern which PMU groups trained volunteers blind to nationality and which groups knowingly trained foreigners with malicious intentions. The best practice - legally removing all non-Iraqis from Hashd al-Shaabi training programs - is a win-win-win for Iraq, regional states, and the United States.