A Fifth Presidential Term for Bouteflika?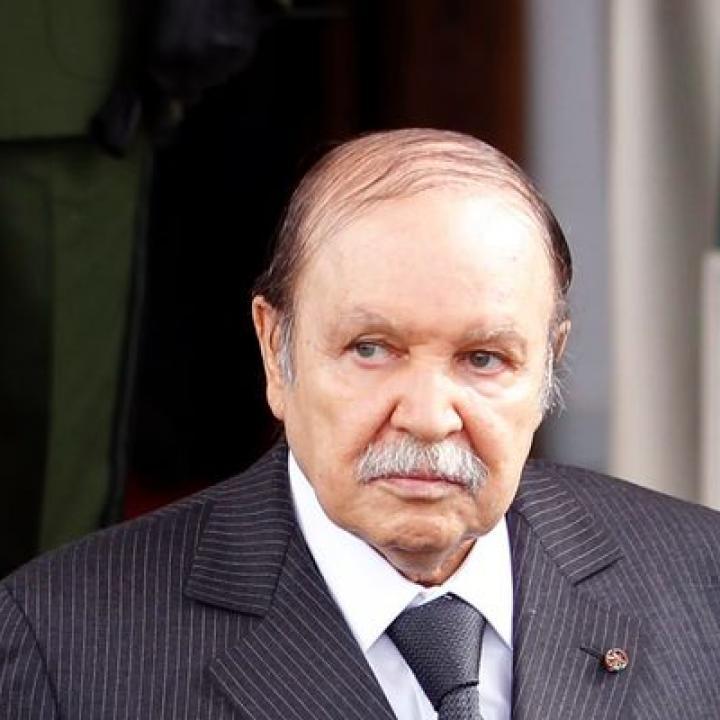 With Algeria's presidential elections scheduled in April 2019, calls are now being heard from within the Algerian regime for President Abdelaziz Bouteflika to run for a fifth term. This messaging has caused controversy and confusion among Algerians, who are wondering about the unexpressed reasons for regime figures to insist on calling upon Bouteflika to run again for office despite his illness. This confusion within the general public reflects how the Algerian administration has become unpredictable and inscrutable.
One of the reasons that this move towards a fifth term for Bouteflika is surprising is that it would be against the Algerian Constitution: the February 7, 2016 constitutional amendment limits the presidential seat to two terms. Still, some Algerian constitutional experts affirm that Bouteflika has the right to run again in 2019 because his position is "grandfathered" into the new constitutional amendment. However, Bouteflika's decision to run for office, even if constitutionally acceptable, could lead the country towards a dangerous level of instability. Nevertheless, regime insiders currently appear committed to a continued Bouteflika presidency.
In his speech before the Council of the Nation—Algeria's upper house of parliament—the President of the Council, who is second to the President in the Algerian government, urged Bouteflika to carry on the mission of Algeria by running for a fifth term. Just hours later, the Speaker of Parliament reiterated this sentiment. The justification given by both men is that Bouteflika is the only person capable of dealing with the challenges that Algeria faces at home and abroad. Ahmed Ouyahia, Prime Minister and Secretary-General of the pro-regime National Rally for Democracy, has also called for President Bouteflika to announce his stance on continuing in office. his call was echoed by the secretary-general of the National Liberation Front (the majority party in Parliament), who confirmed that its presidential candidate would be Bouteflika.
Administration members' enthusiasm for Bouteflika can be partially explained as a reflection of the regime's general tendency to sanctify continuity, rather than as a reflection of a specific individual or party interests. These figures have rushed to nominate a president who has barely addressed the public since 2012, suggesting a desire for stability over new leadership. Indeed, appearances by eighty-one year-old Bouteflika have become rare since a mini-stroke in 2013 left him in a wheelchair and impacted his speech, although he has since won a fourth term as president. Bouteflika's recent public visibility, appearing several times in the past few weeks at the Ketchaoua Mosque and the Great Mosque of Algiers project seem to be linked to his potential new bid for retaining the presidency.
The opposition accuses the president's inner circles, particularly his youngest brother Saïd and a group of associated moguls, of taking over power and state institutions by taking advantage of Bouteflika's health conditions. The president's challengers point to Algeria's stifling economic crisis, recent crackdowns on freedoms, and opposition in the country as signs that the current political arrangement is untenable for another term. 
Last May, fourteen Algerian opposition politicians, activists, jurists, and academics, led by former Prime Minister Ahmed bin Beitour, sent a letter to President Bouteflika directly, urging him not to yield to the calls for a fifth presidential term because it would be "a disaster for himself and the country." In that letter, signatories told the president that "vicious forces have rallied to push you toward a fifth term" and warn "of the terrible mistake you are making by rejecting the voice of wisdom that addresses human conscience in fateful times." Although these opposition figures argue that their advice is for the good of the country rather than any particular political interest, their influence on this is limited given how divided and politically weak they have become after government crackdowns.
As of now, all signs indicate that Bouteflika's decision to run for a fifth term is more or less final. Yet regime insiders should take a last look at this policy before moving forward; continuing with the status-quo in Algeria would open the door wide to a political movement beyond Algeria's current opposition, sparking instabilities that Algeria can ill afford given its regional and domestic challenges.
Algeria's economic future is fragile; oil prices continue to decline in international markets and the government has failed to diversify the economy, which is currently around ninety-five percent dependent on oil revenues. In addition, overall public frustration with the government and its economic and social policies has intensified due to the high unemployment rate, widespread crime, and the poor purchasing power of Algerians. To make things worse, as of early 2019, the government plans to abandon its subsidy policy on basic products like fuel and electricity, a step that would unleash public rage with potential consequences for those in power.
Despite these economic threats, the political scene has reached a stifling stalemate, with the government completely disregarding its oppressed opposition's calls for comprehensive political reform before popular ire takes hold. Freedom of speech and expression in Algeria are largely suppressed; Algerian courts are flooded with frustrated bloggers prosecuted on the charges of "insulting an official institution." Independent media outlets are also facing unprecedented suppression, with sources of public and private advertisement cut off—a tactic that has caused dozens of newspapers to go bankrupt.
Nor is Algeria's regional security situation stable. The country's large borders are a ticking time bomb as terrorist activity intensifies in neighboring countries, especially Libya and the coast. The increasing number of refugees heading toward Algeria on their way to Europe also presents an unprecedented dilemma for the government. Meanwhile, Algerian diplomacy is at its worst: because Bouteflika is too sick to travel, Algeria has disappeared from the international and regional arena of diplomacy, negatively impacting its relationships with regional and international partners.
In light of the dire situation facing the country from the economic, political, and security sectors, nominating Bouteflika for an illegal fifth term would likely serve as a catalyst to much larger instabilities than the regime is currently combating. Leaders must instead take the initiative and look for new ways to overcome Algeria's dangerous situation. Developing a dialogue with independent politicians and economists to begin the process of implementing political and economic reforms would be a powerful first step towards positive change.
Were regime insiders to so choose, the next presidential term could serve as the start in the right direction for Algeria, starting with honest, free, and transparent elections that could create legitimate state institutions supported by the public. Transparency can only be guaranteed if elections are run based on Algeria's constitutional amendments and if an electoral commission is formed independently from the Ministry of Interior. The opposition has requested an independent electoral commission for years, a suggestion that has of yet been ignored. Nevertheless, now is the time for the regime to avoid making Algeria's situation worse and take advantage of what may be a golden opportunity for Algerians to move towards an electoral field that looks beyond Bouteflika.