Erdogan, Davutoglu, and the Kurdish Vote in Turkey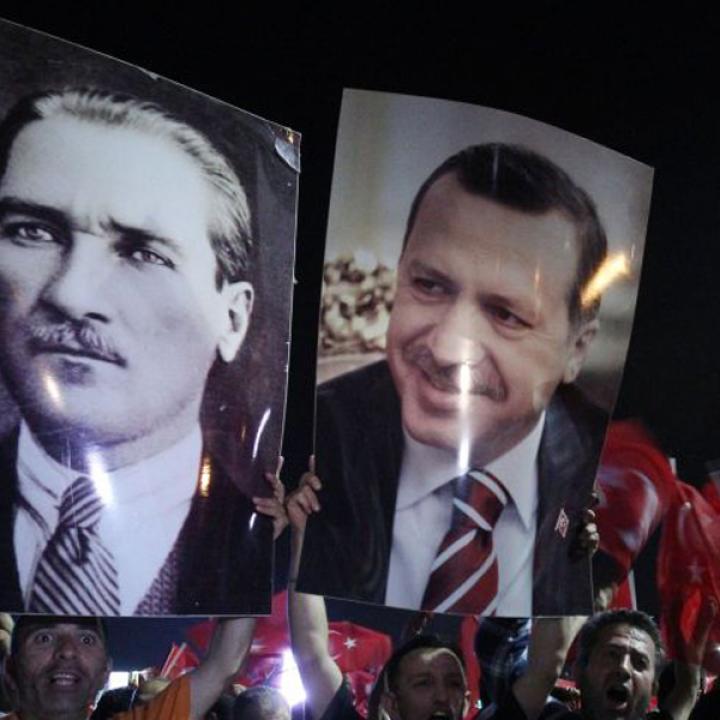 After considerable consternation in U.S. congress against Turkey's incursion into Syria, and a subsequent successful visit by Turkish president Recep Tayyip Erdogan to the White House in mid-November, much attention in the United States has been focused on Turkey's foreign policy agenda. However, Turkey's foreign policy in Syria is deeply driven by domestic politics, including its concerns regarding any efforts of its local Kurdish population to work towards autonomy and specifically the presence of the Kurdistan Worker's Party (PKK), which Turkey considers a terrorist organization.
Moreover, Turkey has internally continued its ongoing investigations into the pro-Kurdish Peoples' Democratic Party (HDP), which it escalated earlier this year by forcing several recently elected mayors from this party to resign. Simultaneous to Turkey's incursion into northeastern Syria, the "anti-terrorism" initiative launched against Kurdish politicians, particularly within the HDP, gained enormous traction.
Internally, pro and anti-Erdogan parties have supported the invasion, but the HDP opposed what it has described as an "occupation"—a stance that could subsequently mobilize Turkey's Kurds and export the "Kurdish crisis in Syria" to Turkish territory. Relations between Erdogan's government and the country's Kurdish population have often been poor, but the further erosion of these relations during the past few months have convinced some ex-Justice and Development Party(AKP) politicians that Turkey's Kurdish population is a potential new avenue for support.
With the AKP's embarrassing double loss in local Istanbul elections last spring, Erdogan has since faced increasingly sharp criticism not just at the hands of leaders of the country's two main opposition parties—the Republican People's Party (CHP) and HDP—but from some former senior members of his own party. Notably, Ahmet Davutoglu, a former AKP prime minister and a prominent politician once known as Erdogan's and his party's "mastermind" has recently formally split from the AKP after carefully distancing himself for years.
Davutoglu resigned from the AKP in mid-September 2019 after the AKP central committee unanimously agreed to expel him from the party. This expulsion was prompted by his criticism of AKP's loss of the Istanbul Metropolitan Municipality and the government's decision to remove tens of the country's Kurdish HDP mayors on unsubstantiated charges of 'terrorism,' among other AKP policies.
The resignation of Davutoglu marked the second of its kind after economist Ali Babacan resigned from the AKP in a similar manner in July. Erdogan and his party, which used to depend on Babacan for his economic expertise, have now turned Erdogan's son-in-law Berat Albayrak, the country's current Finance Minister, to play a similar role. Babacan has just recently stepped back into the public sphere after resigning with an interview confirming his decision to form a new party to challenge the AKP.
Both Davutoglu and Babacan are attempting to form new national parties to disrupt the hegemony of Erdogan's AKP and are seeking to capture votes from their former party's support base. Both have announced the formation of these parties to compete against Erdogan, decrease the AKP's popularity, and isolate the AKP from its preexisting alliance with the Nationalist Movement Party (MHP). With the most recent national election held in 2018, Turkey is not due for another election until 2023. Yet there are some suggestions that elections may be held early, and two former key AKP members—both of whom presenting potential alternatives to AKP's base—pose a new kind of threat to Erdogan's party. By the government's own figures, AKP membership has decreased by 10 percent in the past year, which suggests a new opening for both Davutoglu and Babacan among disillusioned AKP supporters.
However, both Davutoglu and Babacan will have to attract support outside of this demographic as well to be effective contenders to the AKP itself. The question of Kurdish support recently more salient given Turkish Kurds' frustration with Erdogan and the importance of their votes in securing the loss of AKP during the Istanbul elections. It appears that Davutoglu in particular may see the Turkish-Kurdish vote as a potential demographic for support, especially given his public rejection of the government's decision to remove the HDP mayors as a clear erosion of democracy.
As it now stands, it is unlikely that Kurds will support Davutoglu and his current efforts to build a base—particularly since he has done little to nothing about the violations the government has committed against the HDP. For example, Davutoglu has yet to criticize the detention of the HDP's former co-chairman, Selahattin Demirtaş, who has languished in prison for three years. Davutoglu' silence on this key issue suggests that he agrees with the current "ruling" party's policies toward the Kurds.
Due to these and other ways in which the two leaders have failed to criticize AKP policies over the years, it is safe to assume that it will not be easy for Davutoglu and Babacan to appear different enough from AKP to skeptical voters—unless they are willing to make a serious effort to break with their former party's discriminatory practices.
Nevertheless, these two figures do possess enough public recognition and credibility to pose a serious threat to Erdogan in Turkey's future elections. The AKP is in an increasingly perilous position, now having to compete against Davutoglu and Babacan's two new parties in addition to the opposition CHP and HDP.
Turkish opinion polling bears out this view, showing that Erdogan's party is losing popularity amid its recurring losses. As the value of the "Turkish currency" continues to fall, the "ruling party" is likely to continue to lose popularity until elections are held, making it a matter of when, not if, Erdogan will have to contend with serious critiques of his tenure from all sides.
Depending on the ability of Davutoglu and Babacan to distinguish themselves from the AKP's abuses of power, the process of forming these new parties, expected to begin in early 2020, is likely to mark a historic moment in Turkey's political history. And for a political party already in decline, Turkey's recent political decisions will further alienate any remaining Kurdish support that they might have had, making this vote a potential option for the ex-AKP leaders if they are willing to more overtly criticize the AKP's policies towards Turkey's and Syria's Kurdish population.
If Erdogan's party cannot learn from its previous mistakes and make proper reforms—like the ones Davutoglu called for before he resigned, the AKP risks becoming an emaciated party, incapable of fighting on multiple fronts—either foreign or domestic.