Dabiq: The Problem and Solution to the Syrian Crisis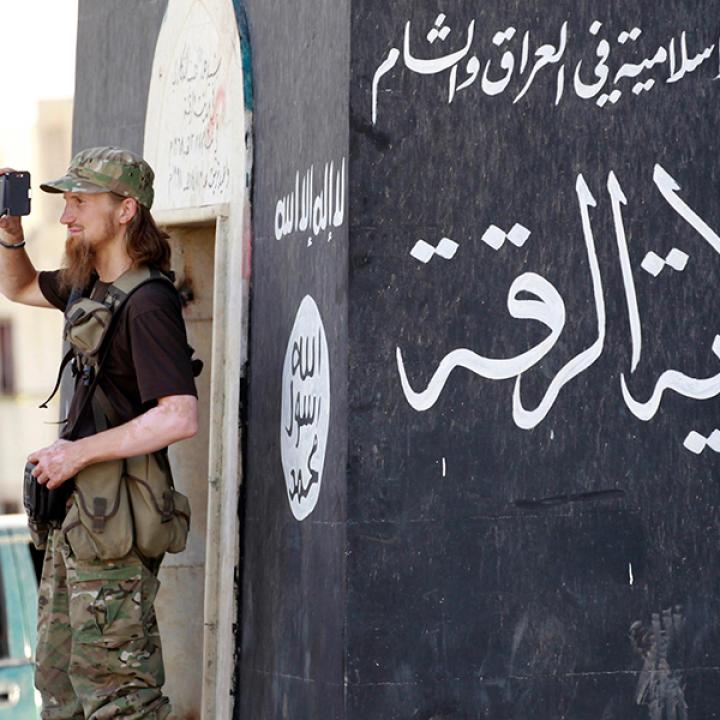 The Islamic State (ISIS)'s siege of Mare' in the countryside north of Aleppo near Dabiq has once again brought this Syrian town into the public eye. It is one of ISIS's latest conquests in a string of newly captured strategic villages such as Kafr Kalbin and Jibrin during the end of May, blocking the only road linking Mare' to the border town of Azaz. The attack on Mare' was not an unexpected event. Rather, it was a natural extension of the current situation of Aleppo's northern areas, particularly in the area extending from Azaz to Mare' and al-Ra'i.
Over about the past six months, the armed opposition brigades have not been able to resolve ISIS's increasing incursions for a number of reasons. These challenges range from the ideological to the practical. Many of the elements within Islamist brigades remain unconvinced about the permissibility of fighting ISIS. A large number of fighters consider ISIS members to be their brothers and followers of the same religion. Thus, religious law prevents them from fighting ISIS, even if ISIS's extremism has become evident.
The absence of a unified leadership able to gather together a sizable number of brigades has also led to the failure of any collective action to address ISIS. Furthermore, the great divisions between factions—which only continue to grow—have led to a lack of trust. When any operation against ISIS fails, each faction blames the other for its failure. Media campaigns against one another, often with accusations of betrayal and selling arms to ISIS and al-Nusra Front, only complicate matters further.
ISIS's continued control of Dabiq is also a strategic and ideological strength for the organization. ISIS relies on its control of Dabiq to strengthen its military position, Islamic legitimacy and its right to lead Muslims in the great apocalyptic battle of Dabiq.
Other factors, such as a lack of combat skill and a failure to seek aid from leaders with a military background capable of major strategies, have also affected the plans. Together, these reasons have made the region between Mare', al-Ra'i, and Azaz a place where chaos prevails. ISIS's recent capture of Mare' is the outcome.
During the battle, many of the resistance brigades escaped to Azaz, leaving the civilians in a deplorable condition to face ISIS's terrorism alone. After many appeals from civilians, the Syrian Democratic Forces (SDF) took action and secured a humanitarian corridor from Mare' through Shaykh Issa to Afrin. Humanitarian activists, myself included, served as these intermediaries between besieged citizens and armed forces, transmitting numerous messages from locals to the leadership of the Syrian Democratic Forces. According to the UN Office for the Coordination of Humanitarian Affairs (OCHA), 9,000 civilians fled through this corridor secured by the SDF. Here, it should be noted that if humanitarian organizations had turned their attentions to safe areas like Afrin and had provided adequate assistance to displaced people there, a large proportion of these displaced people would not have been forced to consider illegal migration.
We had been betting on the fact that the action of the SDF to open a safe passage for trapped civilians would be a step towards building a full agreement between opposition brigades and the SDF on uniting efforts and fighting together against ISIS under one banner. However, interference on the part of some countries in the region, such as Turkey, hindered this agreement, leaving the situation stacked in ISIS's favor. Turkey needed factions that obeyed its orders to shell the Sheikh Maqsood neighborhood of Aleppo and villages of Afrin. However, this escalation increased the lack of trust between the SDF and opposition brigades. Videos from Mare' of elements belonging to certain opposition factions mutilating ISIS corpses further complicated matters. This manically violent behavior has made Kurdish citizens wary of any agreement with fighters that engage in the same crimes against humanity as ISIS. Unfortunately, radical groups dominate the fight against ISIS in the countryside north of Aleppo, particularly al-Nusra Front and its allies in the Army of Conquest, such as the Sham Legion and Jaysh al-Sunna.
The areas stretching from west of the Euphrates through Jarabulus, al-Bab, Manbij, al-Ra'i, Dabiq and Mare' to Azaz are, in the eyes of many, the most complicated knot in the Syrian crisis. Yet this same area could become the key to a wider solution if  the civilians of those areas were liberated.
Upon liberation, these people could announce their true position that they relay to us in secret. They want to unite the efforts of the people of the Aleppo countryside—both Arabs and Kurds—to expel ISIS completely, providing a permanent end to the back and forth battles that have been occurring over the past few months between ISIS and opposition brigades. They want to begin to manage the affairs of their areas through an administration that is humane, believes in the culture of life, that human beings are precious and that all human beings are created equal and endowed by their creator with inalienable rights. These include life, liberty and the pursuit of happiness, as spelled out in the American Declaration of Independence of July 4, 1776. As a Syrian, I look forward to possessing a document of our own like this soon, one that will rebuild the people, the country, and drive terrorism out of Syria.
Rezan Haddou is a member of the Syrian Democratic Council and an Afrin-based political analyst.  His articles have appeared in numerous Kurdish, Arabic, and Western newspapers and websites. He is frequently interviewed by regional and international media about the developments in Syria general and Aleppo specifically. This article was originally published on the Fikra website.