Black Islam in America: Renouncing Radicalism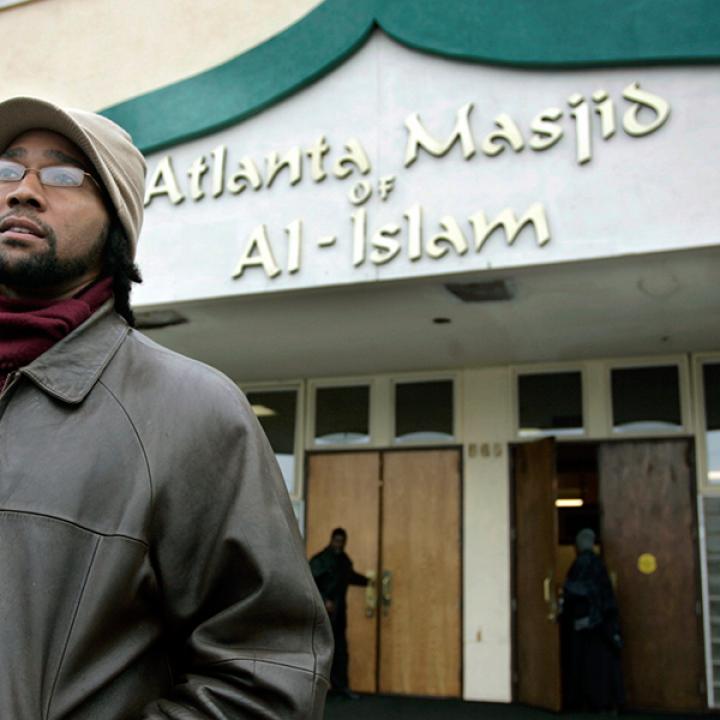 March 10, 2016
"It is a religion that raises us up, makes us more loving and giving citizens of our country." With these words, many Muslim African Americans have connected with their ancestors' contributions to civil rights movements and the embedding of the principles of justice and equality in American society.
The history of Muslims in the United States of American stretches back more than four hundred years, with waves of the slave trade in the early seventeenth century bringing the first documented Muslims to America. Statistics indicate that approximately one fourth to one third of Africans brought to the United States through the slave trade were Muslims. Though the faith of these men and women was often forcibly excised from the record, a reconnection to this tradition has inspired recent generations of black Americans, who now represent approximately one fifth to one third of Muslims in America. In light of the recent waves of radicalization as embodied by ISIS and the United States' own domestic terror attacks, some have taken notice of the moderate nature of the Islamic thought practiced by Black Muslims, which mirrors the historically moderate interpretations of Islam found in much of West Africa.
The embrace of moderation was by no means guaranteed, especially as the movement towards Islam gained steam during the sixties in the midst of Civil Rights struggle. Some proponents of Islam then adopted an approach of violence, racism, and a split from the state. But these groups largely failed to inspire Muslim African Americans, who overwhelmingly favored the path of traditional, moderate Islam. It appears both the successes of the Civil Rights Movement and the notions of West African Islamic thought helped to create the communities visible today.
The resurgence of Islam first appeared in response to the continuing racial segregation in the 1930s. The Nation of Islam movement then emerged through the efforts of Wallace Fard, who worked as a preacher at a mosque in the city of Detroit. Later, Elijah Muhammad, the son of a Georgian agricultural worker, became the movement's leader. But Muhammad began embracing an extremist and racist philosophy, preaching black superiority over white people, whom he described as 'the devil.' The Nation of Islam inspired later movements such as Black Power movement, which dismissed the peaceful approach adopted by the Civil Rights Movement led by Dr. Martin Luther King Jr., and the Black Panthers, who abandoned religious discourse and focused on popular revolutionary struggle to achieve social justice and liberation for black communities.
But this period also saw one of the most important activists of the Nation of Islam: Malcom X. Although a student of Elijah Muhammad, Malcom X split from the group and adopted a Sunni approach In 1964, encouraging many African American Muslims to adopt a moderate orthodox approach to Islam. Moreover, Elijah Muhammad's youngest son Warith Muhammad took over leadership of Nation of Islam after his father's death and addressed Malcolm X's concerns by abolishing Elijah's racist teachings, removing the group's aspirations to create a state, and explicitly recognizing American law. This returned the group to the path of moderate Sunni Islam.
These intellectual reforms and methodological changes in Nation of Islam thought also developed a schism within black Islam in America. The larger of the two groups ascribes to orthodox Sunni practices, while the smaller second branch, led by Louis Farrakhan, adopted a separatist ideology and a desire to return the Nation of Islam to Elijah Muhammad's model. Today, the great majority of black Muslims have adopted orthodox Sunni Islam.
This moderation remains the main characteristic of contemporary Muslims in America, despite the hard-pressed efforts put forth by radical extremist movements such as ISIS and Al-Qaeda to incite and recruit African American Muslims. For example, ISIS attempted to use recent police killings of African Americans to pit Muslim communities against the American government. Following the outbreak of protests the day after Michael Brown was killed on August 9, 2014 in Ferguson, Missouri, ISIS attempted to incite Ferguson protestors and other Americans of African descent against the American administration by tweeting with the hashtags #FergusonDecision, #FergusonRising, #BeLikeMalcom, and #FightBack. Al-Qaeda not only encouraged both Muslim and non-Muslim African Americans to participate in Jihad and join Islam in order to end racist practices in the United States, but also encouraged those who could not emigrate to wage jihad from within the United States. Inroads into this community would have represented a significant tactical gain for these terrorist organizations, which could then sidestep the problem of importing terrorists into the United States. Even before Ferguson and the Black Lives Matter movement, Ayman Al-Zawahiri described President Barack Obama as a "house slave" in 2008 and criticized him for abandoning his Muslim roots. Al-Zawahiri added that Obama had chosen to align with enemies of Islam despite the fact that his father was a Muslim.
However, African American Muslims have ignored these attempts to manipulate the domestic movements against police brutality. Moreover, the Council on American-Islamic Relations has responded as follows: "As Muslims and as Americans, we will never let terrorist groups or terror leaders falsely claim to represent us or our faith."
Perhaps contemporary Muslim African Americans have been inspired by the moderate Islam brought over by the slave trade, one of the cruelest experiences in human history. A large number of these Muslims forced into slavery were proficient in the Arabic language and read the Qur'an. Over the past thirty years, many African American Muslims have demonstrated a great interest in West African history, and the number of tourism companies organizing trips to historic religious sites in the region has increased. Many American families have visited West Africa to memorize the Qur'an and visit orthodox religious instructors. These visitors are primarily exposed to religious institutions and leaders who are moderate and reject extremism. Although West African Muslims are often critical of U.S. foreign policy, analysts believe the religious and cultural diversity of many West African countries have created a tolerant Islamic culture when compared to countries where extremism has become a major issue. In these countries, inter-religious marriage is permitted, which greatly increases tolerance between faiths. Within one family, you may find individuals who embrace Islam, Christianity, or Animism.
The current Islamic teachings in West Africa reflect that the Sunni school of thought which was once a source of peace, nonviolence, and rejection of racism. Unfortunately ISIS, Al-Qaeda, the Al-Nusra Front, and other groups that claim to teach the 'true' Sunni Islam have come to represent a significant threat, not only to the security of the United States, but to the security of the world at large. And there are still open outlets for the spread of the radical Saudi strain of Sunni thought known as Wahhabism in the West. Notable among these outlets are American prisons: the Kingdom of Saudi Arabia has placed spreading extremist Islam in America among its top priorities and funds Islamic Da'wa programs within the prisons through the National Islamic Prison Foundation. These prisoners are only exposed to fundamentalist Wahhabi thought and may come to believe that this is the only valid interpretation of Islam. Thus, the United States must make note of the lessons and educational materials used in these programs.
In contrast, many American Muslim leaders and Da'wa groups repeatedly emphasize the principle of freedom of expression and are also active in promoting and supporting the principle of civil freedom for all citizens, both within the United States and abroad. Approximately twenty Muslim organizations recently issued a statement condemning the threats and acts of intimidation committed against various religious groups and individuals.
African American Muslims today are deeply concerned about the wave of extremism that has swept the world in the name of Islam, and reports indicate that in past years, they have played a major role in informing authorities about potential terrorist activities. African-American Muslims have reported approximately 40 percent of reported terrorist plots hatched against the United States over the past decade.
Thus it is clear that Muslims of African descent serve a crucial purpose in American society as a shield against radical ideas, and African American Muslims' integration. The adoption of moderate religious rhetoric has helped thwart the efforts made by violent extremist organizations such as ISIS and Al-Qaeda to preach a distorted and extreme interpretation of Islam. The American government should take a greater interest in these ethnic groups from economic, social, and cultural standpoints. Their support may be the key to preventing extremist organizations from attempting to sow the seeds of violence and extremism on American territory from penetrating immigrant Muslim communities. In general, the American administration must also work further on integrating Muslim immigrants into American society, especially those who were forced to leave their countries and homes to escape the hands of these extremist groups, and to teach them the values of freedom and equality that so many Americans of all backgrounds hold dear.
Mohamed Ahmed Abdelaziz is the Arabic editor for Fikra Forum and former project officer for Freedom House. This article was originally published on the Fikra website.