Armed with Paintbrushes: Kurdish Female Artists Fighting for Equality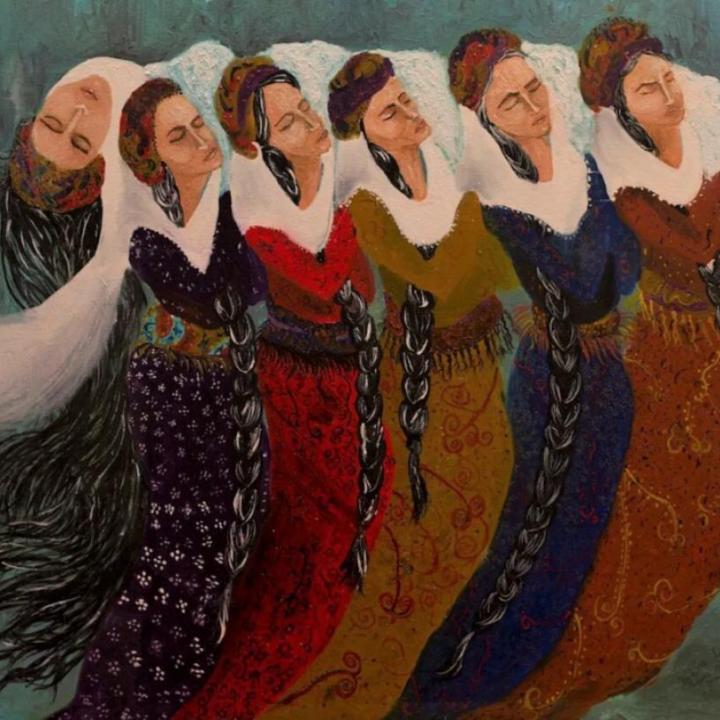 Kurdish women use art as a powerful tool to represent what it means to be a Kurd, a woman, and a human being.
Art is a cultural pillar of any society, while gender equality and political freedoms help societies thrive. Within Kurdish societies, these two elements have recently begun fusing together, resulting in a powerful medium for the women of Kurdistan to tell their stories and preserve the collective spirit of an occupied stateless people. And because of the political conditions under which an estimated 30-40 million Kurds live, especially in areas where their language has been banned and villages destroyed, cultural creation becomes a form of resistance.
As a consequence, even non-political art is itself a rebellious act of self-affirmation. When such art pieces are made and displayed by Kurdish women artists, the themes begin to intersect with overlapping forms of oppression—taking aim at the patriarchy and states occupying Kurdistan. This artistic impulse is natural, because for decades the "Kurdish Question" had been banned, criminalized, and hidden from the public square. This suppression of voice has meant that Kurdish women in particular have had a lot to say when finally given the chance.
These voices can now be projected artistically, and art can act as a tool to imagine a new, better society. And because art is often an expression of a society's collective imagination and a method for making sense of life, much can be learned through studying the intentions of artists and their creations. Many times, the message motivating these works is preserving a denied history or critiquing structures that are limiting Kurdish women's freedom. And like the Dengbêj music, known for capturing the personality and pain of the Kurdish people, artistic mediums like painting or photography are now offering up a visual representation of what it means to be a Kurd, a woman, and a human being
There is a large body of contemporary Kurdish art; the 2017 Imago Mundi volume In-Between Worlds: Kurdish Contemporary Artists, features 115 contemporary artists. However, the objective of this article is to highlight a few of the most notable Kurdish women artists to begin that larger conversation.
Art from inside a Prison Cell
One groundbreaking Kurdish woman artist who has gained international attention is Zehra Dogan. Dogan spent nearly three years in Turkish prison from 2017-2019 for her painting displaying the destroyed Kurdish city of Nusaybin, turned into rubble by Turkey's military. During her sentencing, the court accused her of "overstepping the limits of art." When the judge asked her to explain why she had painted the picture, she replied that the state had actually made the visual, she was just displaying their destruction—"You did it, I just painted it."
While imprisoned, Dogan continued her art despite the danger, recounting that "In prison, I had two choices: either to accept it and complain, or to try to continue with my art as a means of resistance." To ensure that she could continue making art during this years-long period, Dogan was forced to be creative in her paints and materials for her canvasses. With no paper, she used newspaper, cardboard, and clothes as canvases. For her paints, she used a wide array of items to form her color palette: crushed herbs to make green, kale for purple, pomegranates or blood for red, turmeric for yellow, ballpoint pens for blue, coffee grounds for brown, cigarette ashes for gray, and pepper for black. She then had her numerous artistic works smuggled out of the prison in the dirty laundry.
Upon her release, the 31-year-old artist then left Turkey and created a large exhibition of her works created while in prison, which she described as championing Kurdish feminism. In speaking to the outside world about the artistic culture that she represents, Dogan remarked, "the Kurdish art scene is changing rapidly at the moment and there is a wave of creative new artists." As for her place within the wider movement for change, Dogan stated, "Kurds have been fighting for our rights for 100 years now. Some choose to fight with weapons. We need to learn to fight through other means. For me, that is art."
And that battle is one Dogan sees as centered around remembrance and preservation of culture, with her recalling: "In my land, this memory has been destroyed for centuries. By suppressing our historical archive, they are trying to plunge us into amnesia, oblivion, non-existence. A people deprived of its memory is brought to its knees… In most of my works, documentation is very important. By painting, drawing on or from documents, I try to make them permanent."
When Society is the Jail
Alongside Zehra Dogan, there are many female Kurdish artists who are challenging conservative conventions and pushing for gender equality along with their human rights.
One notable exhibition came in June 2021, when the artist Niga Salam debuted "Basement" in the city of Sulaymaniyah. This exhibit showcased the works of young Kurdish feminist artists addressing questions around womanhood in Kurdish society. The curator described the works as part of a "new perspective" challenging traditional taboos and issues around the female body, such as plastic surgery, the presumed male ownership of female bodies, women's presence in public spaces, and conservative gender norms.
This exhibit highlighted another female artist pushing to transform Kurdish society, Tara Abdullah. In 2021, she launched her visual project "Mêyîne," which tells the stories of women subjected to violence. The project took three months to develop and combines pieces of clothing from 99,678 women who had suffered violence. Each of these women were interviewed and their clothing was combined into a 4,800-metre-long artwork of fabric running from Sulaymaniyah's Nali Park to the city Courthouse.
Artistic women from the Kurdish diaspora are also challenging societal expectations through their work. This is the case with Raz Xaidan, a Kurdish Londoner born in Sweden and raised in the UK, who then returned to Iraqi Kurdistan in 2014 to blend her two worlds together. As a mixed media artist and photographer, Xaidan experiments with archival digital imaging to recast old stories of Kurdish folklore and poetry with new pops of color. In her works, she purposefully leaves the women faceless, representing women's repression and the timelessness of their struggle across generations to the present day. When describing her artistic mission, she notes that, "Struggling against oppression can mean more than taking up a gun and going into battle. I am fighting against the absence of female led creative work in Kurdish society. A woman's revolution cannot be run by men in suits!"
The goals of Kurdish women artists are likewise aptly reflected in the story of Medya Armani. A painter from Serê Kaniyê in Rojava, she had to flee her city in 2019 when it was invaded by Turkey and their allied Islamist militias (such as Ahrar al-Sharqiya). After fleeing to Qamishli, she joined the city's Malfa Arts Centre to continue improving her painting. Her experiences led her to observe how, "The Rojava revolution has paved the way for us women artists. The revolution opened a wide public space for us to engage in. There has been a great transformation in perspectives towards women in society. The hidden talents of women have been revealed." Armani described her artwork and motivation by asserting that, "My paintings represent peace, nature and women and they also symbolize the co-existence of many religions in our region, where we live in peace. I express my longing for my city and my pain through my paintings as well."
Her last line is itself a good summation of Kurdish women's experience, a combination of hopeful longing and pain in a world where they are still awaiting gender equality and political freedom. Western media has learned something about the struggle of Kurdish women on the literal battlefield against groups like ISIS. Hopefully, a broader audience will also come to know of other arenas where the Kurdish women fight for their rights, armed with paintbrushes rather than guns.