The 25-Year Agreement between China and Iran: A Continuation of Previous Policy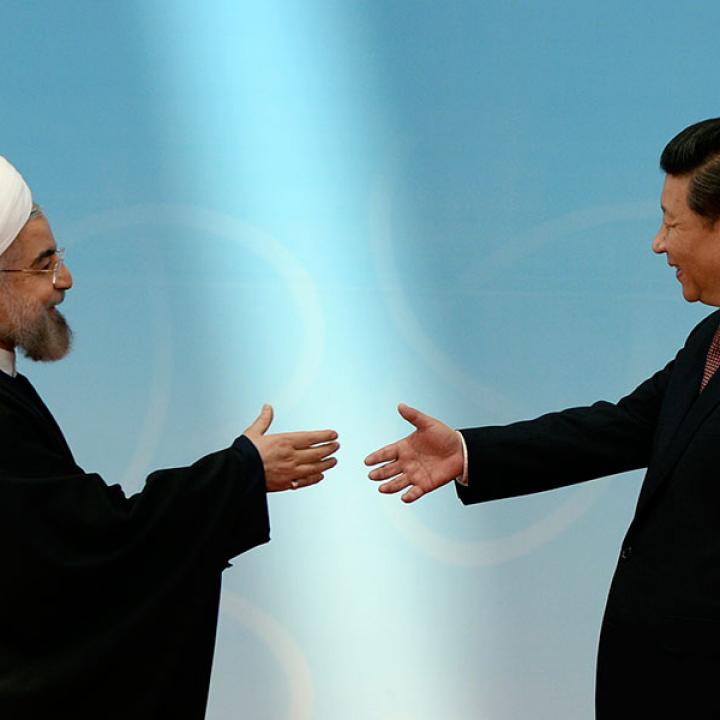 The recently announced 25-year agreement between China and Iran appears to have become almost an urban myth among Middle East watchers. The importance of the agreement has been exaggerated and even become the subject of conspiracy theories. It has been both demonized as a "shameful treaty" that enables China to exploit Iran's natural resources as claimed by Reza Pahlavi in his twitter, or as a sign of "Chinese expansive policy" which allows China to deploy soldiers globally.  
Those claims either fit the political stance of the exiled political dissents from Iran who would like to label the current Iranian regime as "selling out interests to foreigners" or fit the overall anxiety of Western society toward a so-called "aggressive Chinese expansion." However, these assumptions are misunderstanding the agreement; it does not have any sort of revolutionary dimension for the China-Iran relationship. Rather, the agreement is mostly a gesture of friendship and the natural and unsurprising continuation of the relationship between the two states. China does not plan to and will not deploy soldiers in Iran, nor does it plan to pick any sides among the regional conflicts in the Middle East. 
Everyone's Economic Partner: China's Consistent Strategy in the Middle East
The Middle East is consistently important to China because of its massive demand for oil from the Middle East to support China's manufacturing industries, but the region has never been in the core interests of the Chinese foreign policy. During the Maoist era, China's regional interests were driven by a strong ideological stance aiming to confront "U.S. Imperialism and its regional proxies." During this period, China would affirmatively side with Nasser's Egypt and Arafat's Palestine while almost entirely refusing to deal with U.S. regional allies such as Israel. But after China's economic reforms, its foreign policy has become less ideological, moving from "supporting justice in the Third World" to "becoming every regional actor's friend." The core strategy of China in the Middle East is to emphasize economic cooperation while avoiding political alliances and to maintain a balanced relationship with all actors in the region while avoiding picking sides in regional conflicts. 
In the new era of President Xi Jinping, the core strategy of China still remains the same, in spite of the announcement of the ambitious Belt and Road Initiative (BRI) and the international challenges to U.S. interests' in the Middle East by voting in favor of Assad's Syrian government. In his famous speech at the Arab League Headquarters in 2016, President Xi announced the famous "three no's principle:" China pledges not to look for any proxies, not to seek any spheres of interests, and not to attempt to fill any power vacuum in the Middle East. Driven by this "three no's principle," China has become the largest foreign investor in the Middle East in 2016 while maintaining disproportionately little political influence in the region. In the Middle East in particular, China is deeply cautious toward possibly being dragged into a conflict among local actors.
This broader policy also shapes relations with Iran. The latter is China's major partner in the region, highly valued by China due to the relationship's ability to disturb the United States, and both states established the Comprehensive Strategic Partnership in 2016. 
However, Egypt, Saudi Arabia, and the United Arab Emirates (UAE), as Iran's regional rivals, also have established a Comprehensive Strategic Partnership with China and enjoy massive amounts of Chinese investments. This balance was also visible after the establishment of the 25-year agreement, when the ninth Ministerial Conference of the China-Arab States Cooperation Forum (CASCF) was successfully held on July 6, in which China and Arab states reiterated "mutual support on the issues of core interests and major concerns."
 Similarly, China refrains from taking any side in the conflict between Iran and Israel and established the Comprehensive Innovation Partnership with Israel. China's economic interest in Israel was also made clear when the Chinese company Shanghai International Port Group (SIPG) acquired the rights to operate the Haifa Port for 25 years starting from 2021.
 China is undoubtedly serious in further improving its already close relationship with Iran, but this close relationship is not and will not be a prerequisite or an obstacle for China's bilateral relationship with any other regional actor such as Israel or Saudi Arabia. Considering the aforementioned Chinese agreement with Israel on the operation of the Haifa Port, one would clearly see that China's relationship with Iran is not a special or unique one in the region. Moreover, regarding the suggestion of a military deployment, China is not only perfectly aware of the fact that the proud national consciousness of the Iranian people and the political culture of the Islamic Republic of Iran will not allow a massive amount of foreign soldiers to be deployed in Iran, but also China does not wish to send soldiers to Iran anyway in order to avoid the possible risk of being dragged into an armed conflict between Iran and its regional rivals.
"You Fight in Your Ways, I Fight in My Ways": Chinese Strategy and Expectation for Iran
Instead, the Chinese attitude toward its relationship with Iran is driven by China's distinct regional and global perspectives: from the regional perspective, Iran is merely one of China's economic partners in the Middle East; China does not plan to take any sides in Iran's conflict with other regional actors. From a global perspective, however, Iran is seen as a helpful partner for China in terms of challenging U.S. hegemony or at least disquieting the United States. These dual perspectives on Iran have created a nuanced policy: China is willing to actively support Iran in economic and political means in its global competition with the U.S., but does not plan to support Iran in any regional conflicts. 
This strategy is an off-shoot of Chairman Mao Zedong's 1947 grand strategy "you fight in your ways, I fight in my ways"—widely implemented in almost all of Mao's military and diplomatic strategies. As the name of the strategy suggests, its essence is that China will not confront foreign pressure directly in areas in which its rival has strategic advantages but will always seek to take the offense in areas in which China would either enjoy strategic advantages or low strategic costs. This strategy of Mao has been inherited as an essential foreign policy tradition of China and it still serves as the strategic foundations of Chinese engagement in the Middle East today, especially in China-Iran relations.
For China, its nearby peripheries (such as Eastern Sea, Taiwan Strait, and the South China Sea) are its areas of core interests. In these locations, China would not see any choice other than military retaliations if conflicts broke out in those areas. Conflicts in those core interests areas will certainly be a huge threat to Chinese stability and development and thus China's goal in the East Asian region is to avoid any actual military conflicts while defending its core interests facing U.S. pressure.
Therefore, China again utilizes the strategies of Mao and adopts a flexible policy: instead of confronting U.S. pressure directly in China's peripheries, China chooses to fight in its own way and to challenge the United States in areas remote from China but near U.S. core interests. Therefore, Iran—as a country that can challenge core U.S. interests and allies in the Middle East and is far away from China's own peripheries—becomes the ideal partner to work with. For China, economically and politically supporting Iran is low-cost. China would never face any possibility of being dragged into an actual war in the Middle East against the U.S., but this strategy can also bring remarkable benefits because an expansive Iran can cause tremendous troubles for the United States in the region, attempting to distract the United States from increasing its pressure in China's near peripheries and thus alleviating the pressure on China's core interests. 
This strategy is the foundation of China's strategic support for Iran. It shows that China is serious about enhancing and deepening its partnership with Iran and the current 25-year agreement is a natural result of this trend of intimate relations, but at the same time this strategy determines the fact that China's deal with Iran will be strategically conservative in nature. This strategy also means that China would not want to take the risk to actually deploy soldiers in Iran, because doing so would increase the costs and risks for China, which is contrary to the essence of China's strategy of effectively supporting Iran with relatively low-cost and low-risk for China itself in the first place.
After understanding China's balanced and mostly economic foreign policy in the Middle East along with China's strategic expectations for Iran, one would have enough reasons to believe that this new 25-year agreement is nothing but a continuation of the previous Sino-Iranian Comprehensive Strategic Partnership and to believe that such an agreement will be strategically conservative in nature. At this moment, the most important question about China's future policies in the Middle East is not about this agreement itself, but about whether China will still be able to maintain a balanced stance between different blocs of regional actors as its engagements in the region deepens and enlarges. China was able to maintain the balanced stance among regional actors in the past largely because China was relatively irrelevant in the region, but as it is becoming increasingly influential as the largest investor, previous environments will change in the future. It is still not clear whether China can accomplish the tasks of "becoming everyone's partner in the region," a goal that other strong powers have tried—and failed—to achieve.