UAE Public Wary of War With Iran, Though Most Prefer the United States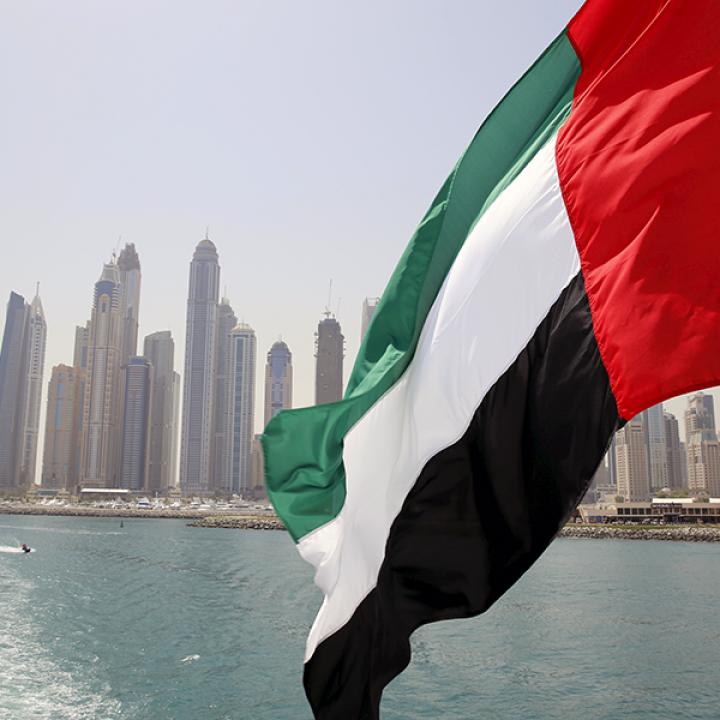 As tensions between the United States and Iran remain high, the United Arab Emirates has opted in this instance to portray itself as a force for non-violence and reconciliation between the two powers. Despite its own longstanding involvement in the war in Yemen, Anwar Gargash, the Minister of State for Foreign Affairs, has suggested that when it comes to Iran itself, "wisdom and political solutions must prevail over confrontation and escalation." At the same time, the UAE maintains very close security and diplomatic ties to Washington, which contrast with its strained relations with Iran.
A rare Emirati public opinion poll conducted in November 2019 demonstrates that this uneasy combination—restraint despite an alliance with the United States and longstanding frustration with Iran—emphasize that the Emirati public itself has little interest in foreign wars in general, and an escalation with Iran in particular. The majority (69%) of the Emirati public expresses the belief that the UAE "should stay out of any wars outside our borders," instead focusing on internal domestic issues.
At the same time, the overwhelming majority of Emiratis say it is not important for their country to have good relations with Iran. Only 9% of Emiratis say those relations are even "somewhat important"—down slightly from 13% in 2018. In contrast, around half say good relations with the United States are important to the UAE.
To be sure, on Iran, there is a noticeable sectarian divide on some aspects of this question. Of the small Shia minority—15% of the total population—nearly half (47%) are at least somewhat concerned with maintaining good ties with Iran, compared to a mere 6% among the Sunni majority.
But even most Shia say Ayatollah Khamenei's polices are at least "fairly bad." The approval of Iran's leader among Shia respondents remains a minority, at 26% (among Sunni respondents, the number is just 5%). Moreover, attitudes towards Iranian-backed Hezbollah are also strongly negative, with over 90% of Emiratis showing unfavorable views of that organization—while over half of the UAE's Shia minority feels the same.
On U.S. policy toward the region, a plurality (around one-third) of Emiratis pick the most useful thing the United States could do as, "increase its practical opposition to Iran's influence and activities in the region." In second place is for the United States to "stay out of our region altogether, or at least withdraw from most of it," though there is only one point difference between this choice and those who hope for the United States to "do more to find a diplomatic solution to the crisis in Yemen."
Here again there is a modest sectarian divide. The most popular choice among Shias is for the United States to do more to find a diplomatic solution to the crisis in Yemen (45%), while among Sunnis the top choice was to counter Iranian influence (34%). In contrast, only 4% of Shia Emiratis chose the latter as 'the most useful thing' for the United States to do. However, while much of the country sees ways in which the United States can positively influence the region, the public largely differentiates between the United States and its leadership. When asked about U.S. President Donald Trump's policies, only 9% of Emirati respondents viewed these as even "fairly good."
A lesser concern for the UAE public is the Palestinian issue, which in an earlier version of the question from October 2018 ranked last among their priorities for U.S. regional policy. Moreover, attitudes on this issue are mixed. Sixty-eight percent of the Emirati public continue to agree that "Arab states should play a greater role in peace talks" by "offering both sides incentives to take more moderate positions." But a significant minority of respondents still voice a favorable opinion of Hamas, which rejects peace with Israel. The UAE government has criticized Hamas in the past, for its support of the Iranian government—yet around a third of Emiratis still hold a somewhat positive view of that hardline Palestinian movement, though only 14% have a 'very positive' view of the organization.
Turning to internal affairs, the poll reveals mixed—popular attitudes towards social goals advanced by the government. The UAE proclaimed 2019 as the "year of tolerance." Despite claims that the UAE is leading the way in gender equality in the region, 48% of respondents say their government is doing "too much" in "promoting opportunity and equality for women." This data reflects a reality of the Gulf states, where governments are often more progressive than the populations they lead. Moreover, UAE leadership's focus on social issues has done little to quell the feeling of there being "too much" focus on women's equality, as the percentage has remained relatively unchanged since 2018.
With regards to religion, 29% say that they agree with the statement "We should listen to those among us who are trying to interpret Islam in a more moderate, tolerant, and modern direction." In the UAE, this moderate view holds somewhat greater sway among the Shia minority, with a little under half agreeing at least somewhat with that statement. By comparison, a little under 30% of Sunnis support a more moderate interpretation of Islam, with 44% who "disagree somewhat" and 25% who "disagree strongly" with this statement.
At the same time, about a fourth of Emiratis continue to express at least a somewhat positive view of the Muslim Brotherhood, which the UAE government labels a terrorist organization. Despite the government's campaign against the organization, this number has remained virtually unchanged over the past three years.
When asked about relations with other religious communities, the figures are more diverse. The majority (65%) of Emiratis express support for improved relations with Christians. Yet a mere 2% agree with the proposition, "We should show more respect to the world's Jews, and improve our relations with them." These results are similar in the other countries polled: Jordan, Saudi Arabia, Lebanon, Egypt, and Kuwait. 
Emiratis also remain divided on a number of other domestic matters. Asked if their government is doing enough to "share the burdens of taxes and other obligations in a fair manner," around half say the government is doing too much to address this issue. However, the Emirati public is split evenly when it comes to a question about "reducing the level of corruption in our economic and political life," with about a third of respondents each suggesting that the government is doing "too little," "too much," and "about the right amount."
The survey was conducted in November 2019 by a leading regional commercial market research company, using face-to-face interviews and standard geographic probability sampling methods, to yield a representative national sample of 1,000 Emirati citizens. The lead author personally traveled to the region to consult with the project managers, and to ensure strict confidentiality and quality controls, during the fieldwork period. The statistical margin of error for a sample of this nature is approximately 3%. Additional methodological details are readily available on request.